The Kid Can Code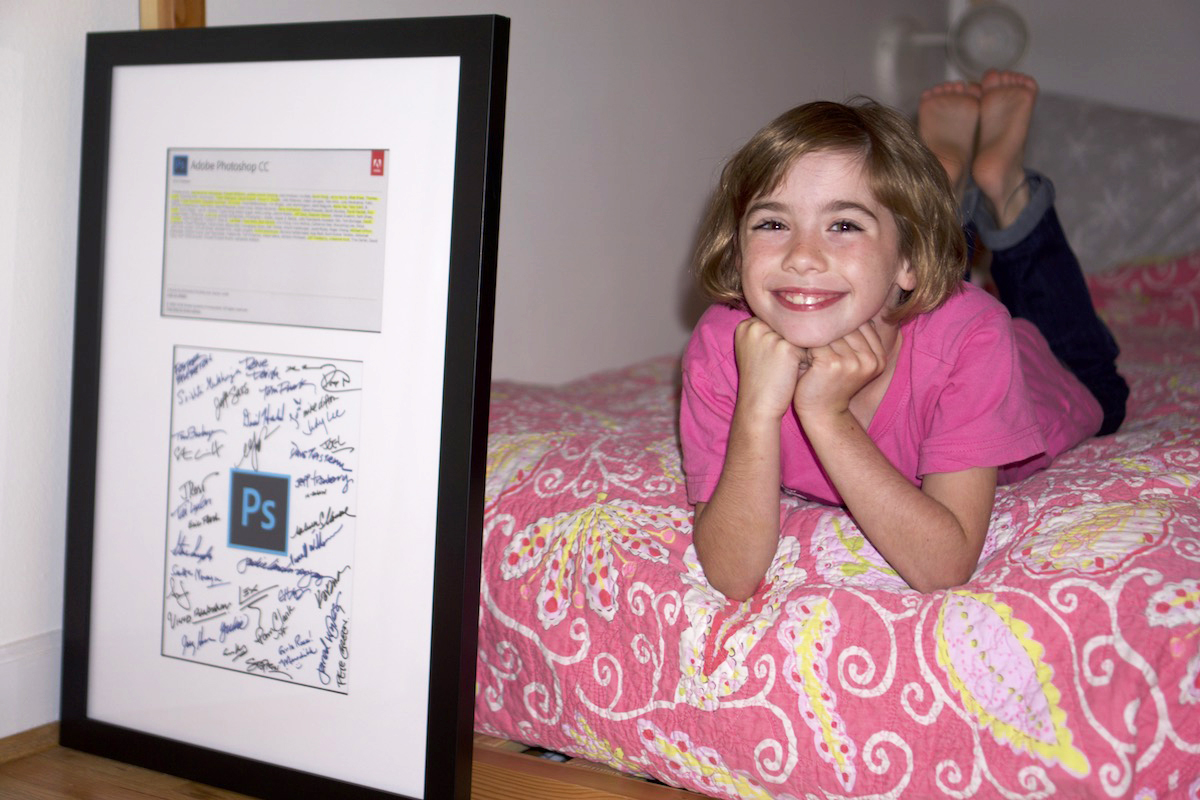 What do you get for an 8-year-old who loves to code?
Stickers. Lots of them.
Catherine Rabasa is a pretty impressive kid. She and her dad, Carter, started coding together years ago. But when it came time to decorate her laptop, Catherine and Carter turned to the dev community on Twitter.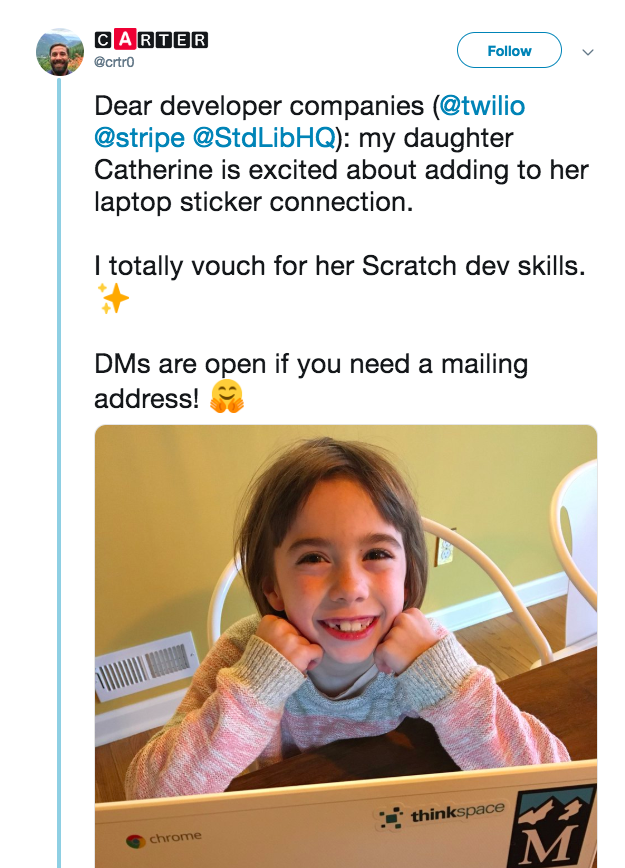 Soon Catherine had more than 1300 stickers from companies and organizations around the world. You can read all about the outpouring of stickers in this GeekWire article. What's a girl to do with so many stickers? Share them with other kids, of course. Together, Catherine and Carter started a coding bootcamp for kids. The students leave the day with some programming basics and some awesome swag. Their next event is this November in Seattle.
We framed some swag Catherine received from Photoshop and talked with Carter about the whole story.
1/ What inspired you to teach Catherine to code? How did she respond?
Well, I'm a programmer. And Catherine has grown up watching me program. So, starting with board games like Robot Turtles, I've been exposing her to programming concepts for a long time. So far, she's responded really well! She's a bright kid and likes expressing her creativity through building these apps.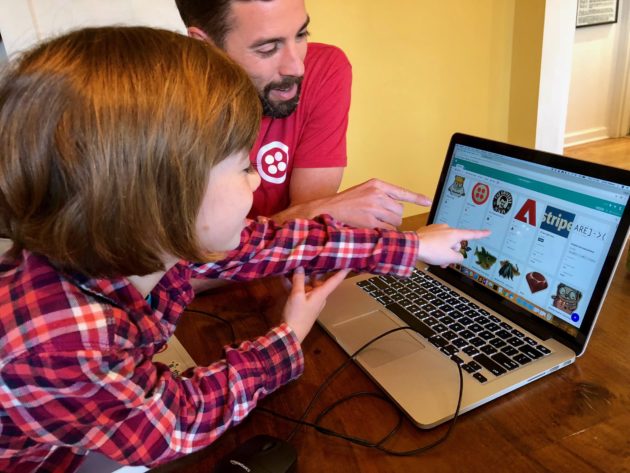 2/ Do you have any funny stories from the process?
I mean, Catherine coming home from school and having packages from all over the country and all over the world has been pretty funny. It got to a point where she was surprised when there's *wasn't* a package or letter waiting for her.
3/ What sort of swag did Catherine receive?
She's gotten almost every kind of sticker you can imagine. In addition to that: hoodies, t-shirts, water bottles, phone chargers, micro-controllers, you name it. Most of it is cool because of the thought. We've gotten so many notes from people who have moved by Catherine's story, who have told us how it reminded them of when they were kids, and how they wanted so much to help encourage Catherine and kids like her. A few of the notes made me tear up.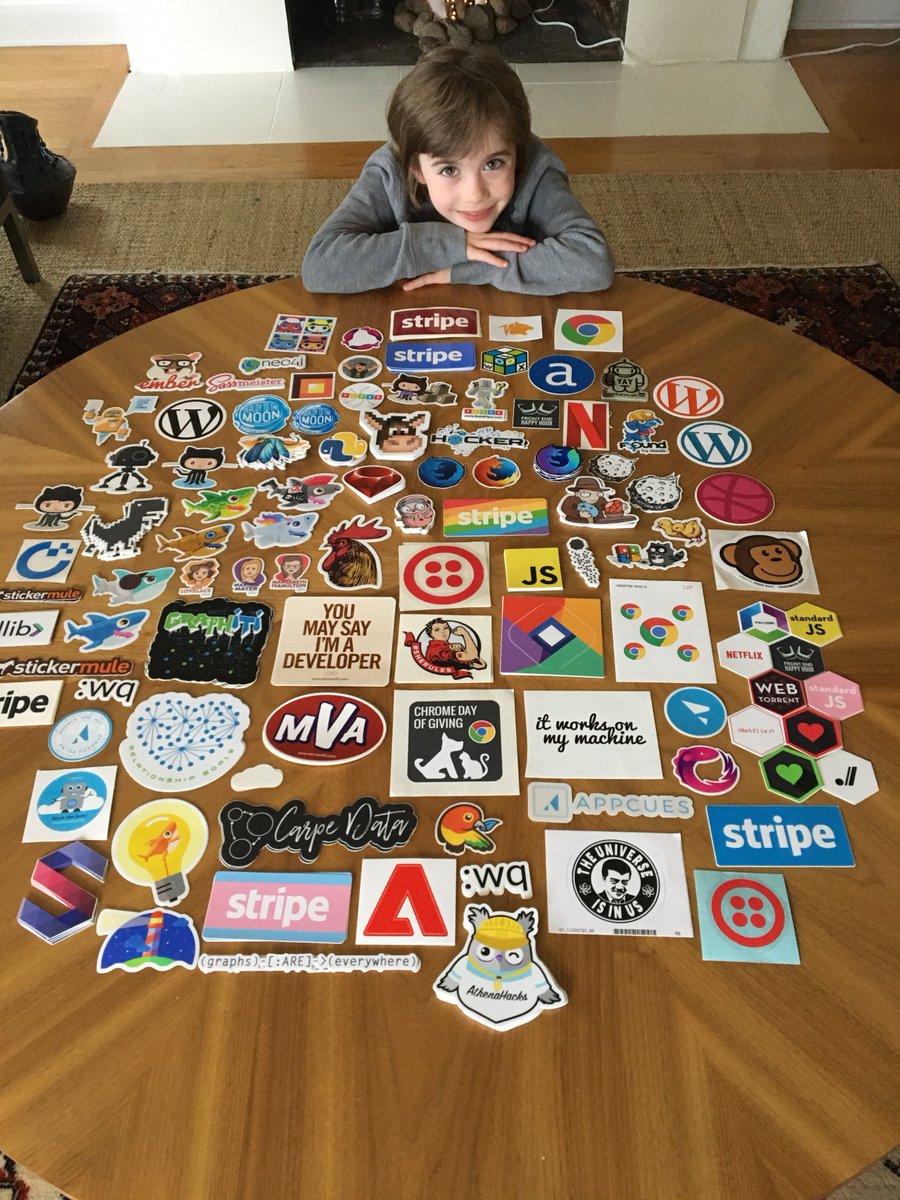 4/ We're a company founded and led by women, so empowering girls to succeed in tech and business is close to our hearts here at Framebridge. Why do you think it's important for girls to have opportunities to engage with tech?
Well, I think technology is what shapes the future. Our lives are irrevocably changed (in both good and bad ways) when people invent new things. I grew up before there were smart phones, Facebook or Uber. But Catherine is a digital native and is always surprised when she touches my MacBook Pro screen and nothing happens.
I think for women to have an equal say in what the future looks like, they need to help invent it. That's why I think it's so important for girls to get exposed to programming, to learn how to build software and experience the joy of creating new experiences with a little bit of imagination and a few commands.
You Might Also Like...