My (Love) Story: Finding Love Abroad
We have to caution you before you read our final love story. You may be tempted to think that it's too good to be true, but we can assure you it's definitely not. Meet Jess and Martin van Dop DeJesus. She is a Marine Corps officer, travel lover, and the blogger behind The Dining Traveler, and he is a very tall Dutchman with a quick wit and unmistakable charm. Their story not only serves as undeniable proof of how love can find you when you least expect it, but also how distance (and, we would add travel) truly can make the heart grow fonder.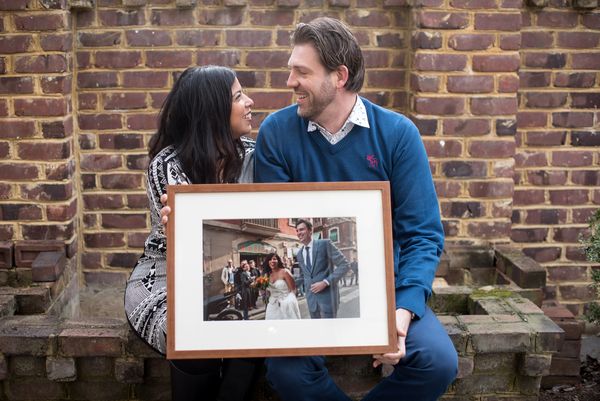 How did you get started with your blog, The Dining Traveler?
Jessica: I lived abroad most of my post-college years. At first I was stationed in Japan with the Marine Corps, and it just became something very natural to write to friends about my travels. Then, when I moved to Belgium, I started a blog to let people know that I was actually doing something productive there (other than eating really good food and traveling a lot.) It naturally morphed into a food and travel blog.
So, how did you two meet?
Martin: Well, I lived in the Netherlands and she lived in Brussels. I worked for an international logistics company and was traveling around Europe a lot. I had just dropped a client off at the airport in Brussels, and I gave my friend a call to see if he wanted to have a couple of beers. At the bar, I saw this beautiful lady (gestures to Jess). It was raining a bit, and we were all crowding under an awning. At some point she got closer to me and she stepped on my toes. She looked up at me and the rest is history.
Jess: And I was leaving in five weeks. I had accepted a post in DC. I told him that, and he said he still wanted to get to know me.
Martin: I remember that the whole five weeks kept things really real. There was no time for bullshit.
Jess: He booked a ticket to come for Christmas for three weeks. He met my family. After that we decided we didn't want to go more than 60 days without seeing each other. I went to see him. Then I had to go to Australia for work, and Martin had a friend that worked for an airline, so he met me in Australia. By the time Martin got his fiance visa to come to the US we had traveled 70,000 miles!
What was the most unexpected quality you found in each other?
Jess: Martin will say the funniest things. I still find myself cracking up at some of the things he says. Sometimes I think our neighbors hear me laughing. There's a spark he has that just doesn't go away.
Martin: She is such a rich person with so many wonderful qualities. With her military background I kinda expected her to be strong-willed but the thing that I find surprising is that she can be intensely sad, but then get over it very quickly. Whereas I might mull over something for days. She's just extremely positive.
Where is your favorite place you've traveled?
Jess: Brussels. I know Martin isn't a big fan, but Brussels is the place I've lived longest in my adult life. I lived there for six years. I just have great memories there. I made great friends, I met my husband, I had just gotten back from my deployment in Iraq when I moved there. It was a rebirth for so many things in my life. It brought me back to life in so many ways.
"It was a rebirth for so many things in my life. It brought me back to life in so many ways."
So with all the traveling you do, is it weird to go home?
Jess: Getting these frames is the first step we've taken towards settling into our new home. We bought our house a little over a year ago. My dad would always say, "There's no place like home." And he's right. You can go to all these fabulous destinations, but there's nothing like that place where you drop off your stuff. Even when I was deployed, I would decorate my little area with a small framed photo of my parents. When I was in Iraq my roommate and I shared a storage container (that we lived in). I actually ordered sheets online to make it look a little more homey. I had my friends send me frames and pictures. I was determined to make it look like home.
Any future travel plans? I'm writing a book about Puerto Rico. It will be a photography book photographed by the same man who took our wedding photos. We're going to go on a month-long road trip that we actually got funded on Kickstarter. We plan to explore things beyond San Juan.
---
Swoon. What a beautiful love story. We can't wait to see what your travels unfold next! Stay up-to-date on Jess's latest adventures on her blog The Dining Traveler.