My (Love) Story: Family Tradition
Our next love story is all about that thing that distinguishes one family from the next: tradition. We all have them, but what they are, the way we approach them, and the people we share them with is what makes them truly unique. Today we're featuring Rebecca from the lifestyle blog A Daily Something, her husband Joe, and their two adorable girls Zoe and Naomi. They shared with us a special moment captured during one of their sweet family traditions, and sat down with us to explain why they hold it so dear.


---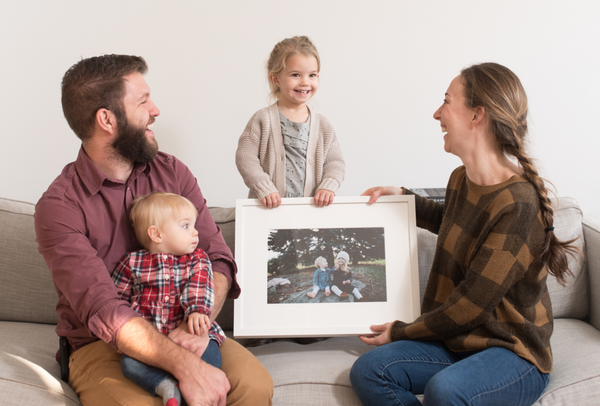 Tell us a little about you blog, A Daily Something. What's it all about?


A Daily Something is my blog and business. It's where I share little glimpses into my life as a mom and prop stylist, some of my favorite recipes, products that we love, a little bit of style and fashion, and whatever else I find beautiful or inspiring. It started as a creative outlet while finishing college in 2011, and has evolved to my full-time job (besides being a mom) today! I love it, and am blessed to be able to be a (mostly) work-from-home mama.


Three of your favorite things?


Good coffee, playing with my daughters, and shopping at auctions with my family.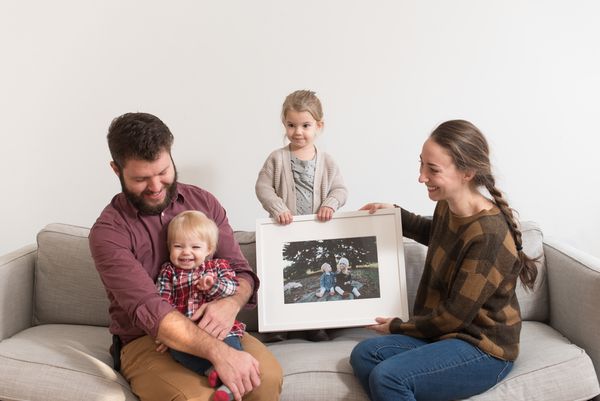 What is your most unexpected quality?


Unexpected?! I'm bossy. Or as my mom says, trying to make bossy sound better, I'm a leader. ;)


So, what did you frame with us?


We framed a hilarious outtake from our time cutting down our Christmas tree this December. Zoe's off in her own little world, probably staring at some children off in the distance, and Naomi's touching Zoe's face, trying to get her sister's attention and approval.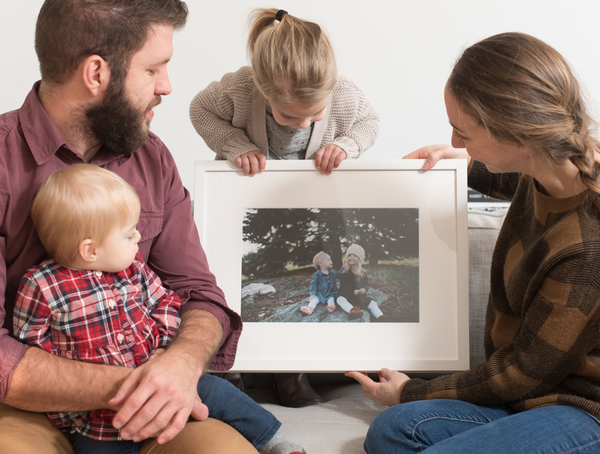 Why is this piece special to you?


Selecting and cutting down our Christmas tree was a favorite family memory from growing up, and we're thrilled to have the opportunity to continue this tradition with our children. I always want to document these times together as a family, and having a printed photo memory of this day is so special! I love how the photo captures their personalities candidly.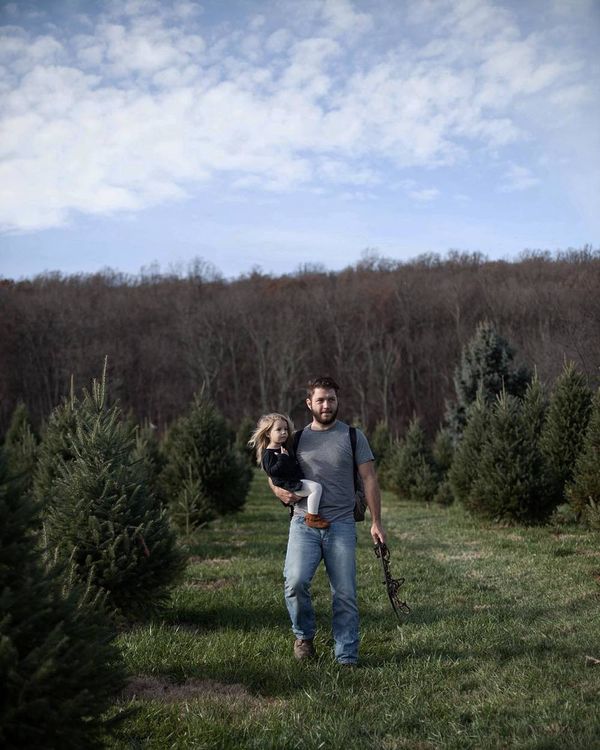 "Selecting and cutting down our Christmas tree was a favorite family memory from growing up, and we're thrilled to have the opportunity to continue this tradition with our children."


In what way do you see your kids already expressing creativity?


I love watching my children learn how to express themselves! Zoe already loves setting the table, and gets especially excited when we use taper candles on the dinner table! Zoe is also very meticulous and could organize colored objects for hours. Naomi is only one year old, but she's already an avid colorer. And I doubt she will ever sit still for more than 5 seconds. It's exciting to see their little personalities develop!


How has having children changed how you look at your work?


Having children has changed how I define success. Making time to spend with them and be a mom, exclusively, is of utmost importance. And it's made me better (hopefully) at prioritizing and determining what I can say yes to and the things that I have to say no to.


From your blog, it's easy to see you're passionate about what you do. What advice do you have for people looking to make their passion project their full time job?


Work hard and don't be afraid to ask for help! Admit that you cannot do everything! When I started to work with photographers and florists and other talented professionals, the quality of my work increased so much! Sometimes it takes a little honesty and vulnerability to ask for help, but as Helen Keller said, "Alone we can do so little; together we can do so much."


---
We agree! Rebecca has such a thoughtful and passionate approach to her work, and we loved spending time with her and her beautiful family. To get your daily dose of inspiration from Rebecca, follow her on Instagram, and check out her blog, A Daily Something.