Meet the Mini Gallery Wall Collection
If you've been on Pinterest in the last couple years, you know grid gallery walls are all the rage. But those perfectly crisp lines aren't always the easiest to achieve.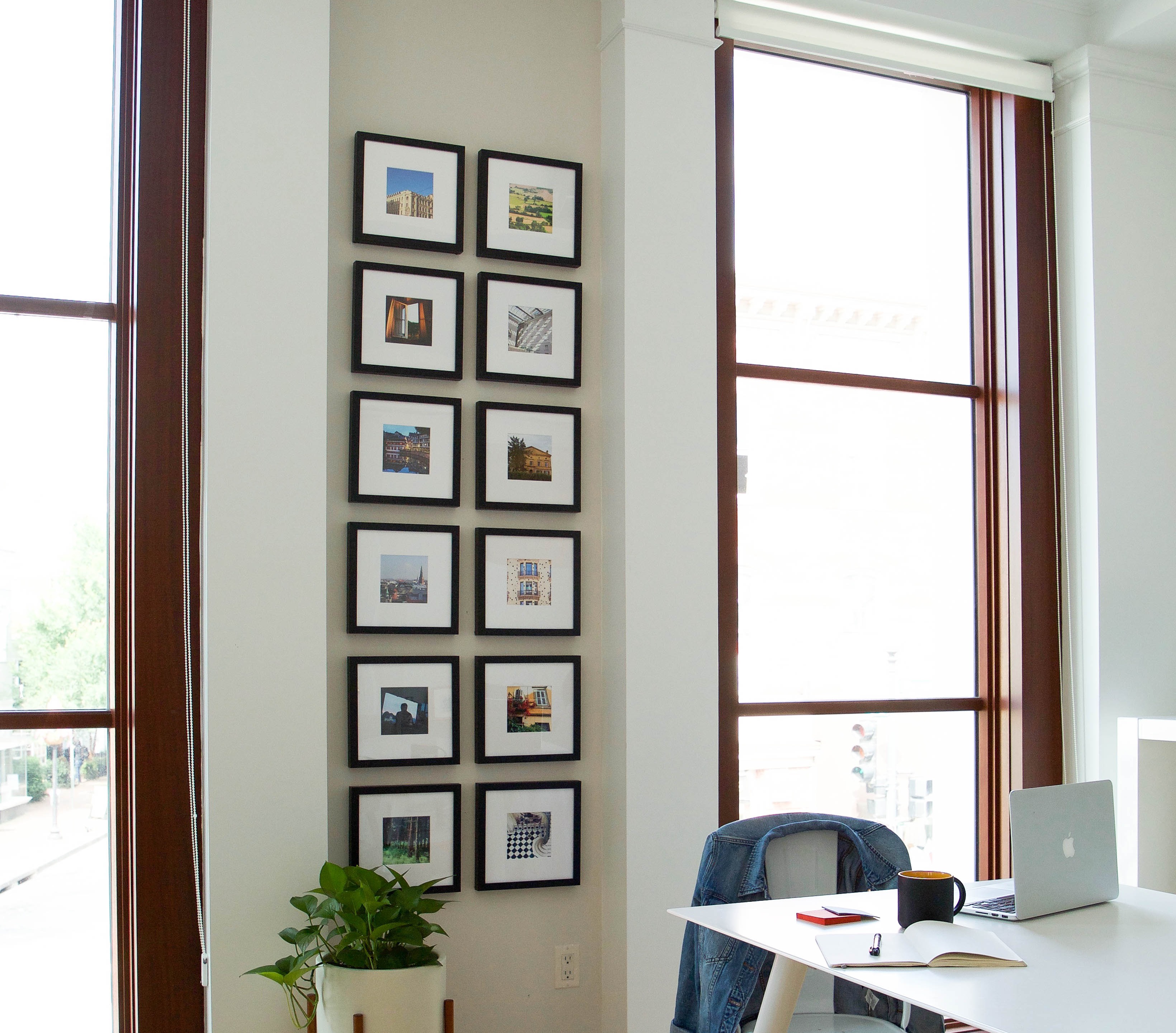 "Everyone loves the feel of a clean, tidy gallery installation of their own photos," said Framebridge Creative Director Tessa Wolf. "The thing is they are really hard to hang perfectly on your own. When we unveiled our pre-designed photo gallery wall collection earlier this year, we solved that pain point with our hanging guides."
Our grid gallery walls have been so popular, we designed three more options for spaces large, small, and weird. This is the Mini Collection, three grid arrangements composed from our popular square Instagram Minis. Ideal for apartment-sized spaces (and city living budgets), the Mini Collection is perfect for any design sensibility. Psstt, they make great housewarming gifts.
What is a Mini?
The Mini is one of our earliest products, and one of the most beloved. Designed for easily framing your Instagram photos, the Mini is a digital photo printed at 5x5" and custom framed in your choice of frame style. At just $39 each, Minis are an affordable to way to beautifully custom frame your favorite photos. (And they make great gifts.)
_____________________________________________________________________________________
The 4-Aiden Bundle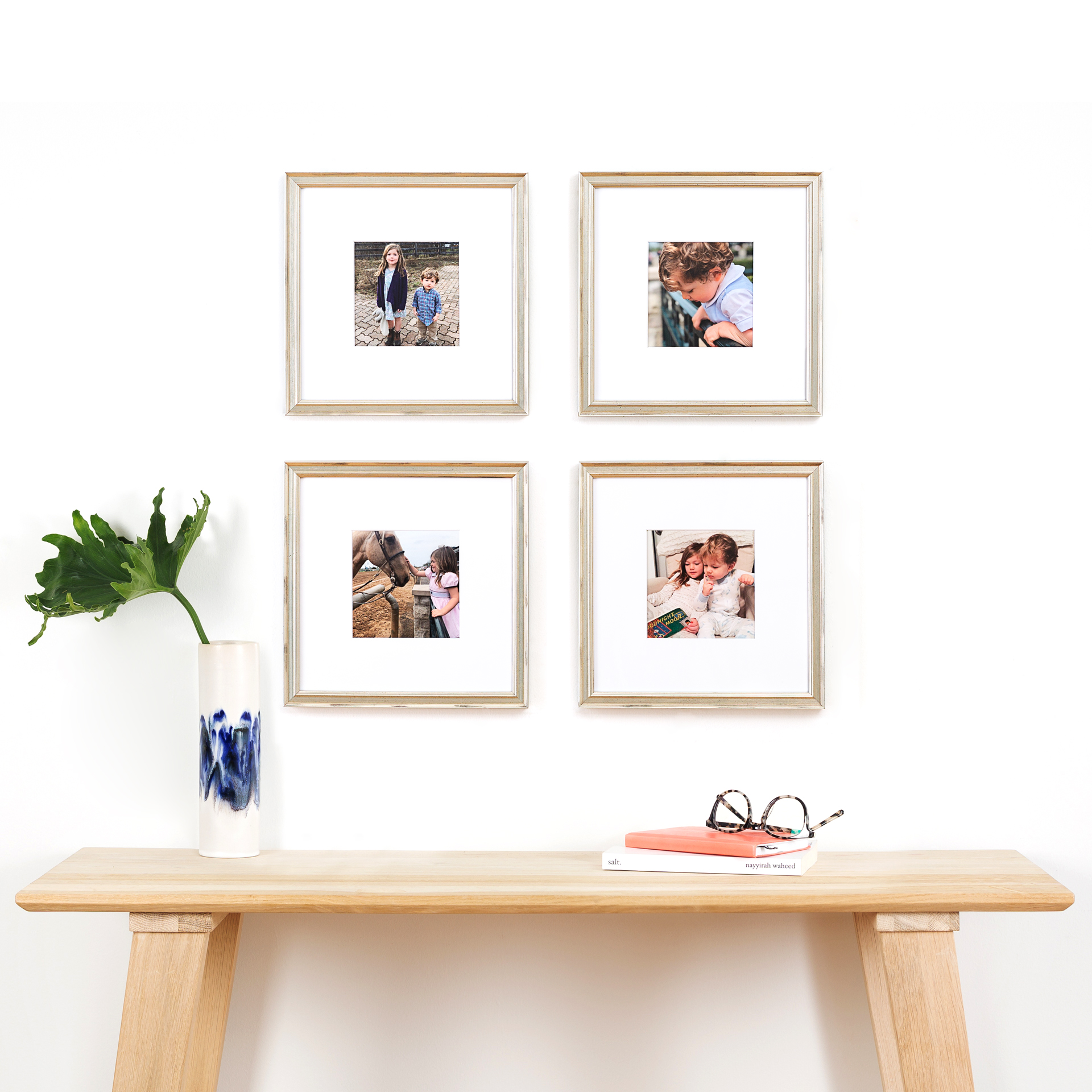 Four Minis arranged two by two with a total size is 23.75 x 23.75".
Offered in five frame styles like our champagne silver Newport frame and thin black Mercer Slim frame.
What Inspired It

Ever since Framebridge started, our customers have loved ordering two minis at a time. "As people added to their collections over time, we started seeing people hang them two by two in a tiny grid and sharing them on Instagram," Tessa said. "This is the perfect way to start collecting—just add new pairs above or to the side to grow your gallery over time."
How to Style It

We love the 4 Aiden Bundle above a desk or in the entryway above a table or credenza. It's also perfect in a nursery, above a crib or changing table.
What to Frame

Family photos, photos from a single trip, or scans of vintage photos are all strong options. Family photos will look incredible in the Newport frame option while colorful pieces will really pop in Mercer Slim.

_____________________________________________________________________________________
Mini Grid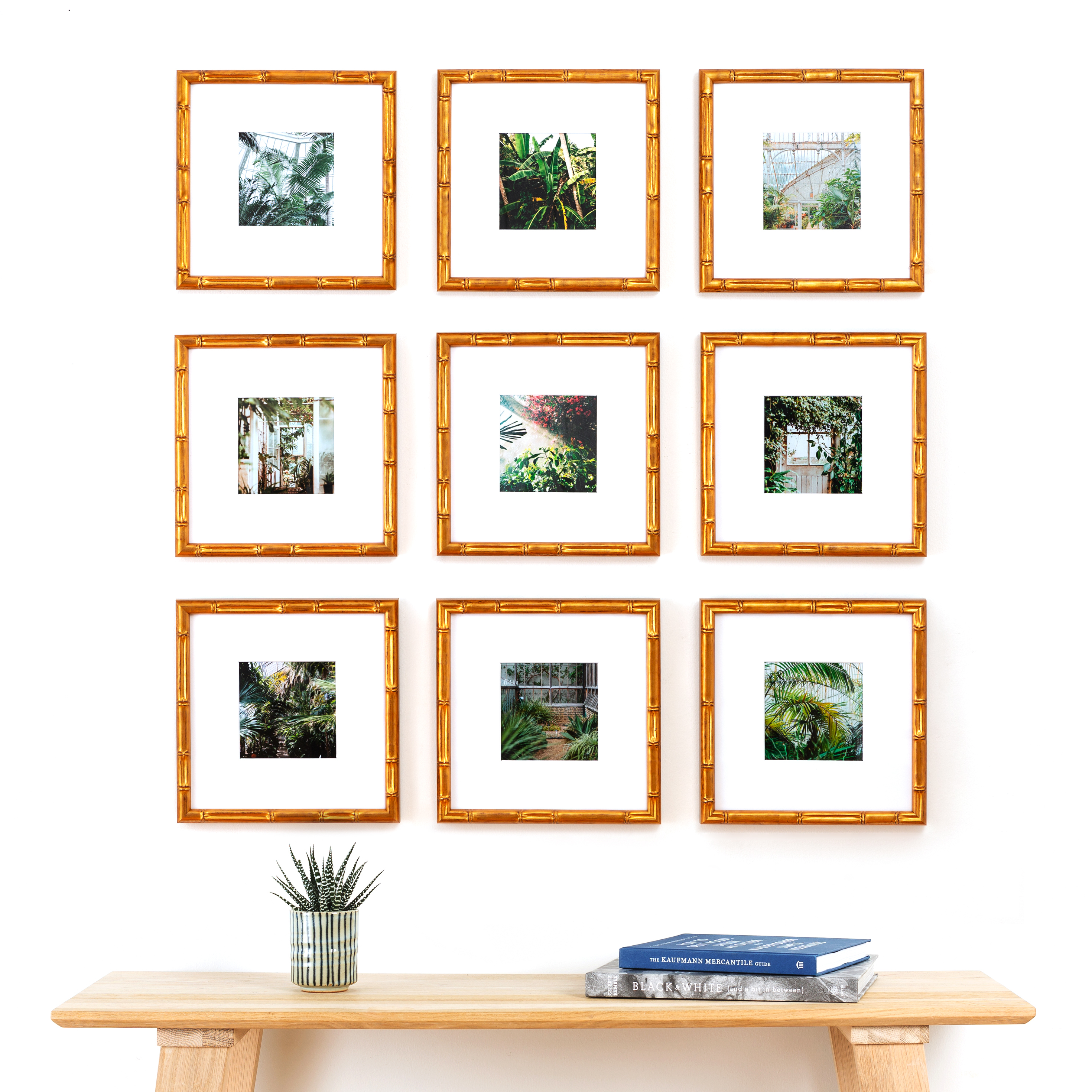 Nine Minis arranged in a three by three grid with a total size of 36.625 x 36.625".
Available in our gold bamboo frame Mandalay and our thin black frame Mercer Slim.
What Inspired It
Way back in 2016, Simply Sona hung a grid of nine Instagram Minis above her desk, and people went crazy for it. With three rows of three square photos, this arrangement is like a cute little version IRL version of your Instagram feed. And more than that it's the most versatile gallery wall. "It's technically perfect," Tessa said. "Three rows of three Minis, with two inches between each gives you a neat little 36x36 square. You know what else is 36" wide? Everything. Dressers, desks, cabinets, benches…you get it. This wall fits perfectly above pretty much everything in your house."
How to Style It
Everywhere. But because the Mini Grid is like a smaller scale version of The Half Wall Grid, we also recommend hanging it above a small couch, daybed, or love seat or an apartment-sized dining room table for a high drama look.
What to Frame
This arrangement is perfect for your favorite Instagram photos, travel photography, or botanical and floral images. Anything with green or blue tones will look gorgeous in Mandalay while Mercer Slim is universally flattering.
_____________________________________________________________________________________
Mini Tall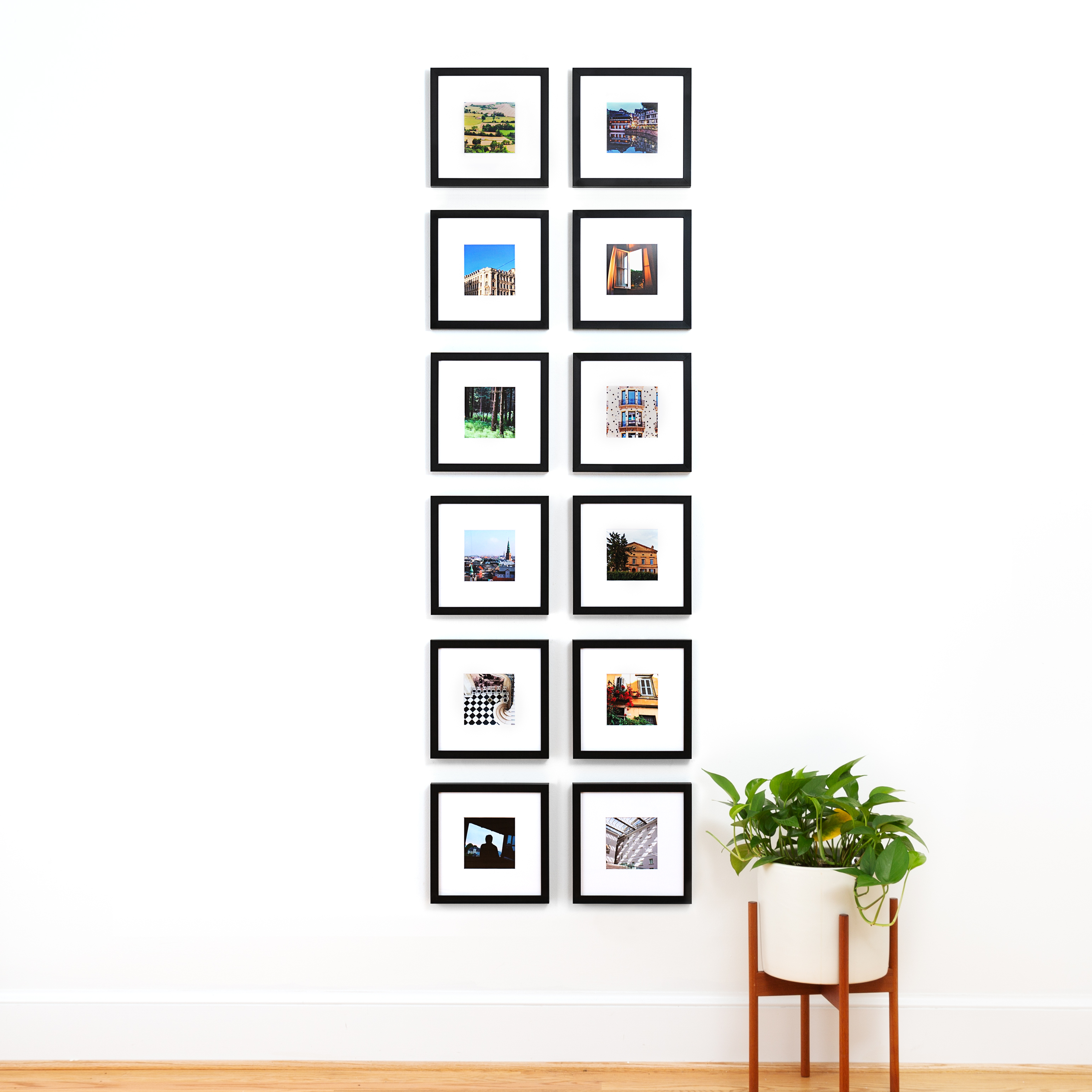 Twelve (!!) Minis arranged in two columns of six, coming in at a tall and narrow 23.75 x 75.25".
It's available in our white and black gallery frames, Irvine Slim and Mercer Slim respectively.
What Inspired It
We all have awkward nooks and corners in our houses, and should really be filling them in style. Mini frames. Big impact. "This one was a little bit more of a wild card for us, but we fell hard for the idea after we saw Ali Vinciguerra do something similar at the end of her hallway," Tessa said.
How to Style It
Place the Mini tall in (what else) tall and narrow nooks like the end of a hallway or a thin bathroom wall. Also a good option for entryways.
What to Frame
When in doubt, travel photos are always a good bet. Favorite family snapshots or pics from your honeymoon will work well here. We also recommend detailed photographs of architecture, botanicals, or anything else with intriguing colors and textures.
_____________________________________________________________________________________
We're so excited about the Mini Collection, and we want to see how you style these gallery walls! Tag us in your photos on Instagram and Twitter with @framebridge.
You Might Also Like...