Meet the Artist: Shantell Martin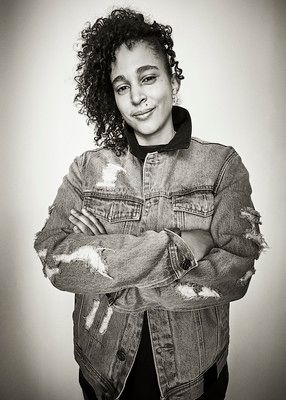 Shantell Martin's work may appear mostly black and white, but you don't have to look far to find nuance. Her continuous line drawings explore themes of intersectionality, play, identity and the impermanence of the world around her. In large installations like her collaboration with the New York City Ballet or screens in the passages of The Oculus, World Trade center and designed products like a printed circuit board she produced in collaboration with MIT, her work explores the role of the artist and their process. We had the opportunity to hear more of her story.
What initially attracted you to line drawing?
We have all, at some point, experienced line drawing. Perhaps as children or in school. For me, it's something that I've always utilized. Initially, because it was simply accessible, but later on, as you can learn so much from the line drawing, you get to see yourself reflected in the form of a line. It becomes a witness and a representative of both your confidence or weaknesses. In all honesty, I've found line drawing to be a teacher of discipline, patience, and a form of meditation.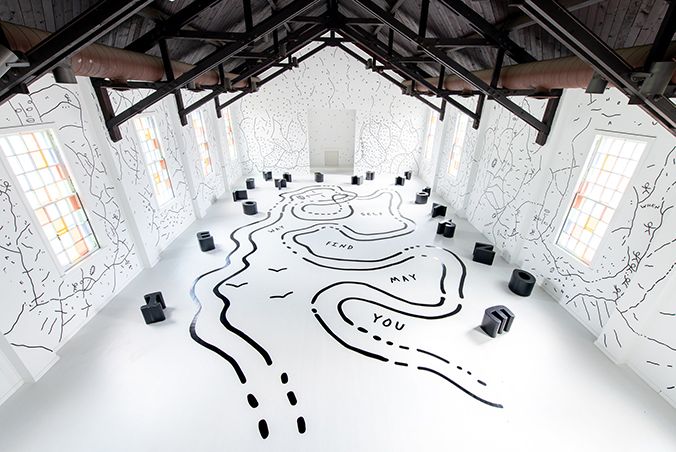 You say your work is autobiographical and a quest for identity. What do you set out to examine? How does it play out in your characteristic style?
Perhaps other people have said that more than me, but yes. I do believe by default in many ways an artist's life is told through their work. As a person that has never really belonged, and that is curious about the world, how things are constructed, and the role that I play in all of that... identity is definitely tied to all of that and a part of my personal exploration through the work. Knowing that a Black/biracial, queer woman does not have many places in history to look back at to see someone like me, I also use my work as a way of looking inward and forward.
Similarly, some of your work asks specific questions— like "Who are you?" Why is it important to ask these questions explicitly and plainly in your pieces?
It's information to ask these questions for perspective, for reflection, for balance, for guidance. We get caught up with what we do, where we are from and the roles we play in life, but if we focused on Who We Are at the core -without all of that stuff, I believe that we would know so much more about ourselves and what we need to do in life.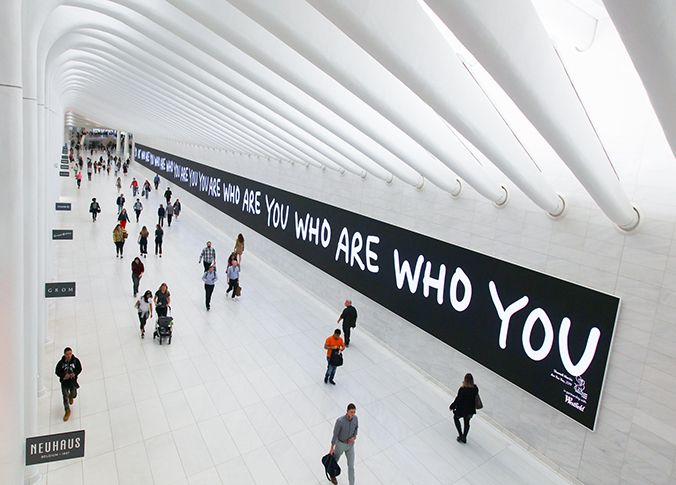 Your drawings appear on walls, projected across windows, on tablecloths, on hoodies and sneakers, all kinds of objects. Is it important that your work be accessible?
Absolutely. As someone that did not grow up with access to artists, galleries, museums, etc, I often wonder what it would have been like if I were exposed to all those things at a young age. If I knew artists existed or if I knew that it was an option for me to pursue, would things have been different?
So why would I create work in a system or way that would perpetuate little kids like me not being exposed to the work? If you say you love art and believe in its impact, would you then not want it to be accessible?
Do you see a division between your "fine art" and commercial pieces or designed objects? How does your approach differ?
Not really. The differences are more external than the process and the artwork I'm making. The main differences working in these different industries are how I get paid, the number of people in between me and the final consumer, and the production/creation of the work. When I work with museums, I can work on a show or installations for years in exchange for a very small honorarium, when I work with galleries they take a commission fee of 50% and upwards of the artwork sold, when I work commercially I am paid 100%, and when designing products it really quite varies. I just created the first-ever artist product collaboration for the Whitney Museum Shop, I hope that projects like this show institutions that there are other ways to create revenue streams and to support the artist.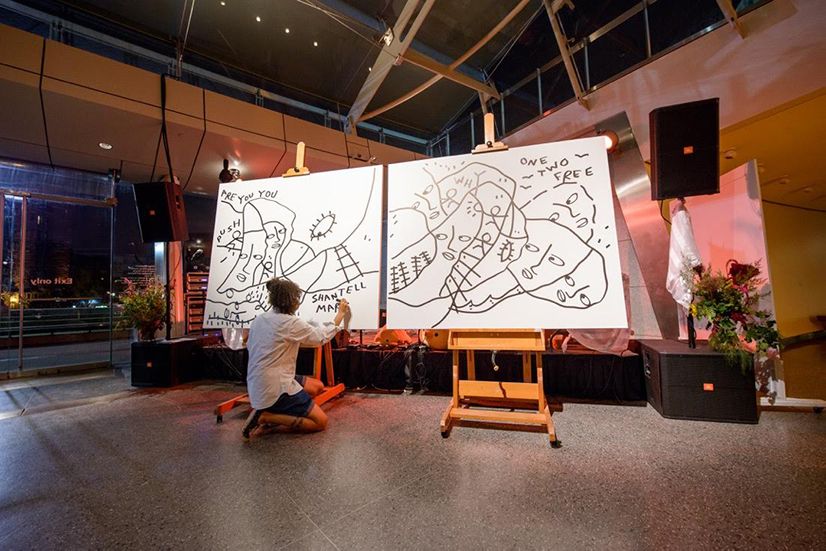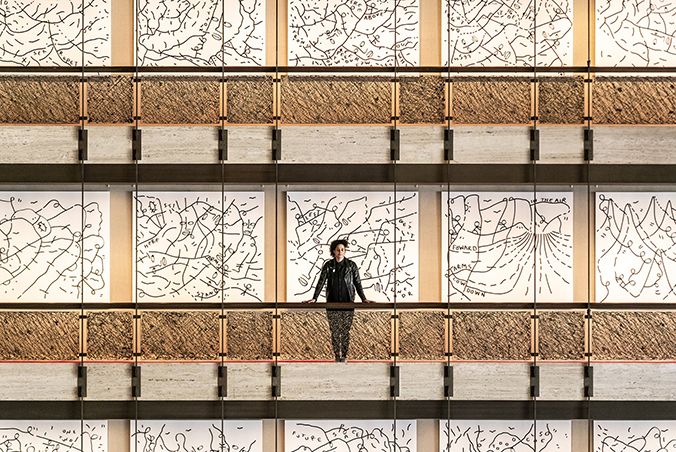 Do you have a philosophy about collaboration? You've collaborated with brands, musicians, other artists on a wide range of projects. How do you choose them?
I've been very lucky with my collaborations and after 20 plus years have only run into one bad collaboration, which involved AI/Deep learning. I believe that I've had a good run in this field of collaborative work since I've always been very open and willing to share and learn. I really love working with people who have a different skill set to me, different education, different obsessions. We get to truly make something new and unique that I would not be able to do by myself.
Why do you keep to a black and white palette?
There are a lot of colors out there in my palette you just need to look a little bit harder to find them :)
How do you hope audiences will interact with your work? Of course, it's different with each installation or product, but is there an overarching message you always try to convey or a conversation you want to start?
By being me, I hope I inspire you to be you. By using a tool that is so simple I hope you feel encouraged to create. By using this tool of drawing as a way to heal and connect, I hope that others connect and heal too.
---
Learn more about Shantell Martin at her website, shantellmartin.art, and Instagram page.