Meet the Artist: Jamie Bonfiglio
Jamie Bonfiglio is a painter and muralist based in Birmingham, Alabama who specializes in bright, abstract portraits.
We're proud to feature her as part of the latest group of artists in our Black Artists Print Shop.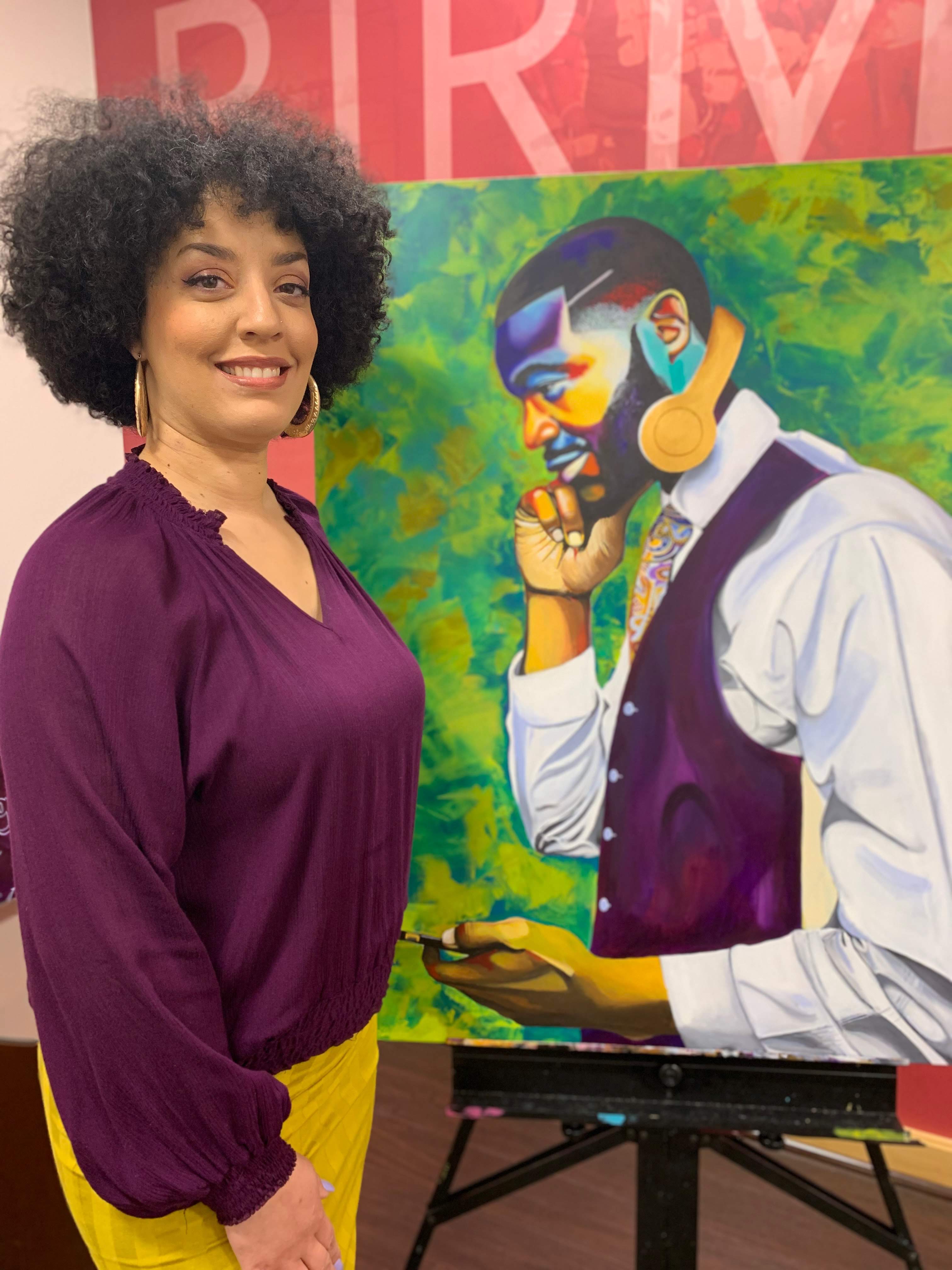 How did you get started painting?
I was almost a forensic scientist. I was in school in a master's program in San Diego. Art was really like an outlet to relieve some stress and relax and get rid of some frustration. I was always pretty good at drawing. So I went into an art supply store in San Diego and asked them for advice on what they recommend for beginners. They told me acrylic, so I bought all the supplies and went home and painted my first small piece—very basic, very non-detailed. It just grew from there.
You paint a lot of people in your work. What about a subject inspires you?
Yes, a lot of people, women especially. I think the mood of their image is really what grabs my attention first. From there, I like to play with colors and I often look to nature to get inspiration for color schemes—what colors go well together, what colors complement each other. But it all starts with the mood of the images.
I usually look for a theme. So I may look for women in headwraps, or I'll look for dreadlock styles or something like that. Then the internet will just take me to far off lands that can expose me to all sorts of different people and places and poses. I have such a long list of pictures that I would like to do that I just haven't gotten to.
So are you usually painting from a photograph?
Yeah, I use photo references.
How do you feel your identities or identities of the subject show in your work? Do you think about that when you're creating it?
I do, sort of. I think about my subjects being mostly women. I'm a woman, so I relate, of course. I like to capture the essence of a lot of the beauty that I see. The specific person isn't that important compared to the effect that I would want. If I'm going to paint something, I know that it's eventually going to hang somewhere. I know that hanging art is going to change the mood of the space. So I like to keep in mind what kind of energy I'm trying to bring, what kind of vibe I'm trying to create for either my own space or someone else's space. It's not specifically the identity of the person that I'm after, it's more of the kind of experience I want to create.
How do you register the responses from some of your public art pieces, like murals?
I don't think about it while I'm painting, but I love during the process when it's out in public, I get people coming by giving compliments, cheering me on. It's a great vibe. It's a great energy. I love the response that I get, even when I'm doing the regular paintings or commissioned paintings for someone and they are presenting it to their family, or presenting it as a gift or they just get it for themselves. I do appreciate all of the responses that I get. It's a great feeling.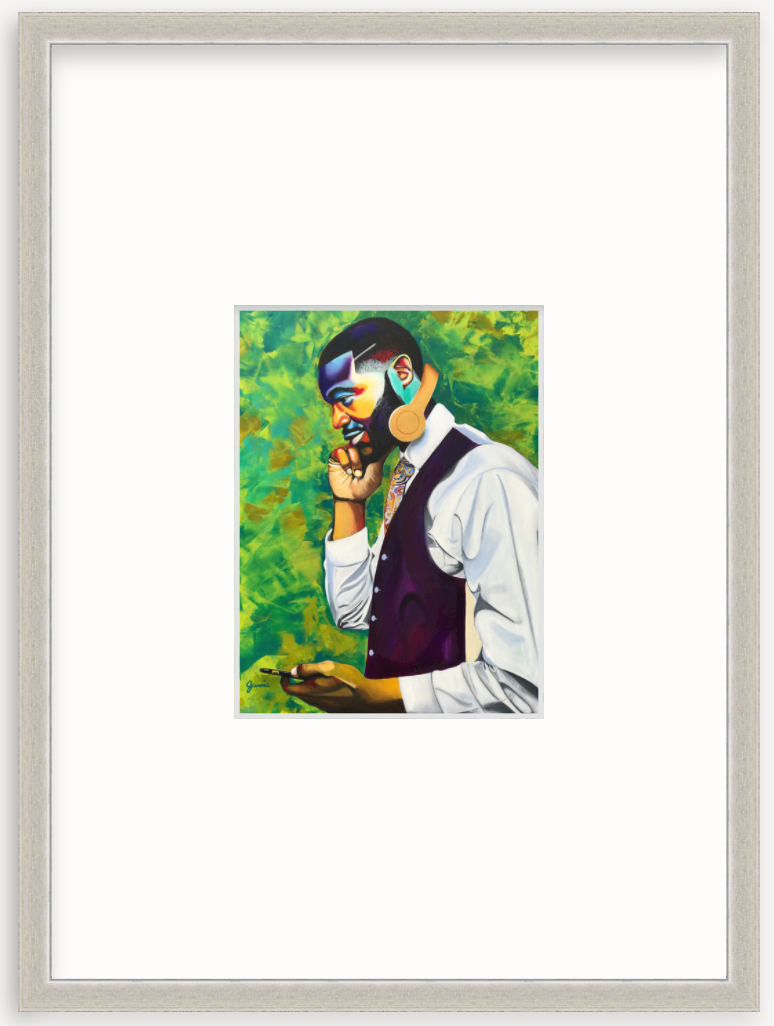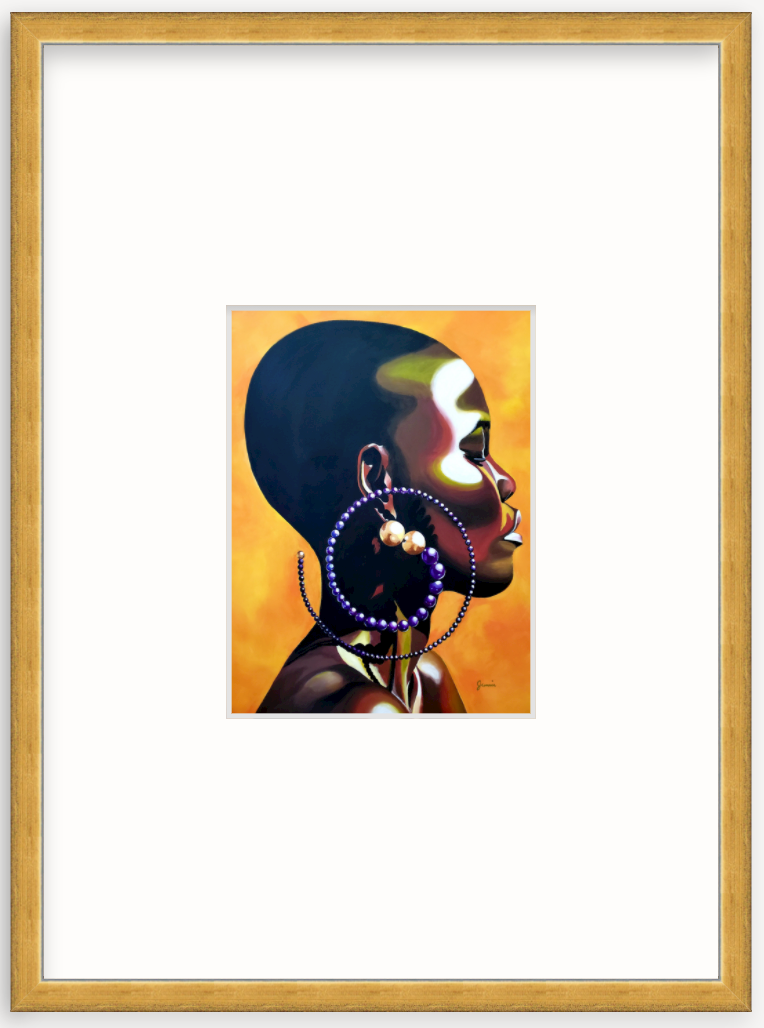 Can you tell us about the two pieces in the Print Shop?
The Untitled' one is our mayor here in Birmingham [Randall Woodfin]. This picture of him was on the cover of a local magazine. He is known for his millennial vibe—he's a young mayor, which fits that image because he's listening to his music, he's got his phone.
I picked Freedom because I felt like that earring was going to be a challenge to paint and I liked it. I liked her. Her mood was very strong, very relaxed, very unbothered. She doesn't have a care in the world. She's not worried about anything. Along with the geometry and the sequence of it, and how nature relates to the spiral in the earring are all the reasons I chose that image.