Meet the Artist: Emmy Marshall
Emmy Marshall is an abstract painter based in Atlanta, Ga., who uses unconventional tools to form a language that is both emotional and personal. His colorful work, which often evokes social justice, has been featured at West Elm pop-up in Ponce City Market, and by SHOUTOUT Atlanta and Q Atlanta Magazine. He views his job as an artist as a call to unite people, and he is featured in this iteration of the Black Artists Print Shop.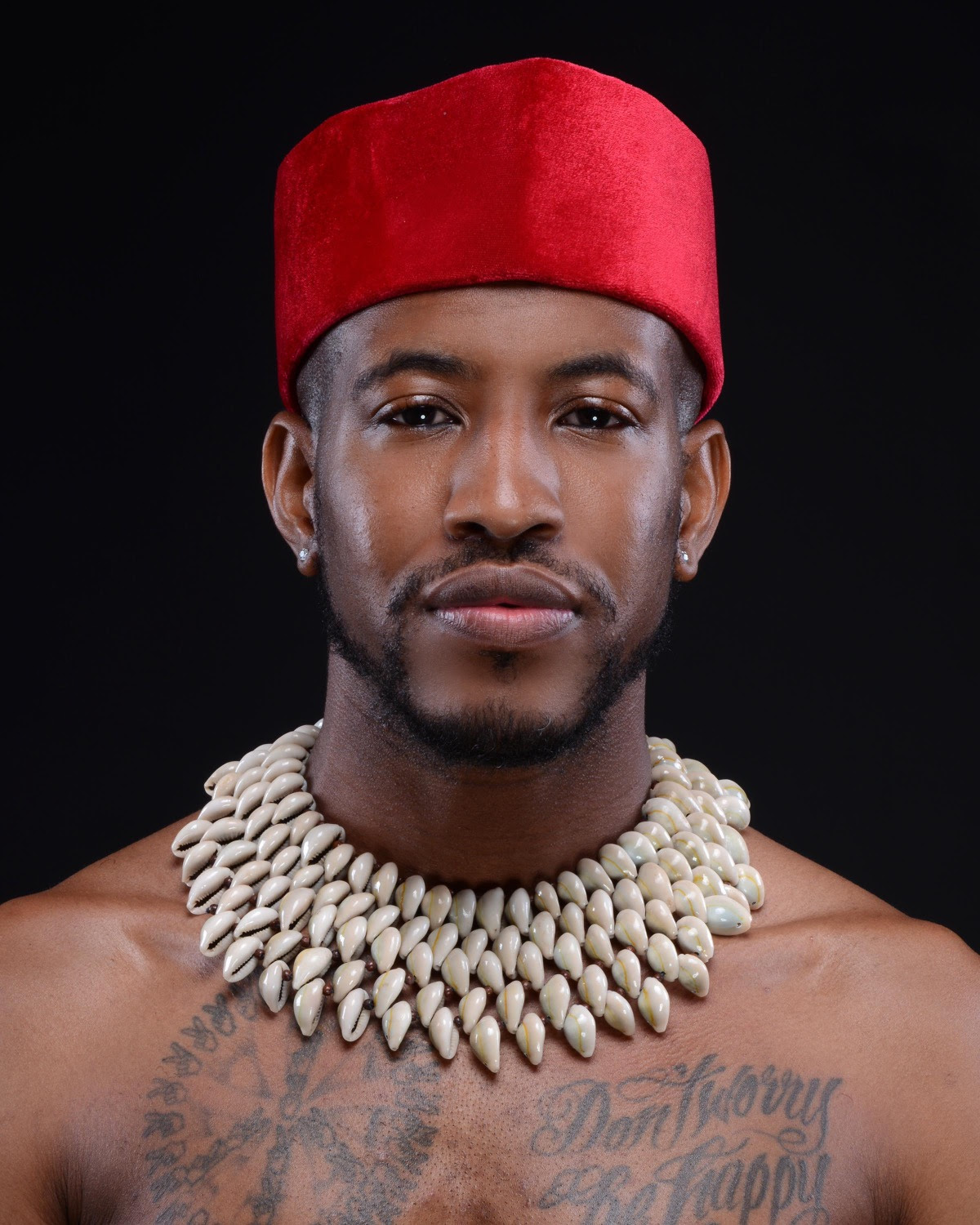 Take us through one of your creative sessions. What time of day is it? Where are you? What are you listening to? Who are you surrounded by?
My creative sessions are currently done in my room. Because I love creating in small spaces. Done on my bed. I have a black comforter that I purchased years ago that I no longer use. I pretty much have used that as my foundation—it has paint all over it. My best friend said, "That is an art piece. You can hang that up somewhere!"

I paint on the bed. I got it down to a science. I can knock paintings out in 3-4 hours. But I don't force myself. Even if I am doing a commission, I paint when I feel motivated to paint. I never want the work to look forced. I want it to be original and authentic.

I am usually listening to some of my favorite artists. I love dance music. I love Janet Jackson. I love Bjork. Anything that gets me going, motivates me.
Your art "So Ambitious" is filled with a hybrid of color and is more interpretative. Your other work "We Shall Overcome" is a collage of newspaper cutouts with a more blatant message. Can you tell us why you choose these two works for the Black Artists Print Shop and how they tell your story?
"So Ambitious" describes my motivation in life. I aspire to motivate others in art and daily life (I send out motivational text messages in the morning). I feel like an artist should have a platform. And I have chosen to inspire and motivate others. Live life authentically. And I'm inspired by the human experience of color. So I use a lot of bright colors, because they catch people's attention.
"We Shall Overcome" comes from watching documentaries. During the pandemic, when America was demanding justice, I started watching documentaries and started really thinking about the history of civil rights leaders and the work they did. Oftentimes, we live life and forget about the work they put in, I wanted to document that. I had this idea, I wanted to print out newspaper articles and make a collage of all these major things that happened. The work has been one of my best-sellers, because of the work the activists and civil rights leaders put in. They were willing to lose their lives so that we can do what we do today. The art serves as a constant reminder of the work that was put in.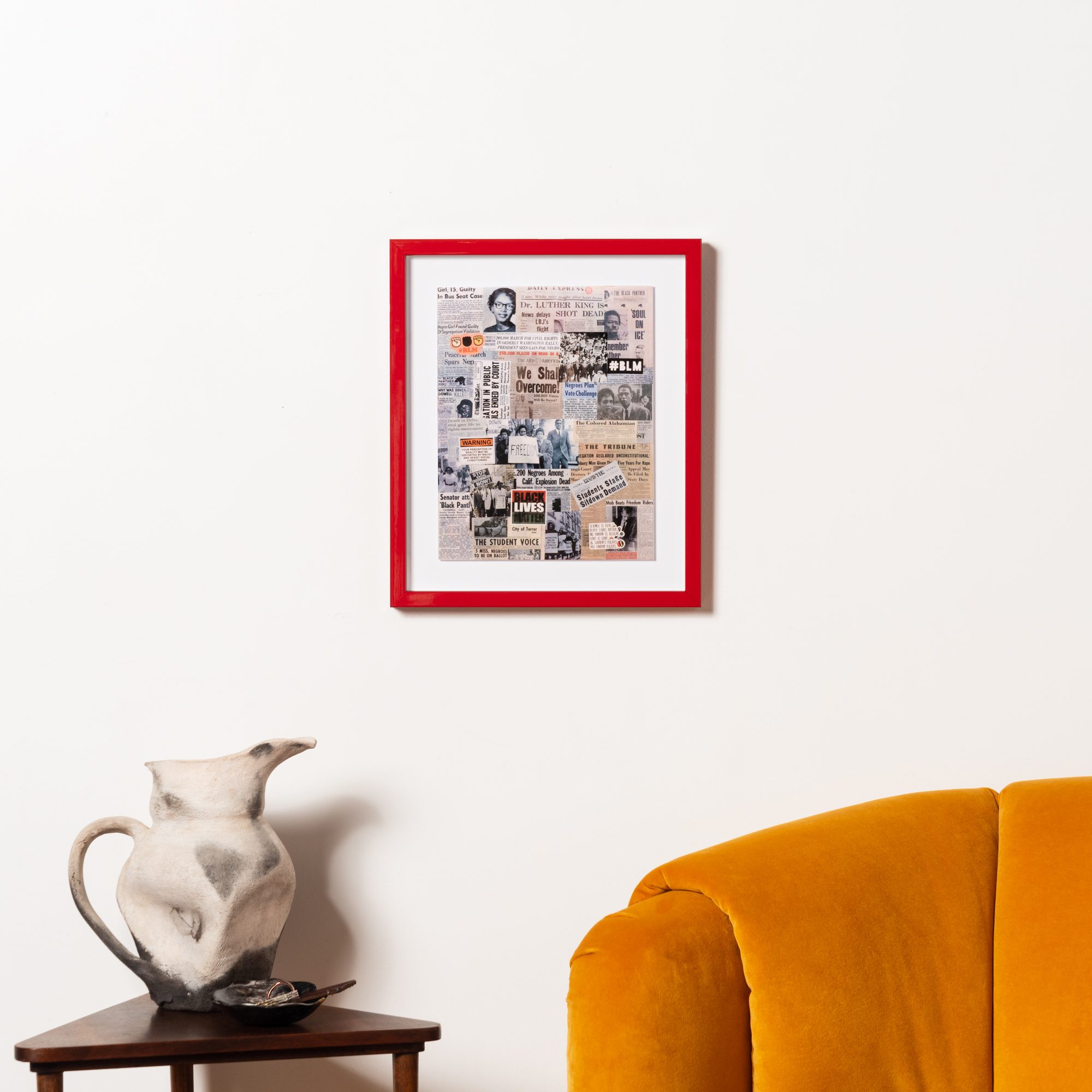 Do you have any favorite artist whose medium is not the same as yours, but you still draw inspiration from?
I don't have a favorite artist in particular, but all the time I'm absorbing on social media. I'm always challenging myself to use other colors that I haven't thought of to put together. That, in itself, is inspiring when I look at other artists' work. Whether it's a drawing or a painting or abstract or realism or cubism. I'll take a picture then say, "I'll use those colors!"
What's your artistic process? How do you determine when you are done with a piece?
I have two processes now. Now that I have developed an aesthetic with two different types of paintings. One is a series of strokes with lots of color, and then when it's all done, it's like WAAAA. The other one is three or four colors mixed together with black and white, then a layer of white over that to make it look very mysterious.
Another aesthetic I've done recently is very organic and spontaneous—pulling colors and really just going at it.
But the process: I get inspired, I love to go shop for canvas, I love to pool colors—I almost feel like an interior designer, like I'm really putting this together. Being really intentional about the colors.
Then I will wait till I am really, really inspired. And then when it comes to being finished, it's when I'm really happy, when I say, "I really love this!" If I don't love it for myself, then I'm not done.

I will sit it in front of my bed and wake up to it and will be like "Ok!" or "I don't know about you yet!"
It has to have that excitement factor for me.
Atlanta is an amazing hub for artists from different ethnicities and identities. How do you interact with other creators in that community and enjoy their art?
I live two streets over from a major arts district called Castleberry Hill. So I basically interact with other artists at shows, and I take it upon myself to hangout with other artists, to go to other artists' shows, to help other artists showcase their work. Answer their questions. I want to pass on what I've learned: the business side of art. Help younger artists get their stuff in front of people.
What piece of advice did you wish you knew when you started your art career?
I took my own advice: there are no rules. There are so many opportunities for artists, especially right now. The options are endless: fashion, books, interviews, collaborations with major brands. We are so needed right now. You can do anything you want to do if you put your mind to it.
Your paintings have so much style. What's your wardrobe like?
My wardrobe is building, and happens in waves. I love fashion, so much. Right now I wear a lot of African hats from Nigeria or Ghana (I'm rockin' a bald head now). I love distressed. I love mixing my art aesthetic with fashion. I will wear jeans that have paint on them with a white t-shirt and some distressed cowboy boots. Basically, developing into Lenny Kravitz style.
Learn more about Emmy and his work at his website and Instagram page.