Meet the Artist: Dawn Trimble
Dawn Trimble spent years in architecture and design before turning to painting. She creates ethereal watercolors, forming abstract shapes with evocative movement. We're proud to feature her as one of the first four artists in our Black Artists Print Shop.

What is your background as an artist?
I have a background in interior design and architecture. I've always been on the creative side of that, less on the math and science side. I was able to start painting in 2018.
I always felt the need to create. When we would do projects in school, I always enjoyed the beginning parts the most—when you're getting the concepts down, the colors, the shapes, and the forms. It's the essence of what a building could be. When you walk through a great piece of architecture, you're not able to put it into words, but you can feel it, you can experience it. I loved tapping into that part of architecture and interior design.
What I started in 2018 with painting, I began to really dive into this year, especially with the pandemic. I was working full time, in a design firm and at the end of the day I felt drained and uninspired.
What drew you to painting and watercolors specifically?
I think there's an ethereal quality about watercolors. It's transparent, you can layer it or it can be very heavy. It can be soft and barely there or very intense and strong.
There was no one to value engineer my painting. It's a pure expression, it was very freeing and I felt amazing afterwards. I became addicted to that feeling. Especially now, it's very cathartic.
You say you explore "the subtle and the vulnerable" through your work. Can you tell us more about that?
When you're able to tap into the things that make you feel vulnerable, that's where real connection is made. I think that's where the good stuff is. Especially now, we realize how important authentic human interaction is when we take it for granted. Being able to be honest about where you are and where your emotions are—I'm interested in expressing that visually.
What do you hope to convey with the text and bible scriptures included in your work? What do they mean to you?
I read the Bible for the first time five years ago. Never before. Didn't know who Noah was… I knew nothing. When I read it, I was in awe of the power and the love God has for us. I feel people want a sense of hope now. It is the thing that grounds me. It reminds me that I am not in this alone. There is someone who is protecting and watching over, which is a beautiful feeling.
I'm redeveloping my website and I've divided it into three parts because I've noticed that a lot of my collectors really like the scripture or they really like the dimensional architectural collages or just the pure art. I can stand behind those three areas and be really excited about expressing myself from those spaces. I'm absolutely thrilled that people want it.
How do you think your own identity is reflected in your work?
From the sheer fact that I am a Black woman, the pieces I create speak to who I am. I personally get caught up on the idea that my work doesn't look a certain way. I don't know if anyone looking at my art would be able to guess my race. There are some artists where it's very front and center and that's their bend. The work I create is from a Black woman's perspective because I'm the one creating it.
I think the beauty America is waking up to is that it doesn't look a certain way. The beauty is in the diversity. The beauty is in the subtle or the very pronounced. I think all of those forms are really beautiful. It's on a spectrum.
Can you tell us about the pieces you've chosen for the Print Shop?
One is called Flight 1 and the other is Vibrant Colors.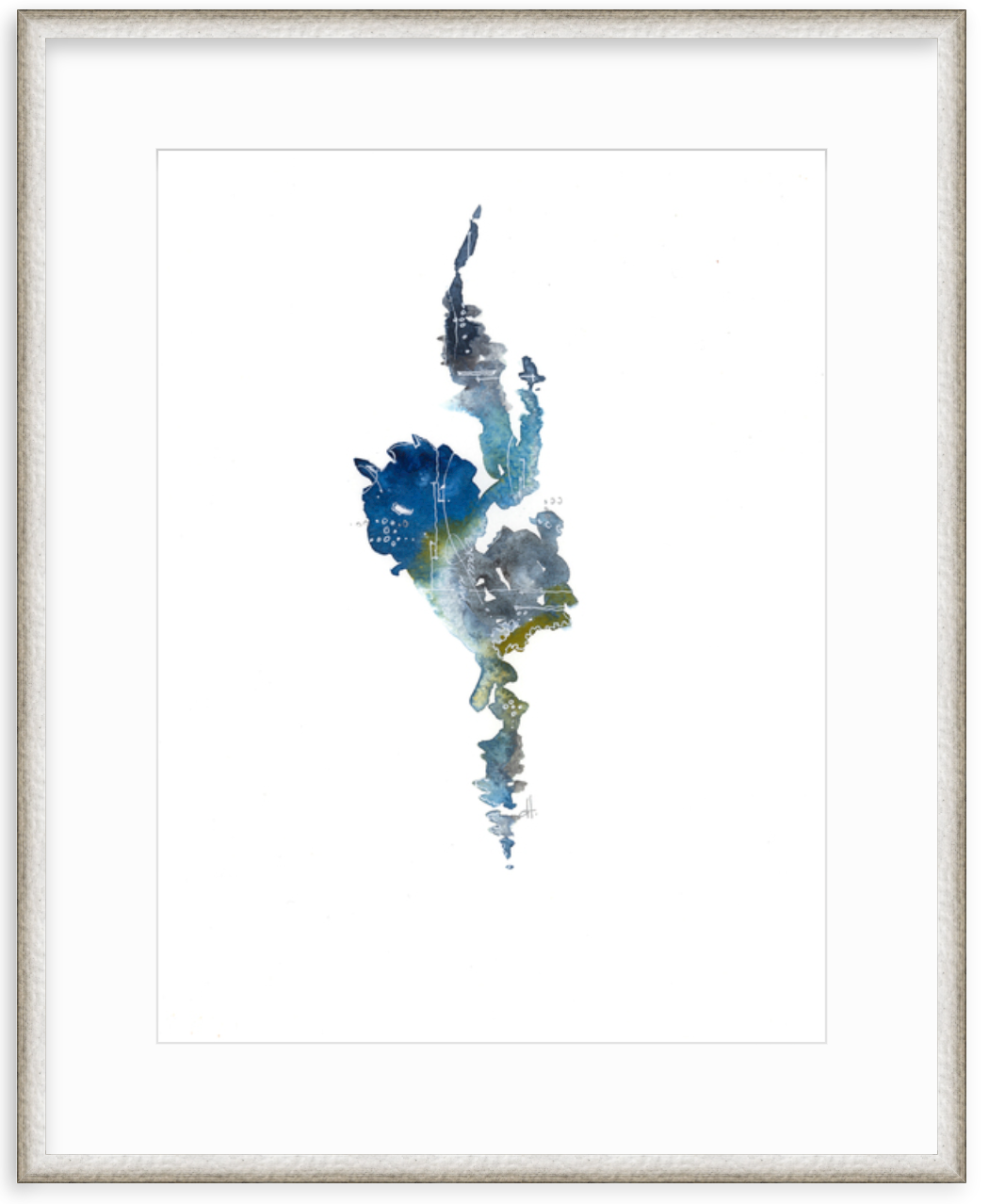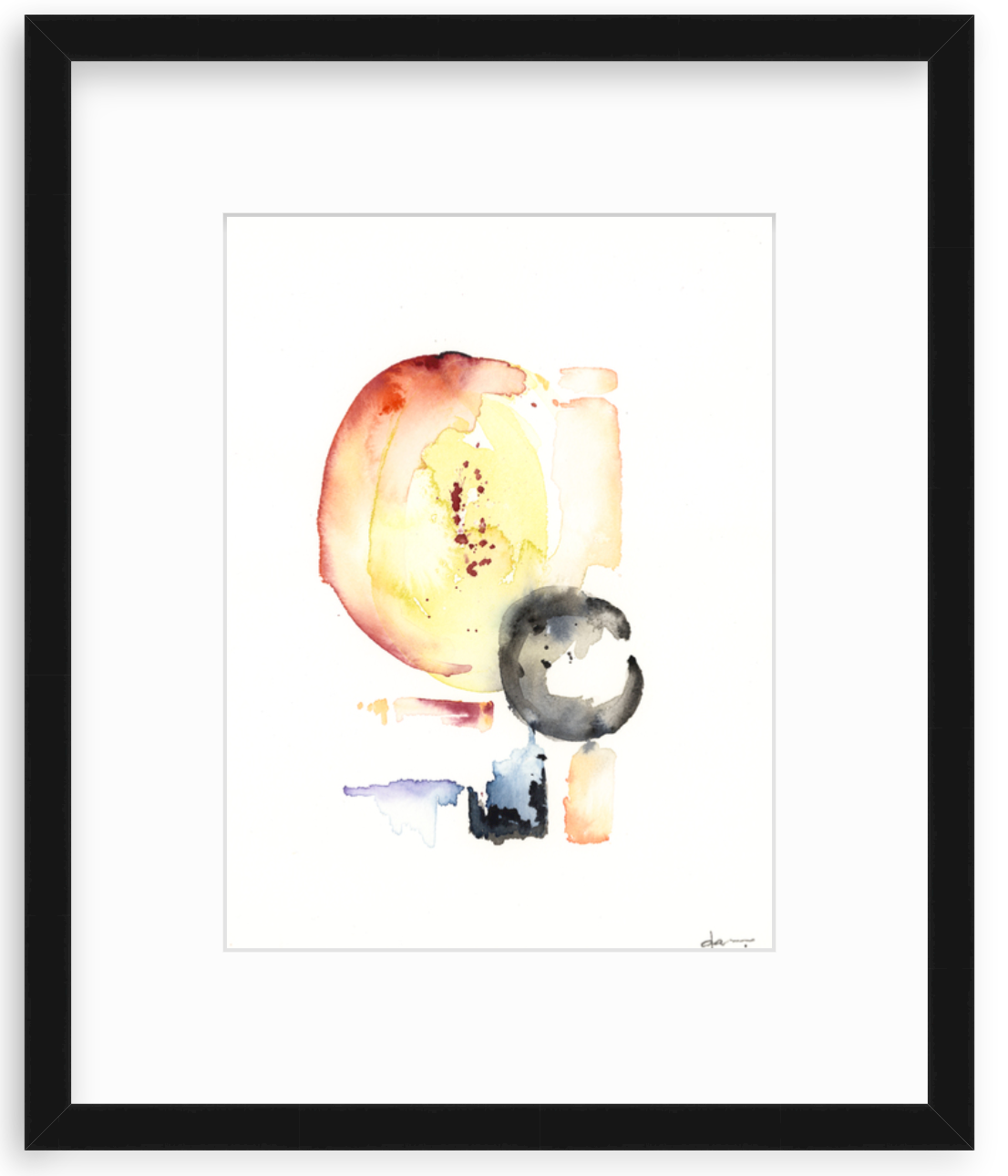 The Flight 1 piece is about the feelings you would have as you're moving off of the earth, maybe in an airplane or something where the aerial view of the earth starts to change. It's a very singular sort of piece, but then there are these lines and script within.
The Vibrant Colors piece is more experimental. I'm starting to go bigger with a lot of my works and I wanted to focus on primary shapes and moves with the brush—it's a more expressionist approach. It was an experiment with how my hand moves, what happens with these colors and shapes and how it all comes together.
You can learn more about Dawn and her work on her Instagram page.