Meet the Artist: Bernard Essiful
Photographer Bernard Essiful moved to the U.S. from Ghana in 2006, ultimately establishing a collective of creators known as The Zenith Class in Los Angeles and is currently studying to be a Doctor of Occupational Therapy at Howard University in D.C.
We're proud to feature him as part of the latest group of artists in our Black Artists Print Shop.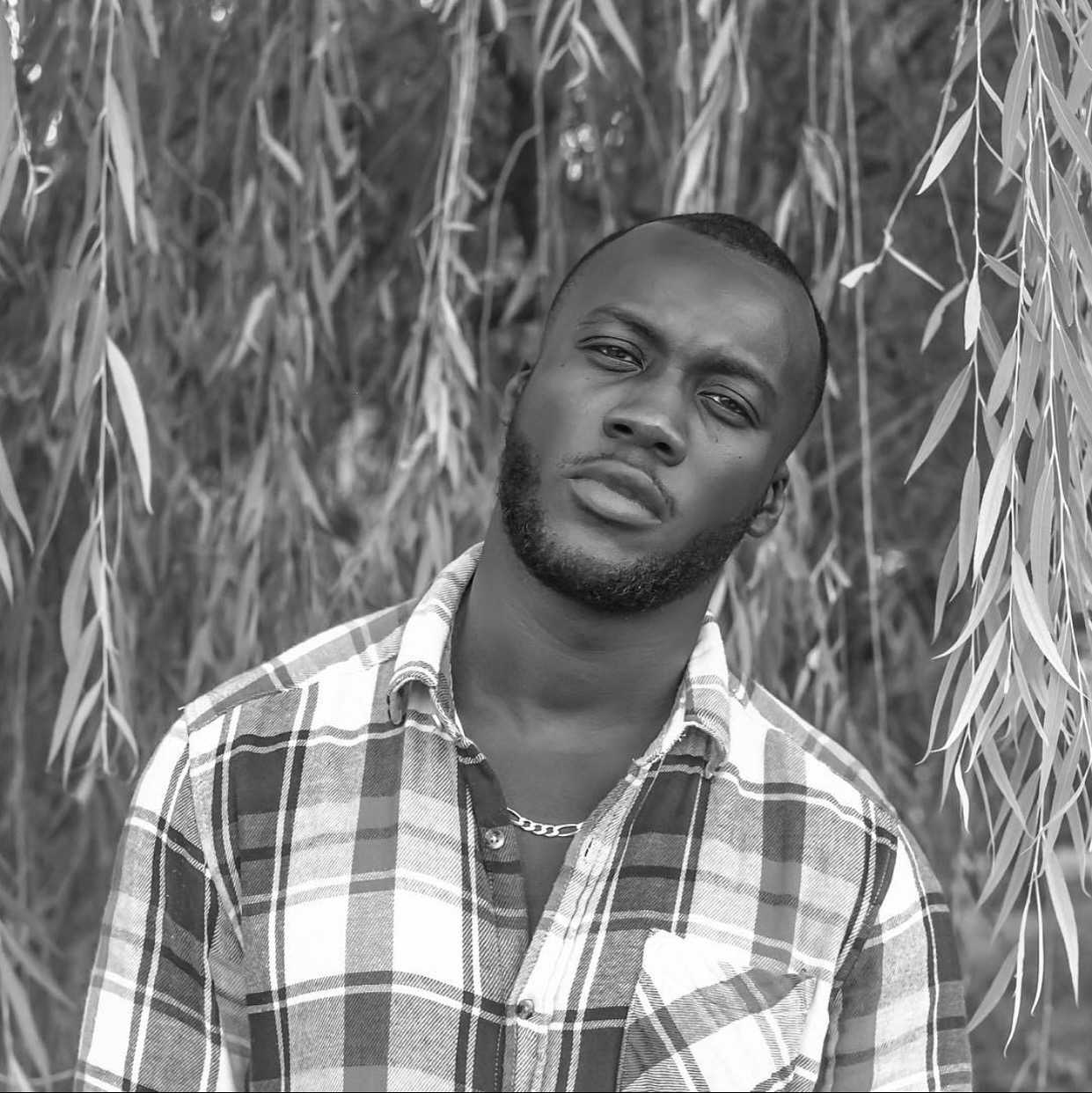 How did you get started with photography?
I was originally born in Ghana, West Africa and came to the United States in 2006. I come from a background where arts and creativity isn't rooted in my community. To tell my parents I wanted to be a full time visual architect… it's not that they didn't want to support it, it was just never their background or something they got to understand. Partially why I'm involved with healthcare and medicine is to please them in a sense, but I think it's really possible to merge the arts and creativity. My goals and aspirations have always been around medicine. I'm getting my masters and doctorate in occupational therapy at Howard University. I want to work on hands in the future. I love hands. Everything about these extremities. Everybody needs them. For my first semester, we had to dissect a human hand. It was fascinating to see how things move, pulling on the ligaments and seeing the finger move. I see beauty in everything and once you have the keen eye for those things, that is what molds the way I shoot.
I always had a good eye for a lot of things. I just didn't know where it would take me until my 8th grade year. I decided to take a yearbook class. That's the first time I got to hold a Canon. I was taking shots of football games and things like that and it came to me naturally. When it comes to creativity, it comes to me very fluid.
I've shot for New York Fashion Week and different media. I own a creative agency out here in Los Angeles called The Zenith Class. Everything on my resume was self-taught. I think that if you can capture landscape or buildings, it's easy to capture the human frame—you see how symmetrical things are. If you learn to utilize your surroundings, you are going to be very neat at capturing the human body. That's kind of how I merged it.
What was the move from Ghana to the U.S. like?
I came from a culture whereI went to private school my whole life. I actually speak seven languages. In Ghana they inflict corporal punishment if you don't oblige by the rules and regulations. For instance when I was in English class, I couldn't speak my native language. These morals were instilled in us.
When I came over [to the U.S.] I was a little bit ahead in terms of school. Of course I had an accent, but communication was pretty simple for me. I had some challenges with what to eat and how to socialize. I saw pizza for the first time and thought why do you have tomatoes on bread? I wasn't used to it. Learning words like "awesome" or "weird" was all new to me. I feel like I acclimated pretty fast. If I was born here I probably would have made different changes, but I'm very thankful for what I learned there and seeing different sides of the world has really shaped my perspective.
How do your identities factor into your work as a photographer?
I think about this a lot. The way we were raised in Ghana, of course you're surrounded by all Black people. It's Africa. My mom's family is Dutch. I went to school with Lebanese kids, I went to school with British kids if their families were there for trading or business. As men there, you are billed to know who you are, know yourself. Learning to be strong and tough sometimes comes in handy. Love and affection are not necessarily viewed a lot for men. When I came here and started capturing visuals or street shots, shooting a lot in Los Angeles. I realized that emotion and self expression played a huge factor in how I captured things.
I obviously know racism exists, but living in Ghana I didn't know the severity. Colorism was there, but coming here… I don't have to express myself as an African American to be able to say I can do something. I'm not going to tell you that I have to work twice as hard. I know myself and I know what I'm capable of. That's what I try to instill in a lot of people that look like me. Just know that you are capable of doing something. I do see that certain opportunities are not there for people of color, however I do sometimes feel that these ideas prevent people from attaining greatness. I've seen what people are capable of.
That's one thing that forced me to found my company. I was seeing really dope creators hidden. Friends with sketches wouldn't ever display them. Creating something like an art show starts conversations and bonds people. When we hosted events, I saw the most diverse realm. It was very powerful to me because I was seeing people connect in different ways that they never thought they would. I try to give some kind of mentorship or guidance to people of color. You don't always have to identify them as "a Black man doing this", you have to identify them as a human being doing this and know that you're capable of it. That builds courage and drive for what you want to attain in the world.
Can you tell us more about the two pieces that are a part of the Print Shop—
Great Falls
and
Venice Canal
?
My friend and I always did some kind of adventure after finals because school is brutal—13-hour study days every day. My last semester of my first year at Howard we decided to trek to Great Falls.
I can tell from the moment I see an image, I can predict how the photograph will look in my head. The contrast, the sharpness, the angle. As soon as I saw Great Falls, I almost tipped off the lookout when I was taking the picture. Capturing that image, it shows how powerful nature is. The rocks, the trees, the dried leaves, the bird. There was a lot of engagement happening. I visualize the whole image as freedom, all of these things as one. Freedom and community. I wanted to bring that mood into the picture.
With Venice Canal… I'm the sort of guy that likes minimalistic energy. Simple things. Venice Beach can get a little crazy, but the canal is not too far from the beach. I've always wanted to live in that kind of area. A therapeutic lifestyle. Even though the land is expensive, you can fantasize about things going your way. The boat, the water. If I lived in that environment, I could sit in the boat in the morning with a book. Have a nice little ride through the canal. Grab some food, hang out with friends. There's a word in occupational therapy called a tactile sensation—that feel—and I wanted to be able to bring that into spatial awareness.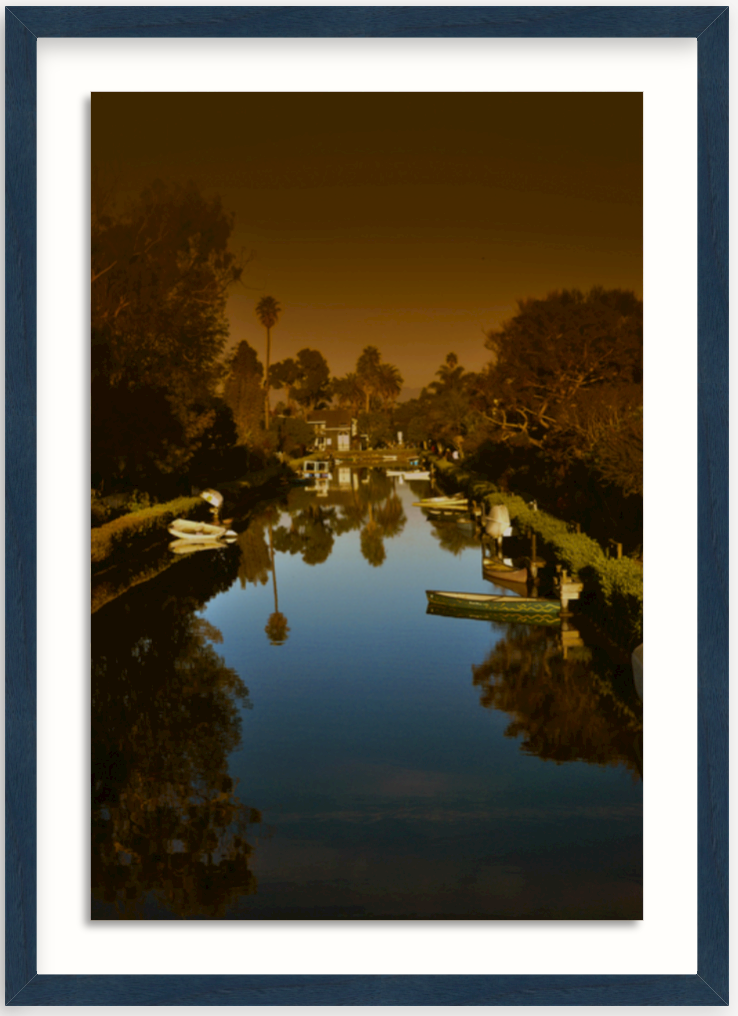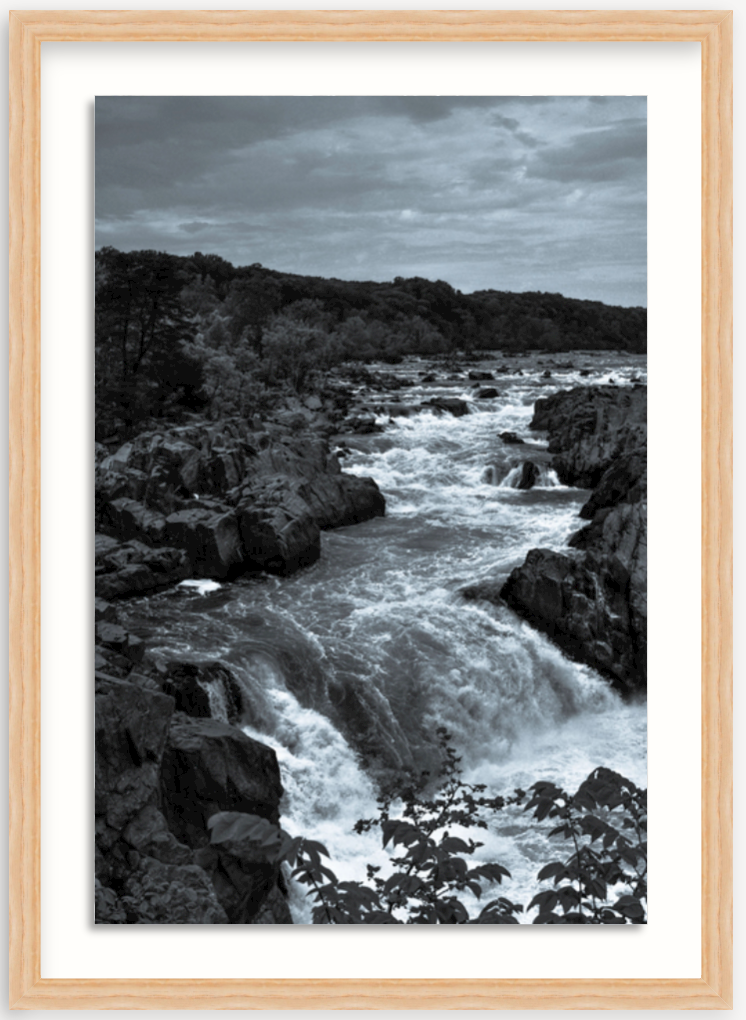 How do you choose black and white versus color?
I know from the jump whether something is going to be black and white or color. I feel like you're able to bring focus to the subject with black and white even if there is a lot going on in the background. It's poetic. There's something being spoken if you really pay attention.
With color, I think you can bring ambience. People think color is always joyful, but you can even express sorrow with color.
How do you hope viewers will react to your work?
Whenever I capture an image, I want you to feel like you're there.
I feel like people can form their own stories, their own fantasies. When I see something, I immediately see what it expresses, what it symbolizes. I always feel that way no matter where I am. To anyone who decides to buy my artwork, I hope they'll hold on to what the expressions are as individuals. It's a beautiful thing to create their own ideas. Although it might be hanging in your room, look at it like it's hanging in a museum.
Learn more about Bernard and his creative collective, The Zenith Class, at his Instagram page.