Artist Juniper Briggs frames her paintings
We were first introduced to this Virginia artist through her fierce, fabulous squad of femmes on canvas. Her painted ladies are full of emotion, and after chatting with Juniper we're pretty sure we know where they get it from. Our conversation with Juniper, and our visit to her studio, left us feeling happy, inspired and... like we needed one of these pieces for ourselves. Enough from us though - here's our chat with Juniper.
________________________
Tell us a little bit about your background as an artist. How did you start out? Well, I grew up in this super hippy community. A lot of the people that moved there were artists. They were glassblowers, and potters, and painters. It was normal for me to go a friend's house and play with clay or paint. I started taking painting lessons really early on. Probably around seven, if not earlier. I don't know why, but I never really thought I was good enough to be an artist. When it came time for school that wasn't my go-to, even though I was always doing something creative.
In high school I did theater. And I loved it. It was amazing. Middle School I did photography. Loved it. When I got into college I thought I was going to keep doing theater, but I didn't love the department. So, I couldn't figure out what to do. So I went to my parents and I was like, "I'm going to quit college." They were like, why don't you just make up your degree? So, I made up my own degree: Cross-Cultural Communication Through the Arts. And, I got to combine my love of travel with my love of art and go abroad for a year.
All along I was painting on my own, but never considering it anything. Just here and there, I would get these sparks. After I graduated, I went back to Spain and fell in love with all the art over there. Still, not really considering myself an artist. I then went back to California with my honey, and started working for an art gallery there. That was really when I started painting more and more on my own. When we moved to the DC area I was still searching for "my thing". I had just started on Instagram, and there were all these amazing women who were moms and doing art. It made me think I should get back to that. So, I just started.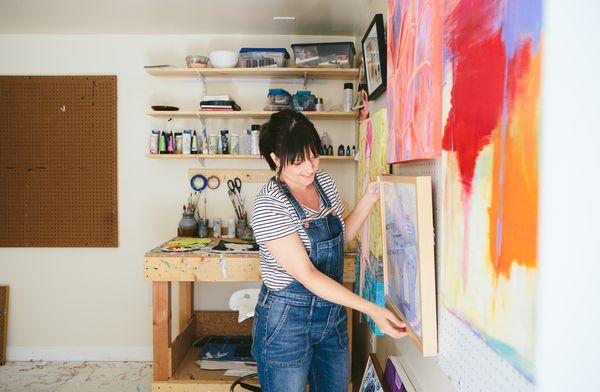 "My ladies have a lot of strength in them. I think they are manifestations of that inner kind of power that I've let myself feel."
Was it hard to make the jump to finally commit yourself to art? It was so not hard. In fact, when we moved to California I started doing painting for a house there. And at that point I started dreaming about painting every night. In my dreams, I knew what I wanted to make, and I could create whatever I wanted to make. It was calming to me. I still wouldn't listen. I still wouldn't take it seriously. I would wake up and tell my husband, "I keep dreaming about these paintings."
So, when I did really start committing to it, I went through a period of what I would call "battling" with my art. I had all these visions, but they just wouldn't come to fruition. Or they would eventually, but it felt like I went into battle everyday. But I did it everyday. Sharing it on Instagram spurred me on, because you know, you have a platform to share your work. You have people who are encouraging you. There's a reason to finish a painting. It's not like that's the only reason, but it gave me purpose. I've gotten to the point now where I don't feel like I have to go into battle anymore.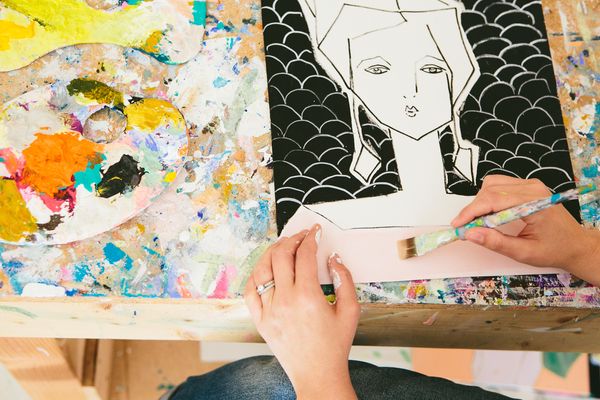 What do you hope to capture with your work? I have had some people write about my work, which have been "Aha!" moments for me. I don't really go in thinking, "I want to make some art feel like this." It's more about what I'm feeling, but don't recognize I'm feeling. I do think that painting brings me a lot of joy and release. I've found my joy through painting. I was searching for "my thing" for so long, and I didn't let it out for so long. I've really come into myself. My twenties were really hard. There was a lot of turmoil and a lot of self-searching. My thirties have been motherhood, becoming an artist, and allowing myself to recognize myself as an artist. I was too scared to do that for a long time. My ladies have a lot of strength in them. I think they are manifestations of that inner kind of power that I've let myself feel.
Love that. Well, we definitely have come to look to artists like you for inspiration. What artists do you look to for inspiration? In terms of my figurative work, I look to artists from the past like Pablo Picasso, Gustav Klimt, Paul Gauguin, Henri Matisse, Egon Schiele, Frida Kahlo, Amedeo Modigliani, as well as a slew of other contemporary artists. Luckily, I don't think I'll ever run out of people, places or things to admire or be inspired by.
"I also approach them from the perspective of being part of a larger tribe of women"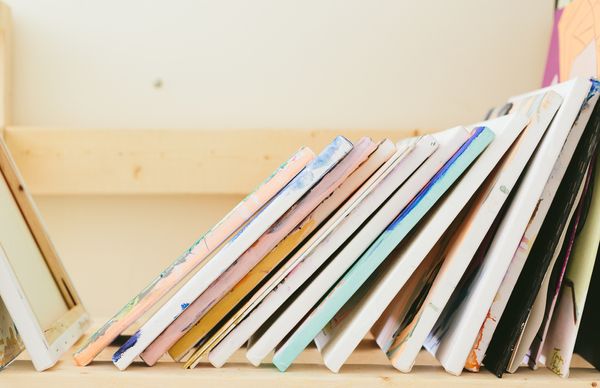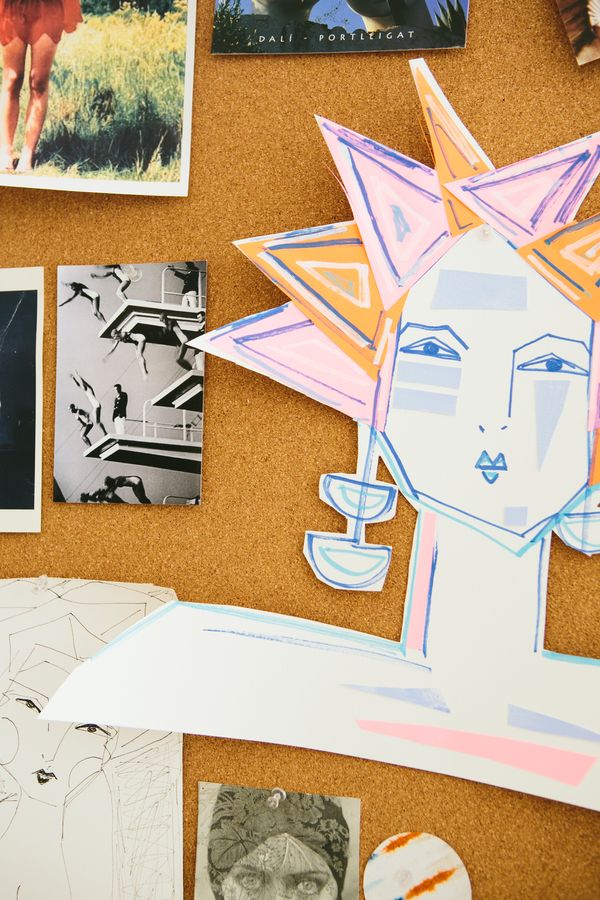 We noticed some beautiful old photos on your inspiration board, and you mentioned a little bit of Cleopatra in your work. Do you look to female historical figures for inspiration? I have been very interested in ancient Egyptian art recently, and it has certainly influenced some of my work. I think it's always important to look to the past for inspiration. A lot of my ladies have a somewhat vintage feel to them, but with a very modern spin. My "Lady Gray" painting bears a strong resemblance to my husband's grandmother when she was young, and I just did another lady recently that reminds me of photos I've seen of my Oma in her youth. Neither one was done intentionally that way, but I do like the idea that the spirits of women from the past might have a chance to come through and be revived somehow in my work.
The ladies in your work - do they represent you? I think there is definitely a case to be made that my ladies, represent parts of myself. I certainly draw on my own experiences, but I also approach them from the perspective of being part of a larger tribe of women.
They are definitely fierce! I'm interested in the push and pull between a woman's external presentation of calm, poise, and beauty versus her internal strength, struggle, and complexities. I think that combination can come across as fierce, but in a good way.
Do you imagine these ladies to have personalities or identities? It's funny because I don't usually start out with an idea of what their identity or personality might be. It's something that becomes clear to me after I am finished. The naming process really solidifies who they are to me. I'm a name nerd so I sometimes spend quite a lot of time trying find the right name for a particular lady.
"It's so interesting for me to see that these ladies in one form or another have been with me all along."
Do you see any connection between the art you created as a kid, and the art you're creating now? YES! I recently went through a bunch of old journals from when I was in middle school and high school and they are full of crazy faces and women. My style has certainly evolved and been refined since I started taking my work more seriously but it's so interesting for me to see that these ladies in one form or another have been with me all along.
Let's talk about that creative hustle. What is the biggest creative risk you've ever taken? Oh my gosh. Just starting. Just beginning. Putting my work out there. Deciding to sell my artwork. It felt like a risk to my heart. Letting myself start an art business was my biggest risk. I think a lot of people have watched me grow as an artist over the last two years, and have been nothing but supportive and excited about what I'm doing. That excites me, and spurs me on.
What about painting has really captured your attention? Well, I think it was always there, I just never took it seriously enough. I've always loved fashion, art, color, and decor. It was a way to inject myself into all these things that I love. It's also something that I'm able to meld with motherhood. It's been really important to me as a mom, because it's my me time. Even though they're down there with me sometimes, most of the time I'm able to get it in during naps or while they're at school. It's my creative outlet, and my reminder to myself that I'm a mom, but I'm more than a mom I'm a creative being with a voice that I put out into the world. I was searching for that for a long time and painting has given me that.
"It elevates it, but it also makes it more approachable."
Last question. As an artist, how do you think framing changes your art? It just really elevates the work. I think people sometimes have a hard time envisioning my work on their walls, and a frame does that. It elevates it, but it also makes it more approachable when you can see how it fits in your home. Otherwise, it's just a loose piece of paper, and it's hard to have that vision. It makes it more approachable, but it really highlights it beautifully.