From Anonymous Coworkers to Engaged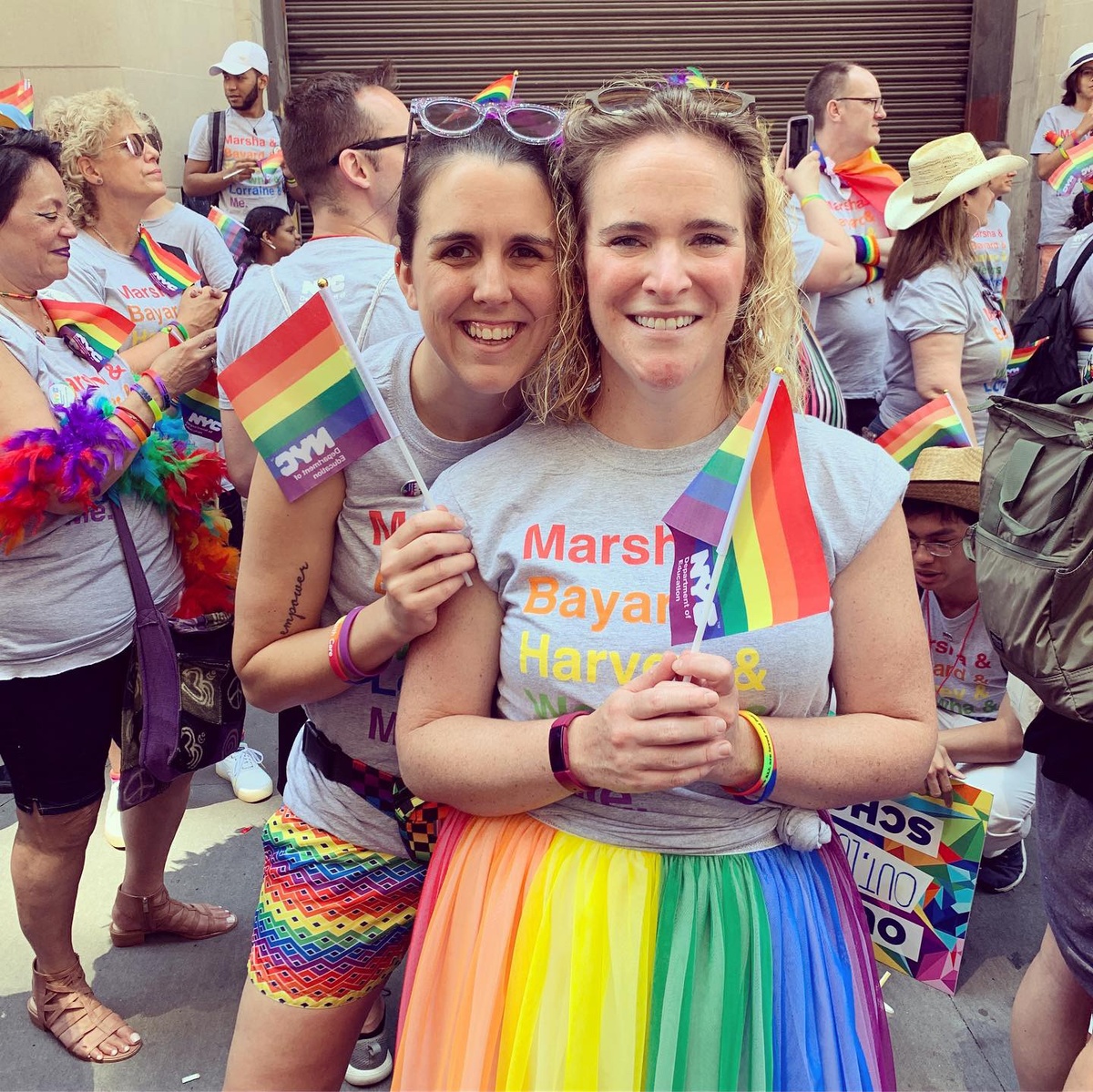 The New York City Pride Parade, 2019. The New York City's Department of Education Central Office Administration's parade "contingent." Jessica and Meghan's first Pride together as a couple. Now they're now engaged.


It started in October 2018. Though they worked in the same building at the New York City Department of Education, they are quick to point out they did not know this or each other prior to meeting on a date. Meghan elaborates: "Bumble."

The day after their first date, Meghan walked out of her office at 9:00am, only to see Jessica in a meeting right outside her door. "It wasn't intentional, somebody else picked the location," remembers Jessica. Potentially awkward water cooler run-ins would not stand in their way— their relationship quickly evolved from anonymous coworkers to partners.
By June, they were marching together as a couple in their office's Pride contingent. A coworker and friend was moved to snap a photo that captures Pride's role in their blossoming relationship. Shortly after the parade, they moved in together.

In December of 2019, Jessica proposed. Respecting their shared love and dedication to New York City, Jessica framed the day as some "Holiday New York Activities," — fancy hotel bar cocktails, New Orleans band at Brooklyn Bowl, blind-folding in an Uber, the review of proposal bullet points on an iPhone — all leading up to the moment Jessica popped the question in front of Randolph Beer Hall, the location of their first date.

Pride is going to be different this year, for a variety of reasons. While they won't be able to march, they plan to wear their rainbow garb inside, and celebrate however they can.

No matter the celebration, they both want to acknowledge Pride's role as a vehicle for social justice. Jessica explains, "The racial justice movement and the incredibly important work going on right now in response to the murders of George Floyd and so many others is the work of all folks who celebrate pride."

Even if there isn't a parade, there is still the demand to move forward.


For more stories of love, community, and activism visit our Pride Gallery Wall.