Get a Crossword Published in the New York Times: Check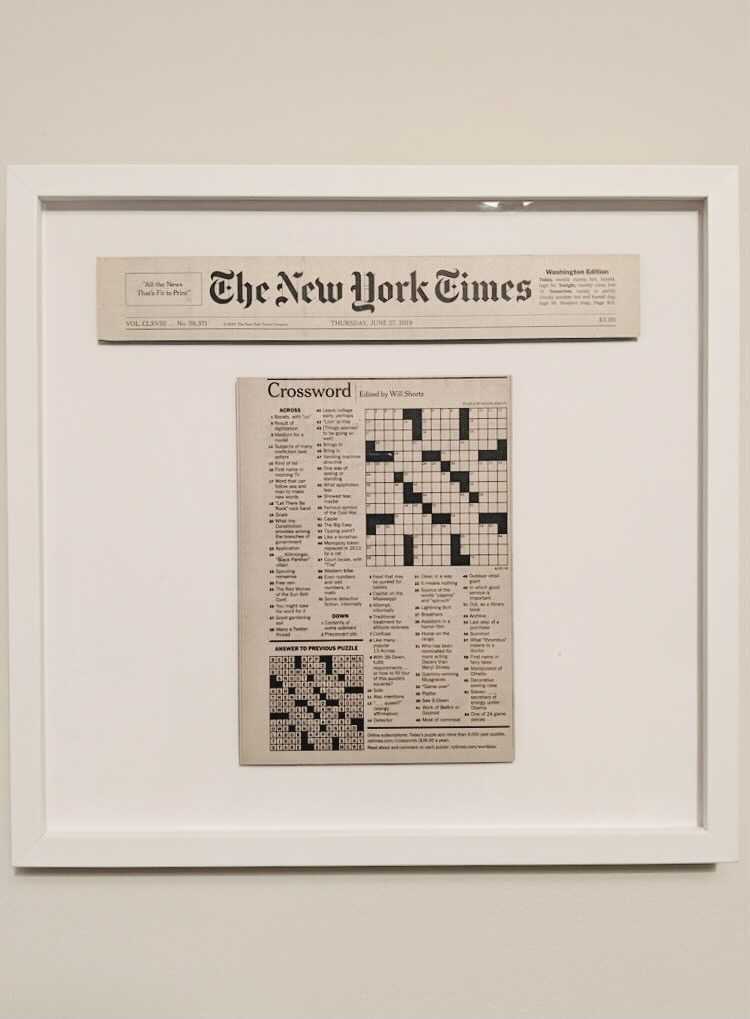 1 across. Clue: The Holy Grail of Crossword Publishing. Answer: The New York Times.
The June 27th, 2019 edition of the New York Times marks a crowning achievement for Kim in his crossword constructing career. It was his debut in the famed publication. "The ultimate nerd goal."
And — like any major achievement — the road to get there was long, arduous, and involved a formidable vocabulary.
For Kim, it all began in college. With lots of free access to newspapers, he "developed a 3-4 per day habit" as he remembers it. He liked solving crosswords, and was getting good at it. Getting fast.
"I wonder how I compare to other people?"
Lucky for Kim, there is a whole world of crossword puzzle tournaments — fun and welcoming events in hotel ballrooms and church basements where competitors are scored for speed and accuracy. Surprisingly, what Kim loved most wasn't the puzzles. It was the community.
Words lists. Software. Pitfalls to avoid. Learning the terminology for people who do crosswords and people who write them ("solvers and constructors"). This warm community helped him get started, and was giving him a nudge. Why doesn't he try writing one?
According to Kim, "the mark of a good puzzle is the moment of joy when somebody fills it."
Sure, a puzzle should be challenging. But never esoteric. It's ok if you don't know "who won best actress in 1924." And nobody wants to see anymore "old baseball players, bad acronyms, obscure trivia or only white male historical figures." The clues should feel current, things that people actually say.
It helps to think of a good theme (Kim prefers themes that involve word-play), identify what kind of a puzzle it is, then lay it all out on a grid that makes sense.
For instance, his New York Times puzzle's theme is "Check All the Boxes" It is a "rebus puzzle," which means some squares can include an illustrated picture in place of a whole word. (Read more about his puzzle, including in his own words, here.)
Okay, here's the moment we have to warn about spoilers. We understand if at this point, you'd rather try his puzzle (subscription required) than read on. But once you're done, here's what we're talking about.
20 Across. "What the Constitution provides among the branches of government." (✔️ and balances)
33 Down. "Game over." (✔️ mate)
64 Down. One of 24 game pieces. (✔️er)
Get it? Then, 9 Down and 39 Down ("fulfill requirements… or how to fill four of this puzzle's squares?") team up to show the theme:
Check all the boxes.
Speaking of, this was a big deal. Before this one was published, Kim sent the New York Times "two years worth of puzzles." Some were "duds" before he learned the tricks, others were published in other reputable places.
But, the New York Times is the Holy Grail. Again, "the ultimate nerd goal." And his wife Jessica, "his forever editor and test solver," was going to treat it as such. She got it framed for him for the holidays, saving it from being "in some memento box in the basement."
Today, it hangs in the guest room, a reminder that "all goals are achievable." And while Kim's crossword constructing career is far from over, the New York Times is one significant box he has checked.
Clue: Ultimate achievements make great gifts.