Before & After: An Entryway for the Holidays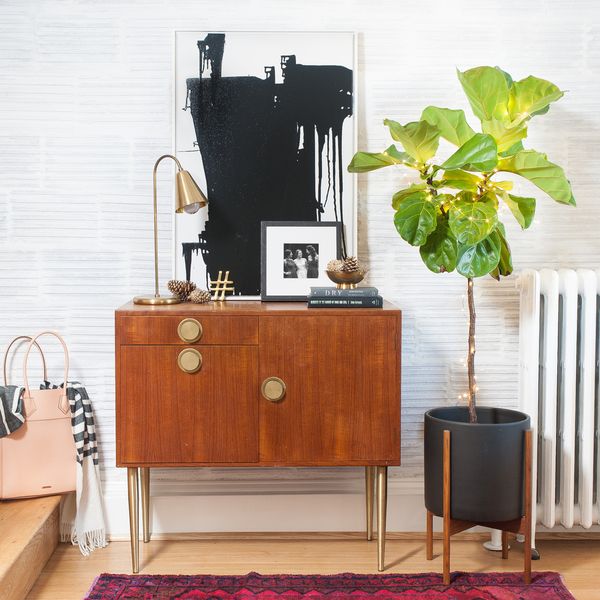 The entryway is the first spot in your home that guests see. We gave this one a little love for the holidays. Here are five quick (and genuinely easy!) tips to bring the holiday spirit to all those who enter. But bring it, like, in a cool way.
1. Try a Nontraditional Tree:
Fiddle leaf fig? We all love 'em, despite their infamously bad attitudes. And they look pretty darn cute with copper holiday lights. A look that's a little classic and a little hipster, and that'll win over your in-laws and your friends.
2. Go Gold:
Okay, yes... we love gold decor year round (who doesn't), but at holiday it feels especially apropos. Here, we added a vintage brass bowl with some festive gold pine cones and a fun hashtag paperweight.
3. Get a Little Personal:
This one's hard, because we can all get a little weird about hanging photos of ourselves in our house. That said, we love a little Instagram Mini with family and friends (and always love b&w in our industrial Bolton frame). Sneak it in there and that way you can all be "together" for Thanksgiving. And then wrap it up and place it under the tree next month.
4. Keep Things Casual:
Throw a few branches from the yard into a big vase or some books from your office into the mix. Have a scarf, bag, or boots that you love? Let them work themselves into your holiday decor to make everything feel a little cozier. If you ask us, a welcoming home is one that invites guests to kick off their shoes, throw their jackets on the stairs, and curl up with a glass of red wine.
5.Work the Red and Green (but only if you want to):
Everyone's not-so-favorite holiday color palette can actually feel fresh if you use it unexpectedly. We're loving this vintage red rug with the green of the moody fig. You have to look twice to realize the colors in this entryway are spot-on for this time of year.
Looking for more inspiration as you get your home ready for the holidays? Check our this post about five steps to perfect holiday dining room, or this one about how to make your guests feel right at home.
---
Framebridge: custom framing for a warm welcome