Drawing Courses: Sketches of New York Restaurants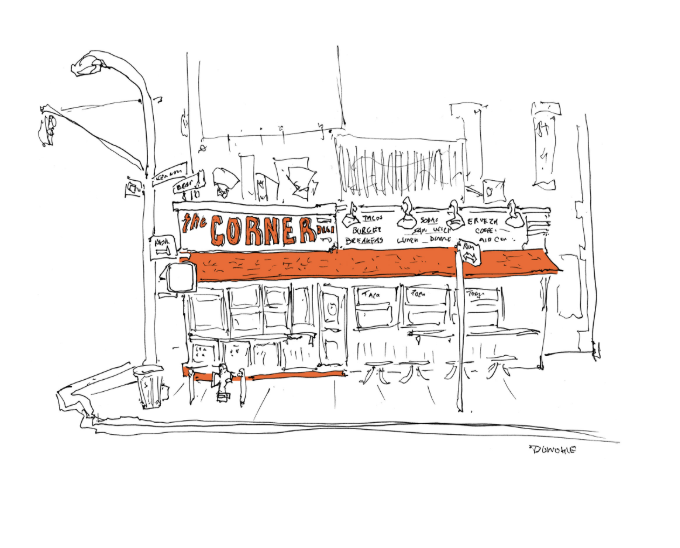 Go for a stroll in the West Village or Soho or Fort Greene and you may encounter John Donohue standing on the sidewalk across from one of New York's most notable eateries. He may be leaning against a mailbox or a lamp post—anything to keep him aware of the physicality of his surroundings while he puts pen to paper. John draws restaurants.
John started drawing in 2001, taking classes at the Arts Students League and School of Visual Arts, practicing on the subway on his way to work as an editor at the New Yorker. "That was really like my studio," he says, "I discovered that I really enjoyed it. Drawing for me is magical."
As a parent his pastime evolved. "I find it totally changes my state of mind. It helps me be more patient and more present. I'd be waiting for my kids to tie their shoes when they were little and I would start to draw the sneakers or the radiator and it would make me more calm and relaxed." No household object was off the table—he even made a ritual of drawing the family's dishrack every day.
"People are connected to the drawings because they're connected emotionally to the place."
While John wanted drawing to be a bigger part of his life, he knew that illustrations of his dishrack wouldn't interest a lot of people (as interesting as the precariously stacked colanders and sauté pans were to him). Restaurants came to mind. "I knew that people are kind of crazy about food and, sure, I love restaurants," he says, "People are connected to the drawings because they're connected emotionally to the place. The drawings bring them back to that moment where they had a really good time with their dad or they met their spouse or they had that first date or they made that business deal or they celebrated graduating from law school." The irony is that he doesn't eat out very much.
From Michelen-starred fine dining spots like Per Se to Junior's Cheesecake in Brooklyn, John doesn't discriminate when it comes to facades he'll draw. He's included 101 iconic ones in his book All The Restaurants in New York and produces limited edition prints (only 365 of each), all available on his website (alltherestaurants.com) and ready to frame. Next up: London and Paris.
Have a place that's special to you? Submit a request and John will draw it for you. We can't think of a better Valentine's Day gift.