Down to Business with Mallory Shelter Jewelry

Whether you joined the workforce twenty years ago or two, looking back on those first days in a new job brings up a swelling mixture of nostalgia, embarrassment and affection for your younger self. Mallory Shelter, founder of Mallory Shelter Jewelry, recently had an opportunity to reflect when she framed her business cards. Seeing them side by side, Mallory was able to see how her business has progressed and how she got to where she is now. We sat down with Mallory to hear about her jewelry, how she built her business, and the stories behind each business card.
On Her Career Journey
"I started Mallory Shelter Jewelry in 2014 as a hobby, but had been making jewelry since middle school!" Mallory said. "It began as an Etsy shop as a way to fill some of my free time and find an outlet from my 9-5 job. Sooner than I expected, my work began selling–first online, then in local boutique Salt & Sundry. I kept working on it during nights and weekends until it got to a point where I was ready to make the leap to running it full time."
"Since then, my work has been featured in Martha Stewart, Southern Living, Refinery 29, The Washington Post, and more," she said.
On Framing Her Business Cards
"I wanted to be able to look back and see how far my business has progressed," Mallory said. "It's so easy to get caught up in the day to day of running a business, that I often forgot to pause and reflect on the journey that got me here!"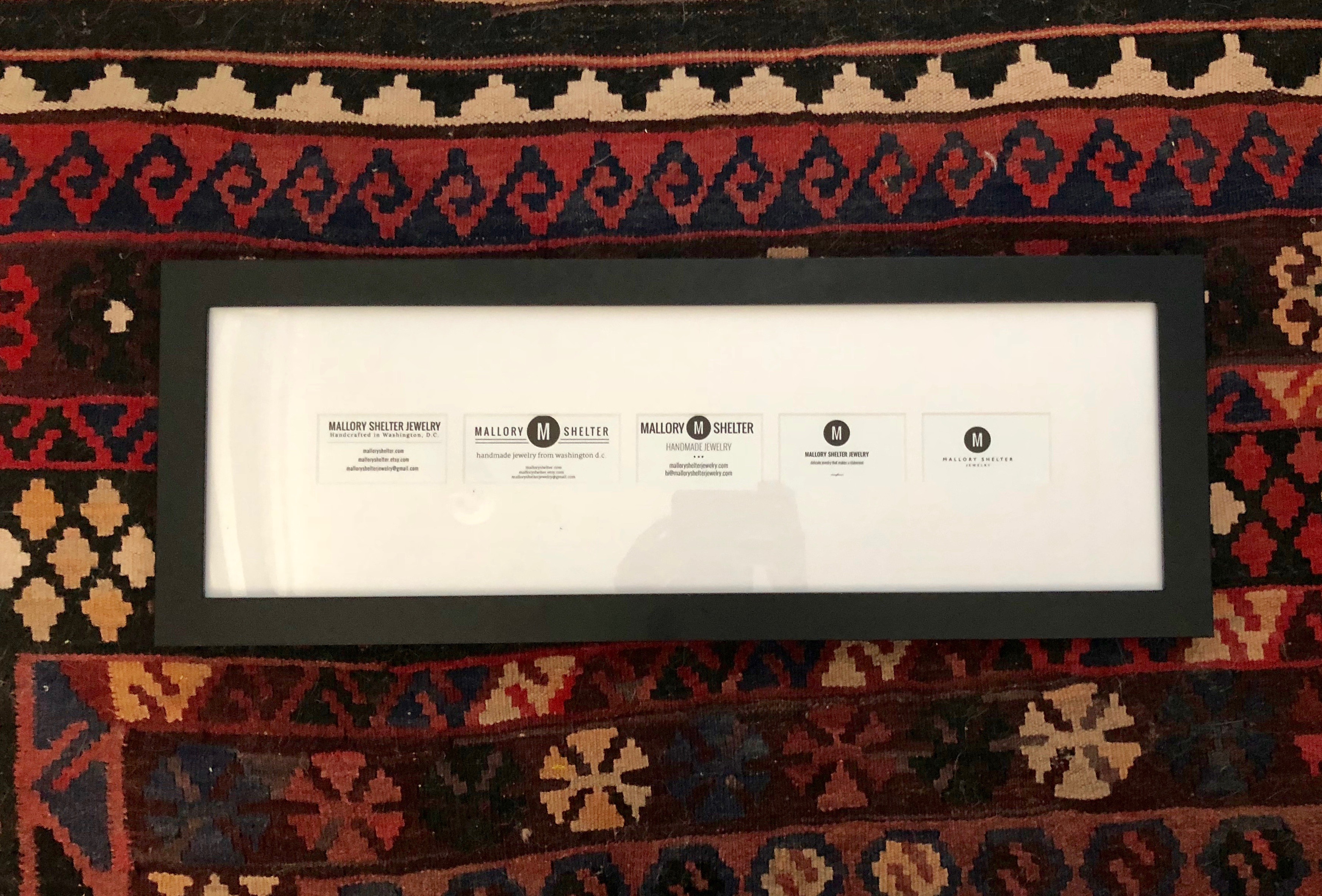 The Story Behind Each Card, Left to Right
This was my very first business card that I'm pretty sure I designed in Microsoft Word. I really wanted it to be clear that I made the pieces here in DC so that was a big part of my branding at the time.

The second card I had one of my coworkers design. She came up with the M inside the circle (which I still use today).

The third card is my least favorite. I'm pretty sure I took the branding from the second, but added a bunch of into to it. Hey, you live and you learn!

The fourth card started to get a lot simpler from my original branding. Again, I had a coworker help me freshen these up (so grateful to have worked with amazing designers!)

The fifth card is my current branding. As you can see, it's very paired down from where I started. I still use the M logo, but wanted to take a lot of the wording out and keep it really simple
Framebridge: custom framing for career paths that twist and turn
You Might Also Like...