Black Artists Print Shop: Meet Tafy LaPlanche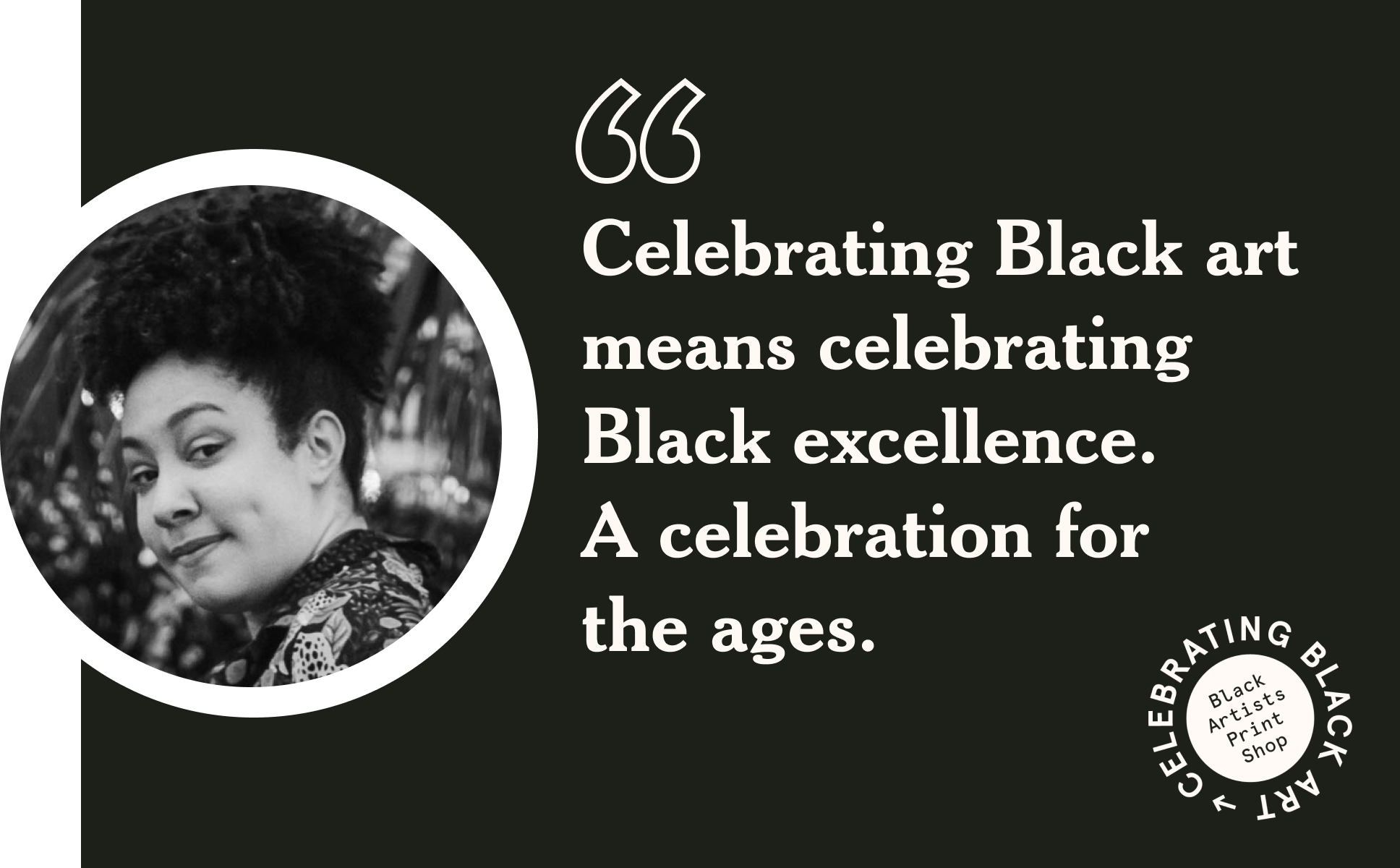 About the Black Artists Print Shop: The Black Artists Print Shop is part of our ongoing work to help advance racial equity within our communities. We aim to create spaces for Black artists—places where you can find their work, hear their stories, and support their businesses. Our fourth collection's theme is celebrating Black art. To do so, we're elevating ten distinct voices by highlighting the artists' answers to the question: "What does celebrating Black art mean to you?" Their answers represent a breadth of opinions on what Black art is, how we can support it, and the importance of representation.
About Tafy: Tafy LaPlanche is an Afro Latina portrait artist based in New York City and Savannah, Georgia. During her childhood, she was diagnosed with Type One Diabetes, an experience that pushed her to draw during treatment. She took her love to an art school that taught in Mandarin, where she learned art is a universal language. As part of her gallery and studio, Le Pouf Art, she paints unique and vibrant portraits for unique and vibrant people.
In your mind, why is portraiture powerful?
I believe that portraiture gives us this allowance to feel what you're really feeling. For me, when I look at a portrait, whether it be something from the 18th century or now, it comes down to the expressions and color and brush strokes of a face, and how that invokes some sort of emotion within me.
It doesn't have to be a portrait of someone I know, or a famous person, it could be a complete stranger. I've always been drawn to this immediate connection—out of what seems like nothing—in a matter of seconds with any portrait.
I always loved how it makes you realize things within yourself.
Tell us about starting your artistic journey in a medical setting. How has that informed your practice to this day?
When I was 13, I got diagnosed with Type One Diabetes. At the time, there wasn't a lot known about it. It was still being called juvenile diabetes. For someone at age 13 to have it, it was considered late in life. So I was in a good enough mindset to understand what was happening to me. A lot of the nurses and doctors would talk to me directly on how I would need to handle this new lifestyle.
Being one of the older kids in the hospital, I could never get my hands on the Nintendo 64 that was being passed around—I really just wanted to play some Smash Brothers to pass the time! Their version of entertainment for me, was to give me pen and paper. And it was meant to be like journal entries of what I was going through. But I was a terrible writer back then, I'm a terrible writer now. There was no way I was gonna spill my guts to these nurses in my room from morning till night.
I was really into anime, like Yugioh and Pokemon cards. I thought it would be cool to draw those figures. So when I ran out of source material, I would randomly draw the nurses that would come into my room. After being there for a while, I had a full wall of loose drawings of people around me. Definitely looking back now, I can see how I ended up where I am. To me, it was a form of storytelling. It was my way of expressing what was happening to me, but also through the lens of other people.
You invite people to visit your studio and watch you work. Do you like having an audience?
I do. I work well both alone and with an audience. For me, I pull a lot from the energy that surrounds me. So when I do have an audience, it's interesting because I don't know how different people will take my artwork. At the end of the day, art is very perspective-based.
I love having an audience because it can let me know if I am going in the right direction or not. Or I can see what gives a good reaction, what doesn't—I use this time as a trial and error type situation.
The main reason why I love having an audience is that I love connecting with those who are interested enough in investing in what I'm doing. I feel like getting in front of people is a humongous difference.
Sometimes you get good reactions, sometimes you don't—but at the end of the day, I am just happy to get a reaction. Because when it's just you by yourself you get into your head a little bit too much.
In what ways does your Afro-Latina identity surface in your art, your process, or in any other facet of your preparation or output as an artist?
So I am half Haitian and half Puerto Rican. And I was raised by my Mom. So I knew a lot about my Puerto Rican culture and heritage—but not so much about my Haitian side of things. Growing up, when people knew I was biracial, they'd say things like "Oh, you don't like spicy food," or "you don't like the beach, that's very un-Carribean or un-Haitian of you." I always felt like, I'm still Haitian, but maybe I don't fit into those pre-assumed boxes. It got me more curious about aspects of my Haitian culture, and that's why I pull a lot from it now. It's helped me communicate with that side of the family, and gave me a better understanding of where I fit within it.
The really cool thing about what I pull in from my Puerto Rican side is a lot of the graphic artwork that I juxtapose with realism, is pulling that. Growing up in New York, my grandmother lives in Spanish Harlem, and every time I visited her there would be these murals on the corners—whether it was at the bodega or the laundromat or the nail salon. And it would always be these beautiful murals of historical figures within the Puerto Rican community that were respected. The reason the murals were painted was so that people wouldn't graffiti the sides of these businesses. I always remember seeing these graphic, linear works and bright colors and pulse of joyous energy. Having that throughout my life, I knew it was a feeling I wanted to incorporate in my works.
I pull a lot from my culture and how I relate to it to give to what I am working on.
A lot of what you just talked about manifests in your "Las Frutas" series. Can you share more about it?
That series was an unexpected journey. It started with my desire to rebuild a skill that I always had but kind of ignored over the years. There was a long period of time where I put art on the backburner, and I asked myself why I was doing it, and the only reason I could come up with is that other people told me I was good. My passion for it was decimated.
When COVID picked up and I was locked up in my small New York City apartment, I thought to myself, "I used to like painting. Why did I stop painting? Maybe I should pick that up again."
And I stumbled across the really random studio space, kind of out of nowhere. It fell into my lap at the right moment in my life. Something told me to go for it, to get a studio space and to start working. To have a space away from life to just focus on that skill and see where it goes.
The first painting of the "Las Frutas" series came about basically through addressing the question of where do we fit into specific cultural boxes.
I had been in conversations with other Afro Latinas who felt very similar to what I was going through. And that prompted the whole series. I wanted to do portraits of people who connected to their culture but not in a way others would expect them to.
For me, the one thing that reminds me of my parents' homes is tropical fruits.
I thought it would be a cool and personal idea if everybody that I painted in the series picked a fruit that they related to the most. That helped with people opening up.
It developed a trust and connection that's in each and every one of those paintings.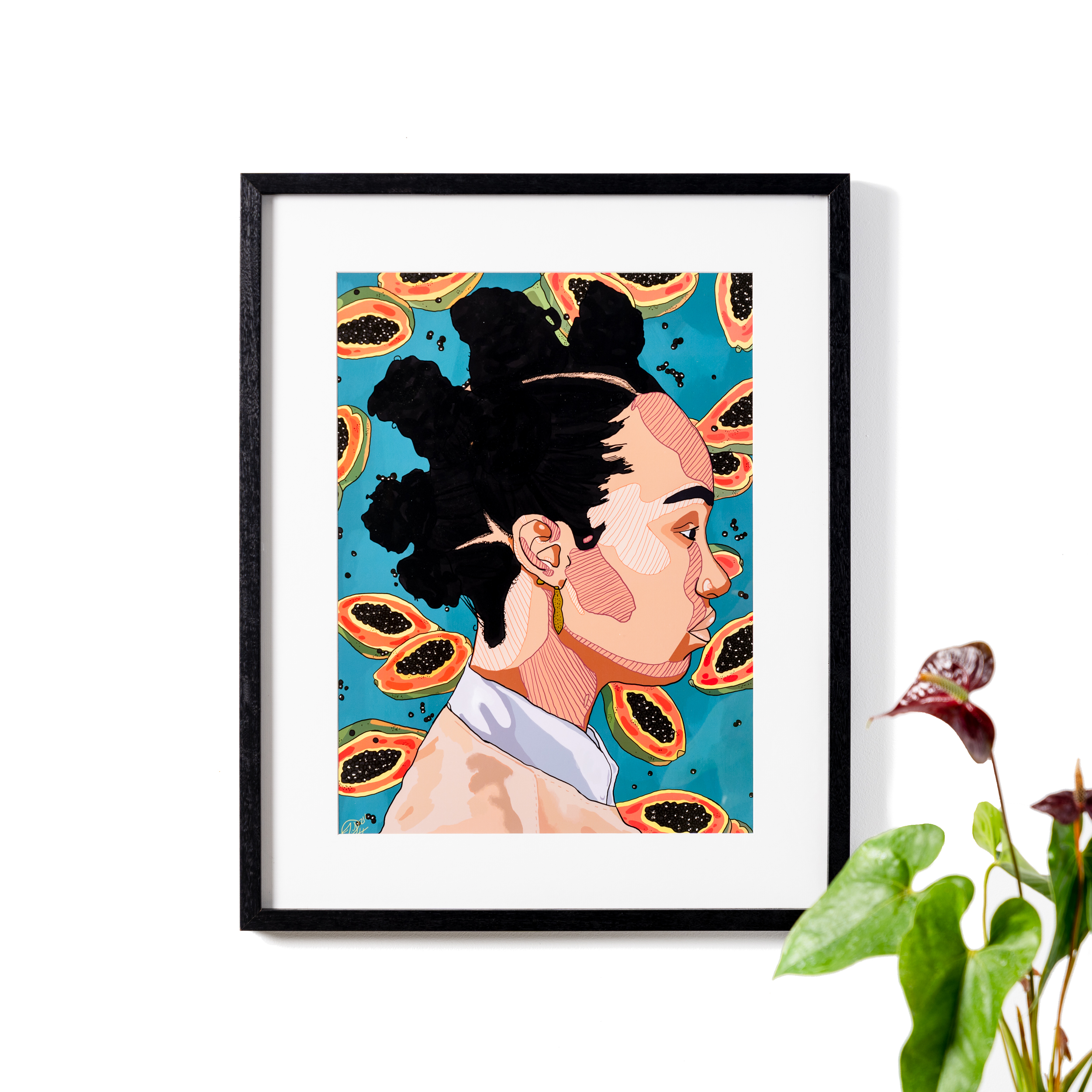 You split your time between New York City and Savannah. What does each place mean to you and your art?
I was born and raised in New York. And my job outside of being an artist is in New York. But just before COVID, my parents decided to move to Savannah. And I was like, "Nope, I'm a New York gal, I'm not a southern peach."
I thought to myself "Why am I spending so much money to live in such a small place where I feel cooped up?" There's a lot of inspiration in New York.
But I was looking for space for me to do my thing. And I decided to move to Savannah to be closer to my parents and have space.
I found a place to create—I went to visit an artists' studio, all the artists there seemed happy creating in that space and being around like-minded people. I found this one empty studio that had exposed brick walls, natural lighting, it was bigger than my apartment.
And it looked like the house that I grew up in. And there was a sense of instant belonging.
Now I split my time between the two places.

How do you hope somebody feels seeing one of your pieces in a frame?
I hope that they discover something unique and vibrant and positive about themselves that they may not have paid attention to for a long time. I hope they unlock potential within themselves.
Photography by Julian Thomas.
Browse other artists: