Black Artists Print Shop: Meet Khalif Rivers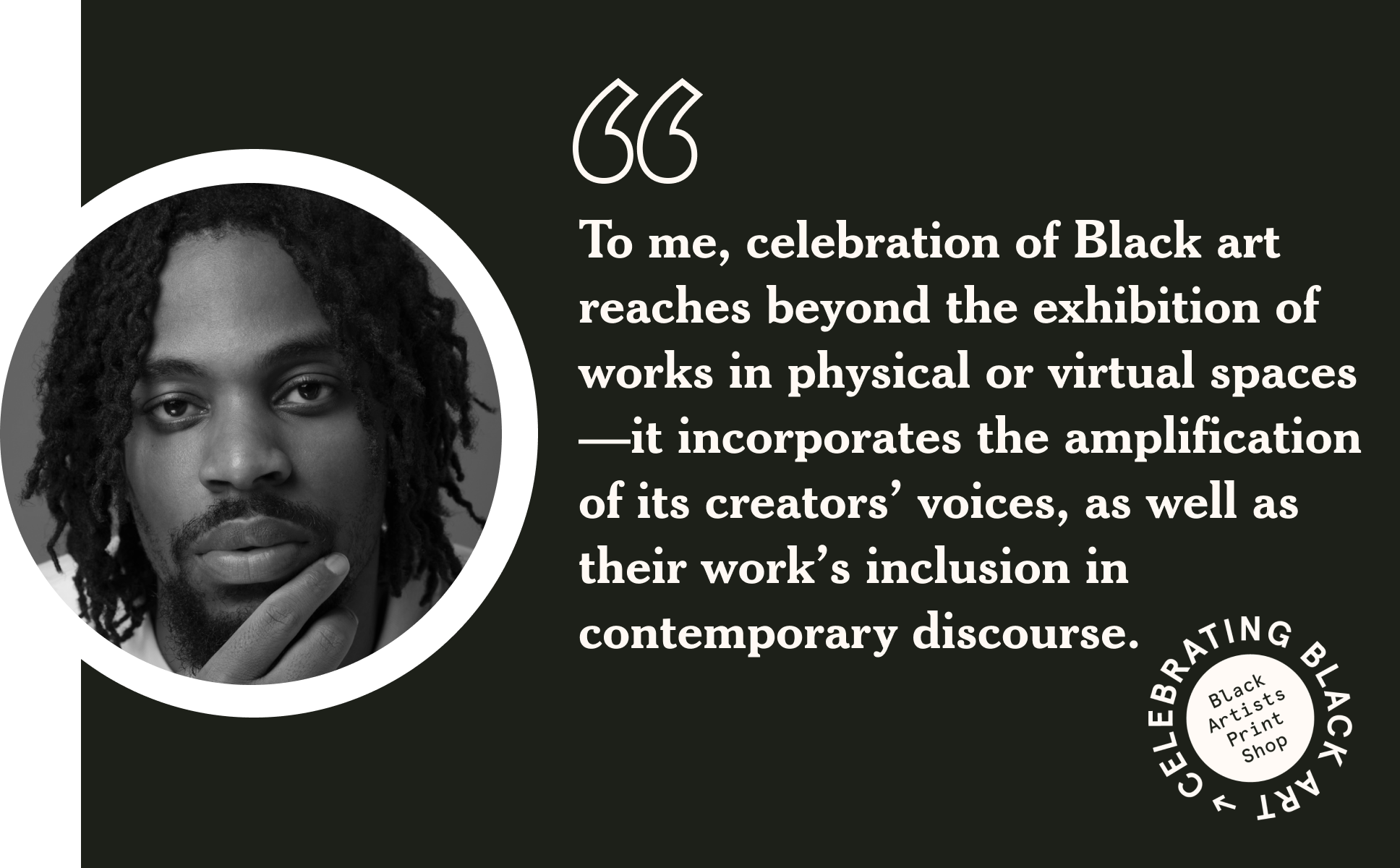 About the Black Artists Print Shop: The Black Artists Print Shop is part of our ongoing work to help advance racial equity within our communities. We aim to create spaces for Black artists—places where you can find their work, hear their stories, and support their businesses. Our fourth collection's theme is celebrating Black art. To do so, we're elevating ten distinct voices by highlighting the artists' answers to the question: "What does celebrating Black art mean to you?" Their answers represent a breadth of opinions on what Black art is, how we can support it, and the importance of representation.
About Khalif: Khalif Rivers is a Philadelphia-based visual artist who communicates primarily through photography. His artistic journey began as a simple hobby where he set out to document the apparent and overlooked architectural beauty within Philadelphia. The natural progression of his passion has led to a desire to supplement the landscapes he captures with storytelling and portraiture. He enjoys conveying emotions through the use of both vibrant colors and monochromatic tones.
Photography started for you as a hobby, how did it turn into more?
Around 2015, at that time in my life, I was looking for what would be my career, or what I would do to make a livelihood or be an adult. I had just gotten my first full-time job, and somebody asked me what my first purchase would be, and I said I wanted to get a camera. The year prior, I had been doing a lot of stuff with just my iPhone—and it's a great camera, but you quickly realize the limitations. That was the seed, where it started.
It took me until 2016 to get the money up to buy that camera. And it was still a hobby at that point. I just wanted to be able to expand my creative abilities. At some point, that's when I started showing my photography to people. They said, "Why don't you do something with it." And I only wanted to have fun.
It was a slow process. When I look back, I can't think of a definitive moment where I was like, "I have a plan."
It just sort of happened.
Take us through your process on a photography walk.
I have a different approach now than when I started. When I first bought that camera. I would just walk wherever—mostly places I was familiar with. Anything that caught my eye, I would photograph it.
But now, I am a lot more deliberate. I scout locations. Sometimes actively, but a lot of it is passively, like when I'm commuting, something will catch my eye, and I will make a point to write down a location or drop a pin on Google Maps.
Then I'll come back at some point, and photograph it or see if there is a time of day that better suits how I want to portray it.
I definitely plan it out now.
What within the landscape of a city are you drawn to for photography?
There's not a specific criteria, I would say. Sometimes it's just off of my emotions. It sounds a little cliche, but it's a personal thing. It's something that really stood out to me, or looked cool, and I think "I gotta photograph this."
But in a city like Philly, there is a lot of old architecture. And some of it is starting to disappear. You can tell when something has been there a long time. So I might think, I want to learn more about this.
And sometimes it may take a couple of months to get back to something, and it may be gone by then. So I always want to be doing the process.
You also shoot portraiture. What are the similarities and differences between your process there and your process for street or city photography?
For similarities, doing portraiture really helped me to structure my street photography. Because structure was something I struggled with. The walks are fun, especially if I have nothing to do. But there are days where I spend four hours walking around, and I photographed very little or I look back and don't really like anything I shot.
Doing portraits, you're working with a person, so you have to plan it out per individual. And everyone's different.
A lot of the people I am photographing have creative ideas that they need help putting together, that's when I realized I had to put some more effort into that. I plan what they want to wear, what colors they're working with, backdrops, lighting. A lot of that preparation transferred into street photography.
Differences—the biggest difference is that doing portraits is a little more collaborative. The street stuff is up to me, and there's a lot more randomness to it. Like sometimes I go shoot something specific, and something else might catch my eye and I end up with more photos than I intended. There are also things that just randomly happen in street photography—a car going by, a person standing in the right place. Things might change your whole photograph. The scene develops on your own, and it ends up better than what I planned.
How does the city of Philadelphia play a part in your work?
It's such a big part of my life. I've spent most of my life here, with the exception of going away for school. This is what I know and what I've seen. The biggest reason why a lot of my work revolves so much around the city is because when I was away, and then I came back, I got to notice how much things are changing.
When you're a kid, three years feels like a long time and things stay the same. You don't think about 10 years or 15 years it's gonna look a lot different. There's a sense of permanence you have when you're young.
Now I realize how fleeting a lot of this stuff is. When I started doing photography seriously it just became more and more apparent.
My stuff became Philadelphia centric. There's not enough people to capture all of it—it's a pretty big city.
I feel like this was a natural calling for me. I have to document this—whether for myself or somebody years down the road. It's going to be very important.
Visit our store in Suburban Square.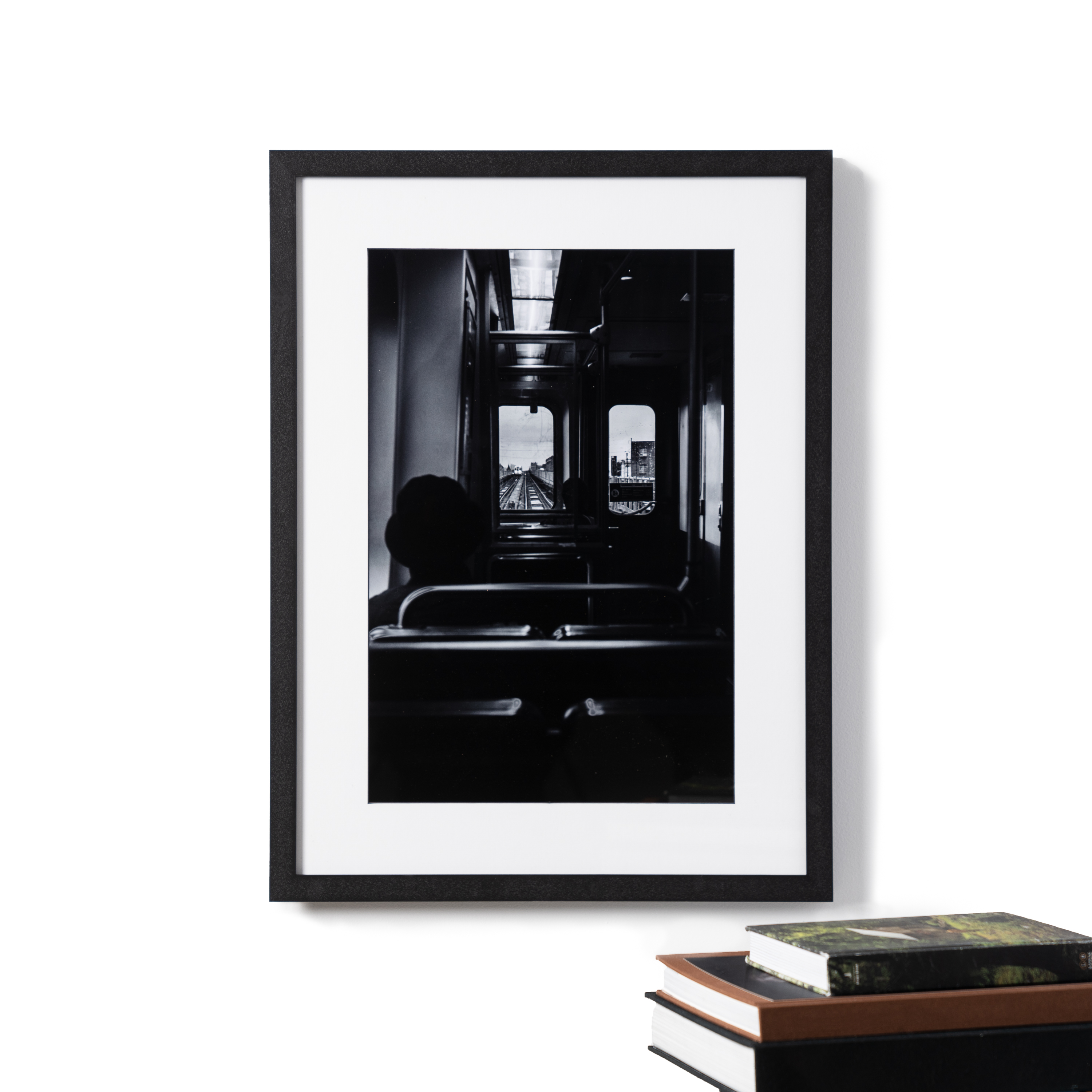 What's your favorite recent photograph and why?
Actually, it was the one I sent to Framebridge. 6pm in Philadelphia. It's one where I deliberately planned that shoot. I saw that street while I was grocery shopping or something, and I saw how you could kind of see big skyscrapers in the background and thought, "Man, I gotta get that shot at some point." I came back out, I planned the time of day, I wanted it to be early evening.
People were coming back from work, out and about, there was a little bit of rush hour traffic. There was a tow truck, and I got a shot where you can kind of see the trailer and the car it was pulling, right before it blocks the view, and a person crossing the street holding bags—I didn't plan that.
I wanted that shot. Clean. But when I was able to capture the shot with all the activity it made it ten times better than I ever could have hoped for.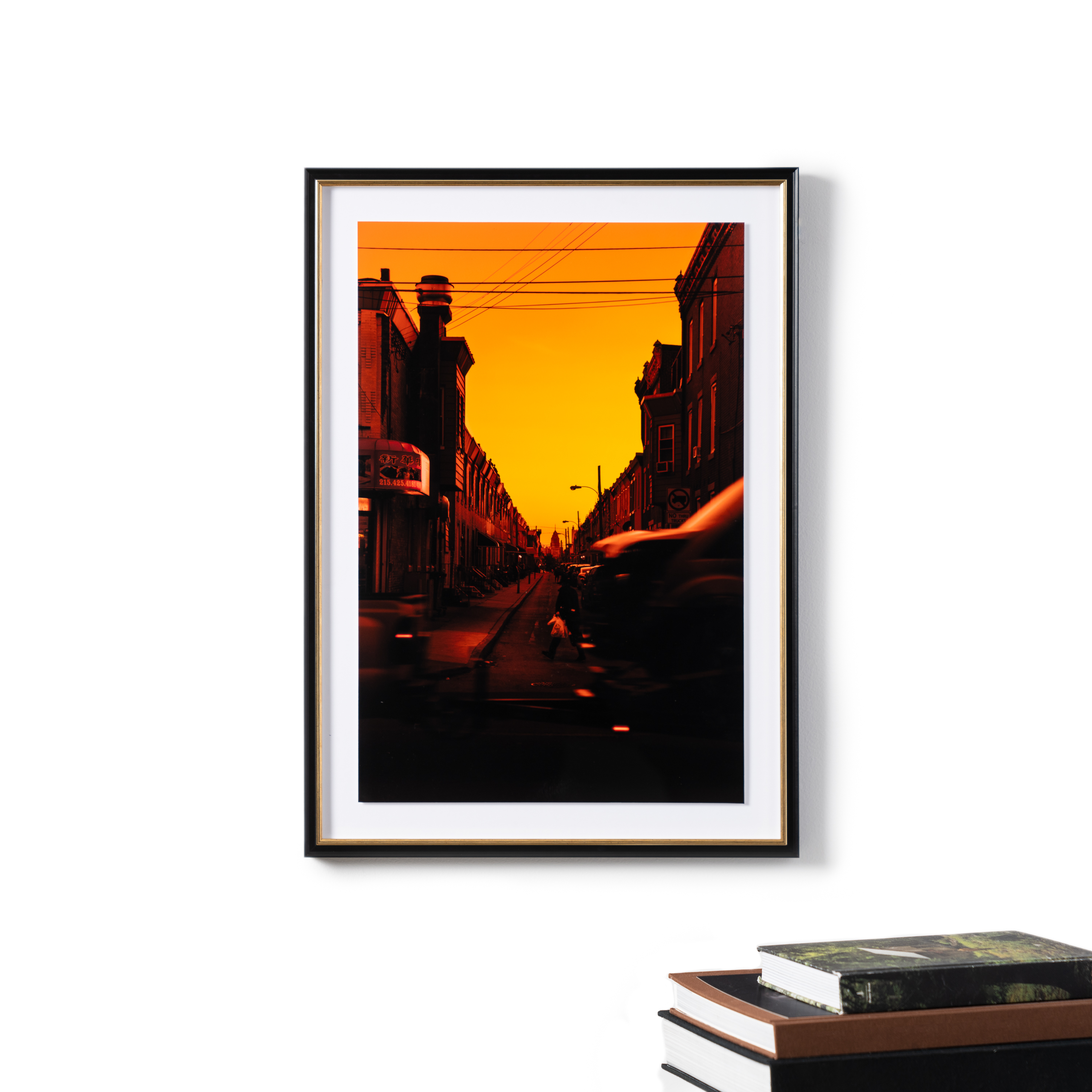 How do you hope somebody feels when they see one of your prints in a frame?
I guess it depends—I think for someone who is from Philly or lived here for some portion of their lives, it brings out good memories or some sort of positive emotion about the city. There are people out here with an emotional connection to the places they live. Perhaps someone might see 6pm in Philly and recognize the neighborhood.
Even if you're not from Philly, it's just a cool image. Even if you have never been to Philly, you might see it and it could spark curiosity. Or it might just look cool! You see it and like the colors. That's just something you see and say, I gotta put that on my wall because I like the way it looks.
I just hope it makes people feel good when they see it.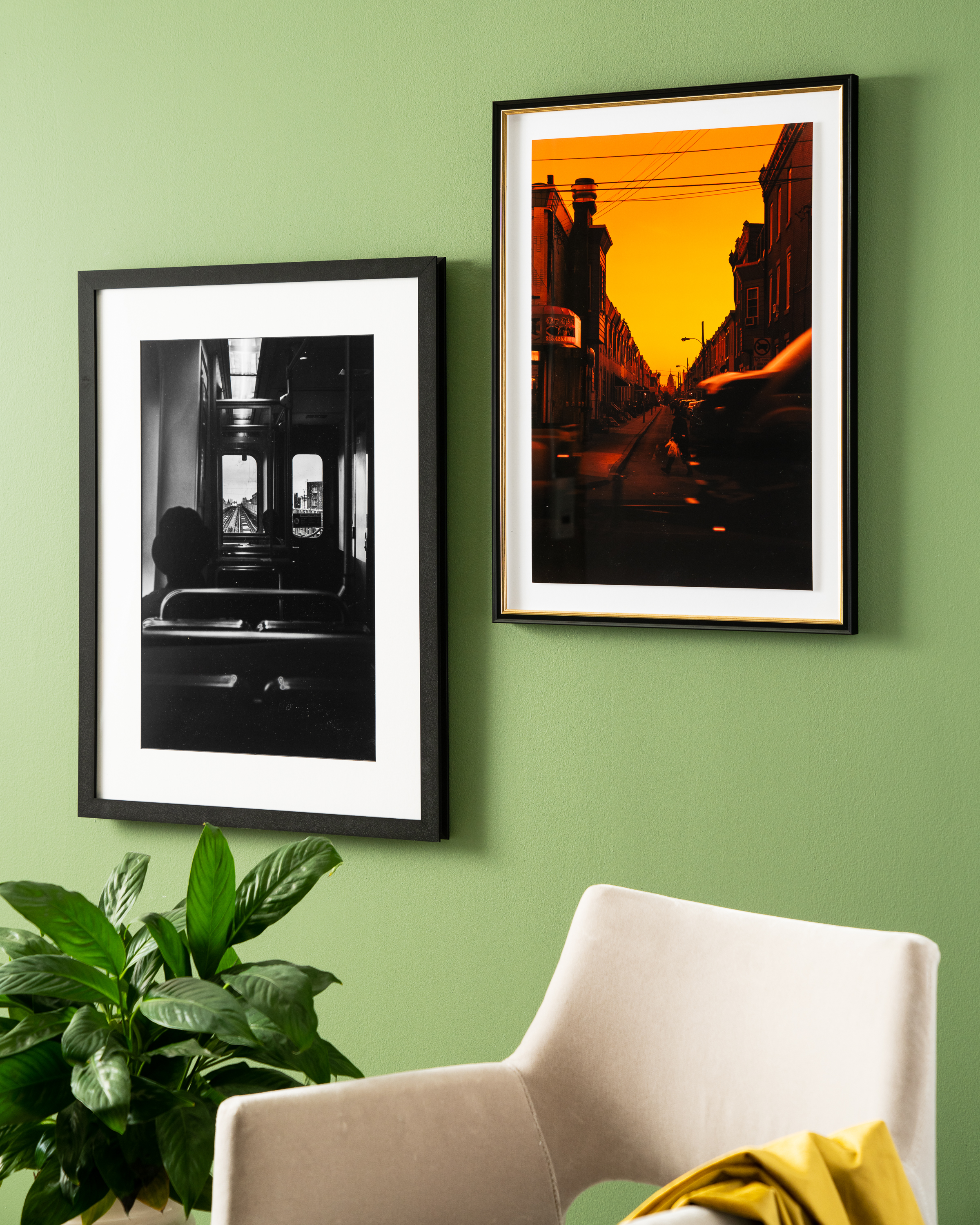 Learn more about Khalif on his website and Instagram.
Browse other artists: