Dave Frames Proud Family Moments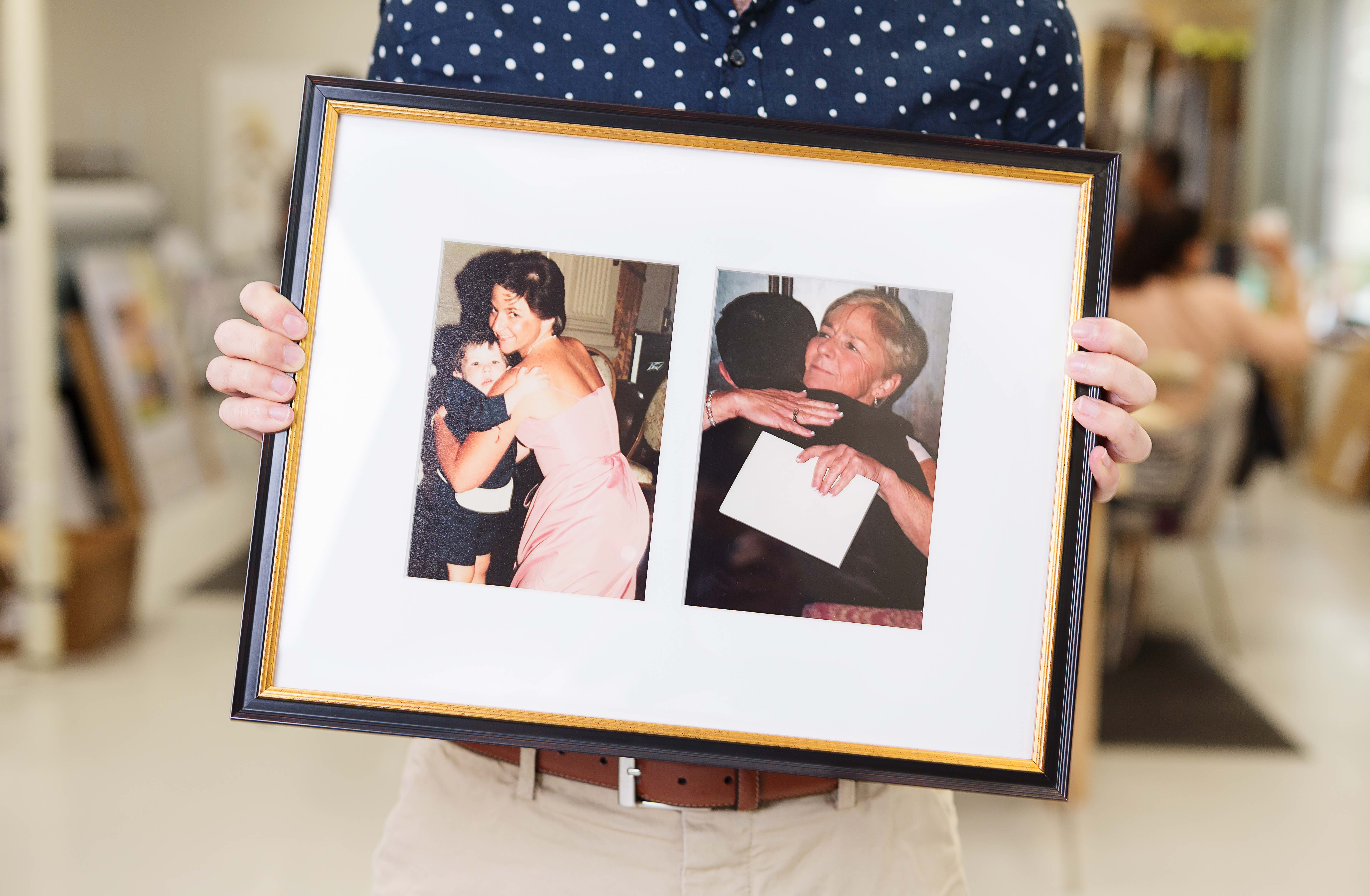 Here at Framebridge, we frame family memories we are proud to display, we frame art we love and are proud to show off, we frame achievements we are proud to celebrate. Pride is also a huge part of what connects our team - we are proud of the craftsmanship we offer, the business we have built and the incredible team we've brought together. So, please excuse us while we show off a member of the Framebridge team we are really, really proud of: Dave. Head of our customer experience training and the heart of so many customer interactions, Dave is an eternal optimist and a big part of our team. Keep reading to meet Dave and join us - just in time for Pride Month! - in celebrating his story.
---
How would your family/friends describe you? Rainbows and sunshine :-D Seriously though, I'm really idealistic. I get accused of being Pollyanna-ish at times, but I always try to find the silver lining in things. That and I'm the "dad" in my friend group. Maybe it's an oldest child thing, but I'm going to be the one to make sure you have a PB&J packed for your trip or admonish you for not wearing a coat when it's cold. You could get sick!
What are some of your favorite things? I love living in the city and DC is really evolving. Getting out and exploring restaurants, galleries, new shops, farmer's markets--the more local the better. Running is a huge part of my life and my happy place is out on a long run, usually training for a marathon with my running group. And as my co-workers can attest, I'm obsessed with Hamilton and Beyonce, probably in equal measure.
Who inspires you most? Kind and passionate people who are on fire for what they do and have a cause or a belief in something bigger than themselves. My Aunt Nancy is one of those people. She lives in Ann Arbor and has been a die-hard University of Michigan sports fan for as long as I can remember. When she retired from her first career in business, she found her dream job working as a career counselor for athletes at U of M doing what she loves--working with athletes to help them reach their potential. She also happens to be gay, and she was a huge resource and source of strength and inspiration for me during my own coming out journey. She's a fantastic role model for being yourself and unlocking your potential. And she was able to do that during a time when life wasn't as accepting or supportive as it is now. She's a tough lady.
"It was clear many never expected this in their lifetime
and yet here we were. I'll cherish that memory forever."
What does Pride month mean to you? Aside from being really fun, Pride month for me is a time for us to reflect on how far we've come as a community of both LGBTQ people and allies and remember how far we have to go. I think remembering our history and talking to people like my aunt who remembers what it was like 30 and 40 years ago is so important for my generation and the next generation. It's a time to honor those trailblazers who made our lives so much easier and a time to think about how we can pay it forward to the next generation, to leave the world even better and safer for them than it was for us.
Do you have a favorite Pride memory? June 26th, 2015 for sure. Living and working in DC, I have the luxury of being close to a lot of historic events. On that day, the US Supreme Court legalized marriage equality in all 50 states. I remember seeing the ruling come up at work, and my first instinct was to run outside and call my Aunt Nancy in Michigan, and we both just sobbed on the phone. She told me she and her partner of 31 years, Kathy, were going to get married and that she wanted me to officiate the wedding, which naturally made me cry even more! After we hung up, I hopped in an Uber and made my way down to the Court, which was just teeming with people hugging and waving flags--it was just surreal to share that with so many friends and strangers and to just be there for that historic moment. That night, the White House lit up like a rainbow and the same crowd that was at the Court all gathered in Lafayette Square to take pictures. Watching the older generation, including an old man in a wheelchair, just look at the White House in silent awe was something I'll never forget. It was clear many never expected this in their lifetime and yet here we were. I'll cherish that memory forever.
What advice would you give your younger self? Be your true self! I think it really is getting so much better for young people, but coming out can still be a very scary process, and sadly, LGBTQ people can feel a lot of shame and embarrassment for being who they are. I know I did and for far longer than I would have liked. I didn't go out for the plays or anything performative because there was a stereotype attached to that, and I really, really regret that. I made up for it later in college and as an adult, and everyone's process has its own timetable, but I do wish I had been more proud of myself and my potential back then. But that's why it's important for my generation to learn from and share our experiences so today's young people can heed the advice we maybe didn't have.
What do you like most about working at Framebridge? I love that we help showcase the diversity of styles, experiences, and moments that make our customers who they are. In a way, we help people proclaim their true selves by giving them a platform to showcase--proudly in a frame--something that is important to them and says "this represents who I am." Whether it's a concert poster, and original painting, or inspirational typography, I know that we're helping our customers show pride in the things that make them uniquely them. And that's really cool.
"It symbolizes a role model that supported me when I was younger and then someone that I could support later in life."
What did you frame? I framed two images of me and my Aunt Nancy that were taken 30 years apart. The first was an image of her holding me at her sister's wedding when I was two. The second was of us embracing on the day of her wedding after I performed the ceremony, about four months after the marriage equality ruling. It wasn't until the wedding pictures came back that she remembered the similarity of the poses of the pictures.
For me it symbolizes the span of a really special relationship between the two of us and how we've been connected for a really long time. It symbolizes a role model that supported me when I was younger and then someone that I could support later in life. I feel really lucky to have a family member that understands the unique experience of being LGBTQ, and these two images really help to underscore that.
Why was it important for you to frame this piece? Officiating my aunts' wedding was one of the greatest honors of my life, but more than that, this piece reminds me of my own personal journey as an LGBTQ person and how much I owe to the journeys of the generations that paved the way for me -- especially my aunt to whom I owe much of that journey's success. When I came out, she said, "Now you can be truly happy. You're going to have a great life. It can be a hard sometimes, but it's a great life." I don't think either of us anticipated the moments in these photos, but she was definitely right. It's a great life. And I'm really proud of her!
You Might Also Like...