The Stack in Action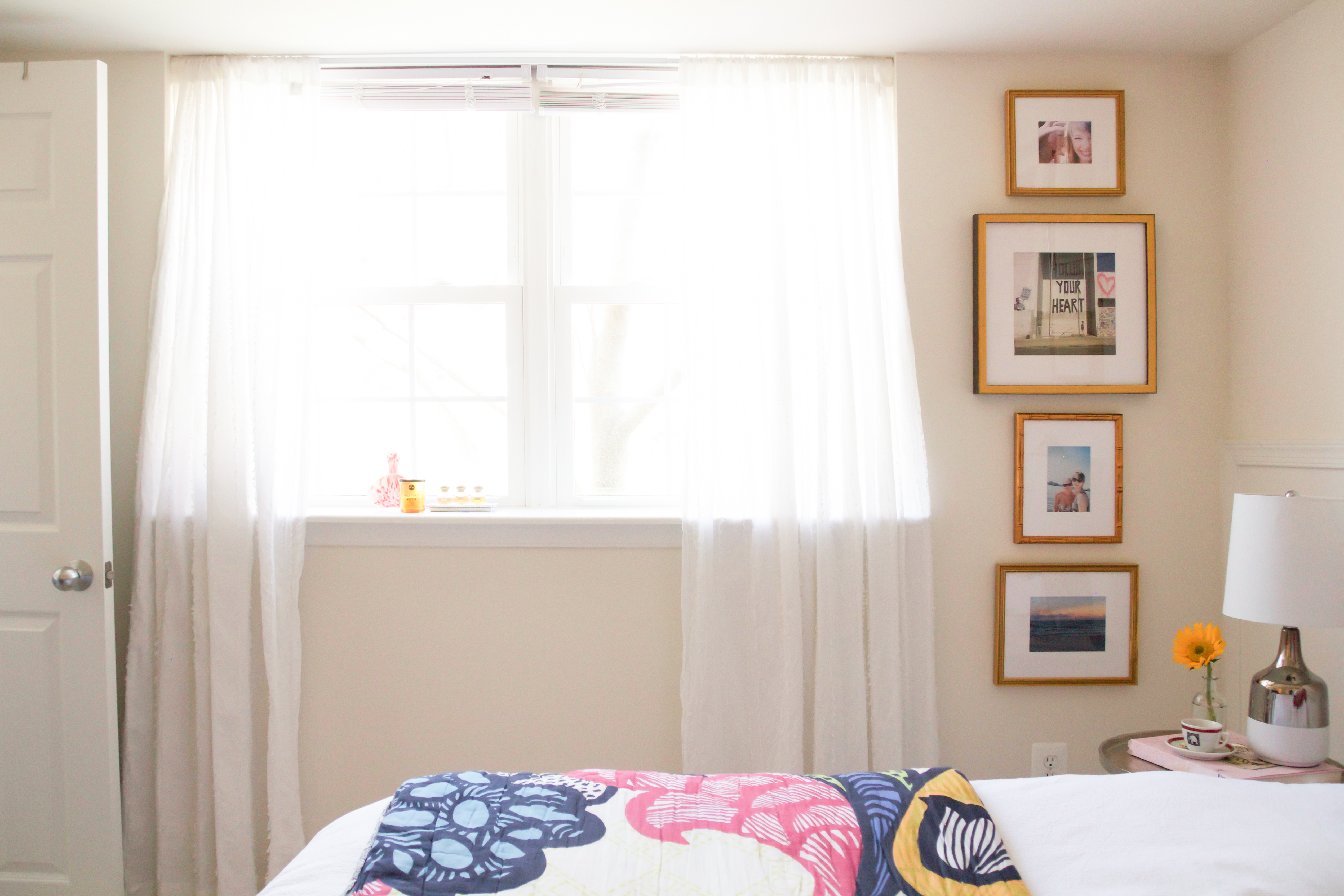 High impact. Low drama.
Our new line of gallery walls are gorgeous to look at and easy to hang. An up-and-coming style, The Stack is effortlessly cool. Whether it's next to a window, door, or major furniture piece, this tall, thin column gallery wall will fit in every skinny corner of your house or apartment.
To prove how easy is it to hand and how lovely it looks in small spaces, Leigh from our Partnerships Team took The Stack for a spin in her own space. If you don't count the time she spent taking boomerangs and hyper-lapses, she hung the wall by herself in less than 10 minutes. For real. Here's everything you could ever want to know about this gallery wall, from how Leigh choose to space to how she narrowed down her photos.
How did you choose the space for your gallery wall?
"I'm a firm believer in surrounding yourself with things that make you happy. I had this amazing sliver of wall next to my window that has been blank since I moved in. It really bothered me that every morning I'd wake up and look at nothingness. The stack gallery wall was a perfect solution for my skinny blank wall!"
Why did you choose this color option?
"I'm a golden girl at heart. I like to accessorize my outfits with gold jewelry so it just makes sense to accent my decor with gold frames. This arrangement had the perfect mix of profiles — classic, modern, and eclectic."
How did you select your photos? Any tips for people on which photos to choose?
"I knew this would be the first thing I saw in the morning and the last thing I saw at night, so I wanted to make sure that it channeled my happy place. I started the process by taking a dive into my camera roll, and doing a little self-stalking on Instagram. Any photo that I had a strong gut reaction to went in an album I named "Gallery Walls."

Once I finished scrolling through the depths of my feed and phone and added a critical mass of photos to my Gallery Wall album I took a look at what I assembled. My decor is decidedly feminine (combining a lot of bright colors) so I knew that the color story across the images needed to be consistent so that the arrangement would look cohesive."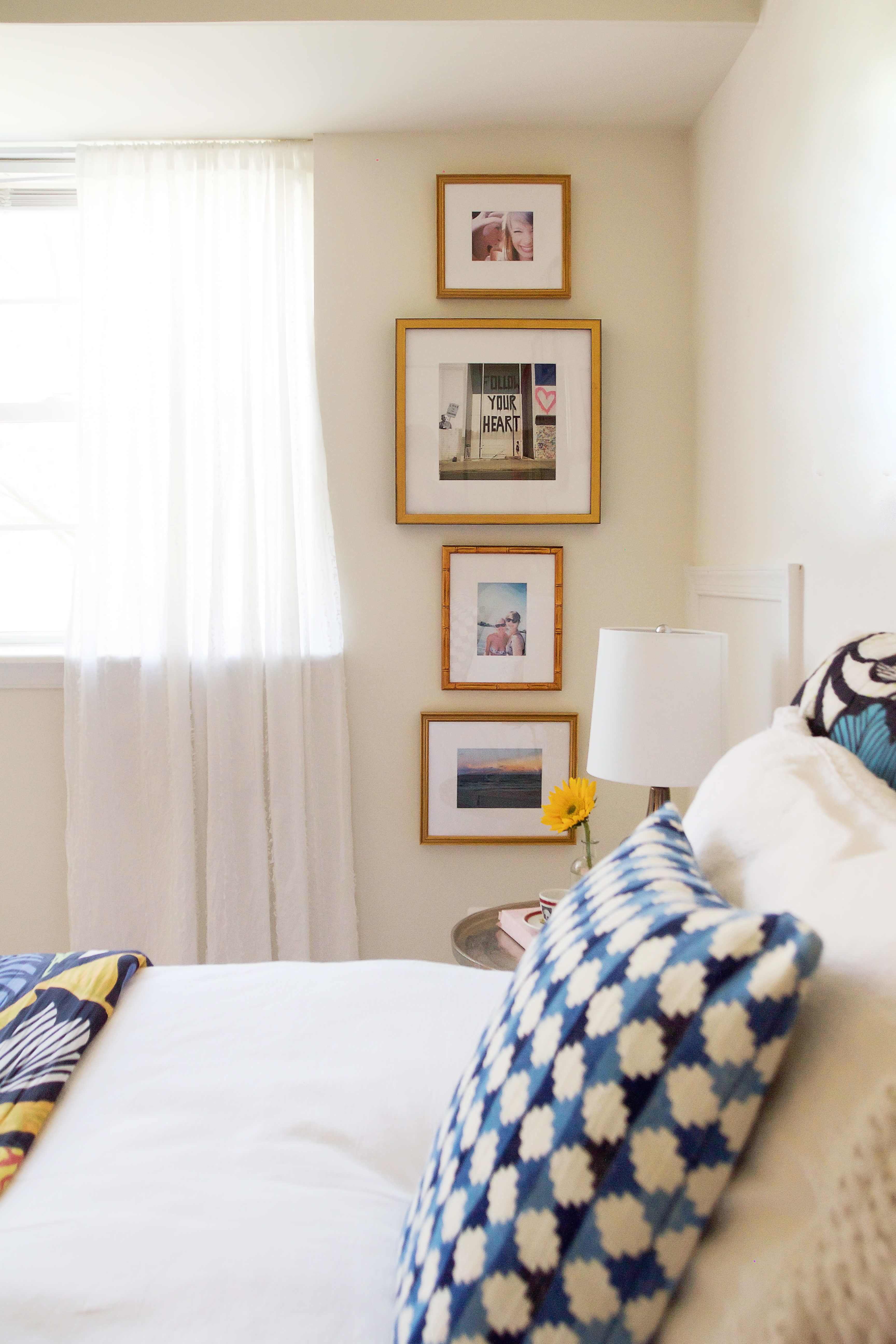 What are the stories behind each photo? What do they mean to you?
Sunset/Sunrise: I'm a native of Virginia Beach, so a beautiful beach landscape felt like a natural choice.

Me + Molly: This is actually a photo of a polaroid that I took while visiting my best friend Molly in Charleston, SC. We were on a boat soaking up the sun on an uncharacteristically warm March day. It was one of those days that happens once in a blue moon. A day where the stars seemed to align to create the perfect adventure. That visit was one of the best vacations I've taken to this date, so I had to include it!

Graffiti Wall: I'm a huge art lover. This is a graffiti wall that was painted by the infamous Mr. Brainwash at DC's Union Market. Admittedly, I have mixed feelings about Mr. Brainwash as an artist, but I can't argue with the message he painted. This photo is a great reminder to me that you can disagree with someone and still appreciate their work. Plus, rainbow hearts and Einstein… yes please.

Me + Nadine: This is a photo of me and one of my friends at Fourth of July. I'm a true virgo to my core and inevitably the "mom" in all of my friend groups. This silly moment reminds me that it's ok to not take things SO seriously.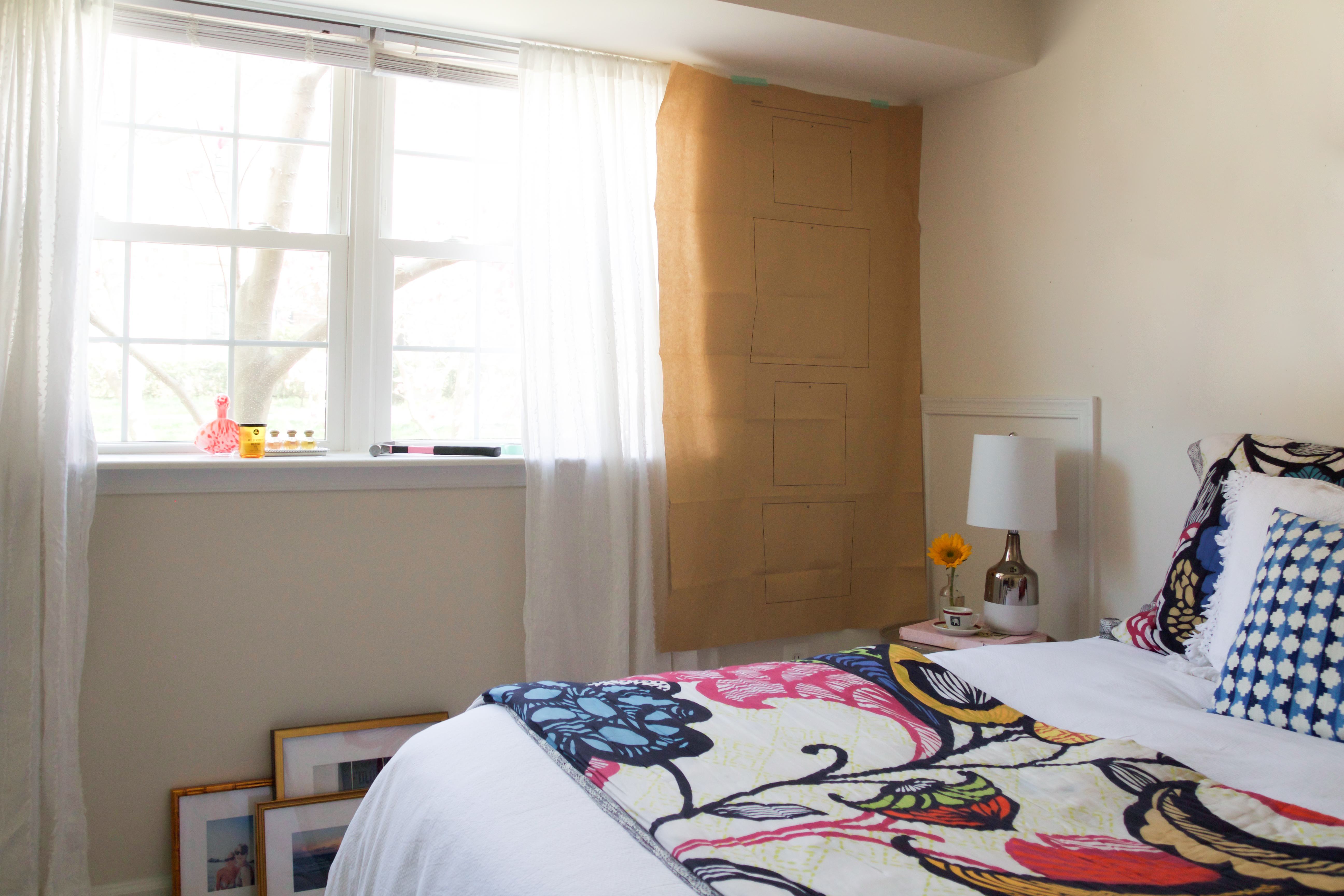 How long did it take you to hang?
"I'm not kidding when I say it took me two minutes to hang. Seriously. It was almost too easy. The most important thing to keep in mind when using the template is making sure it's centered on the wall (both horizontally and vertically). After that you just tape it in place and hammer away! I'd also recommend pulling the template off the wall slowly after nailing. That way you can reuse it if you decide to move your stack to a different wall."
Why would you recommend this arrangement?
"I'm a HUGE fan of the stack. I loved working on developing the Ansel Adams wall we featured on our blog, so when I knew this would be a part of this product release I was so excited. It's truly the perfect solution for any space. It's ideal for skinny walls next to windows or in corners, but it's equally as gorgeous as column arrangement next to a bookcase or couch. And, if you ever decide you want to shake things up the pieces would work so well in an organic gallery shape or as an addition to an existing gallery wall."
What is your favorite thing about your gallery wall?
"The layout. It's truly a unique design element and adds a lot of vertical movement to my space. Living in a small apartment, it can often be hard to find design solutions that work. The stack gallery wall is not only the right proportion for my space, but it also brightens up a corner that would otherwise be pretty ho-hum."
You Might Also Like...