What Can Brown Do For You?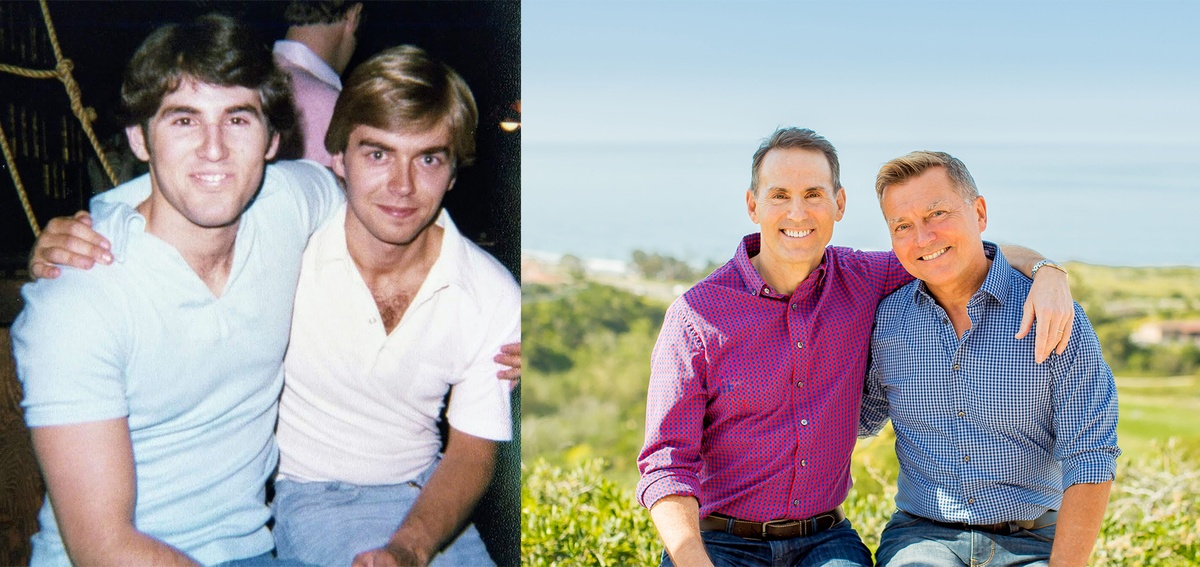 On the left, Scott and Ed at a prom for gay teens in 1979. On the right, posing for a photo for Brown University, their alma mater and a huge part of their relationship.

The backdrop was Brown University, 1978.

Scott did not come out until his senior year of college. During the first week of school that year, he stumbled into the office of the Gay Students Organization. One thing led to another, and he introduced himself to the organization's president, a young man named Ed.

It took a few weeks for them to start seeing each other, but their first date was to the Rhode Island School of Design's Halloween Ball ("We won't be sharing a photo from that night"). They both had an incredible time together. Soon thereafter — November 3rd, 1978, to be exact — "We decided to become an item," Scott remembered. Ed corrected him, "I believe the phrase is 'hooked up.'"

The first photo above was taken in the spring of 1979. Ed was mentoring a group of early high school to college age students who were grappling with their identities as gay men. One of the students asked Ed to go with him to his high school prom as a symbolic date—the boy had nobody else to ask. Ed agreed, but the Vice Principal of the school did not. He would not sell prom tickets to two men. Ed and the boy challenged that policy to the school board, but ultimately had to drop their suit. Fortunately, it did not stop there.

Kevin White, then mayor of neighboring Boston, had a different vision. He threw a prom where gay students could bring any date they wanted. Scott and Ed and the boy went, and where they took the picture above.

They're still grateful for their time at Brown, and active in its community. Scott founded the Brown Alumni Club of Orange County (where they live now), and serves on the Board of Governors of the Brown Alumni Association. The second photo was taken as part of a planned giving drive at Brown, featuring Scott and Ed's story (one of the first same sex couples featured, to their knowledge). They were honored. They "owe their relationship to Brown" and a donation to Bruno the Bear is in their will.

Pride allows them the opportunity to reflect on their relationship to the university, to each other, and to the current political moment. To Scott, Pride is about being "willing to be authentic to your friends, family, employer, and everybody that you meet."

Ed adds, "Pride means finding the new and true meaning of love."


For more stories of love, community, and activism visit our Pride Gallery Wall.