Meet the Artist: Tani Greenspan
Tani Greenspan is a painter who specializes in custom matchbook paintings of restaurants she and her community love. A self described maximalist, she collects objects that evoke memories, and strives for that feeling in her work. Read our Q&A to see how she turned her free time during the pandemic into an art career. Her work is featured in the gallery wall in our new Derby Street store in Hingham, Massachusetts.

What influenced you to start painting matchbooks?
Even when I was little, I was always someone who collected things. I am definitely what you would call a maximalist. If I started collecting one thing, I go down a rabbit hole and need fifty of them. From the beginning of going to restaurants with my parents, I always wanted keepsakes. I really started collecting matchbooks from a really young age.
I lived in DC after college, and kept collecting matchbooks from restaurants there, then I started painting them during quarantine because I was looking for a creative outlet. And matchbooks really appeal to me.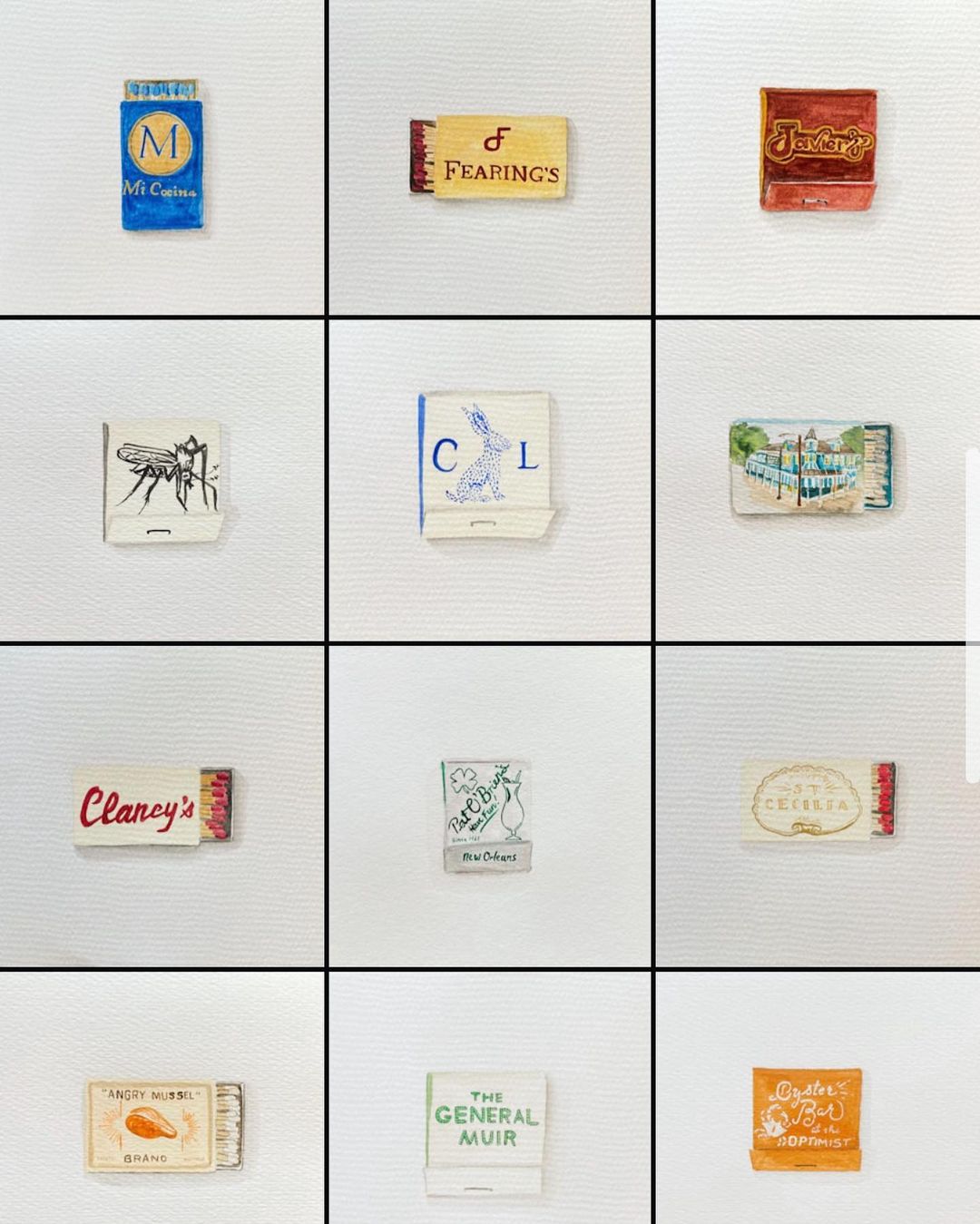 How do you choose the subjects of your paintings? The cities?
It really started with DC. That was all restaurants where I either had their matchbooks or didn't have matchbooks, but I wanted to preserve something from them (in my mind, I don't see why restaurants should have matchbooks, selfishly I would love to be able to collect them all). I wanted to create something as a nod to those restaurants.
Beyond that, I looked to cities that are important to me. I grew up in New York, so I knew New York was a city that I had to represent. And from there, I reached out to friends who wanted certain restaurants done for their cities—asking them what other places they wanted done—whether to capture memories with family or friends. It grew from there, organically.
I moved to New Orleans two years ago. We're surrounded by collegiate shwag—whether it's signs on cars—we live pretty close to Tulane and Loyola. We see bumper stickers like LSU! There's a huge football culture down here. I thought it would be fun to have something for the football fans and the recent graduates.
Going back to why I love painting restaurant matchbooks, I really love having a piece of something you can bring with you wherever you go that reminds you of the experience you had at those places.
Plus, it's nicer than hanging your composite on your wall (before somebody tells you to take it down!).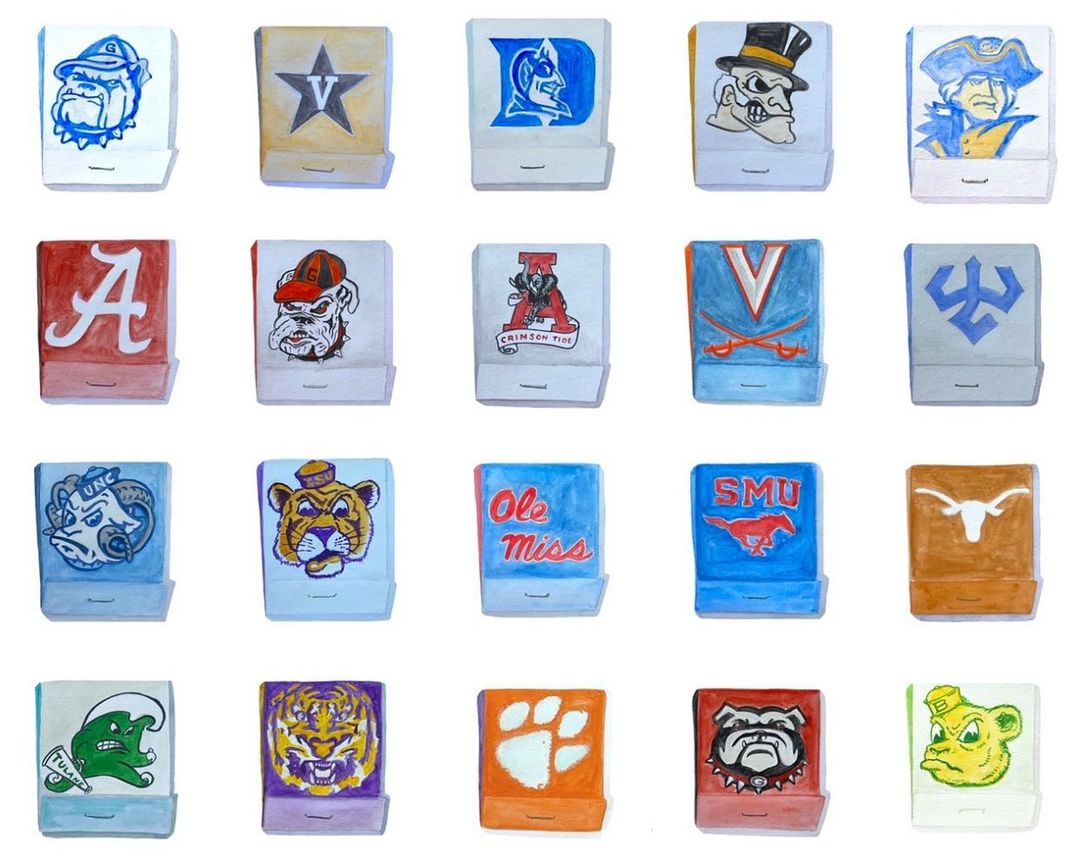 You really leaned into this project during the pandemic. What was it like to transform this from a hobby to a career in such a short amount of time?
I minored in studio art in college, but after graduating, life's priorities were not giving me a creative outlet. So when I finally had time during the pandemic, I was able to sit down and put more energy into doing something I had always loved. Being so busy with work didn't leave a lot of time on the side to pursue creativity (I was so tired!). So that's been a silver lining—the time to hone in on my creative side.
What does your work space look like when you sit down to paint?
I would love to say that it's so organized and clean but it's not. I have my big iMac in front of me, to look at images. A lot of times I paint based off of the restaurants themselves, not necessarily their logo or a matchbook that already exists. I always have that in the background.
Scattered everywhere I have about fifty different paints, brushes everywhere, paper everywhere—it definitely could use some work. But I think it's a nod to the creative side. Ever so often I will organize everything, but then two days later it is chaos. A controlled chaos—I know where everything is! But it doesn't necessarily present itself in the cleanest way.
One of my close friends and I started the company in November. Her background is in coding and product management. So we meshed our skills to create the Poppy Society. I handled the artist relationships and art curation, and she was able to work on the website, e-commerce platform and running the business side of things.
During the pandemic, so many stores were closing, artists didn't have as much of a way to showcase their work. We wanted to create a platform for artists to showcase their work that was a comfortable setting for COVID.
How do you hope people will feel when they see your work on the wall at Derby Street?
I hope it incites some kind of memory. That's the beauty of matchbooks. They're great to look at, they're great to collect. The reason we do gravitate towards collecting things like this is because they're tied to an experience or a memory. When people walk in and see a matchbook to a place they know, I want them to remember: wow, I went on a first date there, or this is where I used to get lunch with grandma every Sunday.
I want people to walk away with the feeling of going down memory lane.


See this and incredible other art in Hingham.