Meet the Artist: Shadra Strickland
Shadra Strickland is an illustrator whose focus on children's books allows her to bring whimsy and imagination to her work. She loves creating stories in which all different children can see themselves as well as reflecting upon her own experiences as a southern Black woman. We're proud to feature her as one of the first four artists in our Black Artists Print Shop.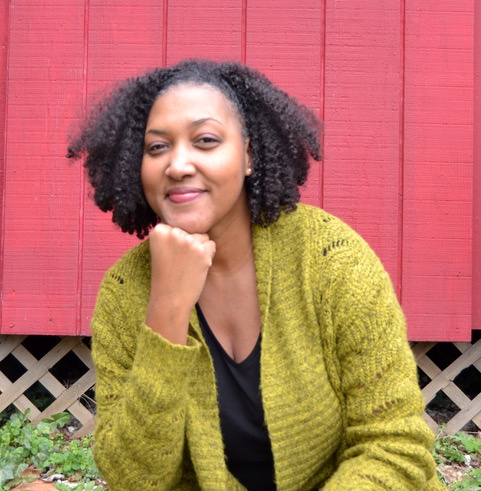 What is your background as an artist?
I'm originally from Atlanta, Georgia. I went to Syracuse University and studied design and illustration and stuck with illustration. I went back to Atlanta to teach for a few years then studied illustration at the School of Visual Arts in New York. I pursued children's book illustration from there and have been doing it ever since.
I always wanted to be an artist. When I was teaching and I'd read picture books to my classroom students, I sort of put the pieces together. I thought 'Oh, this is what I'm supposed to be doing. I'm supposed to be illustrating picture books.'
What drew you to children's literature?
If you knew me, you'd say I'm a giant kid. My personality is just suited to it—I'm very giggly and light. When I went to school for design, I just didn't see a way for me. I didn't see a lot of designers that looked like me.
I think it stemmed from education, too. I love drawing and painting, I also had some creative writing classes under my belt. My mother was an English teacher so literature was close to the heart and my uncle is a social worker. I have a lot of roots in education and classroom learning. Being an artist that exhibits in a gallery doesn't really make sense for me, it's not my background and pedigree. I didn't put the pieces together until many years later in the classroom when I was reading picture books, all those things came together for me—design, illustration, writing, and being a big kid. It clicked from there.
How do you feel you bring your identity into your work?
Which identity? There are so many intersections of identity. With picture books, usually I'm grappling with someone else's story and someone else's point of view and then there's a sort of merging of ideas. Whenever I take on a manuscript, I'm working in direct response to that storyteller.
For the two pieces that you all have, you have one from Bird, my first picture book and the other is Peach. Peach is from a Southern Dream series and that is in response to who I am as a Southern Black person. It's all about Southern history, Southern food specifically. Those pieces are super personal, they just come to me when they come to me. But I always try to tap into memory and experience from home and Georgia is the peach capital, so it just makes sense.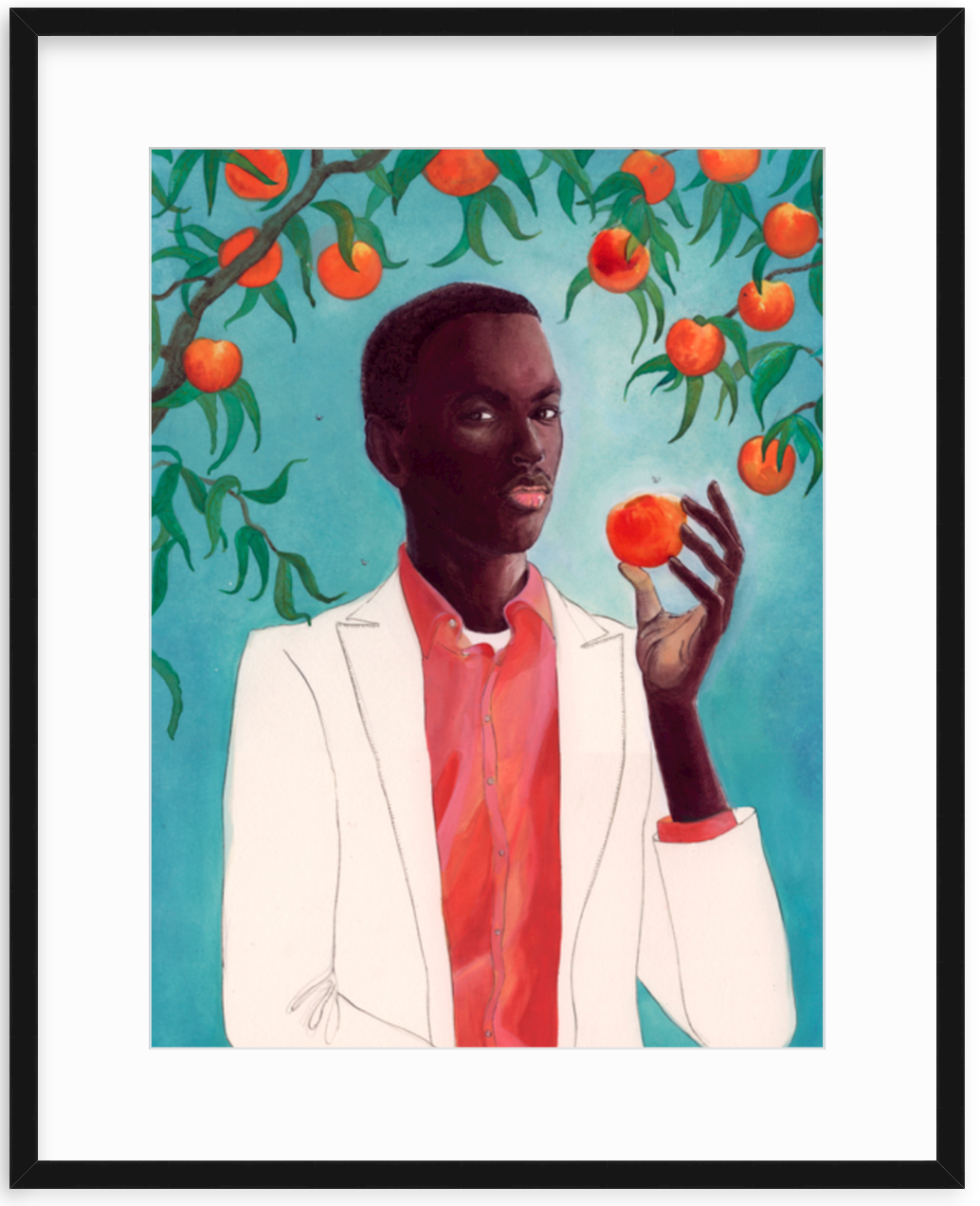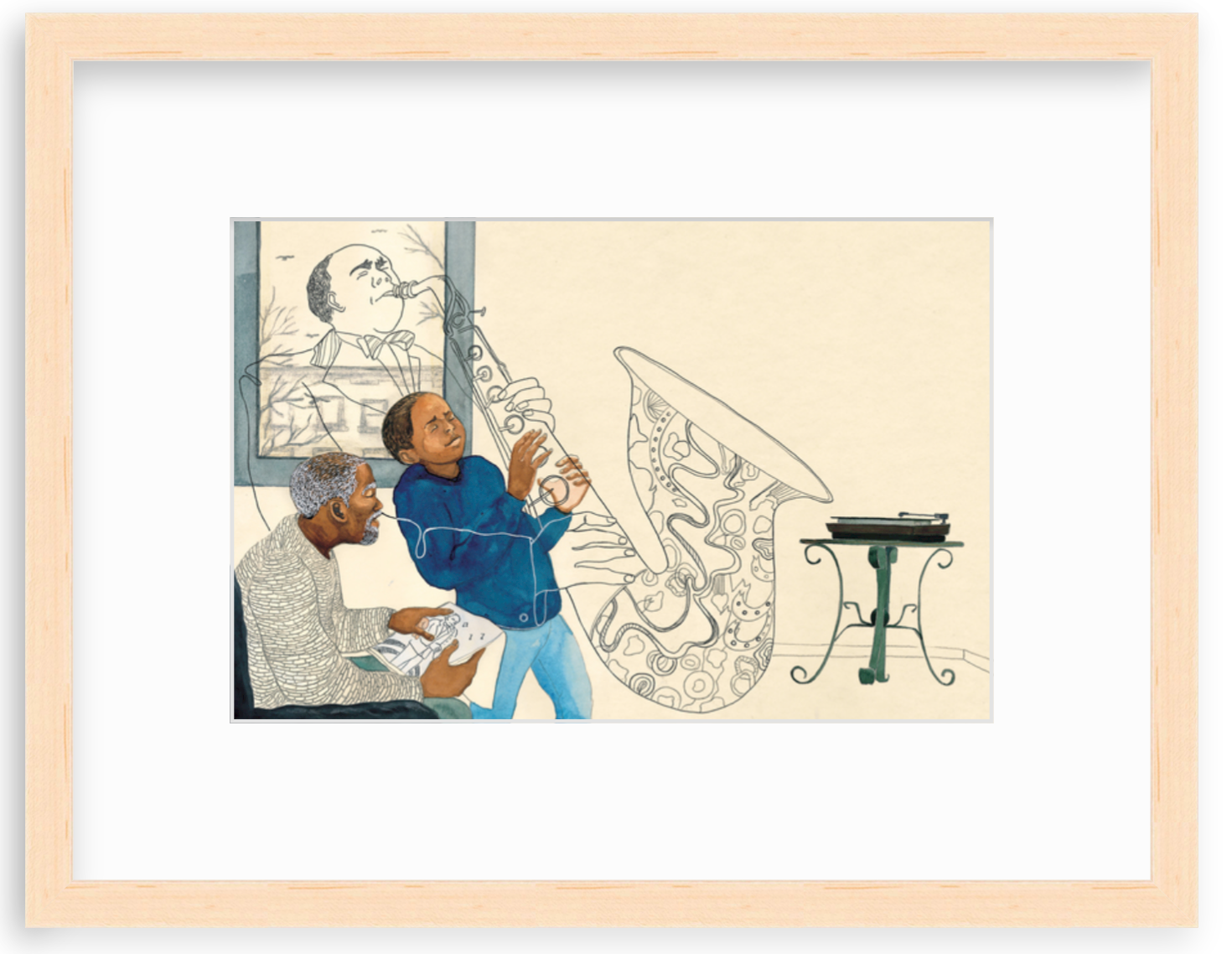 And the other piece?
Bird's Sax. It's from a story called Bird, a story about a young boy whose brother struggles with addiction and he uses drawing as a way to cope. It's really about imagination and possibility. In that scene specifically, Bird is talking to his Uncle Son, about wanting to be like Charlie Parker, "I wish I could play the saxophone just like Charlie Parker." Then Uncle Son says "Oh that bird's alright, but everybody's got their something and that includes you."
I'm so proud of that piece because throughout the story it was about this merging of Bird in his reality, but also figuring out how to illustrate imagination. Thinking about his age—he'd be about 9—and what he would draw with, which would probably be a ballpoint pen on lined paper. It's about the feeling. When I was a kid, whenever you'd pretend, you'd get into it and you'd feel that energy with you and that's where that illustration came from.
How do you bring that magic into your artwork?
I'm an only child and I spent a lot of time alone and I think that's where it comes from. I didn't have anyone to play with on a regular basis. It was just me in my head doing my thing. All the kids that I draw have a bit of that. For picture books specifically, nothing is mundane. Nothing is mundane in a kid's world, especially when it comes to reading and imagination. It's all very rich and layered. That interior world that we can't see is magical. When I'm illustrating for books specifically, I try to bring that out. When I'm illustrating for myself, I'm just trying to have fun on the page and explore something that makes sense to me.
How important is diverse representation in children's books?
The world is not binary. There are so many of us. It's impossible to tell stories these days without acknowledging the fact that the world is made up of so many different types of people with so many different types of backgrounds and interests. It just makes sense. It doesn't make sense for me to do anything other than acknowledge the space where we all exist together as different people. Telling authentic stories is what I'm invested in.
What are some of the reactions from kids when they see your illustrations?
When I'm in a room with children, I just want to play—let's engage each other and be silly together. Kids are just interested in learning. When I'm talking to them about the artwork and the process of it, they get really invested. Especially for African American kids, they get really excited about seeing themselves in the books. With Bird, being such a specific and heavy story, I was initially a little hesitant about bringing that into the space with kids, but they're right there at the edge of the story with me. They have such amazing responses and questions. Many of them have experienced a relative or loved one who struggled in that way. It opens an opportunity to have real, authentic dialogue about what these things mean to them. It's fun to have kids feel heard and seen. Give them love and attention—from a stranger that draws.
Learn more about Shadra and her work on her Instagram page.