Meet the Artist: Michelle Rial

Michelle Rial thinks up brilliant, utterly charming charts.
She draws by hand with tiny block letter writing then posts them to her Instagram feed. An up-and-coming artist, Michelle's analog medium appears perfectly at home on the internet.

"I think in a very visual, analytical way," Michelle said. For most of her career, Michelle worked as a graphic designer, crafting extensive, intricate infographics. After a long struggle with chronic pain related to computer work, she shifted to making smaller analog charts.

"After years of working through ups and downs of pain, I decided to take time off to attempt a healing process," Michelle said. "These charts came as a compromise between minimal physical effort—giving my hands and arms a bit of a break—and a need to keep creating."

Since 2011, Michelle's work has been featured on sites like Glamour, USA TODAY, Refinery 29, and Buzzfeed. Her first art show is this week.

Michelle draws most of her inspiration from everyday life, examining quirky moments with friends or around the house that speak to the daily realities of modern life. Take for example this chart, "How to Feed a Millennial." It's one of Michelle's most popular works. When going out to eat with friends, Michelle noticed just how hard it can be to accommodate multiple hyper-specific diets.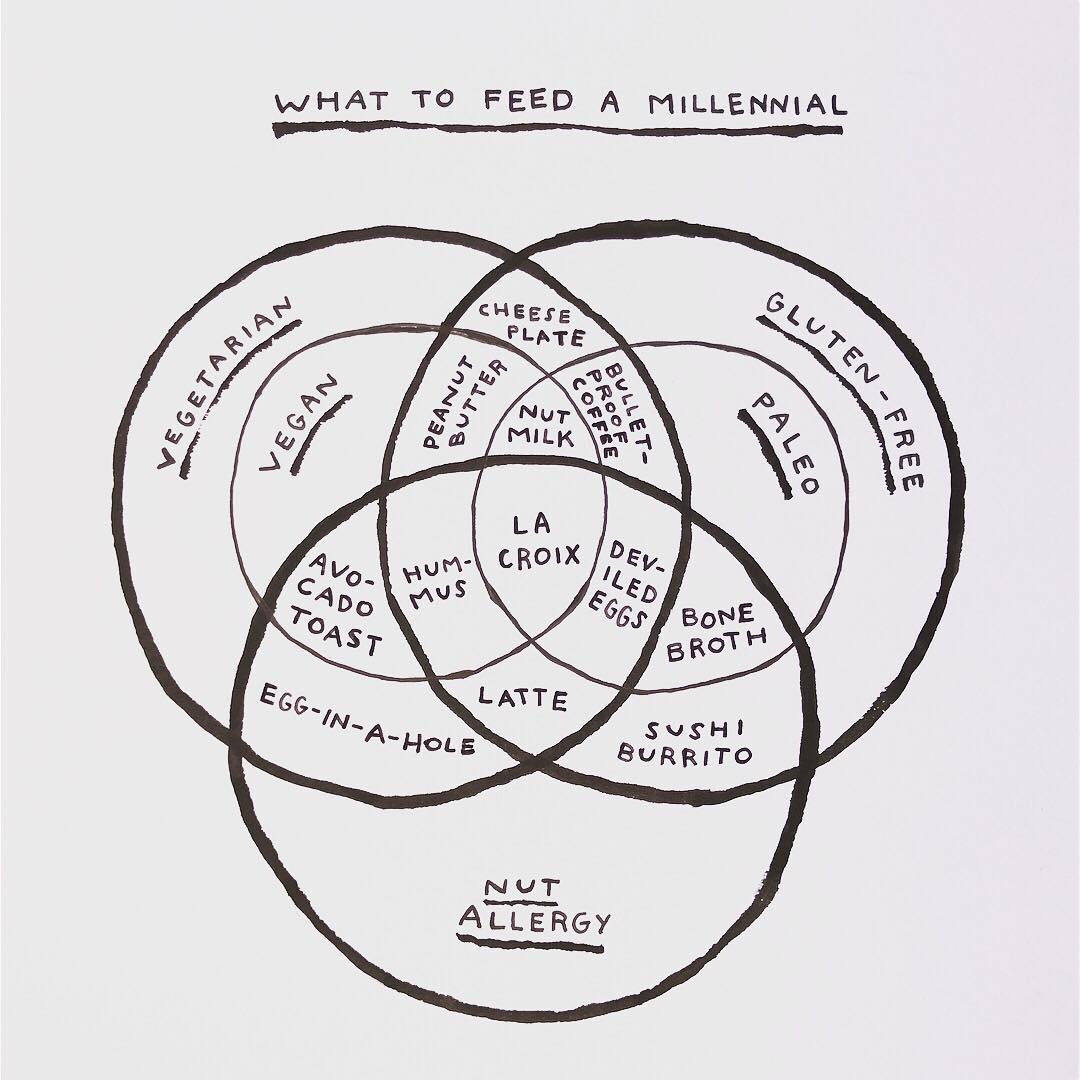 "I've been trying all these weird anti-inflammatory diets to see if any of them might help accelerate healing," Michelle explains. "Going out to eat ends up being a nightmare, especially if I'm with another person with different restrictions, so I translated that experience into a chart."

While the charts themselves often deal with light, playful topics, they come from a deep place. "If I'm able to convey an idea with only a few lines—and a chart is such an obvious way to do this—I can worry less about pain flare-ups," Michelle said. "I've learned to embrace the wiggly lines created by constant posture shifts and a shaky hand, letting the work be organic and honest. My previous digital work hid this struggle. At the start of the current series, I felt that I needed to tell the story of the pain, but these charts let me shift my energy to something other than that, which is much more therapeutic."

And for when art isn't emotionally therapeutic enough, there's always wine. Michelle sold these wine prints through her Instagram account and raised $1000 for fire relief in California. Follow along on Michelle's Instagram.
---
Framebridge: custom framing for tiny charts and big ideas