Meet the Artist: ggggrimes
Meet ggggrimes, an artist on a mission to celebrate queer culture through art. Influenced by anime and manga, their digital illustrations have a playful voice atop jaw-dropping colors. Their work "Mushroom" is featured on the gallery wall at our Suburban Square store.

Your style is beautiful and appears to draw on the influence of animation and comics. How did you find those influences?
When I was a kid I had a best friend who liked to watch anime and read manga. He taught me a lot about drawing. My older brother and I also loved watching Toonami together when we were growing up. By the time I was in middle school, I was really into Naruto and One Piece. In college, I fell in love with anime and manga in a whole new way, getting into way more genres. I've seen well over 100 shows and I've read hundreds of manga.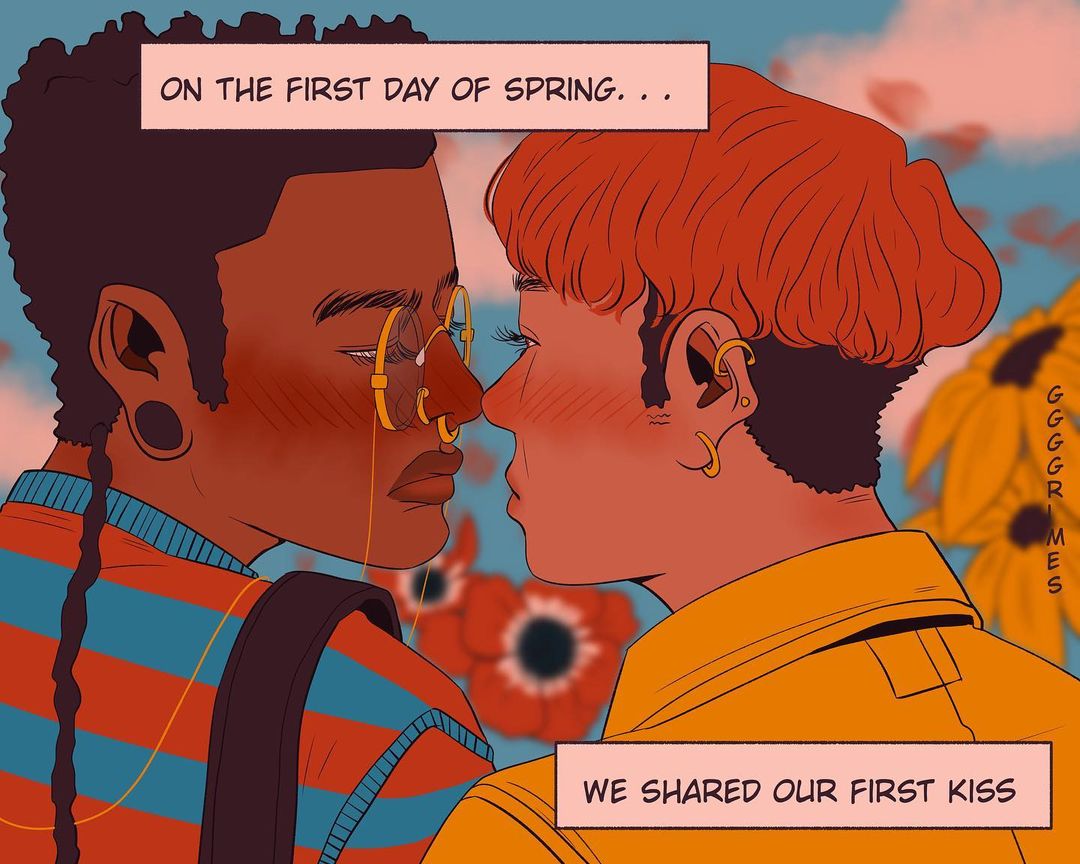 How did you start doing art?
I was always into art growing up. When I was a teenager I created a lot of abstract watercolor paintings and then took a break from art for a few years. When I was in my last year of college, I started taking my art more seriously. The kids I had at a summer camp encouraged me the summer before, and their encouragement really changed my life. I practiced almost everyday while still in school. When I graduated, I asked my mom (who I lived with at the time) to give me a chance to see how far I could take my artwork. I got better at digital painting on the tablet my brother got me for my birthday, and I just never looked back. I made art my career and I'm so happy I did.
Your art is often about representation. Was that a conscious choice?
It's definitely a conscious choice. I decided early on in my art career that I didn't like how white, cisgender, and heterosexual the vast majority of popular art at the time was. The art scene on Instagram has changed massively in the last couple of years, and I think it's due to so many of us queer artists connecting and building a great community. Before I found community, I was dealing with people going on rants at me for even saying that my goal was painting only people of color. My Instagram page is a safe space for QTPoC to be themselves without judgment.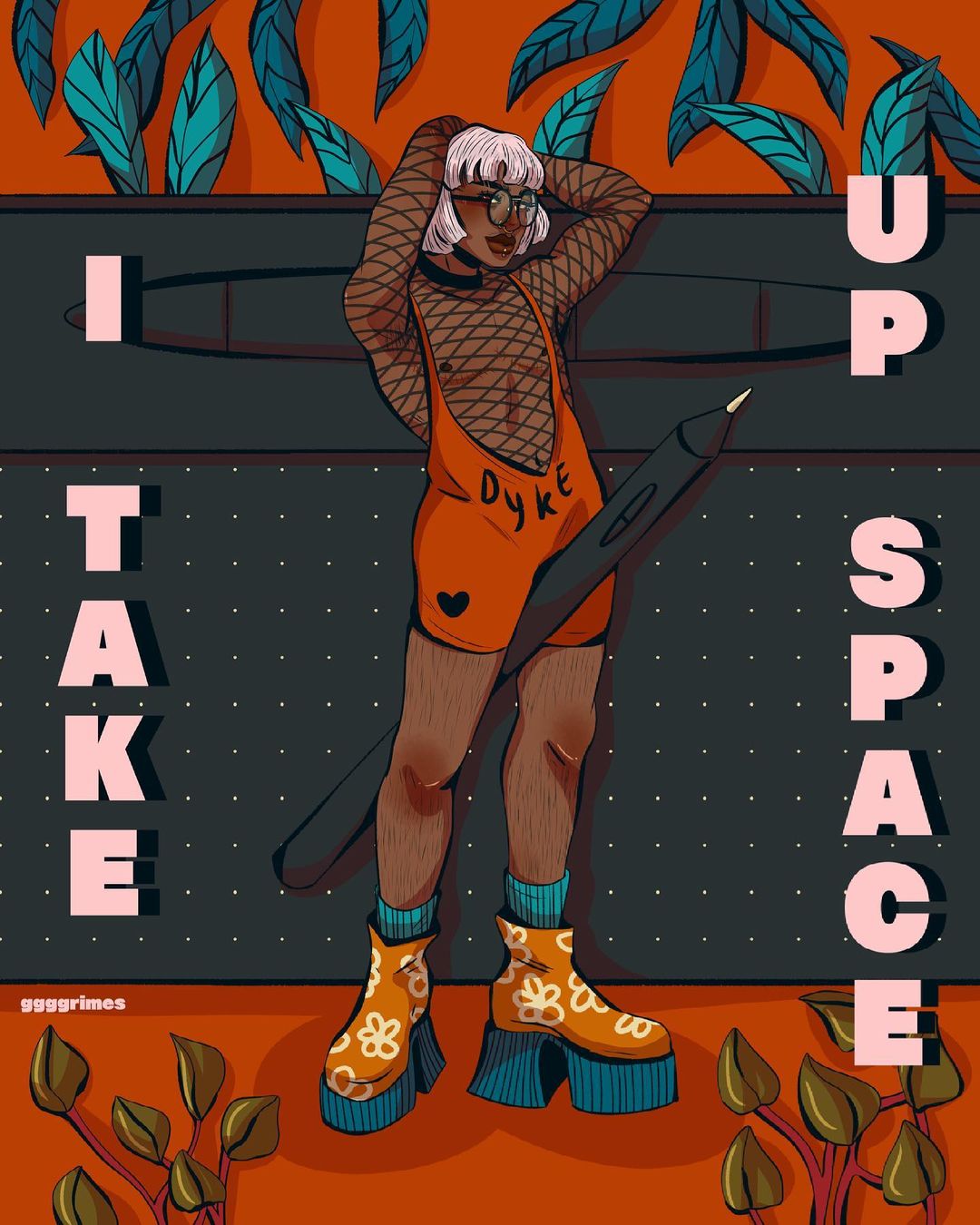 How did you find your artistic voice?
I think very slowly over the course of the first year of my career. It took me a while to decide what I was aiming for. When I found my direction, it wasn't like a complete 180. I was already painting mostly people of color and queer people. I just decided to explicitly say it and only paint QTPoC for non-commissioned work.
How does it relate to social justice?
My artwork itself doesn't relate to social justice at all aside from the pieces I'm commissioned for that are explicitly for social justice causes. Even though my artwork is for the sake of representation, it's purely for the enjoyment of queer people so they can come online and gush over a hot person I painted with an undercut who probably looks like their crush.
Can you speak to Philadelphia as a creative home?
Philadelphia is such a beautiful city, and I'm so happy I made the choice to move here. I live in the city here, and I'm in love with it. There are incredible murals everywhere, and so many trees (even though it's a city!). I lived in the city in NYC while I was homeless in a shelter, and the greenery in Manhattan is just a fraction of what I experience now. I didn't know that you could live in a city with so many trees!
Living here inspires me immensely. I also love how queer of a city Philadelphia is. Whenever I go out, I see visibly queer people of all backgrounds and I find that beautiful. It definitely makes me want to keep painting the queer community!
What do you hope people feel when they see your work on our gallery wall?
I hope they feel seen and understood more. I paint people who live outside of society's expectations in so many ways. I take things that magazines told us were ugly in the 2000s and paint them respectfully, beautifully, tenderly. I paint queer relationships that sometimes don't make sense to anyone but the two people in it, and interracial relationships that mainstream media would have you believed don't exist. I hope people feel happy when they look at my artwork—from the whimsical mushrooms, to the freckles on dark skin, to the 2007 MySpace snakebites, to the weird hairstyles. I hope people look at my painting and think that it looks cute and happy.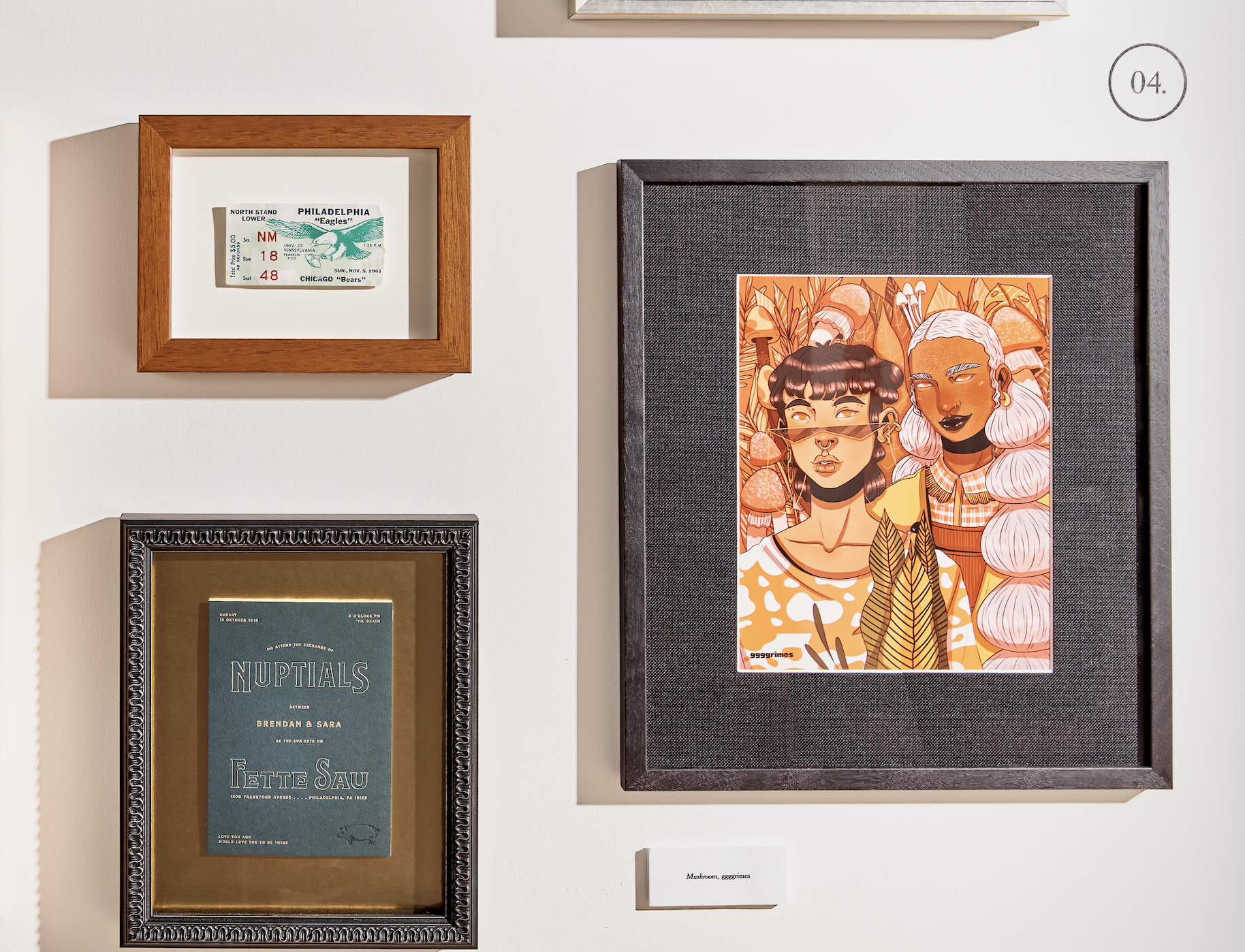 Want to see this and other amazing art in our gallery wall? Visit: