Meet the Artist: Chiomma Hall
Chiomma Hall is a freelance illustrator based in Atlanta, GA, whose online shop features BIPOC posters, prints and stickers. Her work aims to cultivate courage, joy and stillness for the Queer People of Color community and beyond. She is featured in this iteration of the Black Artists Print Shop.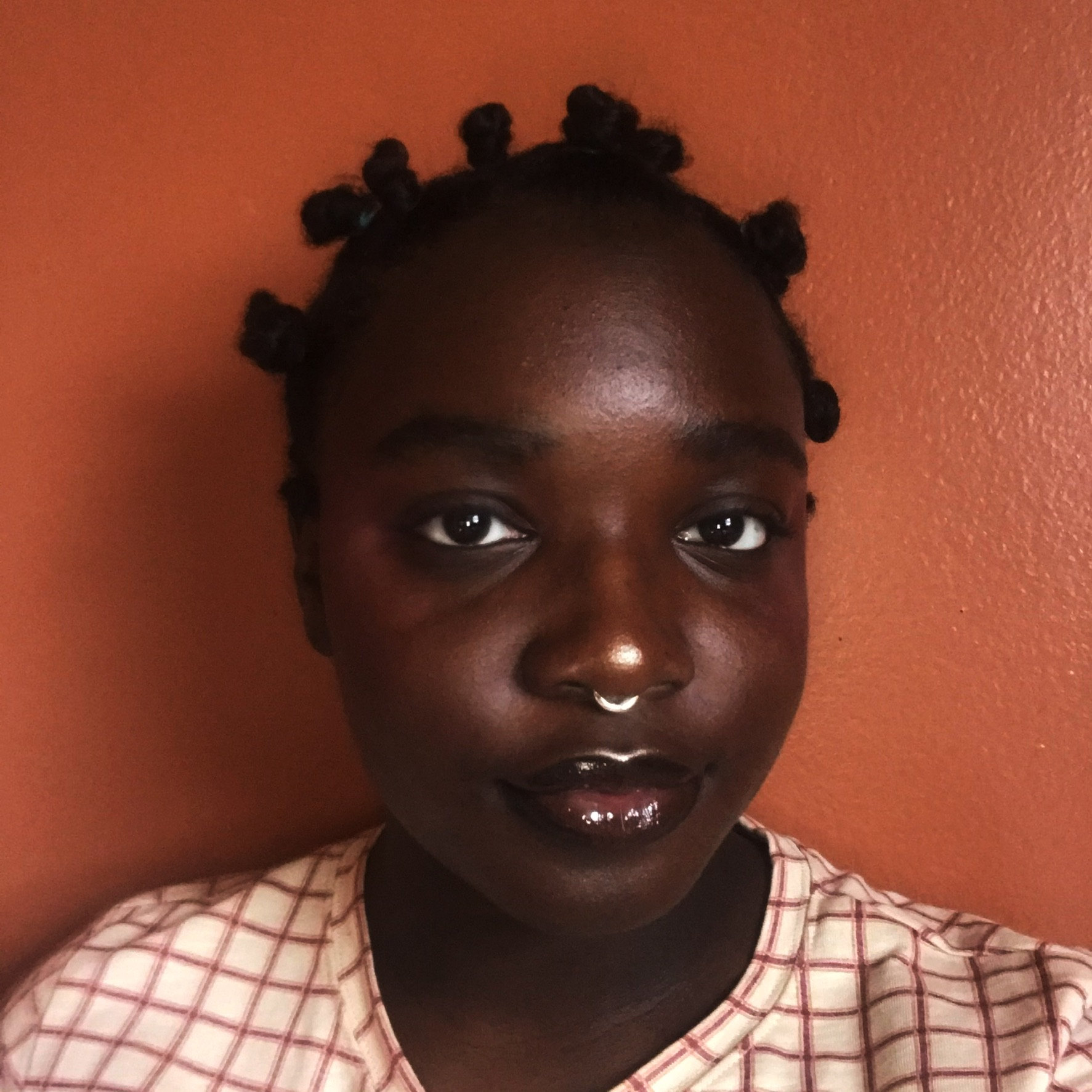 How has your undergraduate education in Art History influenced your art? How do you hope your art would be represented in any future Art History classes to students?
Kerry James Marshall centers Black people in the day to day, sometimes referencing classic artworks and really pushes Black people to be in the canon of American portraiture. I really appreciate his work not only because it's beautiful, but also because I find it interesting how people respond to it and what it inspires. For me, Kerry James Marshall's work makes me feel well represented, seen, loved, and connected to my community. I enjoy seeing Black people doing mundane things, and just existing. I also enjoy and recognize the complicated conversations that he has in his works about Black masculinity, police brutality, Black romantic relationships, and how people react to it, especially in America. Sometimes when people don't see themselves, they feel that they can't connect to that work, or that it's not applicable for them.
I'm a very soft person and I like to softly represent people. I'm constantly trying to figure out how to get my hands to translate my connections with my queerness, my community, my friends, and family and overall, my experience as a southern Black woman, in a world where there's a constant push to be hard and to just not hold space for myself. And so with my works, I'm hoping that in the greater scheme of art history, that there's more open dialogue about not only the challenges that I face and that we face, but also just the joys of just being.
What influences most deeply impact your identity and style now?
What mostly impacts my identity is centering myself. Making that conscious decision to prioritize my needs and prioritize being as authentic as I can, working on being honest with myself, and working on vulnerability as a whole. I recognize that it's very difficult to show up for loved ones, when I'm not showing up for myself. I also recognize that in practicing showing up for myself, it not only inspires my friends and family to show up for themselves, but also it creates a space of processing and growing together, being authentically held, and being called in by those close to me.
I get inspired by a lot of things and a lot of different places. One, I love color, still figuring out how to paint with it. It's all trial and error. Outside of that, I really look to other queer artists and how they imagine their characters, how they play with the body in color, how they work with movement, and just expression in general. I look to queer artists, queer creatives, individuals who are authentically themselves. I just look at my day to day, I look at Atlanta as a city. I look to the queer community here as not only a support system, but also there are so many vibrant people here. So many people here who are just authentically being themselves and I feel like that inspires me more than anything.
Your color palettes seem to swing from warm earth tones to pink and lavender pastels. Is there anything specific that informs your color choices when beginning a piece of work?
I go through periods of being drawn to a certain palette of colors. Right now, it's been a lot of earth tones. I feel like earth tones are very grounded. There's a certain level of seriousness to it. And that it is something that I feel that it really helps me in regards to having transparent conversations about art like my piece, "I Deserve It All". It's about Black femmes being put in the position to be in a mammy role. They deserve to not have to raise or take care of another individual. They deserve to be themselves.
I feel, also in practice, there's a softness to it. When I think of earth tones, being around trees and nature, there's a scent to it. It feels like a hug. Just like when playing with pastel colors and softer colors, I find it fun to figure out how to combine them in a way that feels bright and attentive and playful. One that draws people in. So even if I am having a difficult conversation, you still feel comfortable to look upon it, to engage with it. I tend to use pastels, and brighter colors to try to hold space for others. It's constantly changing.
Your bio describes your hope to spark "dialogue of community, love and friendship as a Black queer woman." How does the way we learn about BIPOC artists contribute to this healing?
I feel that the way I really learn is through kids, and through narrative and storytelling. Both of them require us to be actively present. Both of them center on the truth, whether it's the truth that we understand or not. But it always challenges us to consider somebody else's perspective and experience and to heighten our capacity for compassion. Also to consider our own boundaries.
I love learning from kids. I love listening to people's stories, learning about life, and the complexity of emotion. Regardless of age, I love it when people are authentically being themselves and their truth and not sugarcoating it. I feel like when we listen to other people's stories and we confront the parts of ourselves that are still working in progress then we are continuously going to heal. I think that it helps create a community that is reliable, that is self-sustaining.
"Plastic" and "I Deserve It All" are incredibly gorgeous and thoughtful pieces. Tell us about the production behind these works and why you selected them for the Print Shop.
They're my favorite pieces. When I first painted "Plastic," it was an experiment in trying to create a visual representation of how I felt when I listened to the song "Plastic" by Moses Sumney. I think it's so neat. It's a very comforting song. I always envision a Black masculine-presenting person gardening when I listen to it. And that's why I wanted to illustrate it. I will say the hands in "Plastic" were the first time where I had really tried to do hands, and it worked out! It was very therapeutic for me, a very meditative piece. That's why I chose it.
I made "I Deserve It All" in honor of Mother's Day. I have a lot of friends who year-round make the joke that they have raised too many men and that they deserve a present. Black femmes are expected to accept the bare minimum in other people's actions and are expected to break their backs for other people, essentially set themselves on fire. I wanted to paint a Black femme fully in their personhood, comfortable at home eating their favorite foods and being treated like royalty-embodied-luxury because it is deserved. I painted it in earth tones, so that the figure would feel grounded and safe in their own space and feel held. I really love how brown and orange tones can help highlight colors.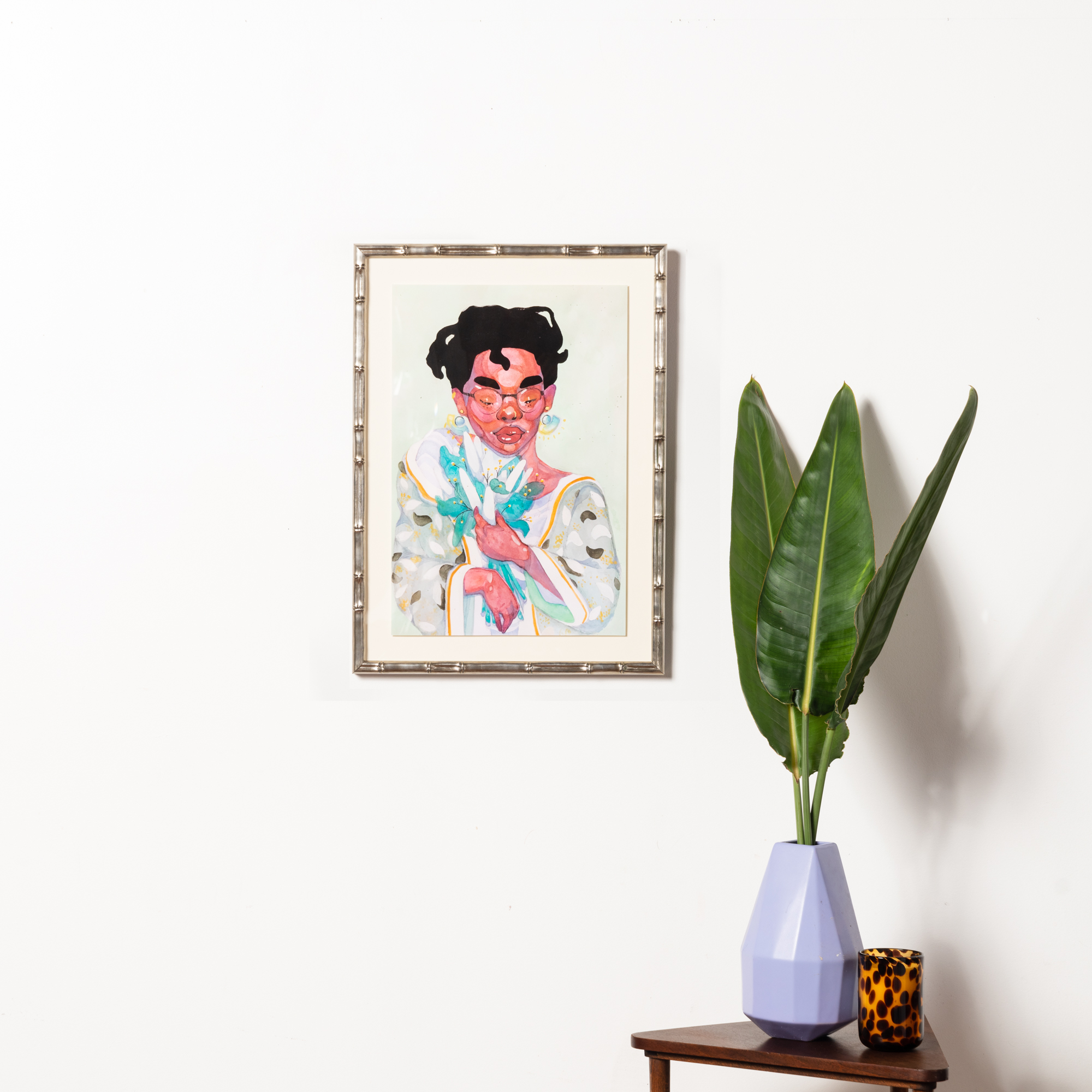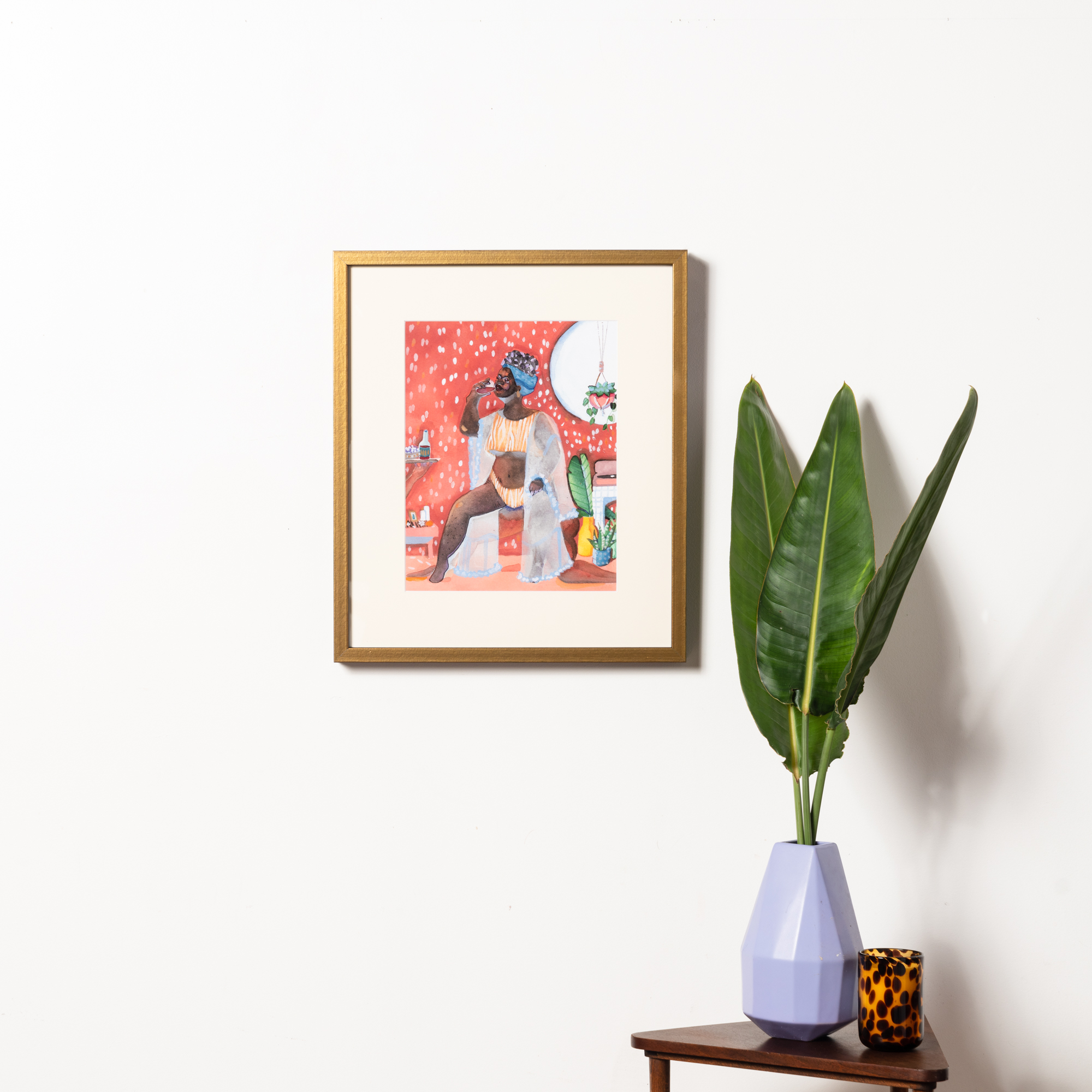 How has the city of Atlanta creatively impacted you, whether it be your artistic style or the messaging behind your work?
Atlanta has always been a space where if I asked for something, the city gave it to me, regardless of how long it may take, or the challenges that would come before it. Atlanta has always tested and allowed me to see through a lot of the processes that I have dreamed about being a part of. I've had a lot of opportunities here that challenge me overall. For instance, at the end of last year, I was asked and commissioned by Midtown Alliance, to make a storefront window art. I made this mural to give people their flowers while they're still alive, to honor the essential workers and a lot of people who make sacrifices. I had never worked that large. I was scared… angry... irritable! But not only were they patient, they were pushing me regardless of where my mental state was. It was a challenge. But at the end of the day, it was very rewarding for me.
I appreciate that in Atlanta artists get a lot of opportunity to use their voice. I feel that the city shows a lot of love and a willingness to have conversations. It also will hold you responsible and call you into certain conversations, depending on what the subject matter is. I feel that even personally, I've come across so many different kinds of people who have taught me a lot of lessons: being my own best friend, centering myself, leading a community, how to be accountable for my mistakes, how to embody my insecurities. Above all else, there's so many different kinds of Black people here to learn from. I've lived in predominantly white spaces, and to be in Atlanta and see so many different kinds of Black people thriving, living, loving, existing—it really shows me that there's no limit to what we can do, what we can overcome as a community, and what can be done together. I think it really helps set the tone for my work.
Have you ever done a self-portrait? If, so what did it look like?
I've only done one self-portrait so far, and it was a little thing. I'm very hesitant to center myself as a reference in my paintings or to paint myself. I feel that creates a level of vulnerability. But what I did at that time was painting myself with Bantu knots while drinking tea. Bantu knots are my favorite hairstyle from when I was younger.
If I were to re-do it, I would do a painting of me now, and of myself when I was probably eight or nine. I want to do a painting of us playing dress-up. I feel that younger me would be very excited and proud of where I am today. I also think that both of us deserve the space to play around in clothing without being over-sexualized or in a way that doesn't shame our bodies. I want us to play and exist in colors vibrantly. I just want to twirl. That's it. I really do. At the center of my being is this commitment to twirl and to enjoy that more often.
Learn more about Chiomma and her work at her website and Instagram page.