How to Style 3 Notoriously Difficult Spaces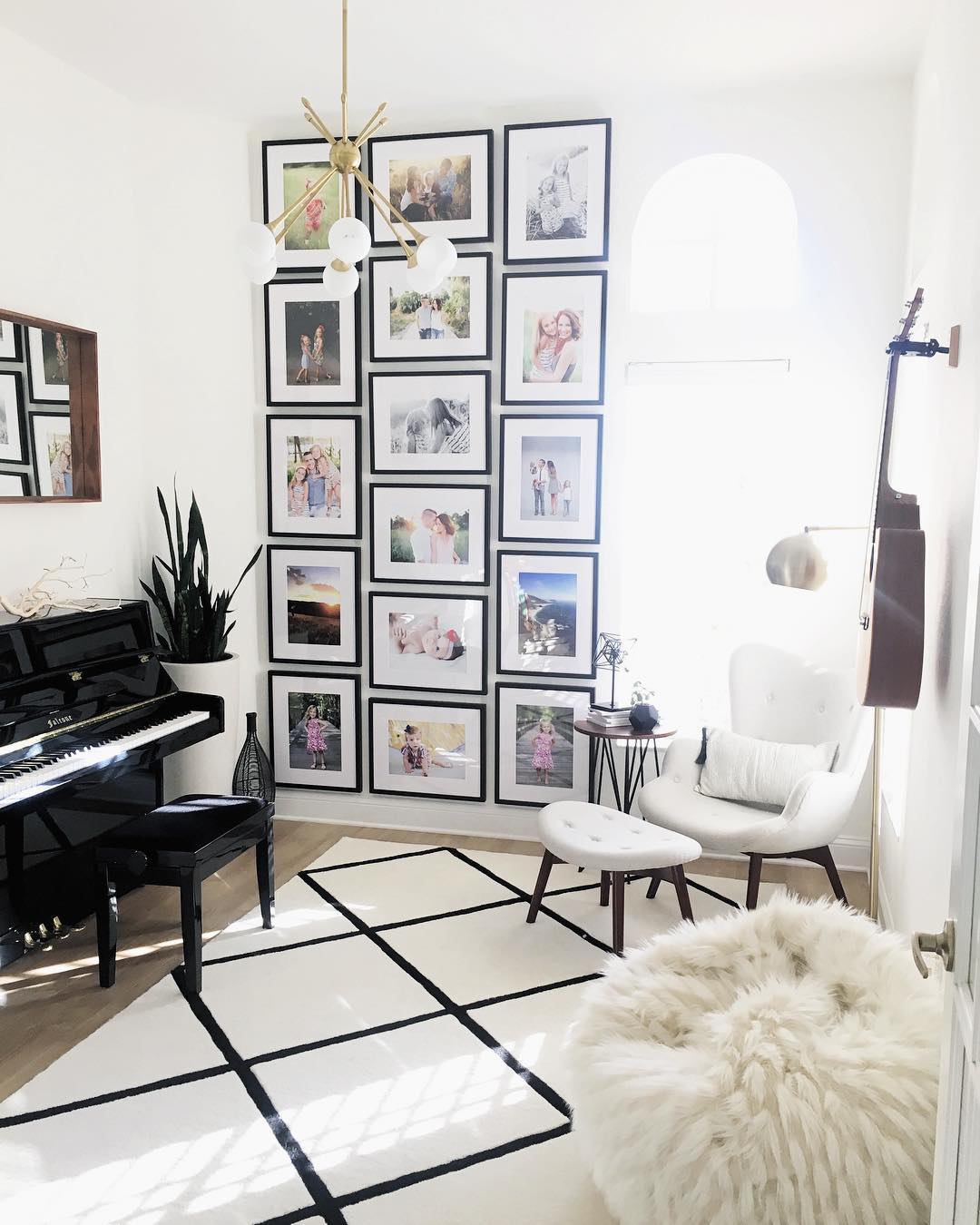 When it comes to decorating your home,
not all spaces are created equal.
While some struggle to arrange the perfect shelf, others stare blank-eyed at the white wall above their couch. We've all been there. Here at Framebridge, we're on a mission to help.
On Instagram, we asked you what spaces in your home you most struggle to decorate - and we put all our design powers behind giving you some real solutions. For all the blank walls and weird nooks, framed photos and art are an affordable way to transform and really elevate the space. Plus, true custom framing means that you can always tailor the size of your frames to the space you want to fill. Here follows our unofficial but still totally legit guide to conquering even the most challenging spaces.
Big Blank Spaces: The Floor-to-Ceiling Gallery Wall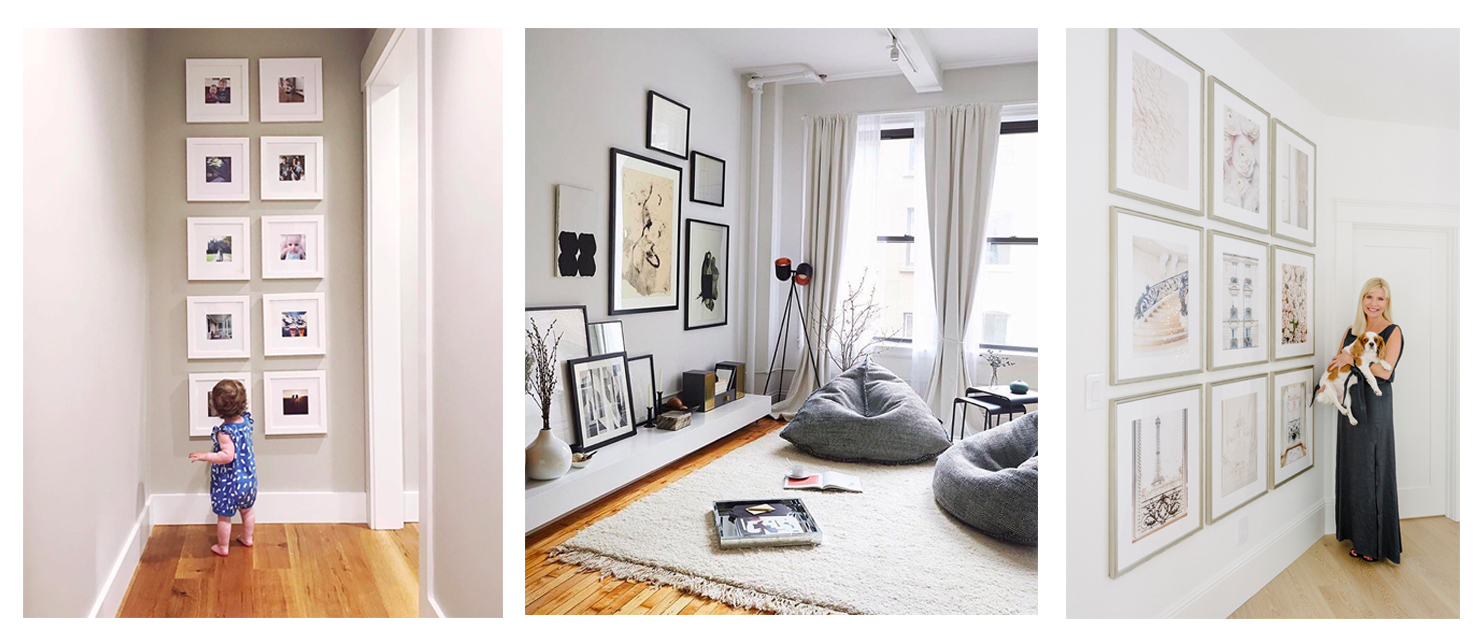 Got a massive blank wall you want to fill? Think a large hallway, a living room, or dining room. A floor-to-ceiling gallery wall makes an instant statement and gives you a chance to show off a large collection of art and photos. There are a few ways to think about how to fill large spaces like these. First, consider whether you want to create a full-formed statement wall in one go or if you would rather add to your gallery wall over time.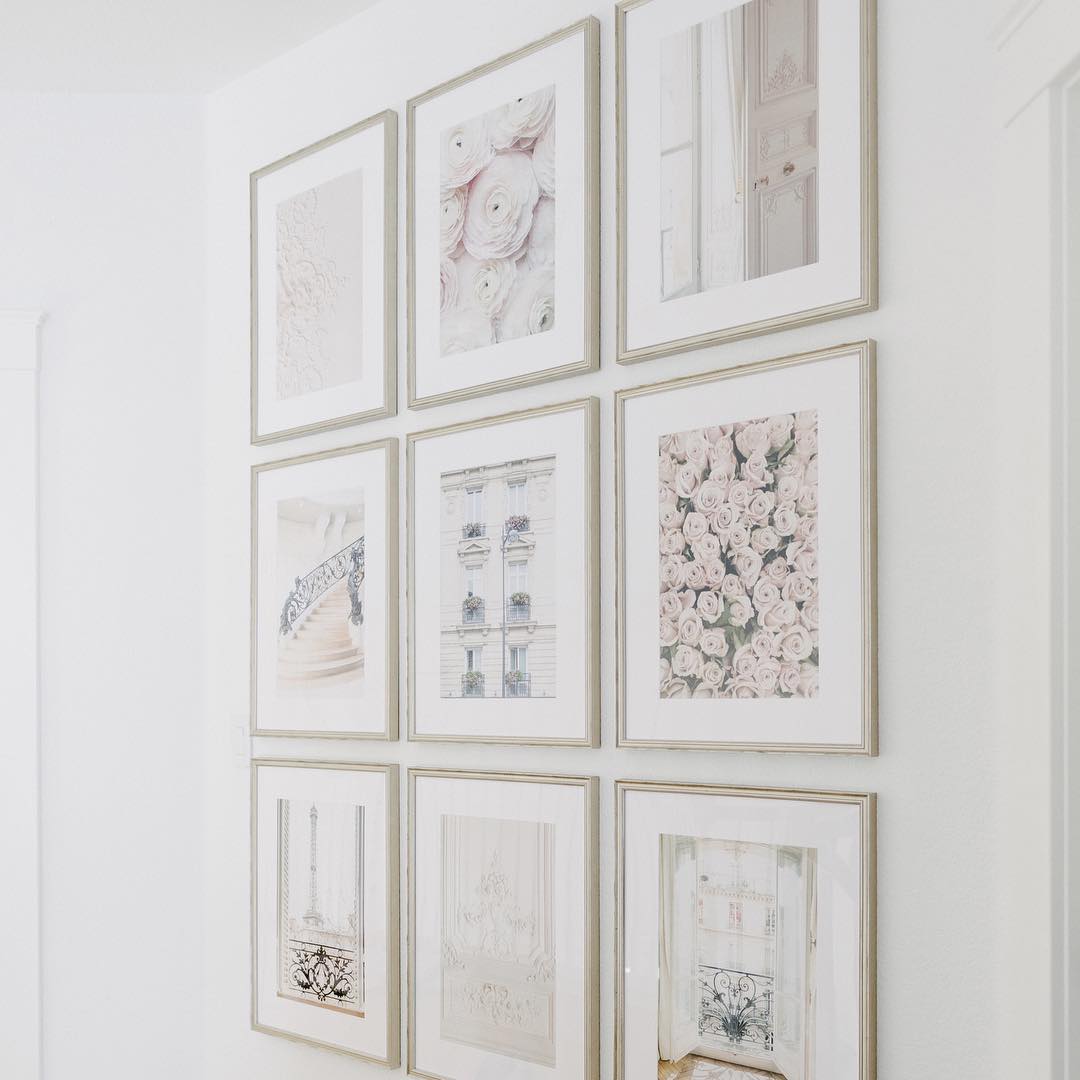 "Static" gallery walls, like this gorgeous one by Kristy Wicks, require some planning. Good news is, grid gallery walls like this look instantly polished and sophisticated. (Georgiana Lane's detailed scenes of Paris only enhances the elegance of this arrangement.) Planning the perfect grid gallery wall may require a little math, but we broke down the whole process for you here. Be sure to to keep the size of each piece and frame style consistent for a cohesive look.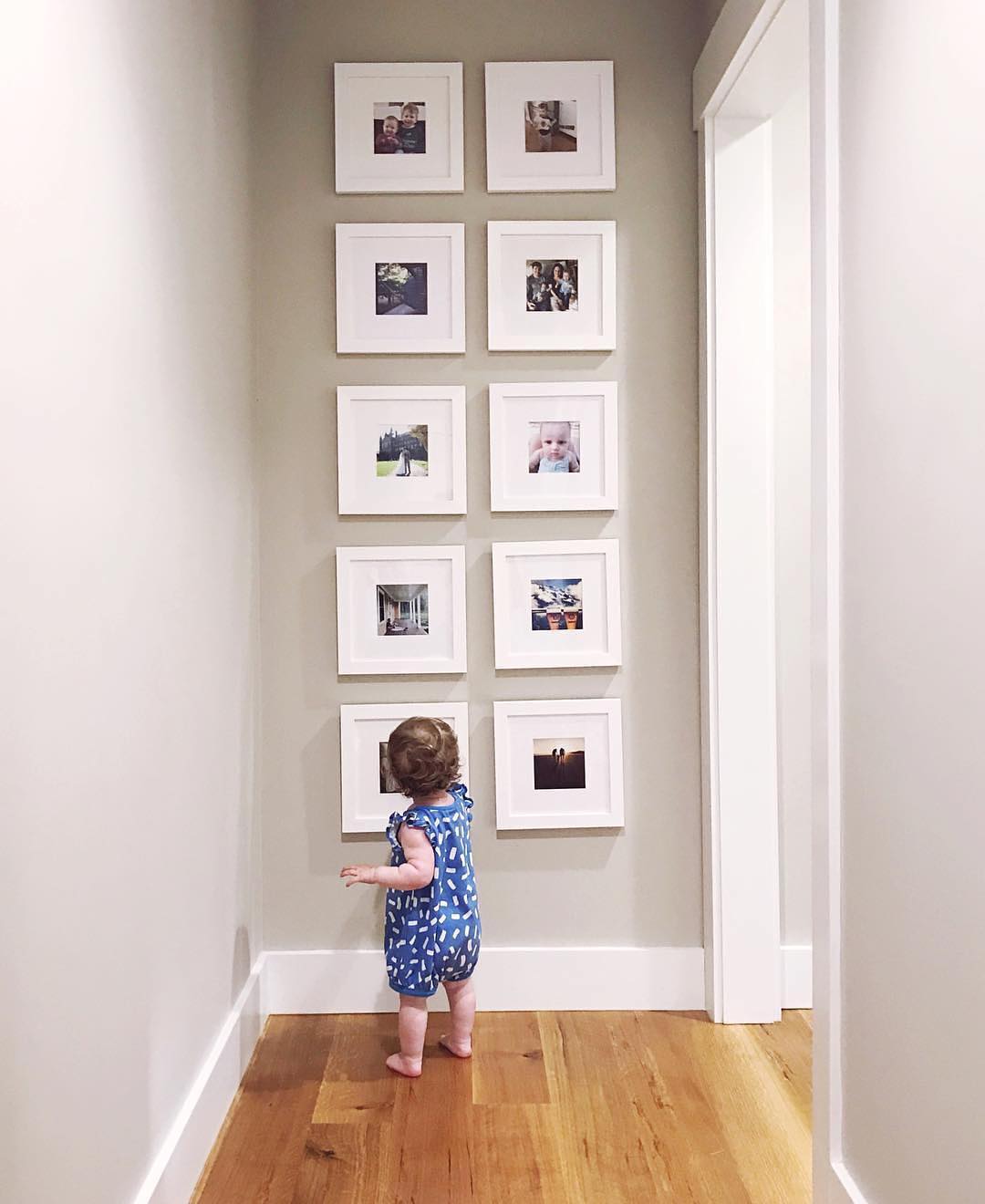 Another variation on the grid, like in the photo by Ali Vinciguerra, combines a grid and a column gallery wall for a chic floor-to-ceiling arrangement that still fits in smaller spaces. Here, she arranged ten of our Instagram minis in a 2x5 grid. Our Irvine frames keep the arrangement from looking overwhelming, but the sheer number of frames means you can display all your favorite family photos and snapshots.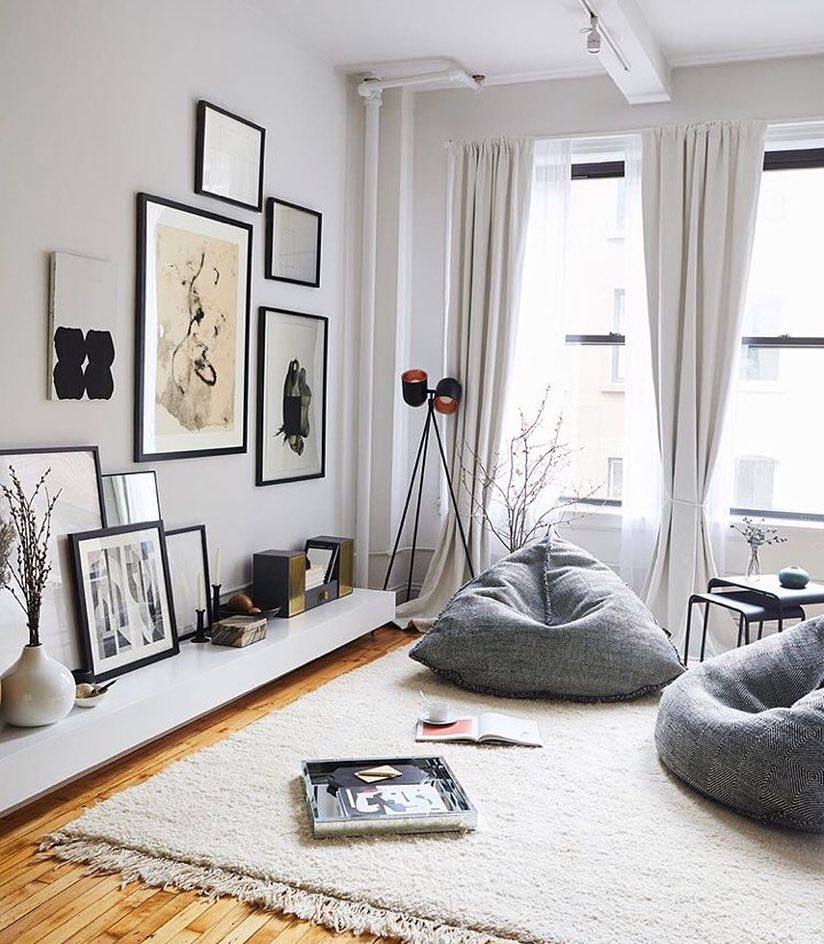 The middle image by Snowe features a brilliant gallery wall design that's half hanging art and half leaning art. We're huge fans of leaning art to create a ledge gallery wall. It makes any space look instantly cool and lets you pretend you live in an artist's' studio, which is lowkey our dream. To get this look, start by framing one really large piece of art to act as an anchor for the gallery wall. (We've got lots of advice on how to frame large art, check it out.) From there, you can add pieces over time to create a gallery wall that's eclectic and organic. You can mix and match frame styles, or keep it simple with simple black and white frames. These are our Mercer and Mercer Slim frames.
Also, if you're still feeling stuck, we have an awesome gallery wall service. Our expert designers will work with you to create the perfect gallery wall for any space, incorporating the art and photos you care about most.
Weird Spaces: The Bathroom

Ahh, the room where function tends to outweigh style. No longer. Your bathroom can be beautiful, well-designed, and still able to handle your morning routine. These three examples show that art looks incredible in the bathroom - and custom framing can help protect your photos and art from moisture and debris that could otherwise harm them.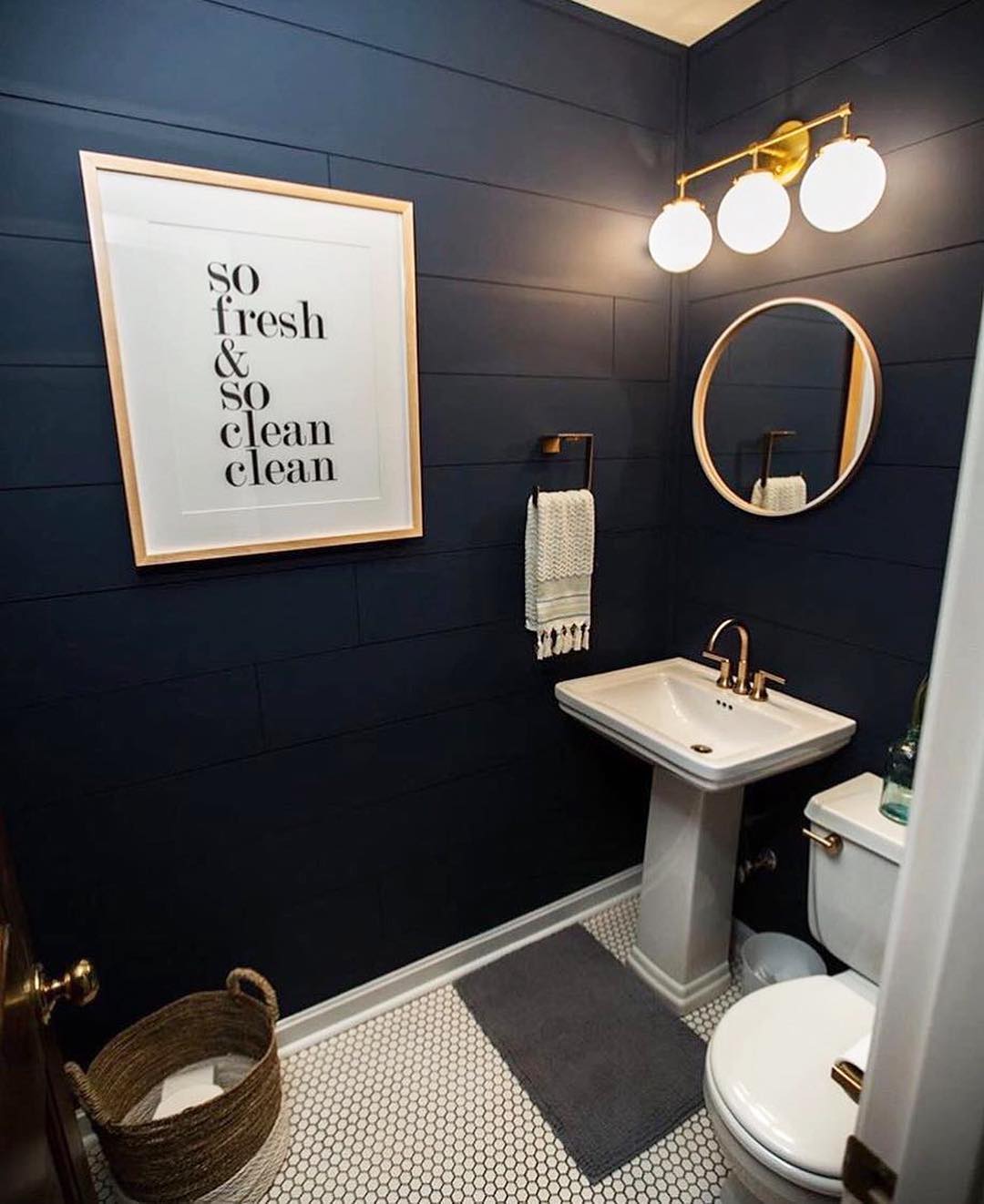 Take the photo by Chandler Rose. A bold, cheeky graphic print sets the tone for this stylish half-bath. Glamorous yet playful, a powder room like this says something about the people who live here. Even the smallest spaces are worthy of your attention. We'll let you in on a secret. Images of well-styled bathrooms are some of our best-liked Instagram posts. Why? We think people love to see oft-overlooked spaces looking their best. Get this look by choosing a single bold art print (there are tons on Etsy) and framing it in a style that best suits your bathroom. (Depending on your style, we recommend Irvine Slim, Richmond, or Mercer Slim.) Hang the art at eye-level when standing (meaning the vertical center is 57" from the floor), and note how it interacts with any mirrors in the bathroom and play with those reflections!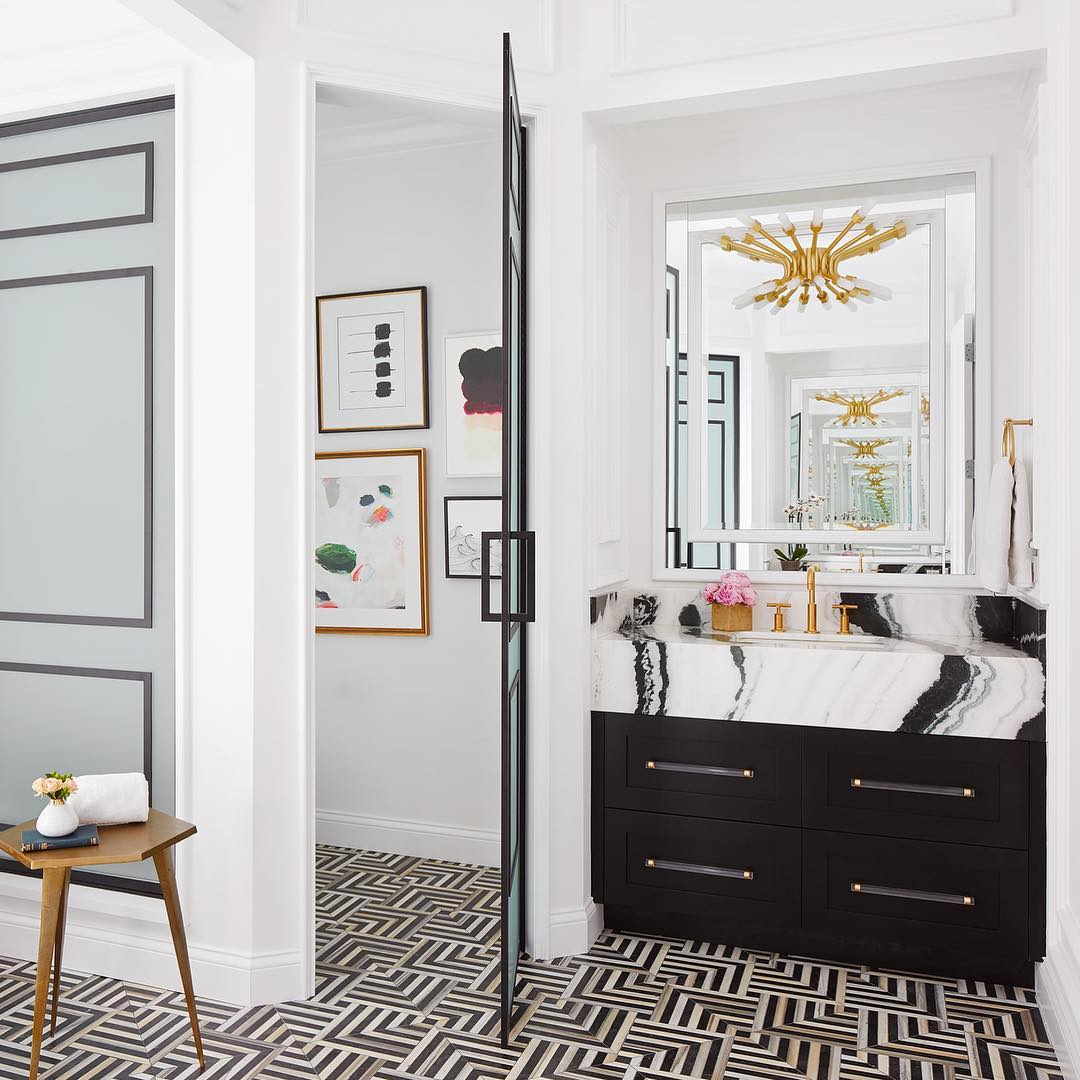 Take this dream of a bathroom by designer SuzAnn Kletzien. The art - arranged in a mini gallery wall - makes the space feel like an area of the house you actually live in. Making areas that only you and your family really see beautiful is transformative, and honestly and act of self-care. If you're anything like us, you indulge in a bath every once in a while (with bath bombs, candles, and mood music of course). Creating a relaxing, tranquil environment to decompress while pampering yourself is a guaranteed mood booster. To style a bathroom like this one, plan a gallery wall with a variety of original art and art prints in an eclectic selection of frame styles. Featured here are Providence, Georgetown, Irvine Slim, and Mercer Slim for a look that mixes traditional and modern.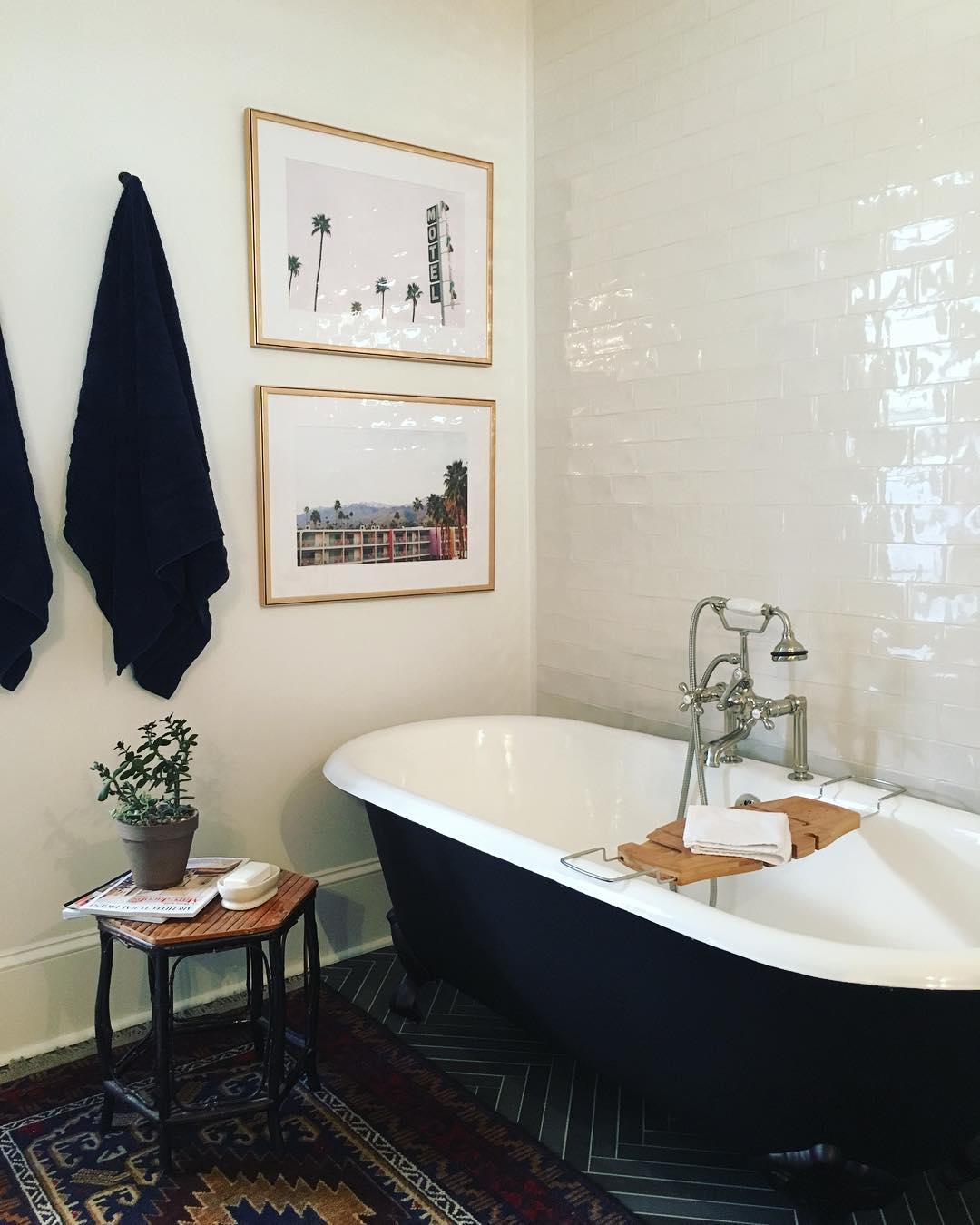 Finally, this charming vertical diptych by Moet Delatorre shows off photography from Jenny's Print Shop. The art perfectly complements the single tiled wall for a look that's both innovative and classic. Our Rosemont frames - in a fresh, coppery rose gold tone - subtly enhance this vibe.
Statement Spaces: Above the Stairs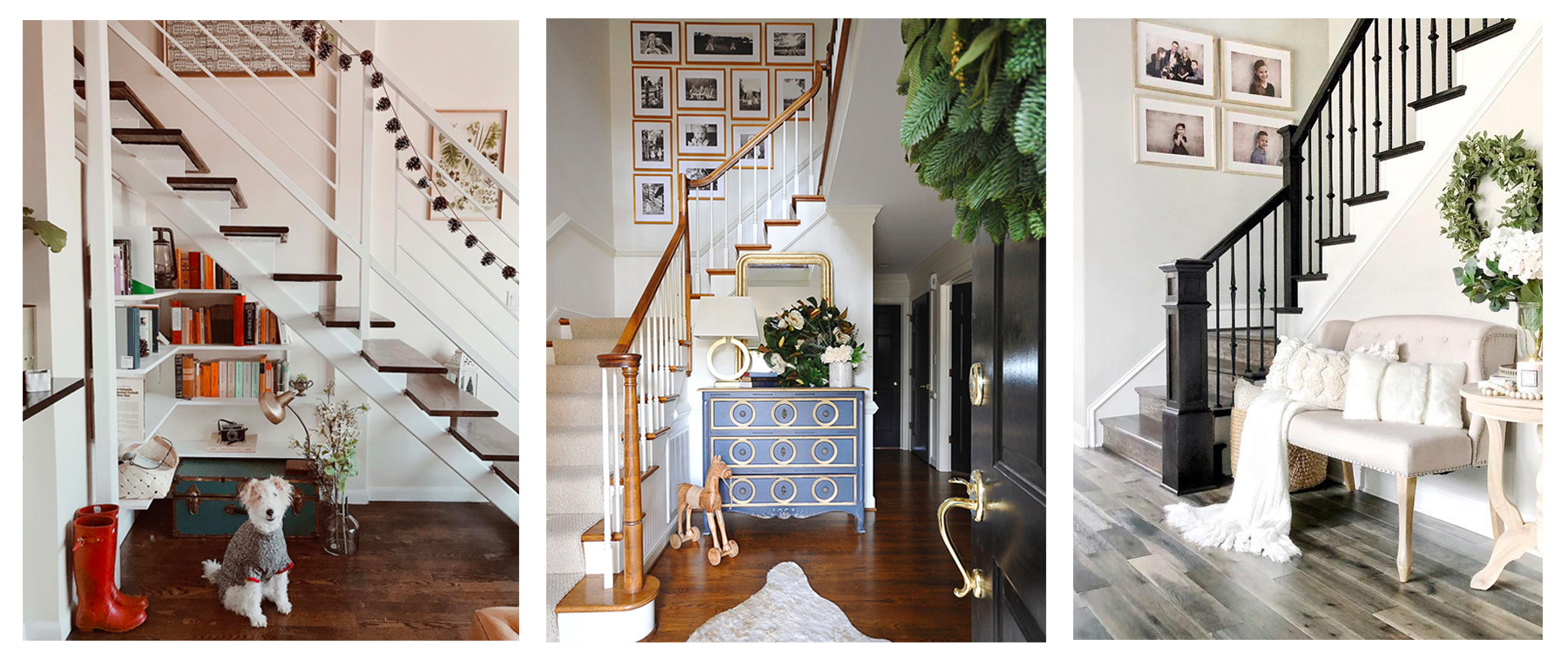 When we asked our Instagram followers what spaces they have trouble with, the majority said above the stairs. To be fair, those blank spaces need something, but are often oddly sized. Every staircase varies in how "public" it is. For example, stairs in your entryway are guaranteed to be seen by visitors and are a perfect opportunity to make a bold statement about your style. Stairs leading down to the basement? Probably only your closest family and friends will see those, making it right for intimate portraits of your family.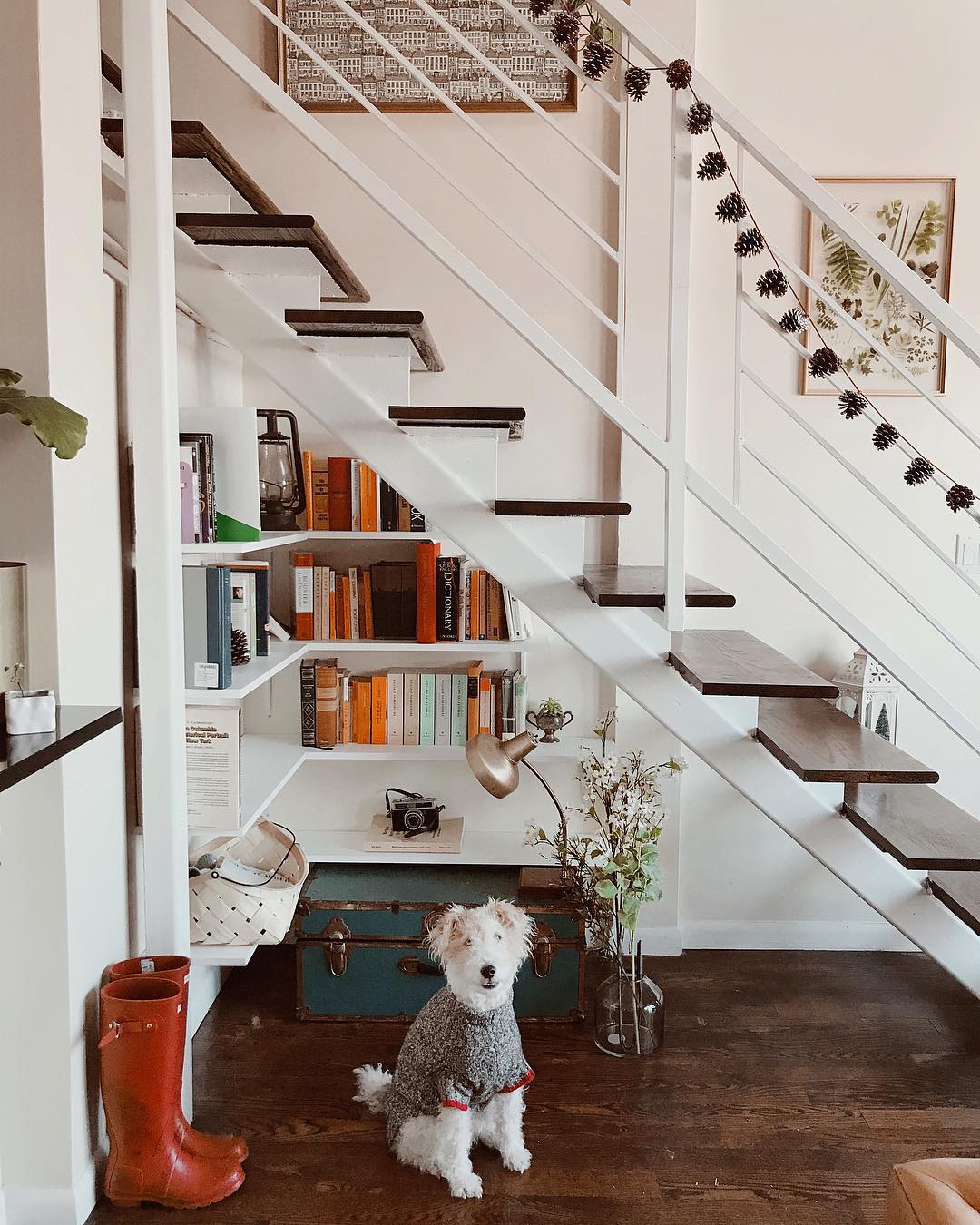 For example, Noelle Downing's space features whimsical yet understated art - pressed botanicals and a repeating pattern that resembles a textile. When combined with her open staircase, they make the room feel cultured, open, and well-loved. This type of art arrangement is wholly organic and can grow into a gallery wall over time. This type of look works well with wood frames (like our American Hardwoods Collection) and classic gold frames like Georgetown and Richmond.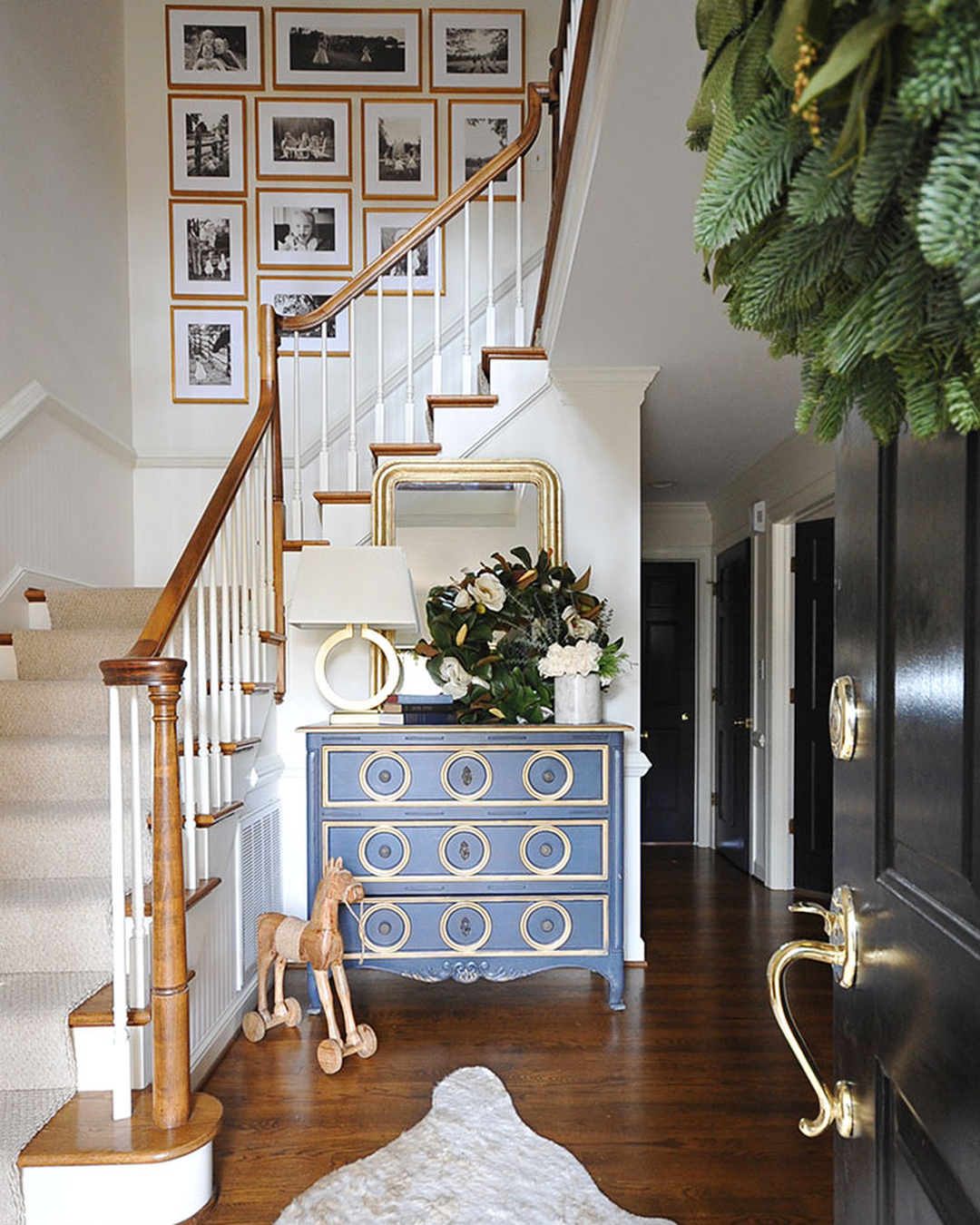 Meanwhile, Dear Lillie's gorgeous entryway gallery wall is a stylized take on a grid gallery wall. By keeping the frame style consistent, but alternating vertical and horizontal piece, Lillie embraces a totally classic look that has some structure, but isn't quite as visually predictable as a true grid. Her family photos are in black and white, which makes them less overwhelming to the eye. Fun fact: converting photos to black and white is our Creative Advisor Nate Berkus' favorite way to make photos really look like art. (Plus black and white photos make it easier to create a cohesive gallery wall, always a plus.) Part of what makes this wall so successful is that it's left aligned, half a grid really. It really defines the space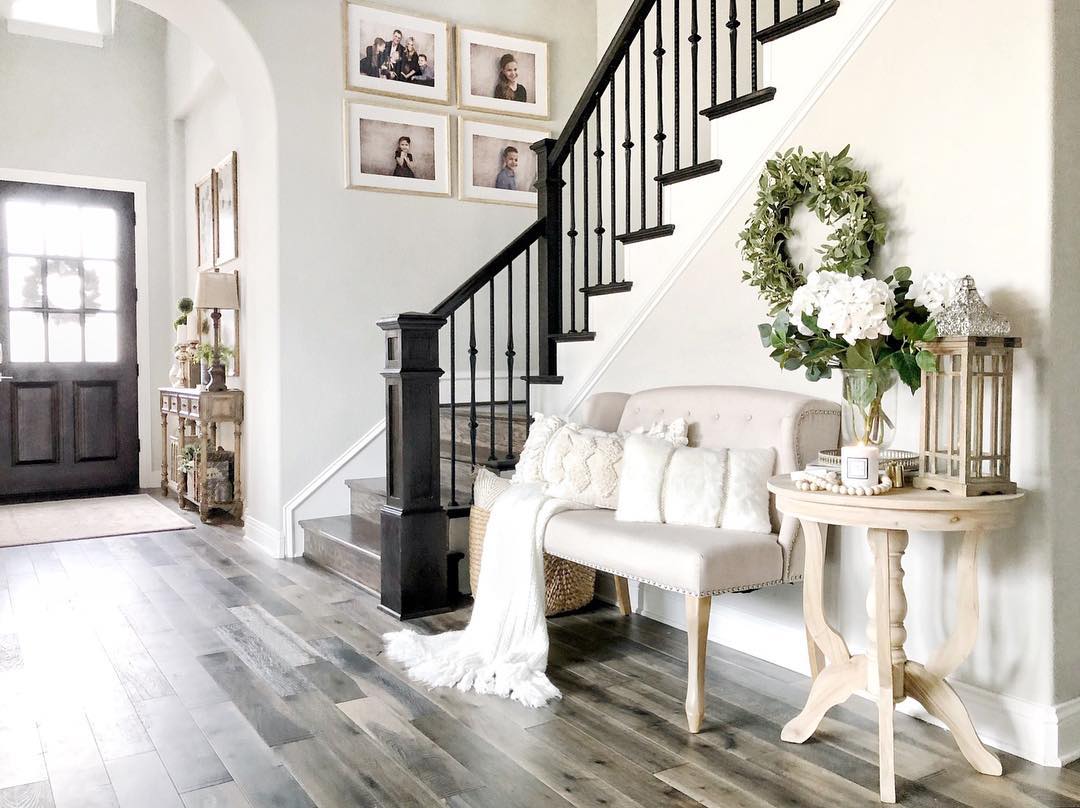 That's not to say that family photos in color have their place, and can look amazing when styled like the ones in the photo by My Texas House. By keeping the frame style soft and classic (our Ash Gallery frame from the American Hardwoods collection is perfect here) and the size of each piece consistent, the focus falls on the children's portraits. The cool grey tones in the house are perfectly complemented by both the portraits and the framing arrangement. A simple four-by-four grid gallery wall is definitely a fool-proof style for above any landing.
_______________________________
Designing a tricky space can be rewarding to design-aficionados and newbies alike. Hanging original art or personal photos goes a long way toward making a space your own. Hopefully this post helped give some ideas and inspiration of how to tackle the toughest spaces in your house. If you're still feeling stuck, we're always here to help. Our expert designers love a challenge and are happy to help you create the space of your dreams.
Ready to leap into your next project? (It will be easier than you think!)