Friends To the Ends of the Earth

There are scores of books, movies, and articles about love long distance. But what about long distance friendships?

Deb met Laura in Hawaii, beginning a friendship that has spanned more than 30 years. "We became inseparable of mind, but didn't see each other very often." Both women are avid travelers, so it didn't surprise Deb when Laurie moved to Cusco, Peru.

Laurie's whole life centers around Cusco. "She lived in Cusco, learned Spanish, immersed herself in the culture," Deb said. Eventually, Laurie adopted a child whose birth mother had passed away. Ten years ago, she met her husband and they decided to get married in Cusco. She asked Deb to be her maid of honor, and Deb happily accepted. But bad luck and ill timing kept the friends apart once more.

"I simply broke my ankle and had to have surgery so I couldn't go," Deb said. For their ten-year anniversary, Laurie and her husband traveled back to Cusco to renew their vows. This time, Deb was finally able to come along. "She invited me so that I could experience what I missed the first time," Deb said. "Cusco is such an integral part of her life, and I've known her for forever. And I had never went there with her."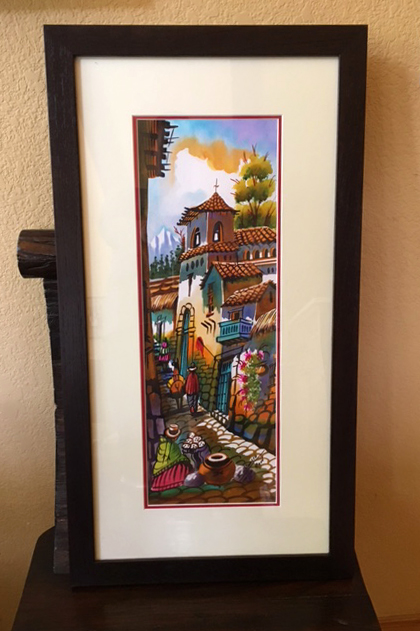 Between wandering the city streets and trekking into the Andes, Deb spotted a street artist completing a view of the street. While Cusco is filled with street artists, one piece especially caught Deb's eye. "My husband and I always pick up art," Deb said. "We enjoy it because you can see it forever after, and oftentimes you get to interact with the artist… It was raining. This guy had watercolors, and he couldn't bring them out into the rain. He was just finishing the one we wanted. He hadn't even signed it yet...It just reminded us of the streets. I mean the colors. Bright orange, bright pink, bright blue."

Reflecting on the vibrancy of local life in Cusco, Deb expressed her gratitude to the families they stayed with, including the extended family of Laurie's adopted daughter, who is now 19. Even while the city center has become a tourist center (after all Cusco boasts the airport closest to Machu Picchu), just off the beaten path are moments that connect travelers to everyday life. "There's lots of literature out there telling people to be wary or to be scared," Deb said, but she urges travelers to be bold and actively look for chances to connect. "Meet the locals. Don't be afraid of the restaurants inside someone's home, because the best ones are. It was a great experience."
---
Framebridge: custom framing for local moments
---
Shop this Story