Extreme Window Shopping, Home Edition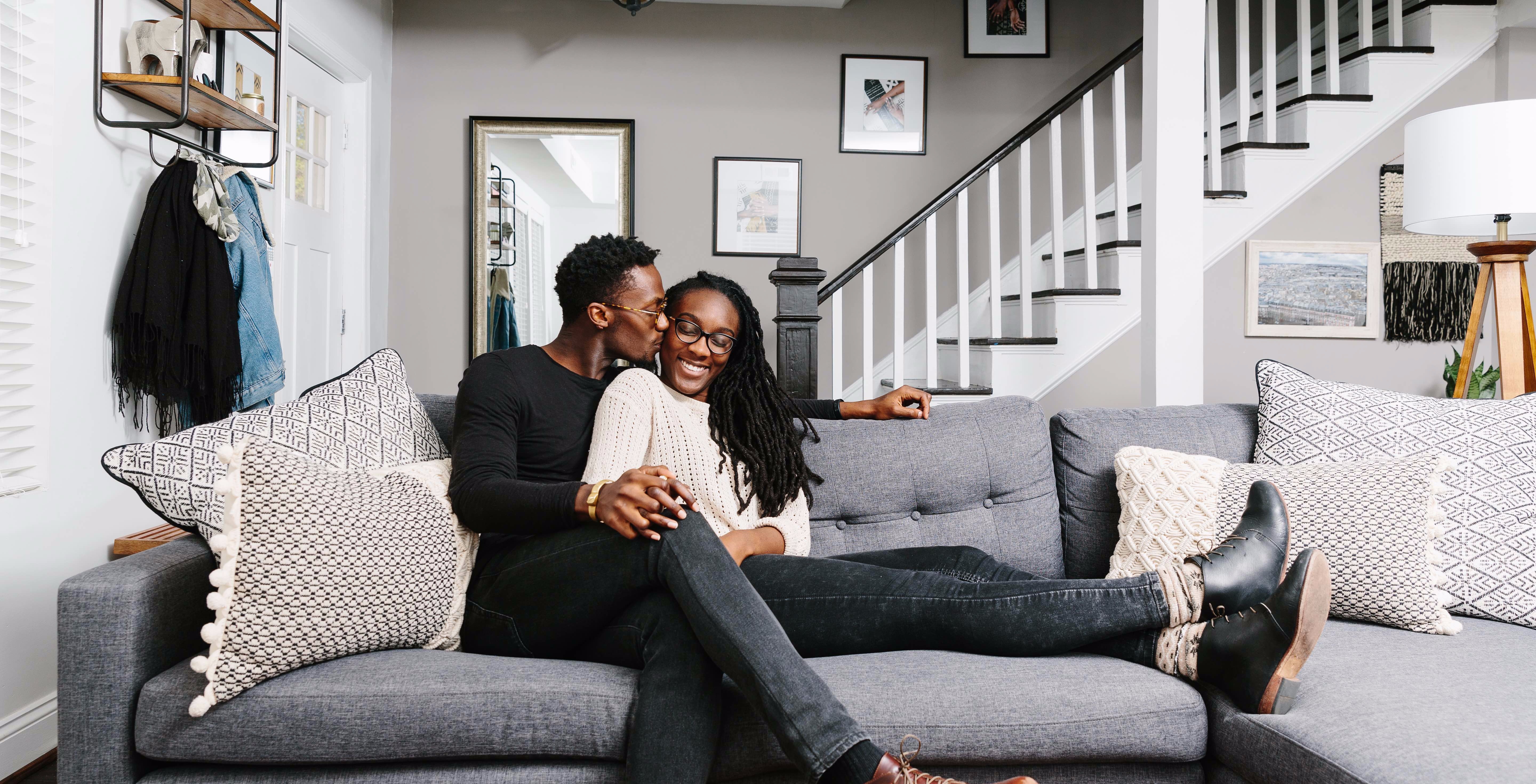 We hear about the power of intuition, but
how far can you really trust your gut?
Tamon and Zaria recently put their instincts to the test in the ultimate high-stakes challenge: navigating the Washington, D.C. housing market.

"We were probably about a month deep into looking, and we hadn't found anything that we remotely liked," Tamon said. "We just started cruising the streets to get to know the neighborhood a little bit. We realized that the key was to get somebody before the house is listed."

Tamon is a content creator and professional photographer. Zaria works as a teacher. The couple knew they wanted to live in a creative neighborhood within walking distance of the school where Zaria works. They toured house after house, but nothing felt quite right.

After dropping Zaria off at work one morning, Tamon spotted a house with permits in the windows. "Anytime you see permits in the window you know the house is being renovated," Tamon said. "So I get out of my car. It's seven in the morning, and I'm poking around like a creep. All the windows are covered with construction paper. So I walk around to the back of the house to get a better view."

Peeking through the back windows, Tamon saw the house's potential. He and Zaria put in an offer that day. "When the offer was accepted we hadn't even been inside," Tamon said. "It was a leap of faith, but it felt right. You could see the vision, and possibility in the space."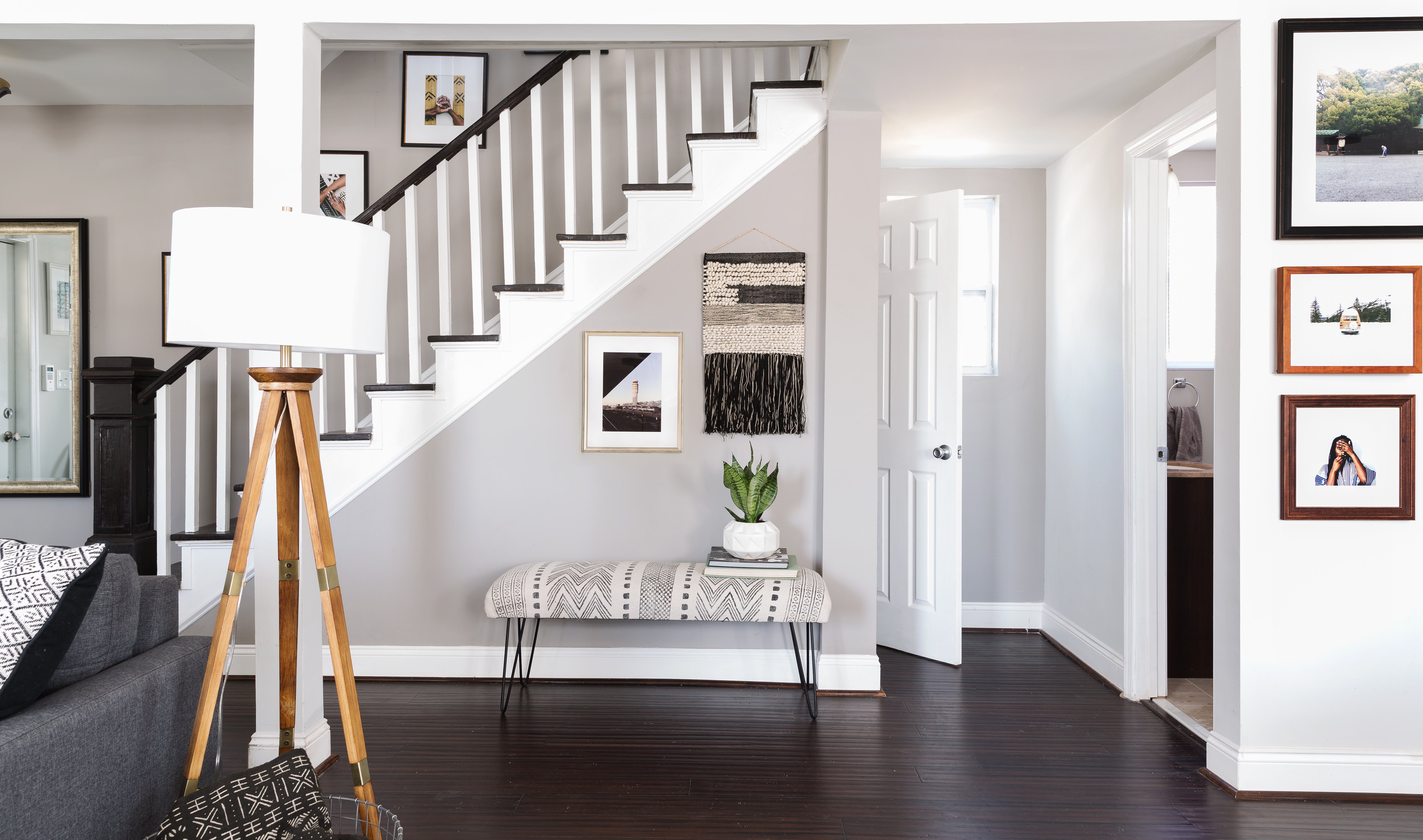 Because the house was still under renovation, Tamon and Zaria had a couple months to plan their home before moving in. "We had all this stuff," Tamon explained. "We wanted to make a point that whatever space we got, we wanted it to feel spacious. Which meant not having a lot of stuff."

Tamon and Zaria harnessed their shared creative energy to make their home a critically curated space - simple, clean, and inviting. "We wanted a statement space, not statement pieces," Tamon said. "We tried to think of the whole space collectively."

With minimal possessions, every piece of furniture and decoration stands on its own merits, but must seamlessly contribute to the feeling of the space. "I knew I wanted to do a gallery wall," Tamon said. " I wanted it to reflect our life and some really important moments."
Each picture that Tamon selected has a story behind it. The photo on the top left shows a man raking rocks at Meshu Xingue, a shrine in Tokyo. Because Tamon and Zaria hadn't adjusted to the time difference, they stumbled upon the shrine right as it opened at 5 a.m. "That was just the one man raking, prepping for the day," Tamon said. "It was so perfect that we just happened to be there. Two hours later it was packed with tourists."

The photo of the van was taken when Tamon (who is Canadian) and Zaria visited Banff in Alberta. "It was the first time Zaria went to the mountains," Tamon said. Zaria added, "It was the greatest trip ever!"

On the bottom left is a picture of Zaria that Tamon took in her mother's basement. "It was a Saturday night, completely random," he said. "We were just playing around. That was a kimono that we got on our Tokyo trip. It ended up being one of my favorite photos of all time."

In the middle of the gallery hangs a photo from Tamon and Zaria's wedding. "We have a lot of really great photos, but that one is our most special one of the day," Tamon said. "The interesting thing is that this photo is actually an iPhone picture."

As a photographer, Tamon values image quality, but he knows perfection is notoriously difficult to capture. "You seldom get all the important moments perfectly, but that one in particular was perfect."

Together, Zaria and Tamon have crafted a perfect space that speaks to all the important moments of their life together. More than just a statement space, their home reflects their shared values and creative spirit.
---
Framebridge: custom framing for impulse buys