Black Artists Print Shop: Meet Roma Osowo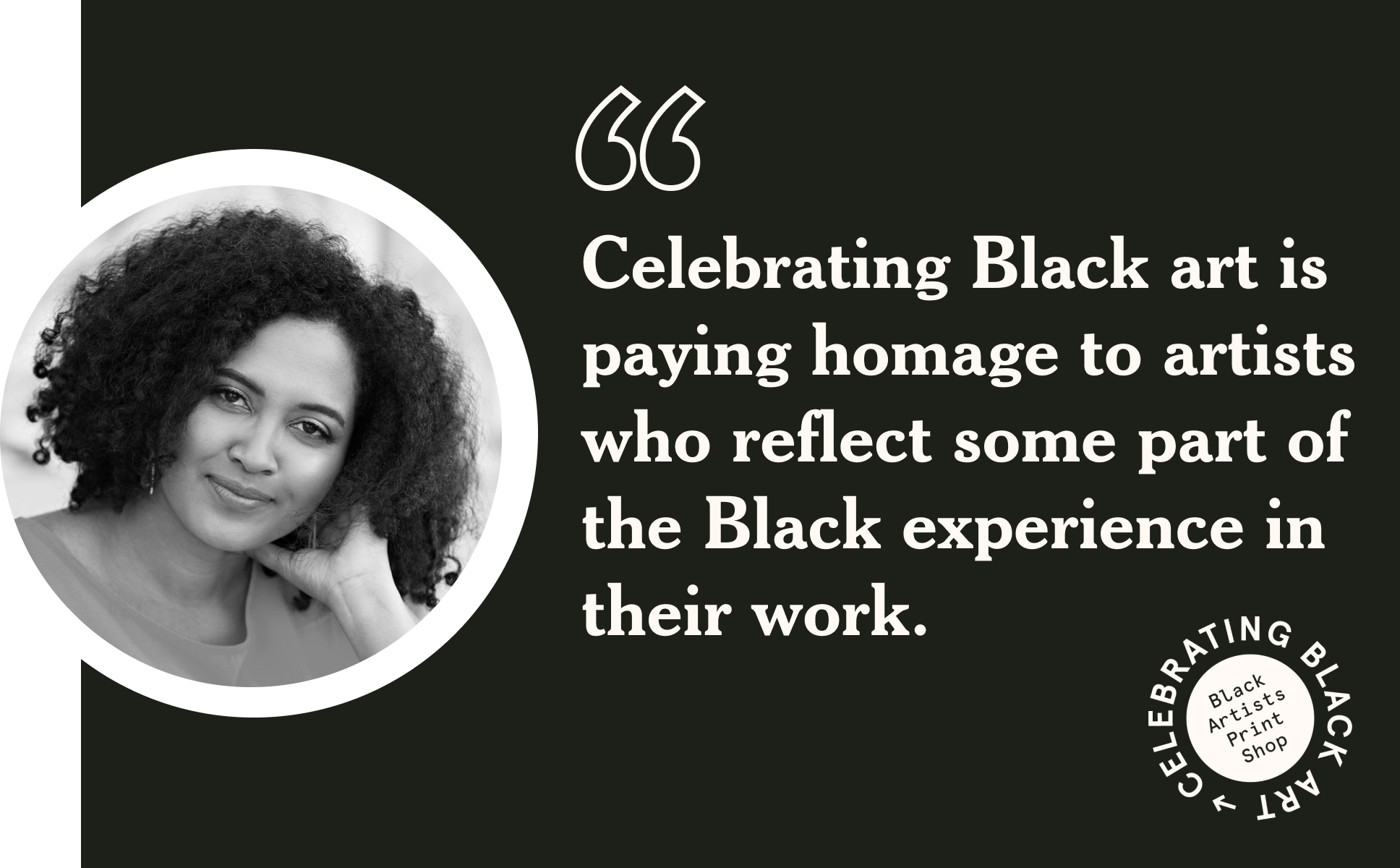 About the Black Artists Print Shop: The Black Artists Print Shop is part of our ongoing work to help advance racial equity within our communities. We aim to create spaces for Black artists—places where you can find their work, hear their stories, and support their businesses. Our fourth collection's theme is celebrating Black art. To do so, we're elevating ten distinct voices by highlighting the artists' answers to the question: "What does celebrating Black art mean to you?" Their answers represent a breadth of opinions on what Black art is, how we can support it, and the importance of representation.
About Roma: Roma Osowo is a color-loving abstract artist who creates vibrant, joy-filled art to elevate beautiful spaces. Born in the beautiful British Virgin Islands, she graduated from the Inter American University of Puerto Rico with a degree in Business Administration and a minor in Marketing. She lives and creates in the suburbs of Dallas, Texas with her loving husband of 17 years and their two amazing children. She is featured in partnership with Saatchi Art.

What drew you to abstract art?
When I first started painting, as a child, I focused a lot on landscapes. Maybe because that is what surrounded me, being from an island—the mountains, the ocean. And I had a long break from art, and as I came back to it and thought about what I really wanted to do. I really wanted to focus on what I was personally drawn to and that's the type of art that is left to be interpreted.
I am attracted to the type of art that leaves something up to the imagination of the viewer.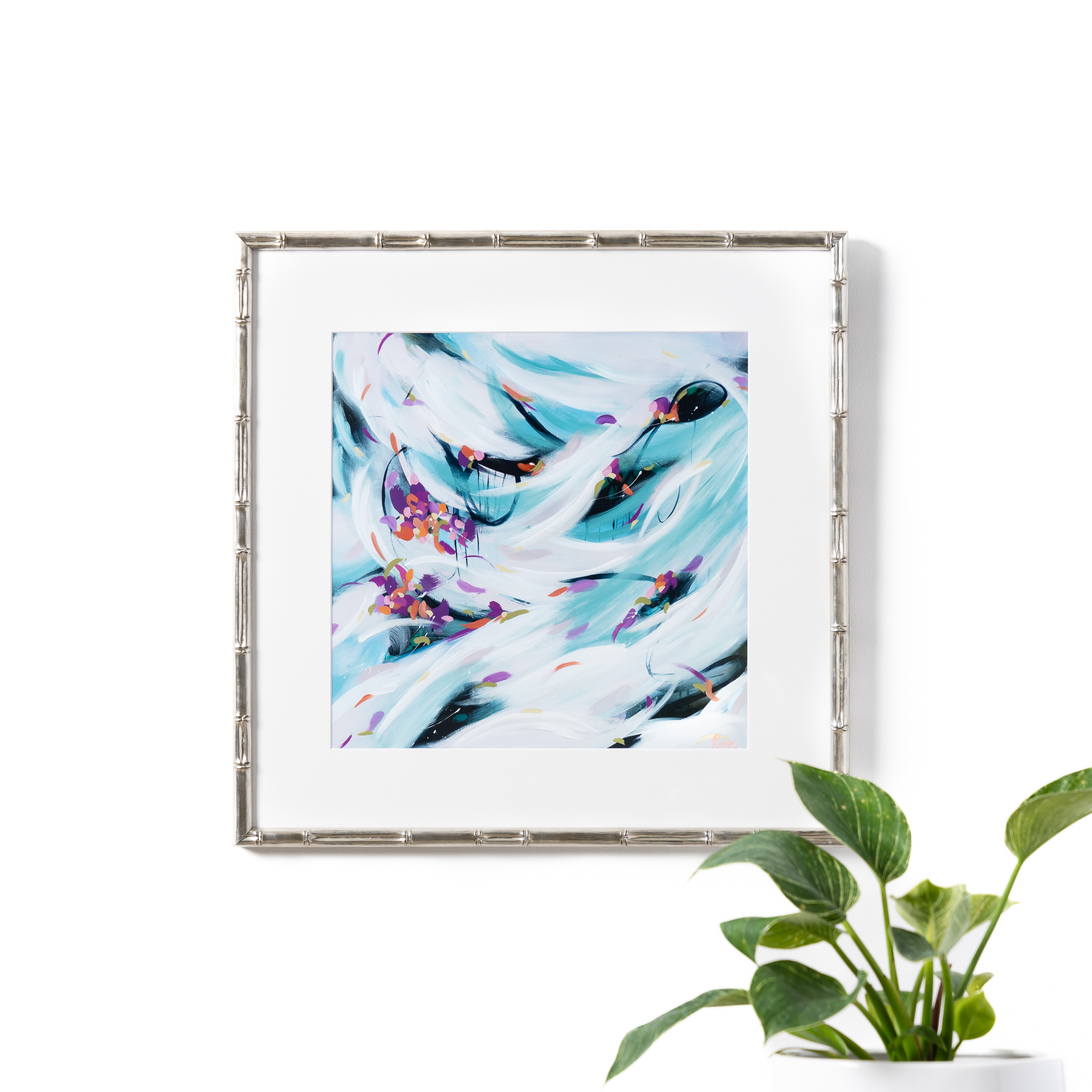 How do you make such vibrant colors?
I think color is a little misleading. It's really easy to throw a bunch of colors on a canvas or paper—but they don't look harmonized. If you're tackling color, you really have to be strong in color harmony. Like how colors are connected to each other, what colors complement each other. If you're going to be somebody that uses vibrant color, you're going to have to know how to put them together so it's not jarring.
To use colors in a cohesive way, you've got to focus on color harmony.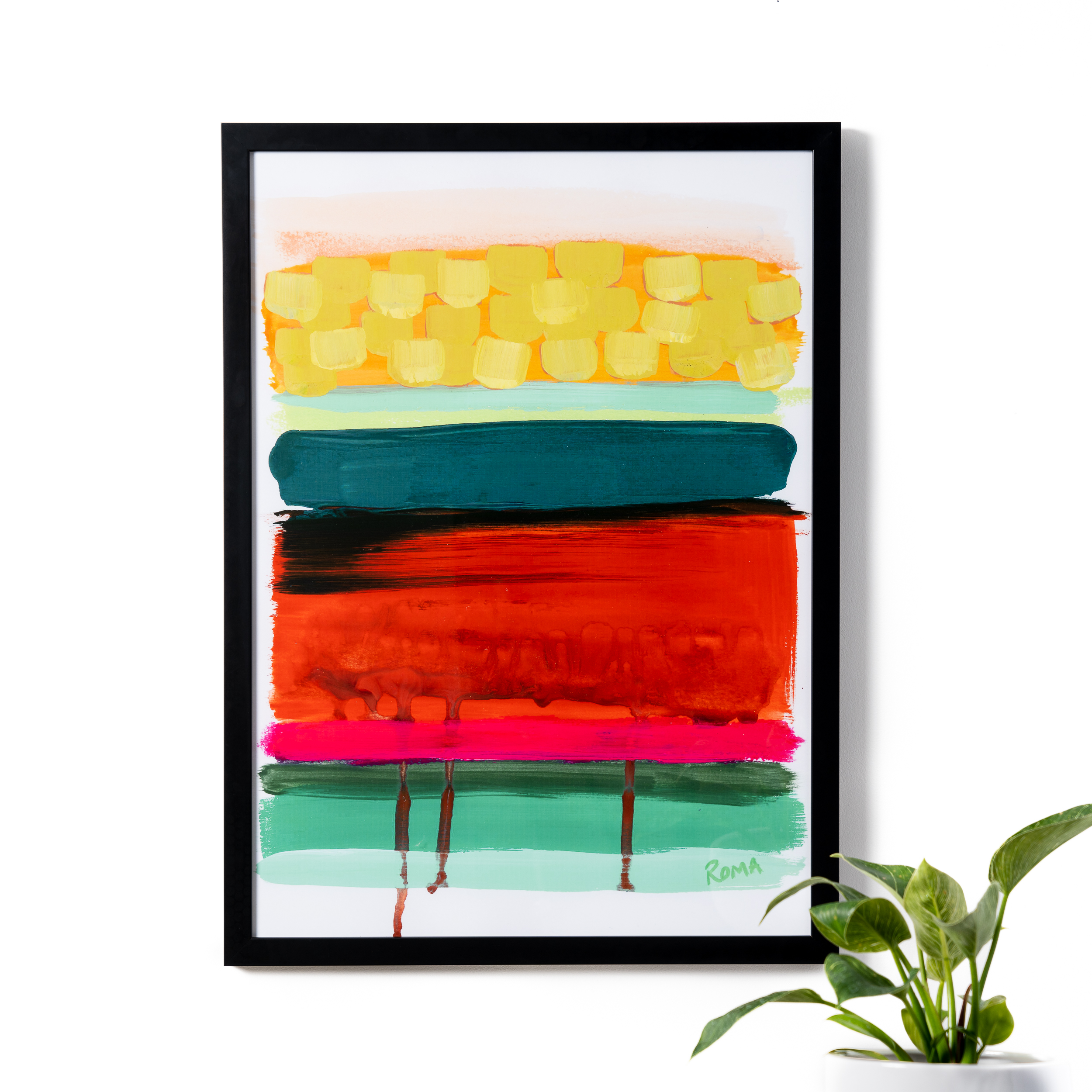 How does your identity factor into your art?
I think this is true for every artist, not just for myself, we paint from our own experiences. So it's reflected in our work—like some parts of my personality. You will see it in my work. Everything I put on canvas is a reflection of my experience. It could be a past experience, it could be what I am going through now.
I often tell my collectors that when I come up with a title for a piece, I am usually speaking to myself, but in the hope that it reaches a wider audience. But definitely, that identity, that, who you are, that personality, it's all reflected in your art.
For instance, I am a recovering perfectionist. You see that sometimes in straight lines. But then you see pieces of mine that are on the opposite end of the spectrum, because I am trying to also embrace letting go.
What was the biggest hurdle you faced establishing yourself as a professional artist?
We, as artists, really just want to paint. To lock ourselves up in a room and avoid the rest of the world. Just paint. The hardest part was understanding the business side of art.
There's millions of talented artists out there. So understanding how to position yourself, understanding your own connection to your own work, and how to communicate that to people who are watching you or are curious, so you stand out to them, is super important.
So the business side of art was a major challenge, but I embraced it.
What does celebrating Black art mean to you?
I think celebrating Black art is paying homage to artists who reflect some part of the Black experience in their work. And Black art generally is honoring real experience or the experience of their ancestors, of their lives. The uniqueness of life, the beauty of life, the challenges within it.
What's your ideal setting and surroundings for creating art?
Definitely not around anyone. I get super fueled up from communicating with other creatives. But at the time that I want to create, if I get into a creative flow, I much prefer to be alone and can get more done that way.
And I try to clean up [in the studio] honestly. There are studies that show that the messier the studio the more creative you can be. And that's not me, for sure. Definitely, at least when I come in, I am not overwhelmed by "Oh, I gotta clean this stuff up."
Being semi-organized—I know I'm never going to be perfect—but at least having a space, I'm looking now, there's space for me to work on paper, I have a piece that's ready to go.
Every time I finish in the studio, I try and put things away. So that when I come back, the space is inviting and I can get right into it.
How do you hope somebody feels who sees your piece in frame?
I would hope that seeing it polished in a frame, the viewer that it is meant to be for, because we all know everyone does not connect to every single style of art. For my particular audience, I would hope that they feel joy, feel inspired, feel hopeful. That's what I try to emote in my art, just a reflection back of the best version of yourself, the best parts of yourself.
Joy would be my final answer. Hope, joy and something to look forward to.
Photography by Julian Thomas.

Browse other artists: