Artist's Story: Sister Golden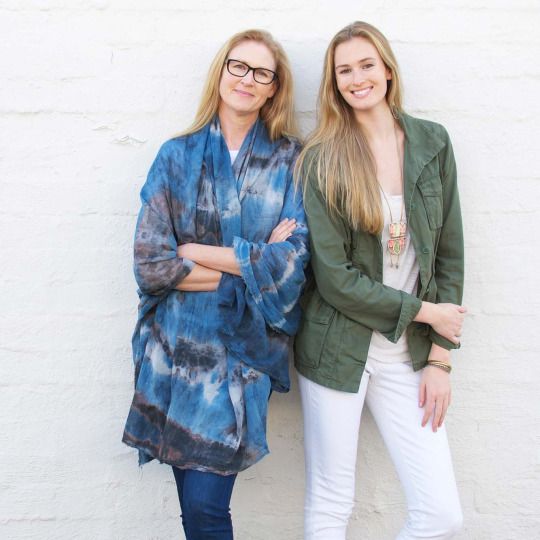 In this Artist Spotlight we introduce you to the dynamic mother/daughter duo behind Sister Golden, an online boutique celebrating creativity in art, jewelry, home goods, and more!


Brooke lives in San Diego, loves boutique-ing with a coffee in-hand, working - she likes to say her job and hobby are one-in-the-same, and spending time with family and friends, preferably on the shores of Lake Michigan.


Vicki lives in Evanston (just north of Chicago, IL), loves painting (she just can't not paint!), gardening, and being on Lake Michigan with friends and family - a passion Brooke and Vicki share!


Tell us a little bit about Sister Golden. What was the initial inspiration?


Brooke: My goal has always been to own a small boutique of my own where I could decorate the bare walls with my mom's art as well as up and coming artists and makers. About a year ago we kind of came to the conclusion that there's really no time like the present, but because we lived in different states, whatever we did needed to start in cyberspace. So, I took the domain name from my old blog, "Sister Golden" and we started working out the details. Looking back, it's hard to pinpoint the exact moment we said "let's do it". The inspiration was really just the undying urge that we needed to make it happen in whatever way we could. What SG has naturally evolved into is a great representation of what we both bring to the table in terms of interests and abilities. It's how we live our lives and we're proud of that.


We love that Sister Golden is a mother/daughter duo! How do you and your mom divide and conquer responsibilities?


Brooke: Thanks! Working together is one of the most rewarding parts of running our business. We joke and say Vicki is the CCO (Chief Creative Officer), while Brooke is the CEO. Haha. Vicki is in full control of the art she creates for the shop, but I do give her my opinion on what I like best. The paintings, pillows, and flower faces are all V. It's awesome, when we do get to work in the same place for a few days at a time, V will be sitting at her easel painting, and I'll be at the table behind my computer working - editing photos, adding products to the site, sourcing new artists and products, etc. Once in a while mom will have me look at her progress and ask me what I think of a certain part of a painting, or I will call her over to take a look at a potential featured image shot for the site. We're working on our own things, but actively collaborating all the time. It's rare that we disagree on how something should be done, but when we do it seems to help us learn and grow.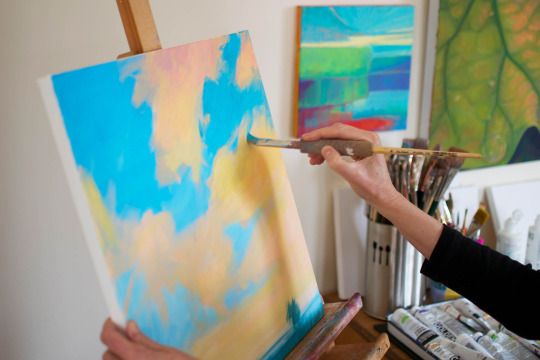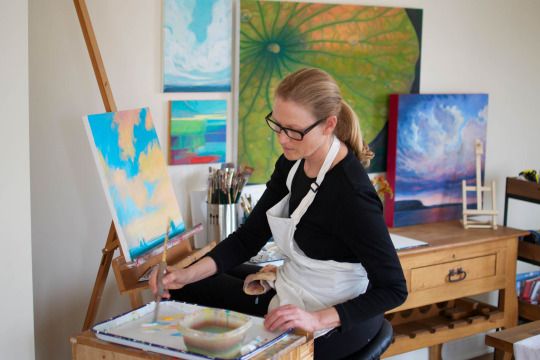 Vicki, we love how fresh colors and bright brushstrokes of your artwork! We'd love to know a little bit more about your technique. Do you sketch before watercoloring?


Vicki: I had been painting in oils for years and wanted to take a fresh approach to painting for Sister Golden. Watercolor, for me, has always been such a playful medium and I knew It would push me to let go. I don't sketch anything before I paint and usually only plan out in terms of whether it will be a landscape or waterscape, and then just dive in! I let the paint direct me and sort of become the follower. As you can tell in my work, I love the blurred lines between the sky and land or sea and I'm NOT afraid of color!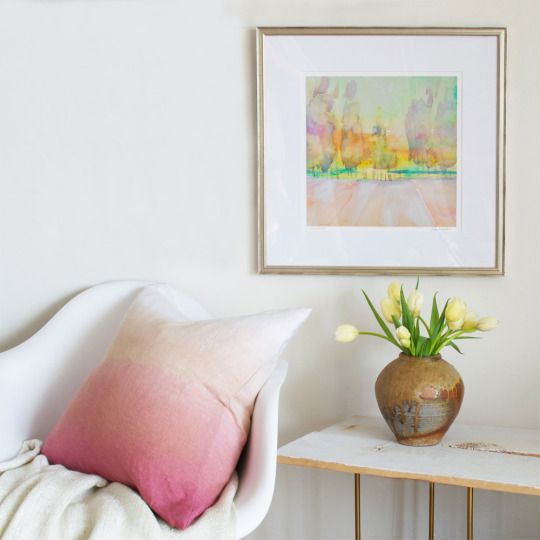 We're swooning over the colors in this dreamy landscape, "Day Dreamer", and we love how it looks in our silver Newport frame. The trees remind us of cotton candy (yum!). What was the inspiration for this piece?


Vicki: I'm so inspired by light braking through the trees early in the morning, when colors are soft and sometimes misty and shadows are long. "Day Dreamer" comes from one of those Midwest summer mornings. Cotton candy is exactly what I was thinking too!


What other artists does the Sister Golden team admire?


Vicki: We are absolutely inspired daily by the artists we represent on our shop. They are so dedicated to their craft and are a true gift to the one-of-a-kind handmade community. I, Vicki, also love artists Mark Gould and Rick Stevens, and greats like Edward Hopper and Georgia O'Keeffe.


---
Head on over to the Sister Golden website to shop their curated boutique. We also recommend following Sister Golden on Instagram for a beautiful glimpse into their daily inspirations.