Artist's Story: Marcella Kriebel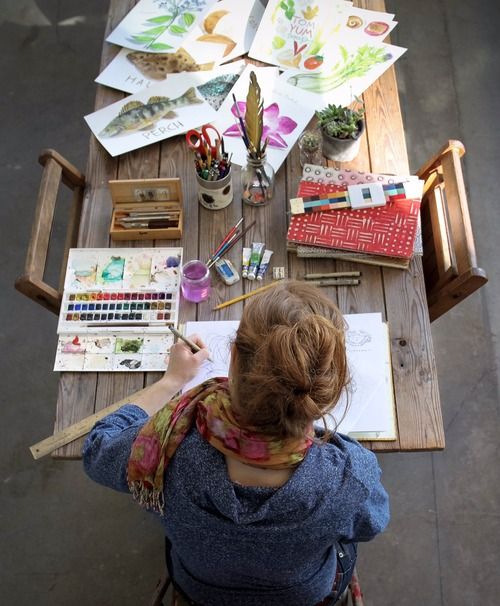 Marcella Kriebel lives in Washington, DC, loves river kayaking, trying new recipes and cooking techniques in the kitchen and most of all painting - food mostly! Marcella is an incredibly talented artist, and we can't get enough of her edible illustrations! Marcella's drool-inducing watercolors make our tummies rumble and tastebuds tingle. We love working with and framing Marcella's art, and we're excited to share more about her background and creative process in our first "Artist Spotlight".
Where did you grow up? What's your background?
I'm from the Pacific Northwest, a place that inspires many of the themes in my artwork. I'm from a family of artists and makers. My dad is a woodworker, my mom, a fiber artist. My parents introduced me to a variety of mediums growing up. There was always extra wood, mosaic material, paint, fabric, and hand-spun yarn to experiment with as an artist. My brother is a creative person in his own realm too - he's a fishing guide and a great cook (smoked salmon is his specialty!). My print, "The Five Species of West Coast Salmon", was designed for him.
How long have you been a professional artist?
I double majored in studio art and anthropology in college, but it wasn't until the beginning of 2012 that I started my art career full time.
We love your beautiful illustrations of food. Where did you get the inspiration to start illustrating such delicious-looked edibles?
I've always kept a sketchbook journal during my travels, and when I document my experience, much of what I enjoy is the food. It's fun to cook new things and get to know people through experiences in the kitchen. I have always made a point to cook with people during my travels, and it is through these experiences that I created my cookbook, Mi Comida Latina.
I published the book thanks to a successful Kickstarter campaign in November 2012. This self-published edition of the book is sold out, but I'm excited to share that it will be released in Burgess Lea Press distributed by Simon and Schuster in late April. This new edition will be a bigger and better version with an additional 40 pages!
After the book came out I got a number of commissions for food-related artwork and custom illustrated recipes (a service I still offer) and my food-related series began to flourish. I also just completed my "Art Every Day" project where I created a food-related watercolor original every day in 2014. This project expanded my collection immensely.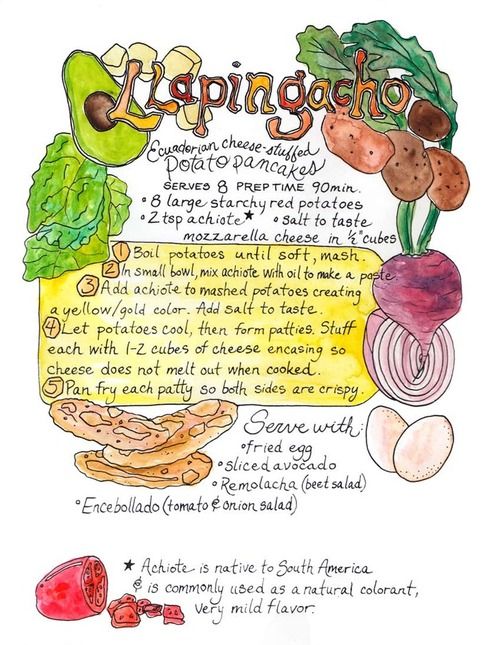 What's your favorite recipe from your cookbook?
Probably Llapingacho, a potato patty stuffed with cheese and served with avocado, a fried egg, aji, and marinated beet salad. This is a traditional street food from Ecuador and it's absolutely delicious.
Tell us more about your 365 Days of Food project! Did you ever end up illustrating any foods you can't stand the taste of on that year-long journey?
Ha! Well, I was always taking requests for food. I got a request for Pork and Beans, a dish that I'm not too into, but I drew it in a can and it became more of a product illustration that incorporated more color and interesting textures than the brown soup-like dish you'd expect from pork and beans. So, it turned out better than I originally imagined!
You also offer custom illustrated recipes, which is such a special way to preserve cherished family favorites! What's the most interesting family recipe you've ever illustrated?
I've had some interesting ones for sure! Everything from Potica - a Slovenian baked nut roll to a Scorpion Bowl - a big boozy tropical drink.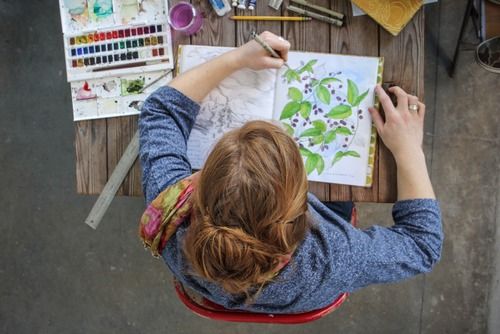 Tell us about your technique. Do you sketch before you watercolor?
Yes. I usually start with a pencil, then I define any outlines and some texture in black ink, then I do the watercolor last. I work pretty quickly when I reach the painting phase since watercolor dries pretty fast and it's best not to overwork it.
What other artists do you admire?
I'm really inspired by visual journalist Wendy Mcnaughton. She is exceptional at narrating everyday people and modern culture through quick brushstrokes and a micron pen. I also admire her approach in that it involves interviewing people and learning about about a culture and then making art that explains a particular scene. This process is similar to how I approached making the illustrated recipes in my cookbook project.
---
Head on over to Marcella's website to shop her collection of beautiful prints! We also recommend following her on Instagram for a beautiful behind-the-scenes glimpse into her eats, travels, and artwork.