A Hero to the Family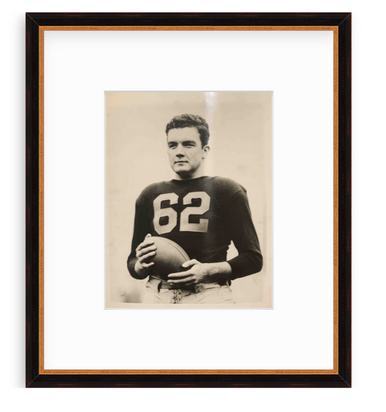 Football was the last thing on T.J. Riggs' mind in 1944. The 28 year old, who was in charge of 350 soldiers, was ordered to block a road in the Belgian town of St. Vith, during what later became known as the Battle of the Bulge in World War II.

After fighting for five days with waning equipment, they were overwhelmed. During the melee, he lost consciousness and woke up a prisoner of war. He was marched to Berlin, then shipped to Poland to a POW camp. But Riggs escaped and walked east, deeper into Poland, trying to make it to Warsaw (which was then occupied by the Russians). A member of the Polish underground found him, set him up with Russian soldiers, and eventually, he made it back to his American military forces "by foot, truck, tank, train, boat and airplane," where he eventually rejoined his unit.
But that is just a portion of his story. Before his military service, he was the captain of the University of Illinois football team, and was drafted by the team formerly known as the Washington Redskins. Injuries from the war prevented him from playing football when it was over, so he focused his efforts on business, and enjoyed a long and successful corporate career in Rhode Island, where he served on the Rhode Island Governor's Small Business Advisory Council, and was elected director and vice president of the Smaller Business Association of New England.
"Everyone loves him so dearly." Charles, his grandson, says the entire family considers him their "biggest hero." 20 years after his passing, Riggs still lives on in a "larger than life way."

So much so that the entire family went to Belgium — around Veteran's Day and on the 75th Anniversary of the Battle of the Bulge — to visit a memorial at St. Vith.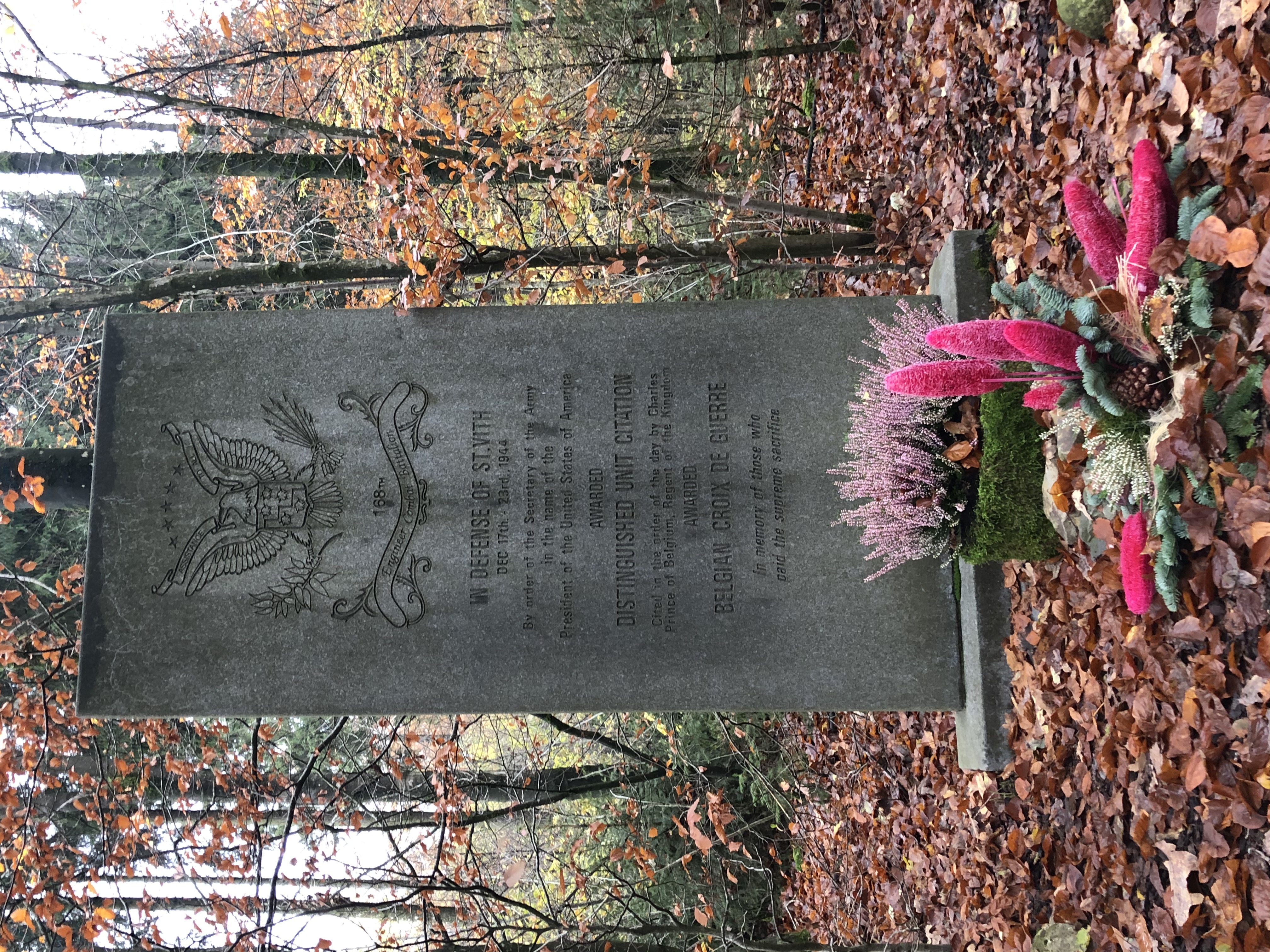 Charles did extensive research, even hiring a historian to tell his family about the battle. The forest was soggy and everybody was shivering — facts that put the other soldiers' hardships into perspective. "You can still see the foxholes that they fought from." The trip was beyond moving for him and the entire family.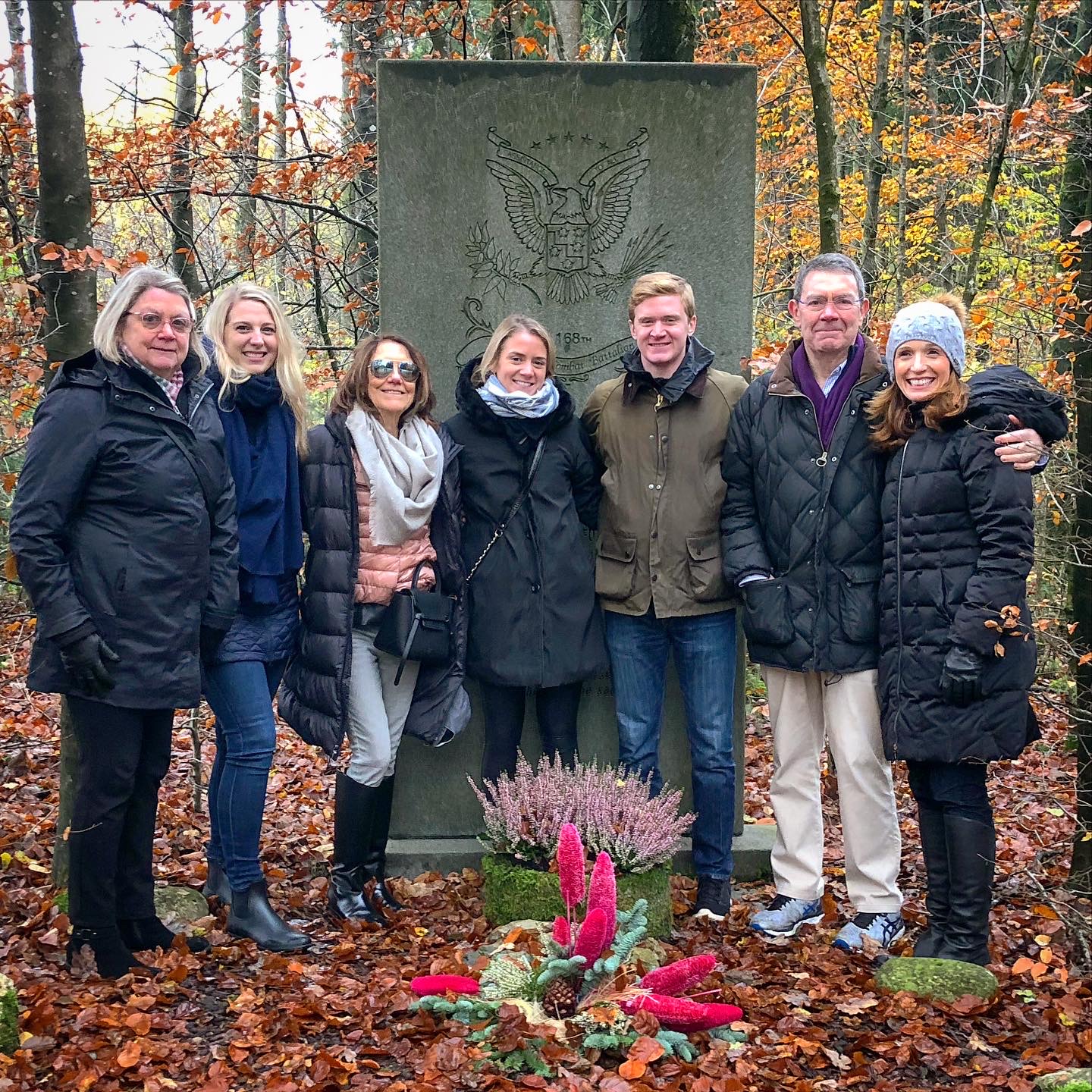 Charles and his wife Allison wanted to commemorate this occasion, where they felt even closer to the beloved, looming patriarch. As soon as they got home, they combed the internet for photos of T.J. from his military service. Surprisingly enough, they found more from his football days, like this photo on Ebay from a collector. Still, they learned the Associated Press actually purchased this photo from the University of Illinois and ran it in a story when T.J. was captured. In their mind, the picture was perfect. It captured the handsome young man looking determinedly into the face of whatever comes next.
Charles and Allison got the photo digitized, picked the frames, then it was time to surprise the family.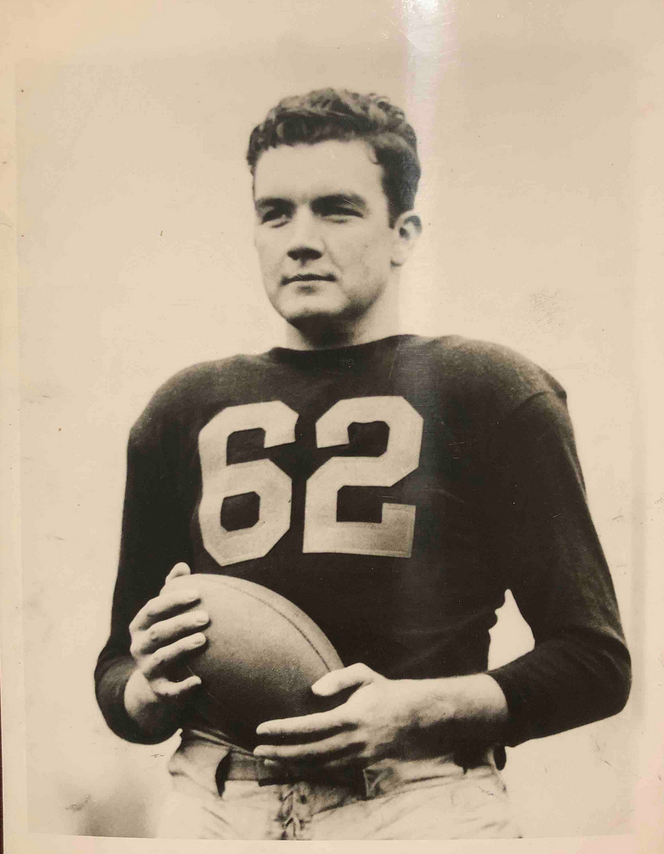 "Everybody loved it," remembered Charles. He gifted one to his sister, his aunt, his uncle, and his mom, everybody on the trip. This gift was particularly special for Charles' mom and her siblings, who have more memories of the man. "He was such a prominent figure in their early lives." Everybody was emotional.
These frames now hang in foyers, living rooms and offices throughout the family. T.J. is buried in Arlington National Cemetery — an extraordinary honor — but far away from family. This is a more proximate way to celebrate his life everyday. "A great way to reconnect with his story."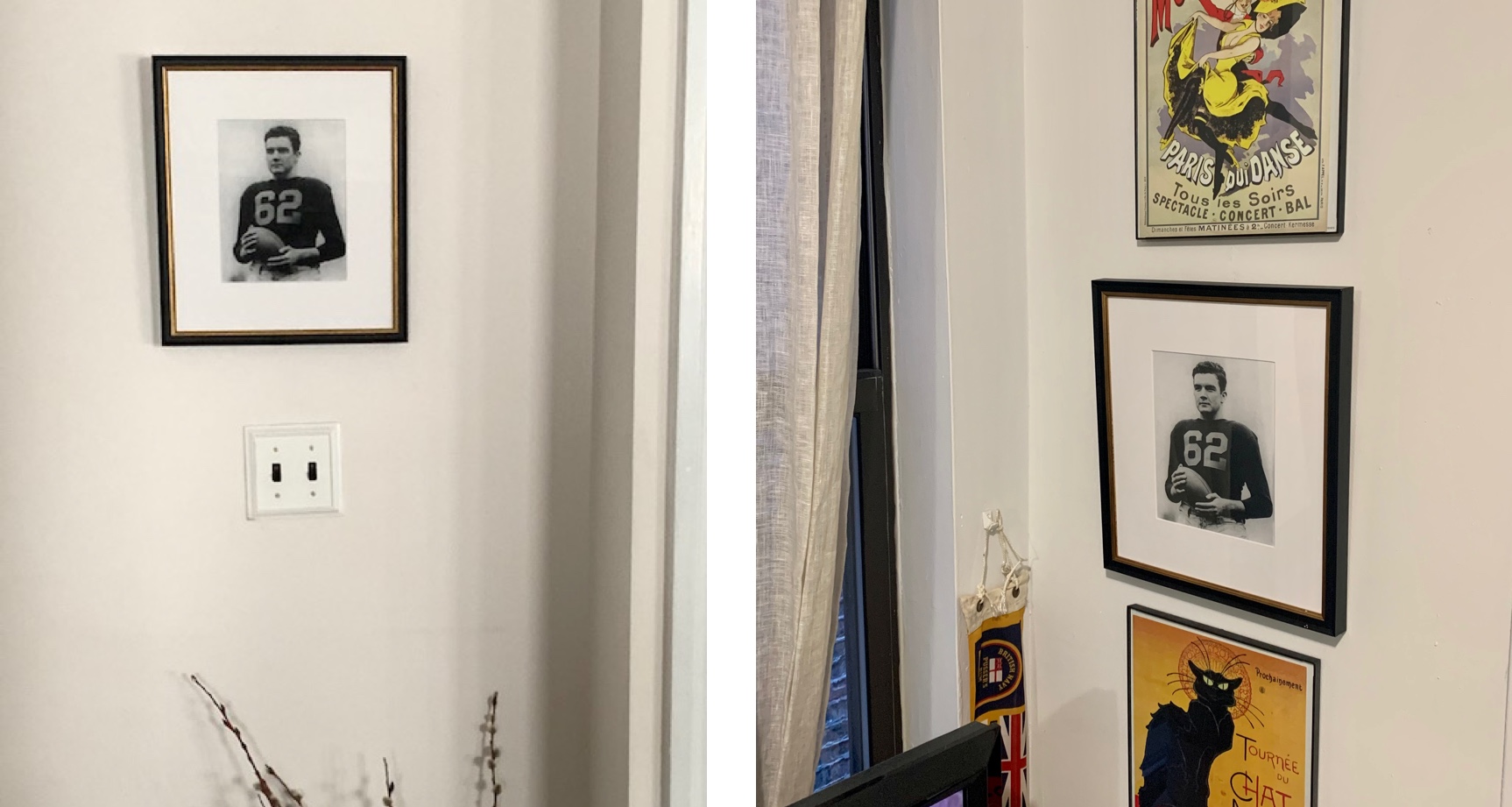 T.J. Riggs still lives on in family lore and conversations, but sometimes it is hard to be in the same place to have those conversations. Therefore, Charles hung their frame above his desk. That way, he gets to "look at his hero every day."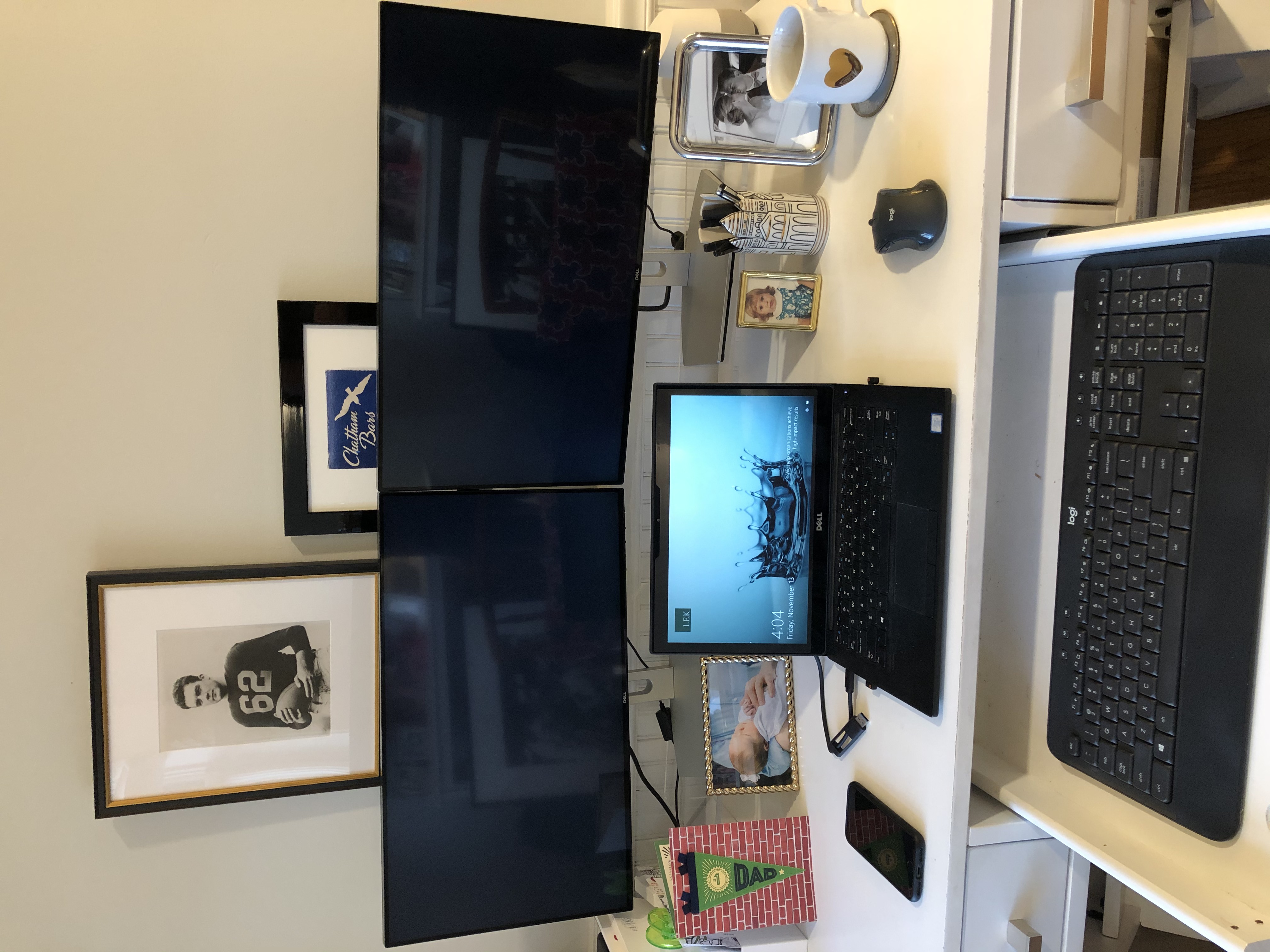 Who's your family hero?