6 Ways to Style a Home Office for Comfort and Focus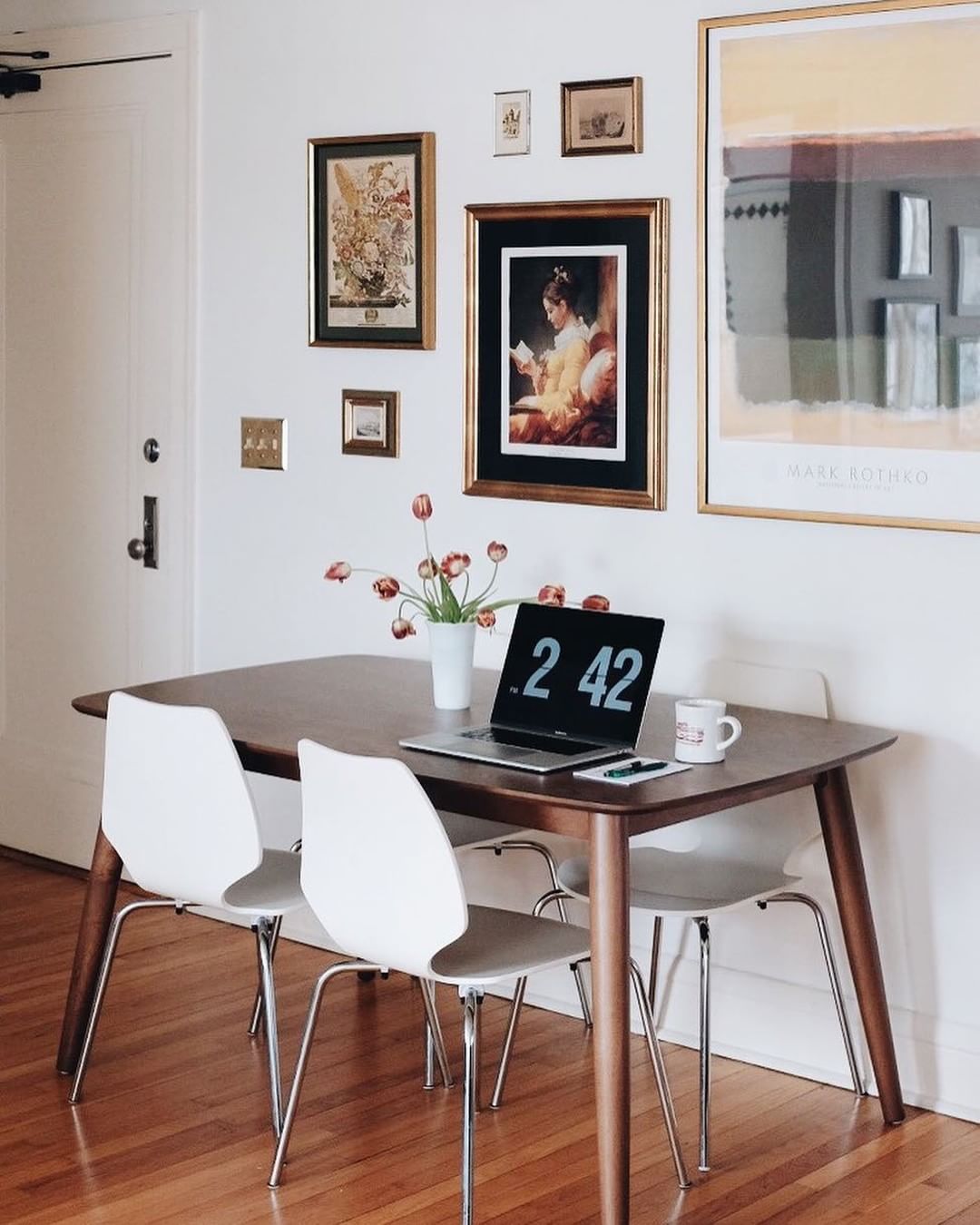 With the average American work week steadily on the rise, it's more important than ever to have a work environment that is conducive to your comfort and focus.
While you can't necessarily change your office's lighting situation, you can take advantage of increasingly common flexible work policies to create a home office that feels like an oasis. Whether you work from home full time or just need a comfortable spot to do computer work in the evenings, here's how to create a memorable, deeply personal home workspace.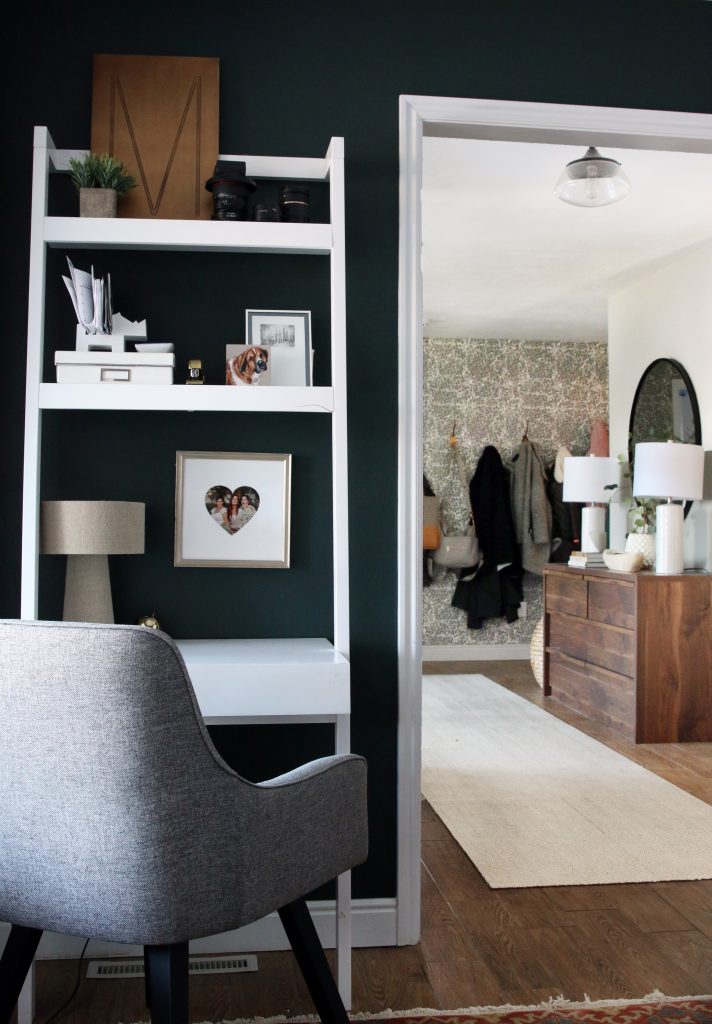 1. Choose your space.
If you have a spare room to transform into an office, lucky you! Consider how often you work from home. If it's full time, consider choosing a larger room. After all, you'll spend more time in your office than in a rarely used guest bedroom. Opt for a room with lots of natural light and limited distractions (no view of the TV, a door that you can close to limit noise, you get it).
If you don't have a whole room to devote to an office space or if you only work from home occasionally, it's still worthwhile to create a dedicated workspace in your home. Even if you only use it for late night emails and catching up on the bills, having a space devoted to work can be a stress-free way to get yourself in the mindset for true focus.
Luckily, a tucked away corner in your entryway, bedroom, or living room can work double time as a tiny home office. Look for a spot next to a window for natural light to reduce eye strain and invest in a functional desk or table. We love the tiny workspace above by Chris Loves Julia. The desk's built in shelves maximize storage without taking up space, and it leaves plenty of wall space for adding a personal touch.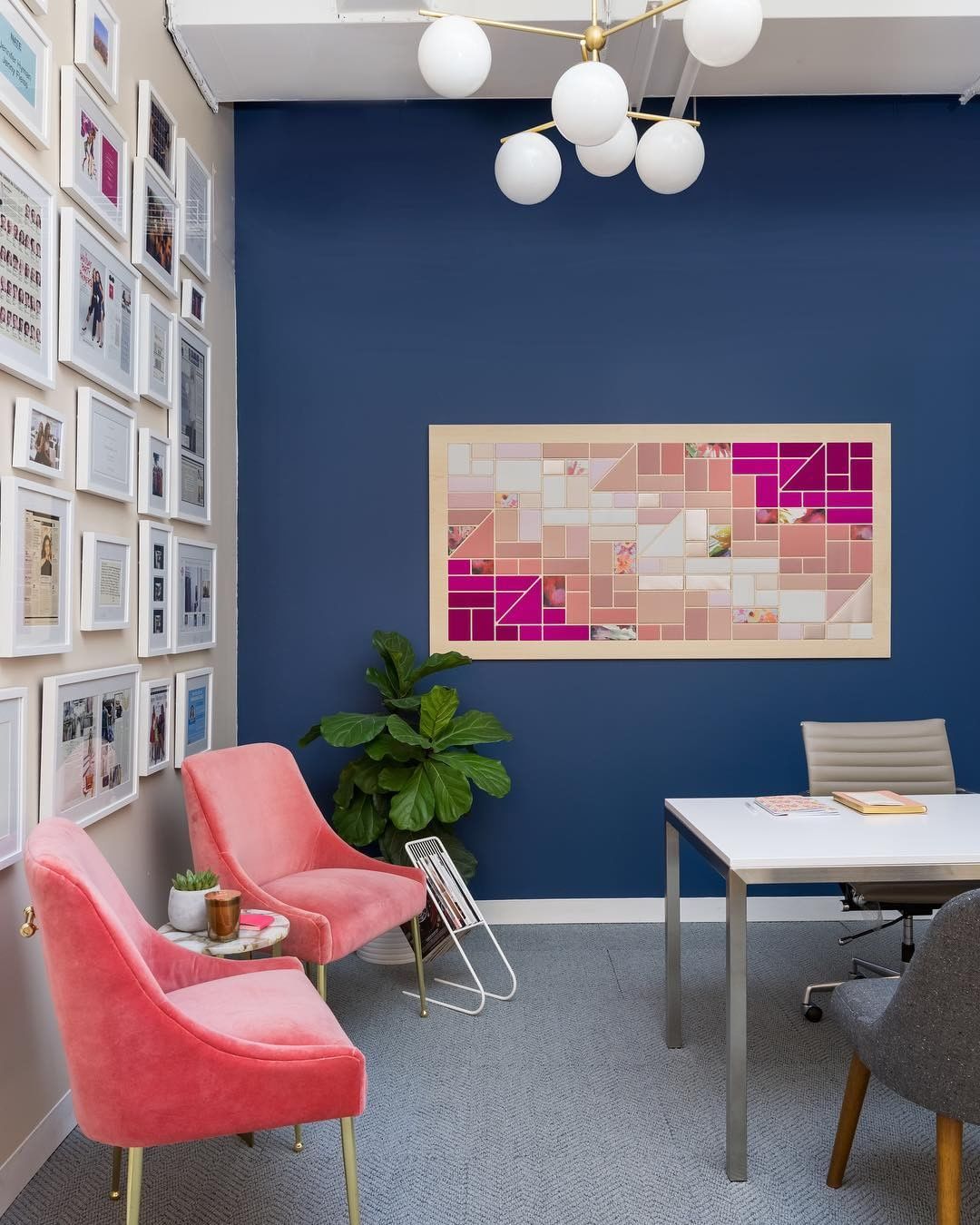 2. Paint the walls.
Adding some color to your walls is one of the most cost-effective ways to change the feeling of your space - and the perfect way to create a canvas to display your favorite art and photos. First, think about what you want from your home office. Looking to encourage calm and tranquility to balance your stressful gig? Try a soft blue, grey green (a big 2018 trend!), or clean white.
Are you a creative looking to fuel ideas for your next project? More saturated colors will do ya. Red has been proven to increase confidence and enhance athletic performance. Warm colors from this family - think peach, orange, even plum - can help keep you motivated and excited. As a general rule of thumb, lower saturation colors tend to soothe while high saturation hues inspire.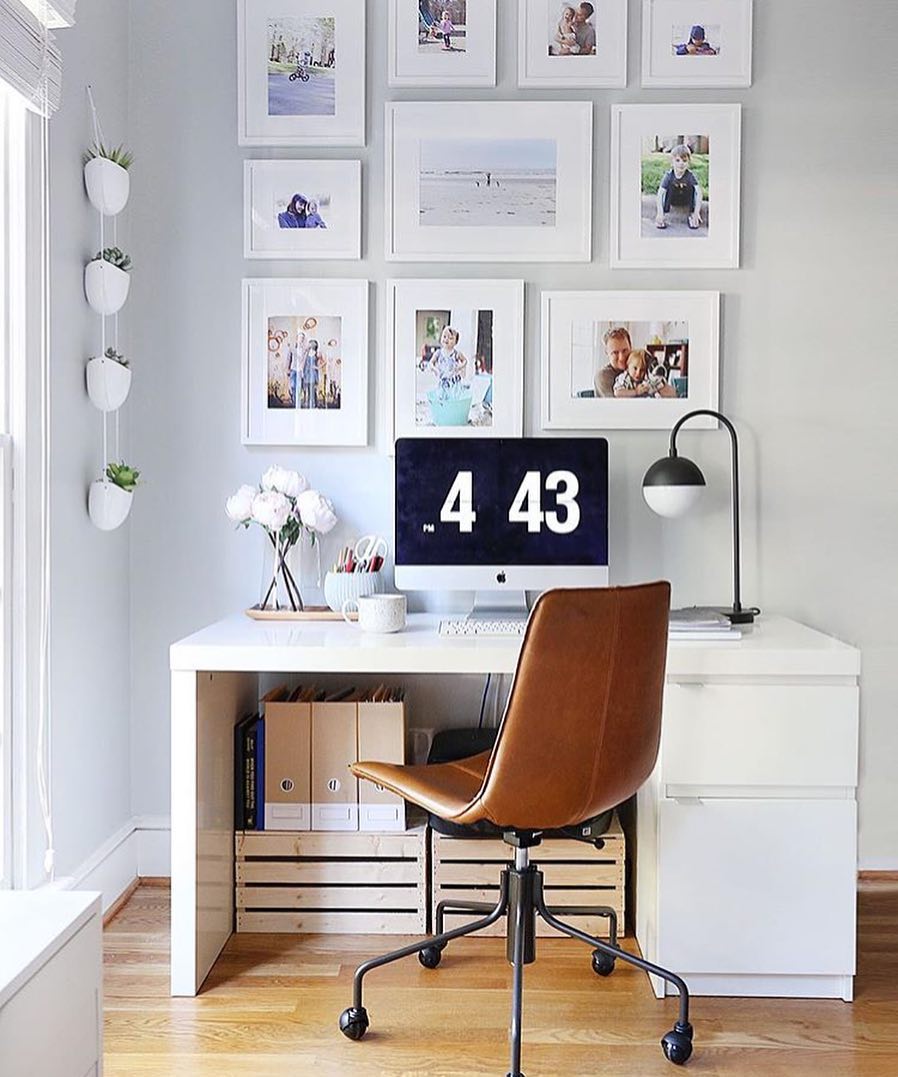 3. Choose functional accessories.
Chances are you'll be spending a fair bit of time in your workspace. Opt for furniture and organizational tools that will work for you. So as lovely as those upholstered dining room chairs on Instagram look, your back will thank you for choosing an ergonomic chair instead. If you choose a table or desk with limited storage, add an additional storage system such as shelving, cabinets, or even chic baskets to hold you papers and office supplies. Once you have the basics set up, you can turn to the fun part: making your office your own.

4. Decide on an art style.
There are two main art arrangements that work equally well for a home office. You can opt for a single, statement-making piece of art placed prominently above your desk. These can range in size from a medium size up to 16x20" to a large piece up to 24x36". All our frame prices are determined by size, and size is fully custom. You can use our price calculator for exact prizes based on size.
Medium or large art is bold and easy way to transform your space. It's especially effective in delineating a small-space office from a larger room. Depending on what print or photo you frame, a single large piece can help calm or inspire you. Photos from a recent trip can summon those vacation vibes even as you're drinking fourth cup of coffee at 10 a.m.
The other option is a full gallery wall. If you spend a lot of time in your office, enjoy being surrounded by photos of your family while you work, or have several smaller art pieces you would like to incorporate into your design, this is the arrangement for you. There are several ways to design a gallery walls, from chic columns to sophisticated ledge galleries. You can see our five favorites here. If you're feeling stuck or working with an unusual space, our expert designers are here to help you build the gallery wall of your dreams.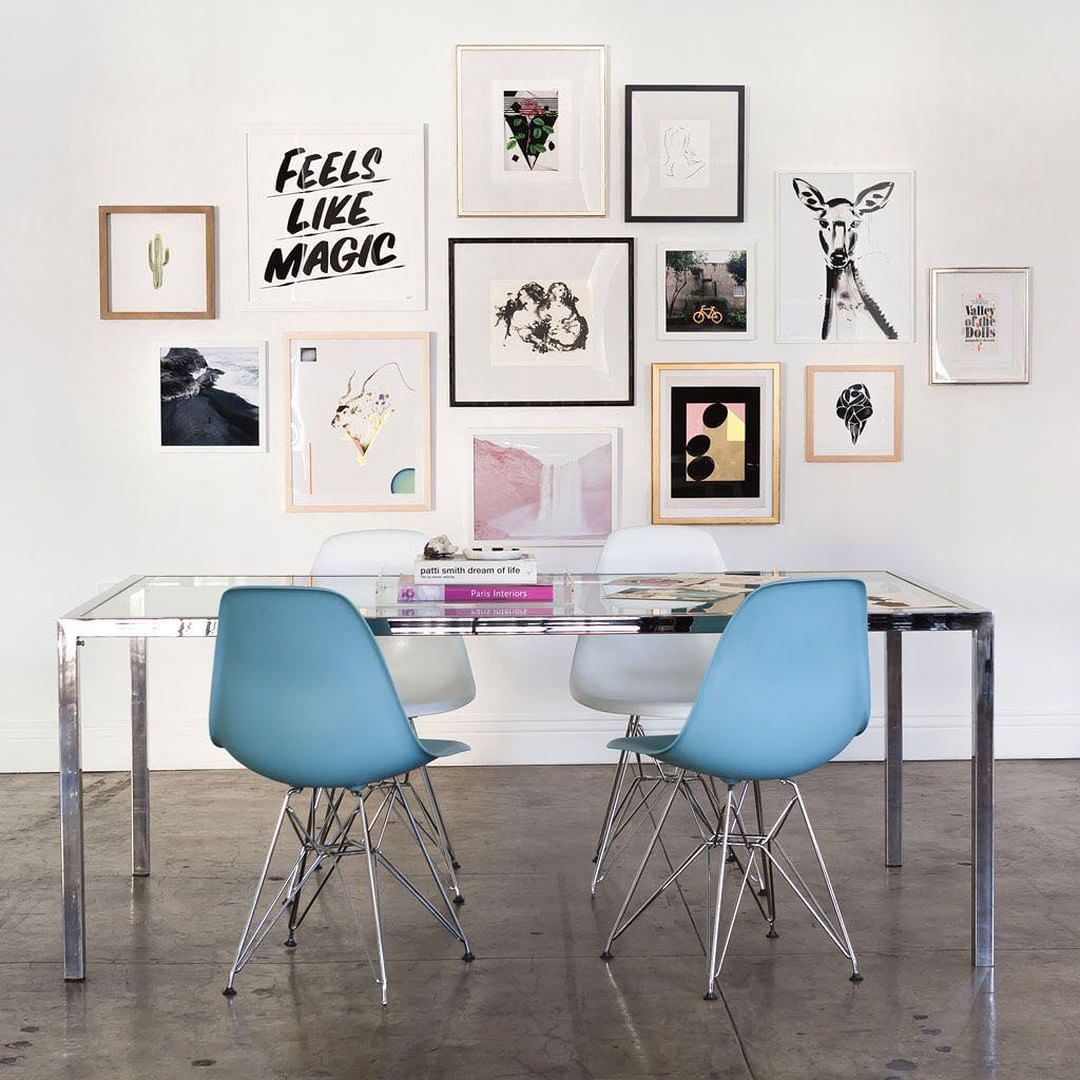 5. Pick your art.
If you've ever worked in a dull grey cubicle or a nondescript office building, you know how important it is to breathe life into your work space. Framing art and photos that motivate and inspire you in definitely the place to start. We suggest powerful quotes, song lyrics, photos of your family or kids, and art prints that really speak to you. Whether it's an artsy portrait of your dog or a Bible verse drawn in beautiful calligraphy, you know best what will motivate you to put in the long hours.
Looking to add new art to your collection? We recommend searching on Etsy, Poster Child Prints, and Jenny's Print Shop for collections of affordable prints in every style.
If you already have your art and photos, get organized by creating a board on Pinterest or taking photos of them and making a new album on your phone. See how the images work together; look for similar color tones, complimentary lines and structure, and a good mix of photos, art, and mementos.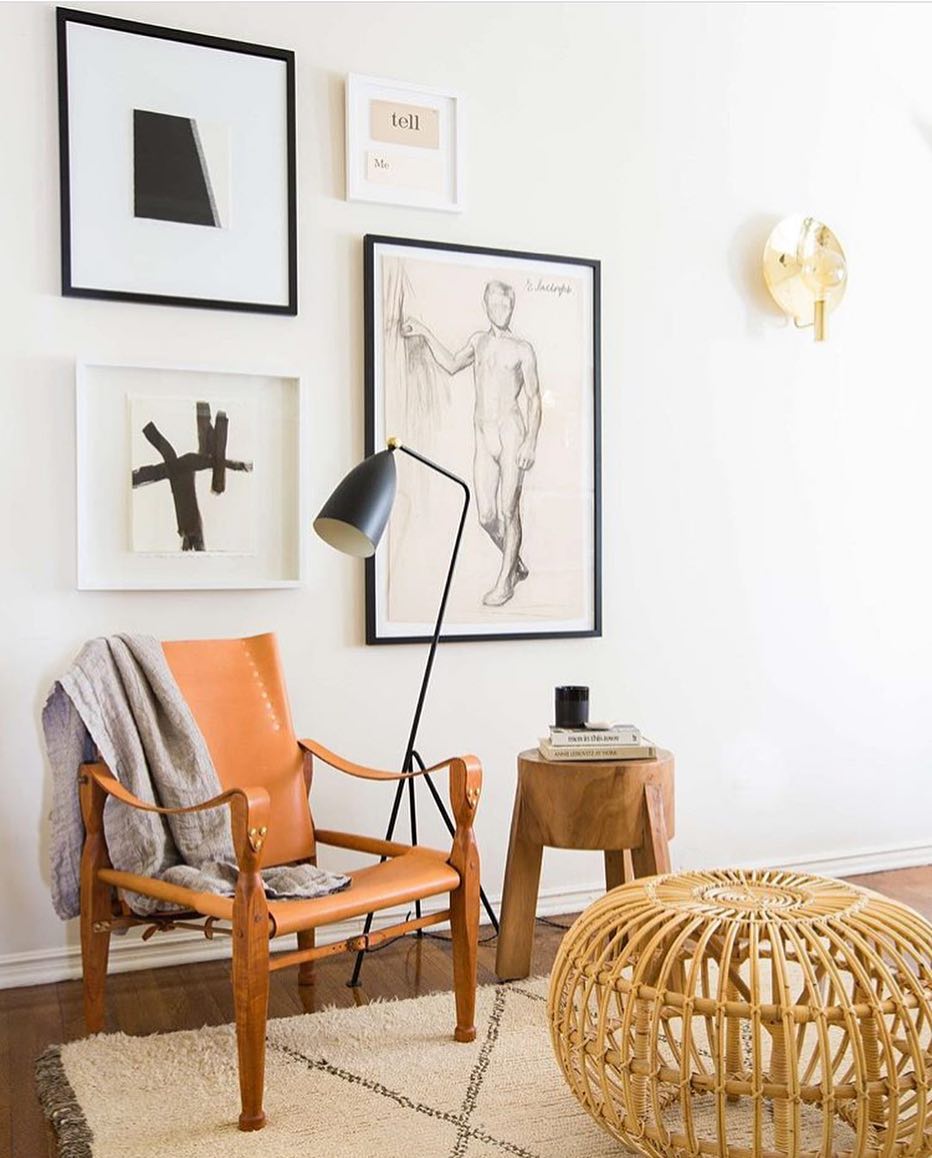 6. Create a space to relax.
There's a good chance you'll be using your office space to do more than just computer work. If you have the space, create a cozy nook to take calls, catch up on reading, and sketch out ideas. Choose a comfy chair or chaise with a fun throw pillow for that all-important lumbar support. Finish off the space by adding some green. Ferns, ivy, and succulents are easy to care for and work double duty by purifying the air and serving as an instant mood booster. Make sure your space is stocked with water, tea, Advil, and whatever else you need for a comfortable, productive day.
______________________
Whatever space you're working with, you can quickly and affordably transform your desk into a comfortable, productive workspace--its Insta-worthiness is just an added bonus! Have a beautiful home office? Share it with by tagging @framebridge on Instagram!
You Might Also Like...