5 Ways Frames Can Transform Your Nursery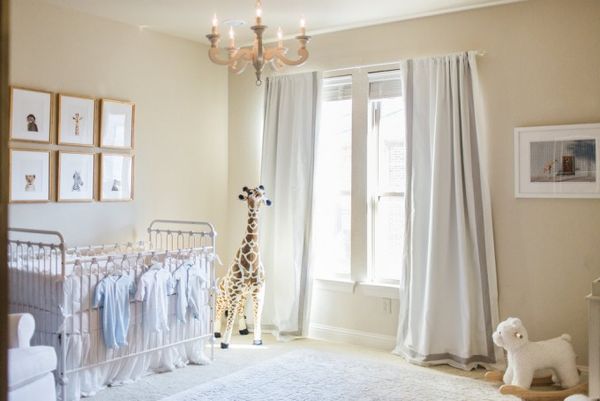 Gallery wall featuring art by Sharon Montrose in Richmond and "Welcome to Parker" by Gray Malin in Irvine Slim via Bishop & Holland



We've said it before and we'll say it again: we take a lot of our inspiration from you. Lately, we've been seeing you all share so many beautiful ways you're incorporating Framebridge frames into (arguably) the most important room in the house: the room that welcomes your baby to his or her new home. Keep scrolling for five ways you have shown us custom framing can transform a nursery.
---
1. Grid Gallery
Gallery wall in Richmond via Bishop & Holland



This look from Bishop & Holland is a gorgeous way to create a "headboard" for your little one's crib. Pick your favorite series of prints (like these from Sharon Montrose), frame them in the same frame style, and hang them in a grid. A collection of frames becomes an instant statement piece worthy of your baby's first room and perfect for years to come.
Get the look: Pick up prints from The Animal Print Shop (below) and frame them in our classic gold Richmond style with a white mat.
2. Statement Piece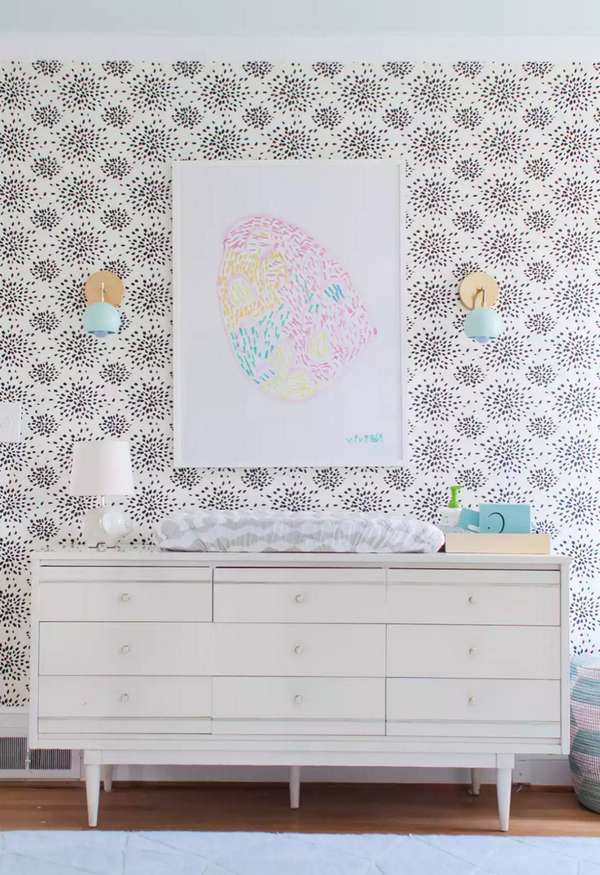 "The Egg" by Lay Baby Lay in Irvine Slim via Lay Baby Lay


Go big and go home! The large print in this nursery from Lay Baby Lay makes a big statement, and it says gorgeous. And want to hear the crazy part? It's by her daughter Vivien! We love how the scale of the art helps anchor the changing table, and we can't get enough of the texture Albert Hadley's 'Firework" wallpaper adds. Forget this being a nursery. Can it be our room?
Get this look: Pick up "The Egg" print by Lay Baby Lay (below) and frame it in our thin, white gallery Irvine Slim frame with no mat. (Quick tip: large pieces generally look best without a mat!)



3. Sweet Vignette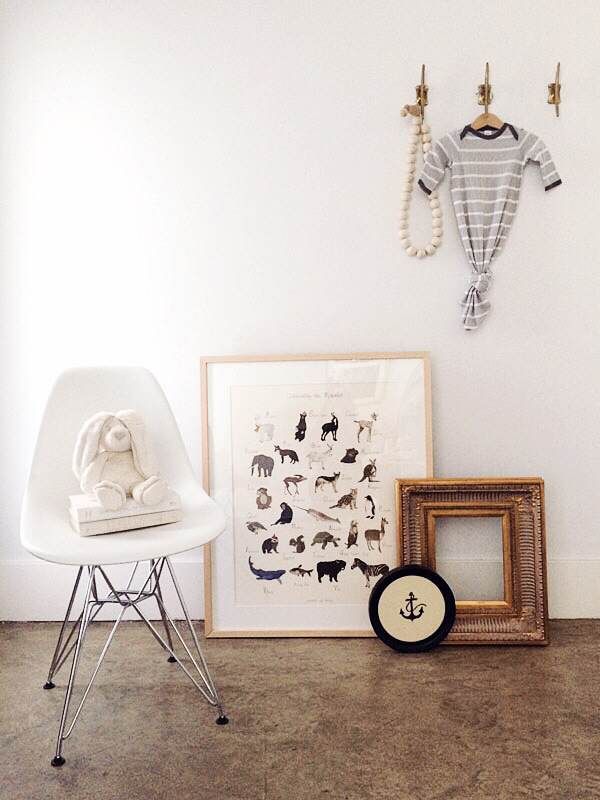 "Celebrating the Alphabet" in Marin via Apartment 34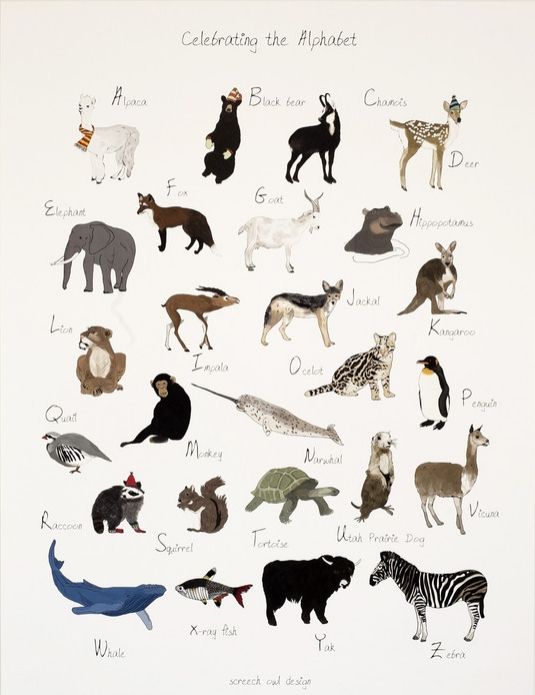 "Celebrating the Alphabet" by Screech Owl Design, $30


Whether due to size or space, sometimes a carefully styled vignette is all you need. Some of our favorite spaces are the ones that have a simple, curated mix of items - a favorite chair, cool vintage pieces, and an undeniably awesome piece of art. This nursery from Apartment 34, with its earthy tones, has a subtle air of masculinity that perfectly personalizes the space.
Get the look: Pick up this "Celebrating the Alphabet" print by Screech Owl Design and frame in our Marin frame with a white mat. Have a corner of the room that's missing a little something? Lean it against the wall, alongside a few favorite vintage finds and special items.
4. Mini Gallery Wall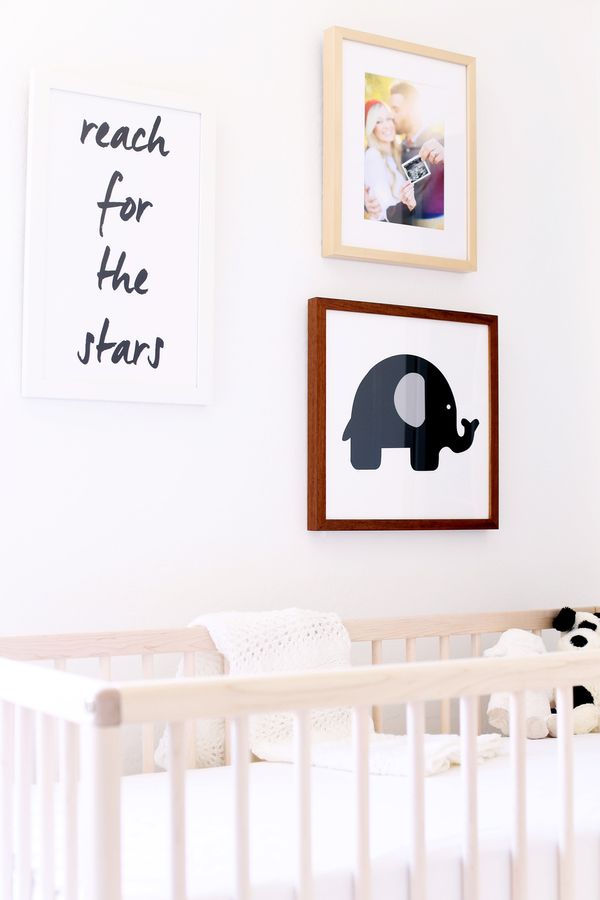 Gallery wall in Irvine, Marin and Sonoma via Kristi Murphy



All the style a gallery wall brings, just tailored to fit your baby's space. This three piece look from Kristi Murphy is the perfect way to turn an ordinary crib into a fully styled space. Pick two of your favorite art prints (these are digital downloads available for free here), and add in a special family photo. Mix and match frames from our clean collection for a fun yet cohesive look.
Get the look: Download the two prints Kristi picked (below), and pick your favorite family photo to add to the mix. Upload all three to our site, pick your favorite mix of our clean collection frames (Irvine, Marin, and Sonoma are shown above), and you're all set!
5. Instagram Shelfie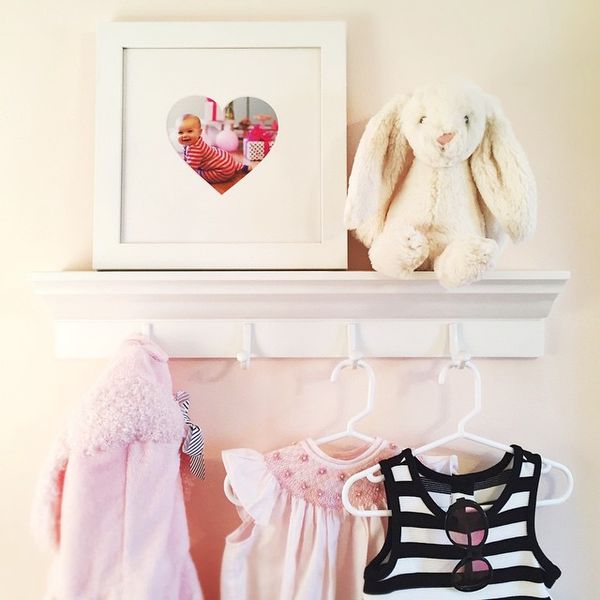 Heartstagram in Irvine via Pizzazzerie



If miniature things are cutest, then our Instagram Minis scores major points. What could be a better finishing touch than one of these babies (err, frame baby) with a photo of you and your baby (actual baby!)? Your #shelfie will definitely kick your nursery game up a few notches.
Get the look: Pick your favorite Instagram photo, order, and lean. That's it!
---
What's your favorite nursery look? Drop us a comment below!