How To Frame Your Wedding Photos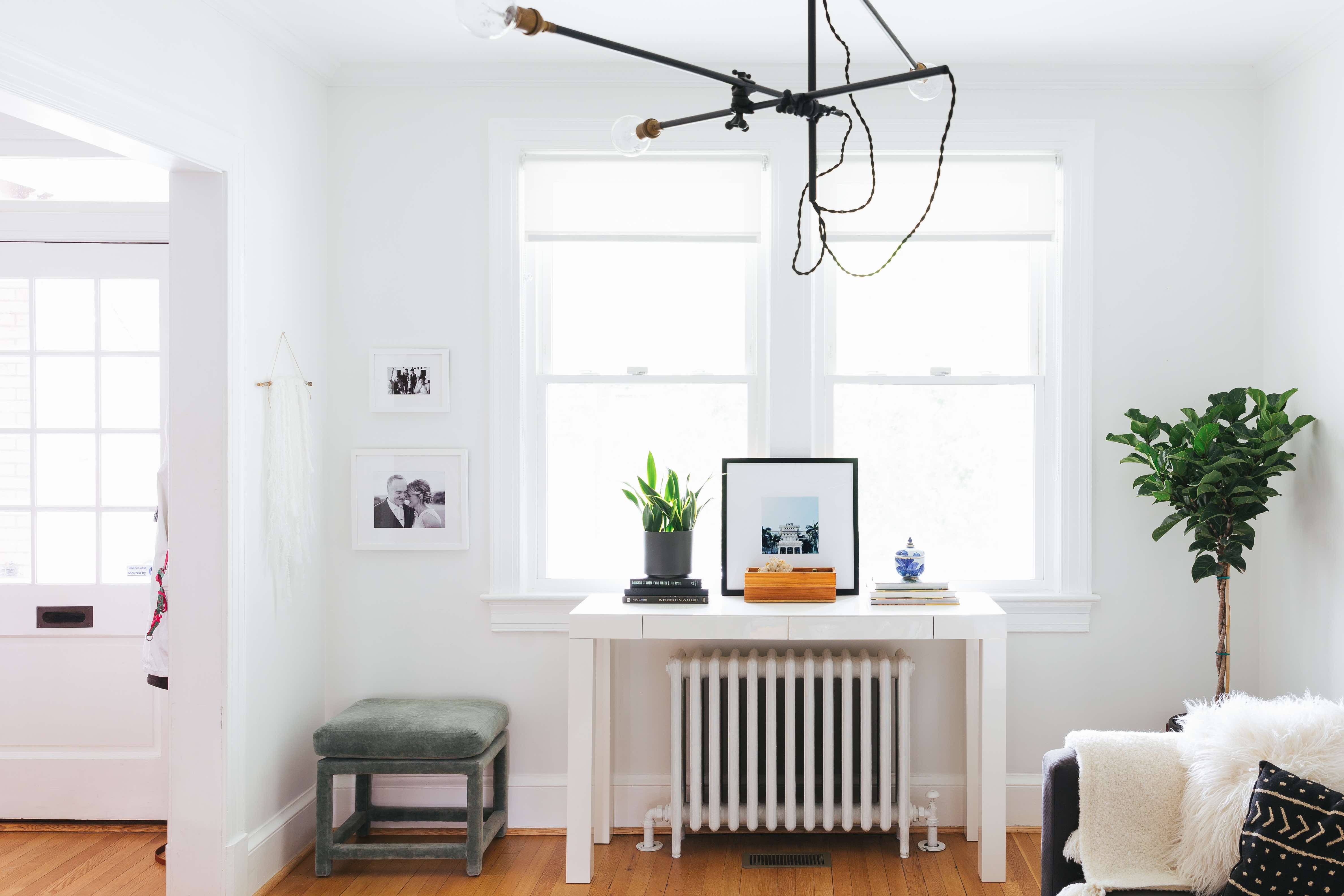 Whether you hire a professional photographer or opt for cousin Clare and her DSLR, we're betting you have some incredible shots from your wedding day. If you've already documented the big day and are looking for how to beautifully frame and style those photos in your home, read on. If you're getting married soon and are looking for advice on which shots you absolutely need, we got you. Just curious about how to seamlessly integrate wedding photos into your home decor? You're after our own hearts.
Below lies all our hard-won advice concerning which wedding shots to ask your photographer for, how to frame them, which ones to give as gifts, and how to hang them in your home.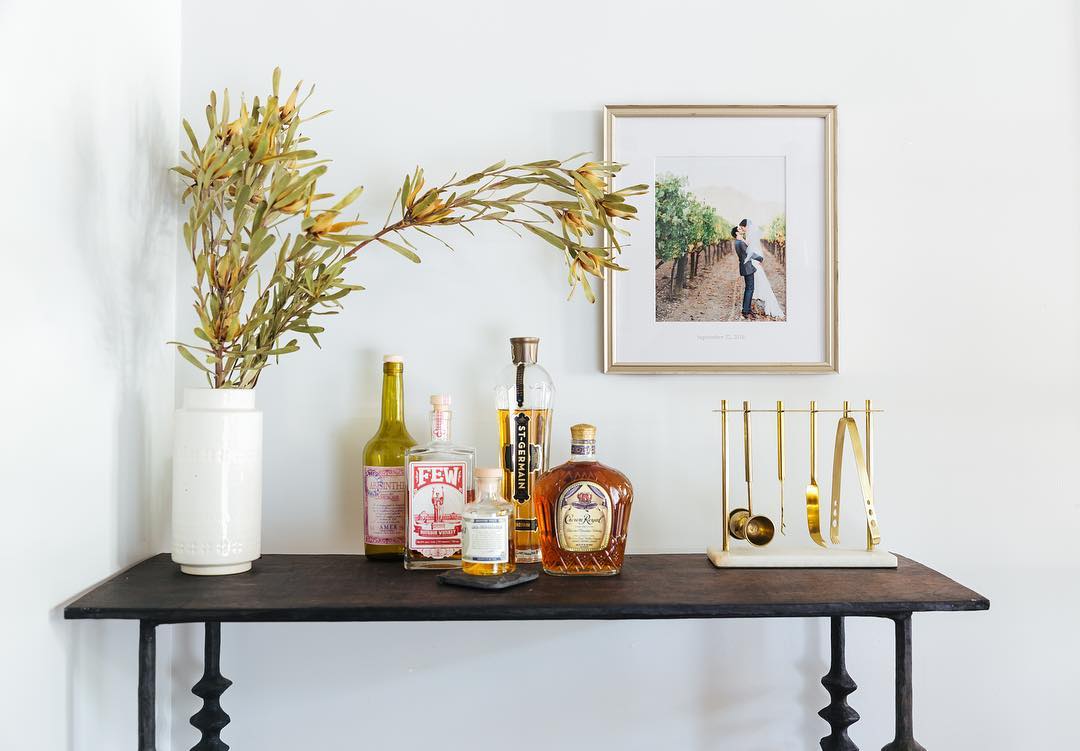 Getting the Shot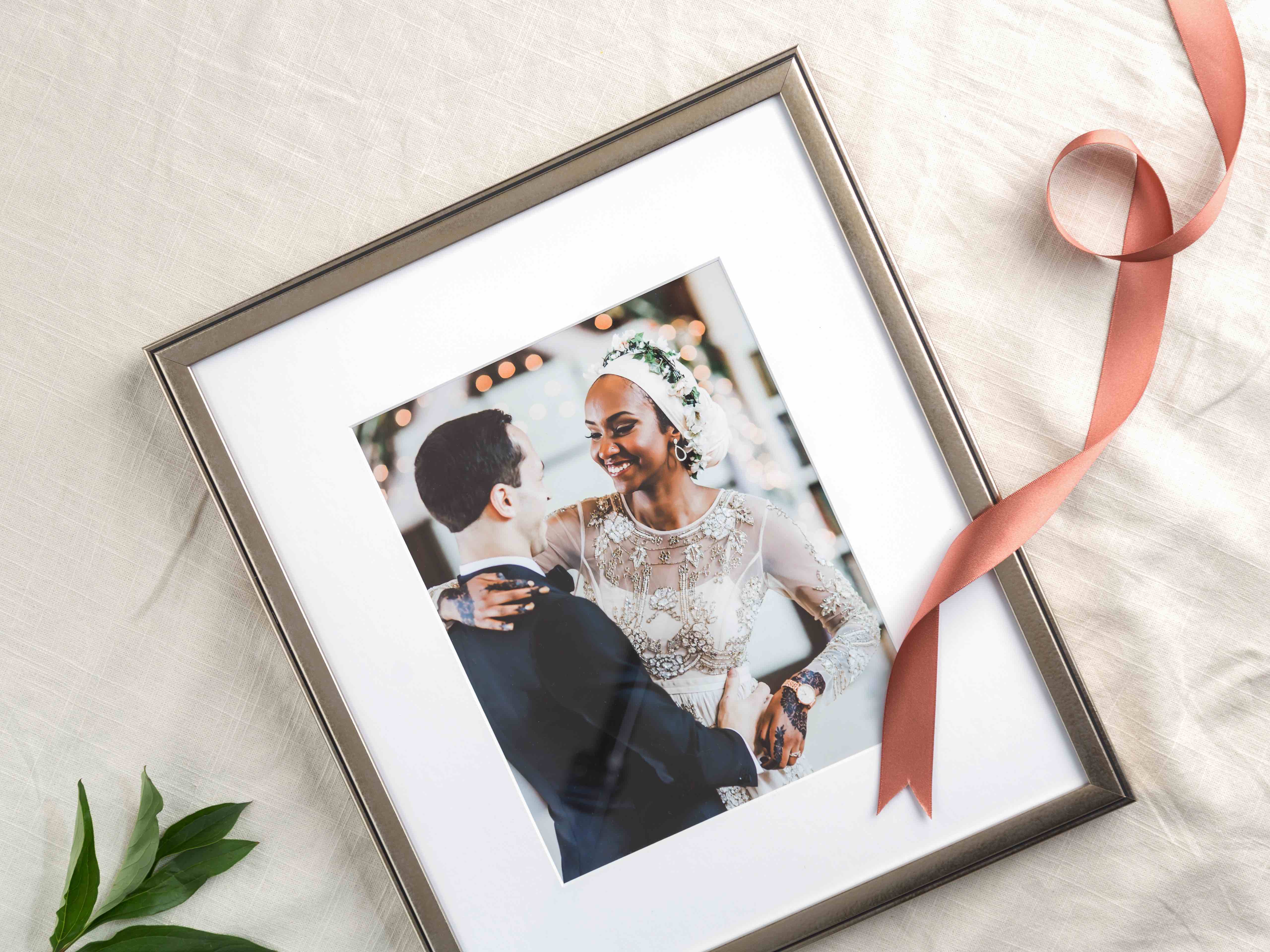 Have an idea of what you want going into your wedding shoot. Each shot can serve a different purpose when you're deciding which ones to frame and hang in your home and which ones to give as gifts to your wedding party. The unmissable shot is a pulled-back photo of the couple that shows off the wedding venue. If you only frame one wedding photo, this is it.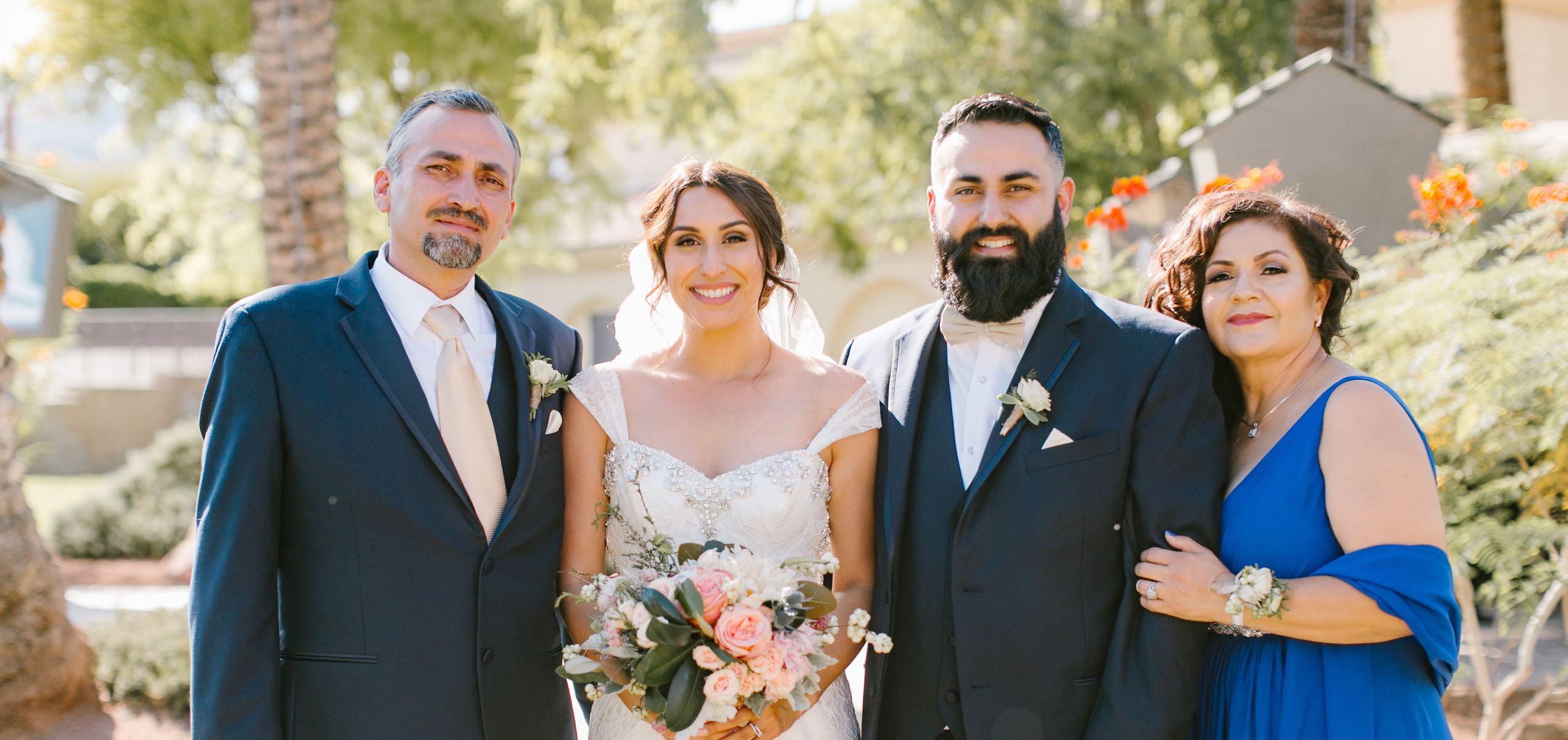 Get photos with your parents. This may feel like a given, but a picture of you and your parents together can make a great Mother's Day or Father's Day gift. A photo of the whole family together will become a piece of family lore, the sort of photo your grandchildren will hold with awe someday.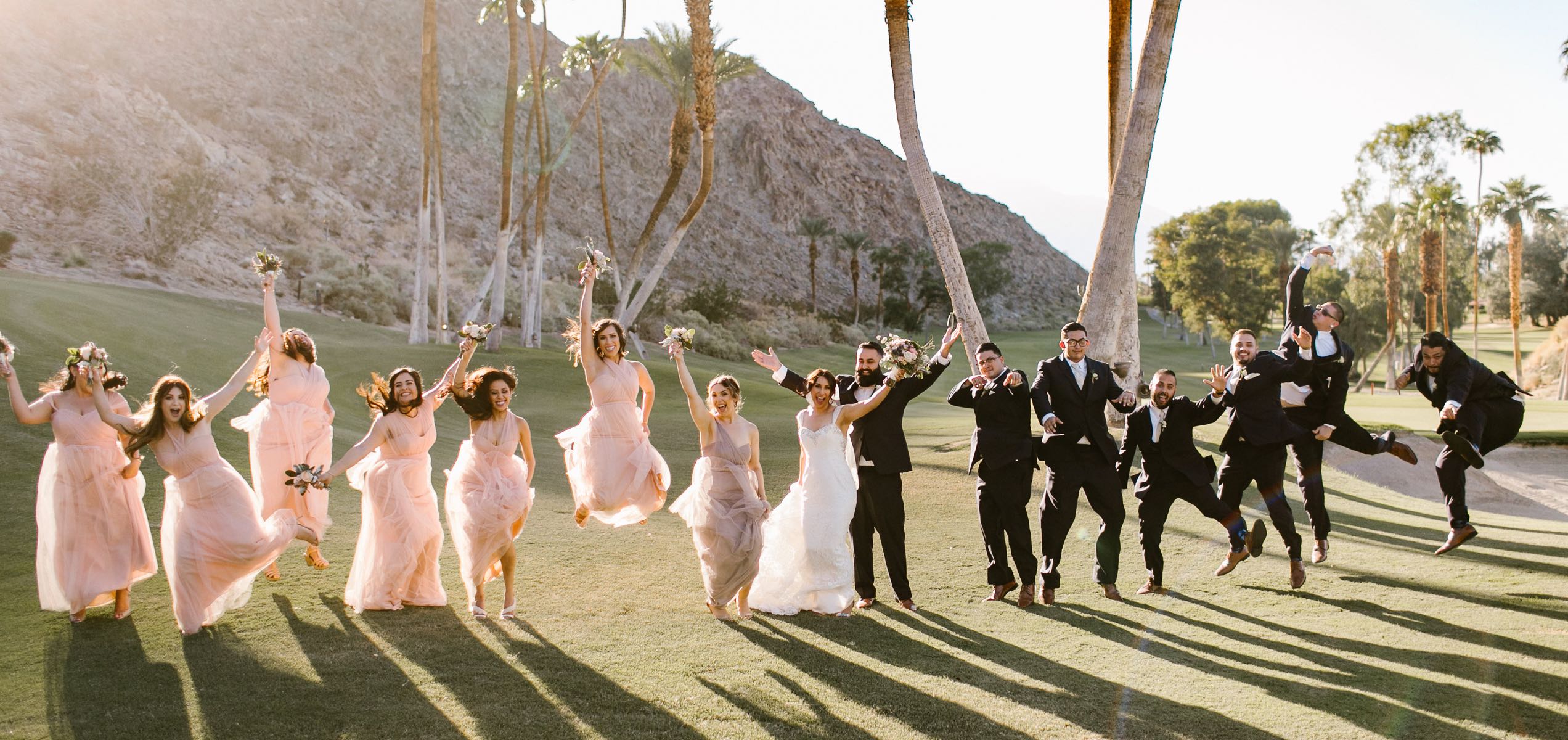 Get a mix of pictures with your entire wedding party. While you definitely want to get images of you and your wedding party smiling in your dresses and suits, it's important to have a little fun and take a crazy photo or two. You can frame this one in a classic size and give it as a gift to each person in your wedding party. (The best part? Just place your order and upload the photo you want to frame. We'll frame each copy and send it to the door of your recipient. A super easy and effortlessly classy gift.)
Noteworthy wedding day shots worth getting:
One of the couple looking at each other and laughing or smiling. It should feel natural and candid. A talented wedding photographer will have lots of tricks to make sure this shot feels right.

The getaway shot, whether you're running through a tunnel of sparklers, being pelted with rice, or floating through a shower of flower petals.

A photo of your flower girl and/or ring bearer looking ridiculously cute.

One of you dancing with your partner, and another one of you dancing with your parents.

Candids from the reception. This includes the funny photos of your friends and family that you'll later post to Instagram.

First look photos. We know these are often artificially created, but they're a must-have romantic shot. Your photographer will know what to do to make it perfect.
Choosing the Right Wedding Photo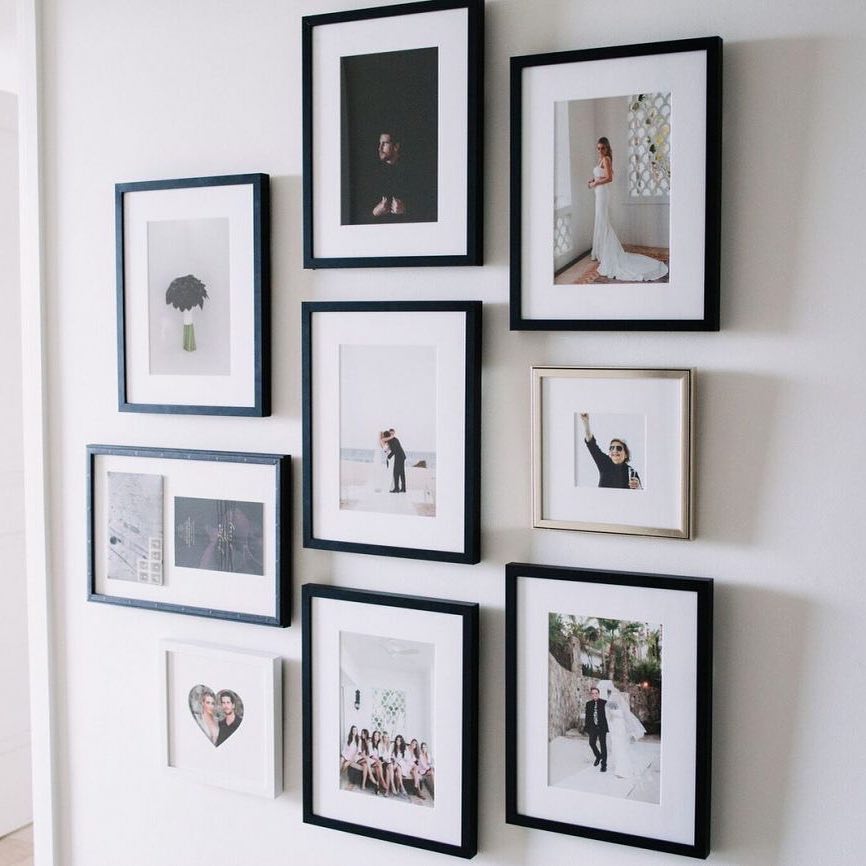 In a survey of married people, we found that 29% of couples had between 500-1000 images shot at their wedding. From those images, 32% of couples frame just 2-5 photos. So it's essential to make sure those shots are ones you really love. Choose high-quality, edited images for the larger pieces you want to frame as centerpieces of a room. For smaller frames, like the one you keep on your nightstand or the one you hang in your bathroom, you can opt for fun or sweet images depending on your style. Pick what will make you smile when you walk past it every morning.
How to Frame It
There are several ways to approach framing photos to be displayed in your own home. Some of our most popular frames for wedding photos are Newport, Ventura, and Ash Gallery. Because our framing is custom, you have full control over the frame style, size of the frame, image, and mat width as well as the mat colors. That said, if you're looking for some tried and true classics for wedding photos, check out our wedding gift shop for curated sizes and frame styles perfect for giving to your friends and family (or gifting to yourself).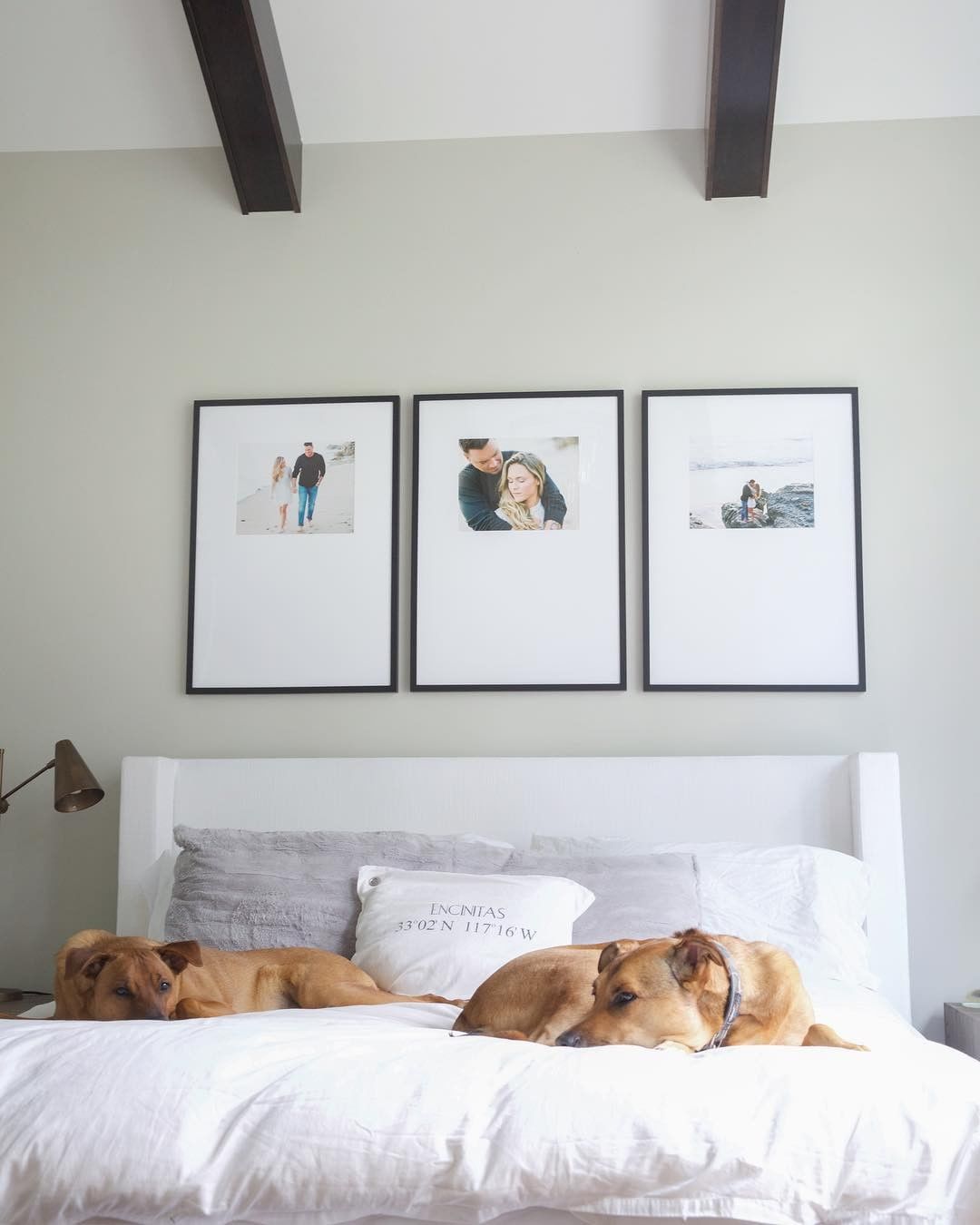 For a gallery wall of wedding photos, we recommend The Triptych from our collection of gallery walls. It's perfect above a couch, bed, or dining room table. The bottom-weighted mats offer a visually dramatic way to show off your wedding photos. For this gallery wall, we recommend focusing on photos of just you and your spouse. Try a soft, intimate shot of the couple smiling at one another paired with a photo of your clasped hands that shows off your rings and a pulled-back shot of the venue for a balanced, beautiful display.
We also love wedding photos in The Half Wall Grid. The wall is large and dramatic, but the smaller photo size means you can easily mix and match shots from your wedding. Think ones of you with Mom and Dad, one with the wedding party, a few classic close-ups of you and your new spouse, and some of the wedding venue. It's a tasteful, stress-free way to get the photos you love up on the wall.
Where to Hang It
You can hang wedding photos anywhere, but we have a few favorite spots. The Half Wall Grid is great above a dining room table, couch, or bench. A single large wedding photo is great styled in your living room above a couch or hung at the end of a hallway. Instagram Minis are beautiful when hung or leaned next to a bed. They're also great when stacked up for a mini gallery wall.
For inspiration, check out some of our favorite ways Framebridge customers have styled wedding photos in their homes.
| | |
| --- | --- |
| @alitzahstinson | @chelseabirdd |
| @mystylediaries | @alitzahstinson |
| @alovelybean | @emleo711 |
| @horderlynyc | @chelseabirdd |
Looking for more help and inspiration? Our expert designers are here for you. Connect with us here.
You Might Also Like...