Dream Team: How to Style your Bedside Table with Small Framed Photos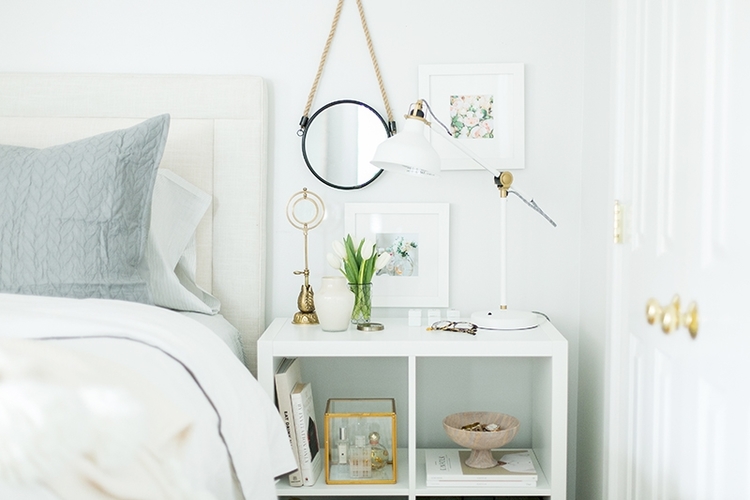 If you browse design focused accounts on Instagram (🙋), you've seen the ubiquitous shot of a perfectly styled nightstand with just a sliver of slightly rumpled bed linens. We've noticed that these photos always receive a lot of positive attention when we post them on our own Instagram account, so we decided to help you get the look.
A bedside table can be so much more than a place to keep your bedtime essentials. Don't underestimate the power of surrounding yourself with things you love - especially when those things are the first you see upon waking. A perfect solution to creating a lovely nightstand (with its notoriously limited surface space) is to opt for framed photos that evoke your favorite memories. This look is the sophisticated, grown-up cousin to your college decor aesthetic of taping polaroids next to your bed.
Our Instagram Mini is the perfect solution. These 5" x 5" photos are printed and framed directly from your Instagram (or you can upload a photo from your phone or computer). You can choose from our curated collection of frame styles, and we'll ship you the finished frame ready to hang. (Plus shipping is always free!)
Without further ado, here are some of our favorite ways to style Instagram Minis and small framed art for the sweetest bedside table.
________________________________________________________________
Hang It Up
Instagram Mini

in our

Mercer Slim

frame with a white mat | Via

@arielkaye

Undone & Moody

Pair dark, highly saturated art with with sleek, simple framing like our Mercer Slim frame pictured here.
Hang art next to bed, but off-center of bedside table.
You can totally hang frames above your bed and next to it for a chic layered look.
Add high contrast elements, like this black lamp on a white nightstand, or a mix of pale pink and slate grey linens.

Instagram Mini

in our

Irvine Slim

frame with a white mat | Via

@saracombs

Light & Airy

Opt for a photo that looks like art, like this repeated pattern.
For framing, keep it simple with white on white, like our Irvine Slim frame paired with a white mat. (Our Ash Gallery frame with a white mat is another great option here.)
Hang it at eye level (whatever height you're at while lying down) to create cohesion with your bedside display.

Instagram Mini

in our

Mercer Slim

frame with a white mat with black core | Via

@ashley paul

Classic & Bright

Truly classic design elements (just look at that clock and those flowers) create a timeless look.
For this look, choose a photo you truly love, one that inspires lots of happy memories. Frame it a simple style, but add contrast for a little edge.
Here, our Mercer Slim frame paired with a bright white mat and black foam core grounds the bedside arrangement.
________________________________________________________________
Lean It
Traditional

Bright white and grey furniture paired with gold accents and our favorite silver dollar eucalyptus make this space fresh and inviting.
For this look, pair a beloved photo with a simple frame style style. Here, white on white framing blends with the white walls and furniture for a sleek, classy look.
We also love family photos for beside the bed. Check out how to digitize your collection of vintage family photos here.

nstagram Mini

in

Irvine Slim

with a white mat | Via @

joannagcarden

Laid Back & Bookish

Keep it simple with just a few bedside accents. Show off what you're reading, but don't worry about the stack being too neat.
A leaned Instagram mini keeps things casual. (We love how perfectly undone leaning frames can look!)
Simple linens and white walls with warm furniture hint at a tidy-cabin-in-the-woods kind of vibe.

Instagram Mini

in

Mercer Slim

with a white mat | Via

@Nicole Boucher

Country French

Like the provincial manor of your dreams. A cool color palette and slightly distressed elements make this bedside utterly charming.
Get this soft and pretty look by framing a cool-toned photo in a distressed white frame, like our Monterey frame picture here.
Add texture with woven baskets, ruffled sheets, and sleek metallics for a hint of modern cool.

Instagram Mini

in

Monterey

with a white mat | Via @jeannieor
________________________________________________________________
Double Time
Instagram Minis

in

Irvine

with white mats | Via

@theeverygirl

Nautical Bright

Bright white walls and traditional furniture silhouettes form the base for this charming room.
Add nautical accents (like that rope mirror) for multi-dimensional wall decor.
Fresh white tulips perfectly completely the clean, floral photos framed white on white in our Irvine frame.

"

Art by

Clare Elsaesser

in

Irvine Slim

with a white mat and an

Instagram Mini

in

Mandalay

with a white mat | Via

@looklingerlove

Tropical Dream

A statement headboard paired with a rich wood nightstand form the base for this colorful arrangement.
Don't be afraid of color! But keep the tones muted for a look that's still polished and sophisticated.
A leaning stack of art make this duo both pretty and personal.
Our Mandalay frame ups the island vibes while our Irvine Slim frame beautifully complements it.
Add a palm frond as the finishing touch.

Instagram Minis

in

Bali

with white mats | Via

@roomfortuesday

Dramatic

A strip of dark wall paired with bright white and gold furniture and accents make this space really stand out.
By layered black frames (these are our Bali bamboo frame in black) against a black wall, the colorful canyon photos really take center stage and pick up the warm tones of the headboard. White mats keep the look cohesive with the rest of the design.
Add a sprig of green and rumpled white sheets, and this high-drama look becomes surprisingly accessible.
________________________________________________________________
You Might Also Like...