Five Easy Ways to Design a Gallery Wall
Gallery walls are here to stay, but let's face it: your home is a unique space with its own charms and challenges. Here are five easy gallery wall styles, one of which is sure to fit the space you have in mind and your personal style. After all, a gallery wall brings the many dimensions of who you are - from wedding photos to vintage postcards - together into a cohesive whole. With these styles, you're sure to find the right fit. Here's how to create your perfect gallery wall.
1. The Grid: An arrangement of 6, 9 or 12 identically-sized framed photos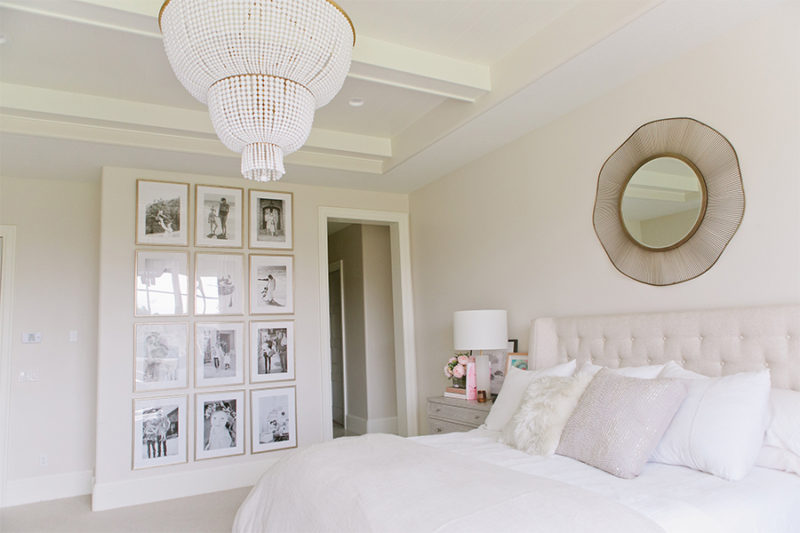 A gorgeous grid of family photos by Ivory Lane.
Perfect if: you want to precisely fill the space above a couch, headboard, or dining room table.
Think about: picking one classic frame style for a sleek uniform and considering a theme for your grid, such as travel photos, wedding photos, or art prints.
Examples: Our Newport frame style.
2. The Column: A vertically-stacked arrangement of 4 to 6 framed photos or pieces of art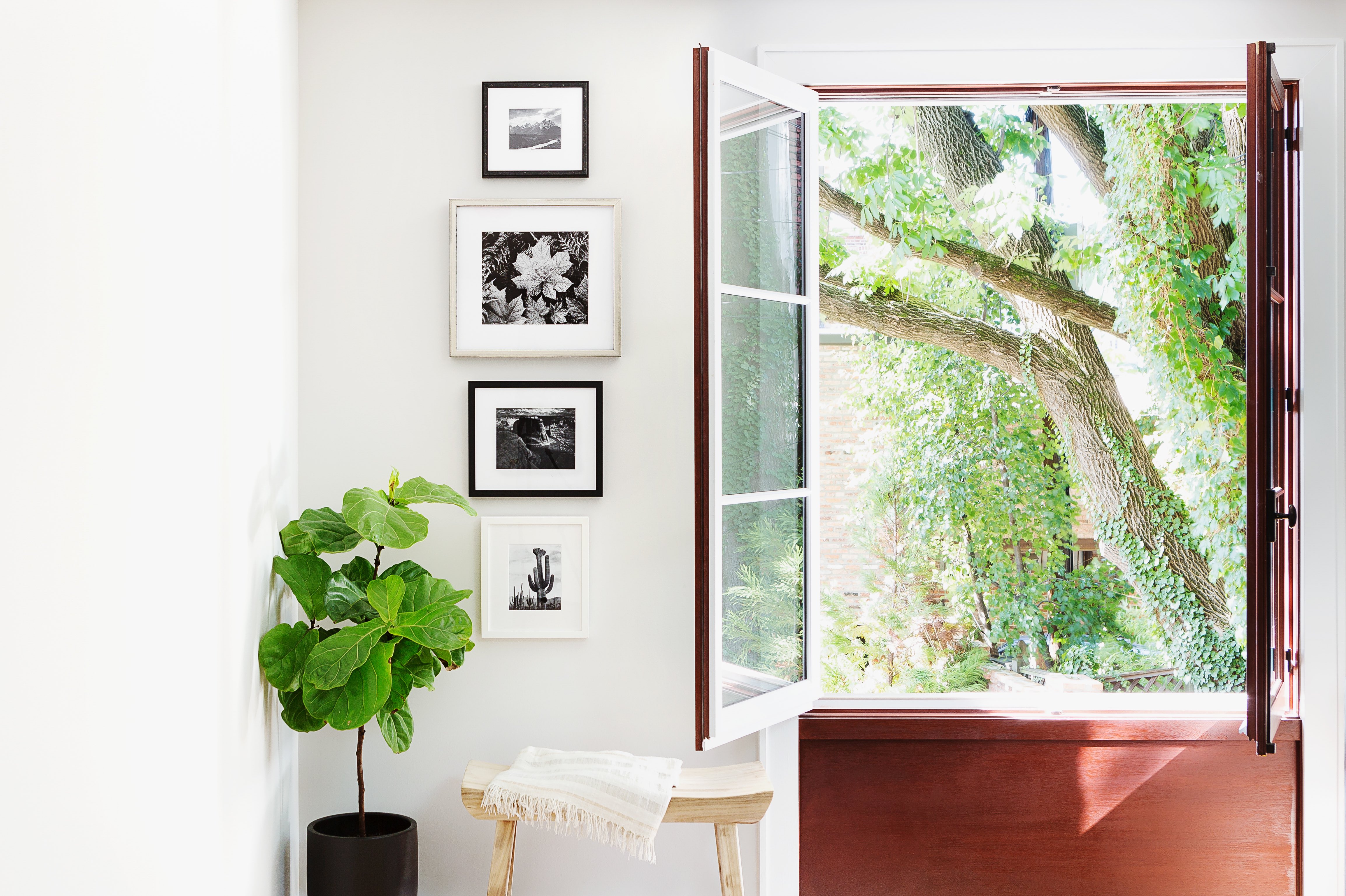 Perfect if: you have a narrow wall next to a door or window. The vertical gallery wall works wonders in tight spaces.
Think about: mixing up frame styles, mixing metals, and varying the frame sizes to add visual interest.
Examples: Above are pictured our Beverly, Mercer Slim, and Irvine Slim frame styles.
3. The Salon: A floor-to-ceiling arrangement of small pieces collected over time
An eclectic gallery wall in Amira El-Gawly's D.C. apartment.
Perfect if: you have an alcove or nook you'd like to fill.
Think about: having one consistent design element to make the space look cohesive - sticking to all wood frames or gold frames, or keeping the tones in your art consistent.
Examples: In addition to a few vintage frames, Amira combined our Providence, Richmond, Newport, Mandalay, and Mercer.
4. The Ledge: A grouping of 3 to 5 framed pieces leaned against one another on a shallow wall shelf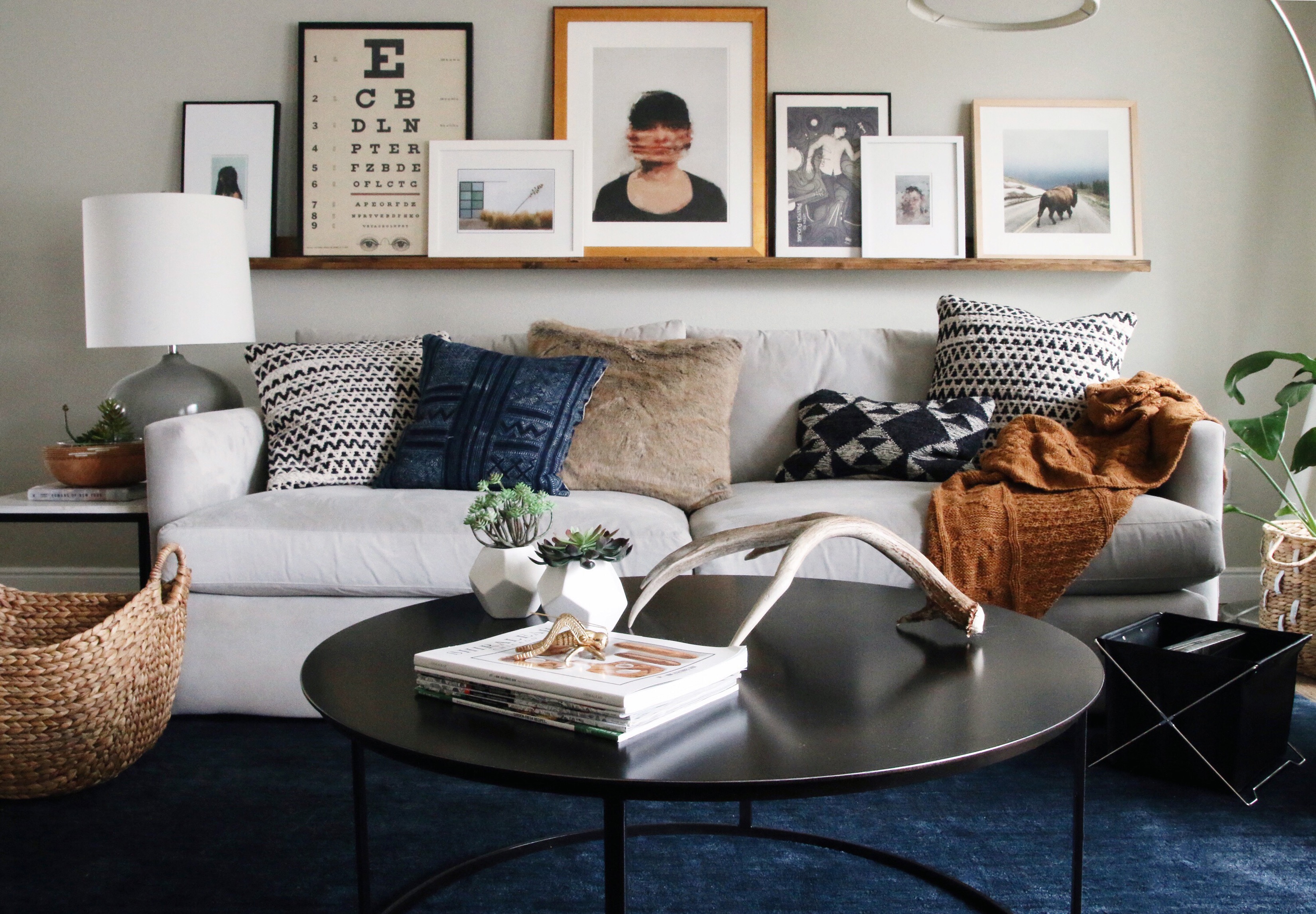 We love this ledge gallery wall from Chris Loves Julia.
Perfect if: you like to change your décor regularly.
Think about: mixing up the sizes and nature of the pieces to keep it multidimensional.
Examples: Above are our Irvine, Irvine Slim, Marin, Mercer Slim and Potomac frames.
5. The Classic: A grouping of 5 to 10 framed pieces organically placed in a grouping
A perfect gallery wall by Emily Henderson.
Perfect if: you want to start fresh and know exactly the space you're looking to fill.
Think about: pieces in different sizes, dimensions, and styles to give the gallery wall a collected feel.
The nice thing about all of these arrangements? They can grow and change over time. In a grid or column gallery wall, that means adding a new row or piece respectively. In a salon style or classic gallery wall, you can add pieces as you find them. We love an eclectic mixed-media gallery wall. Each wall reflects the unique stories of the person who collected the pieces.

Still not sure how to start framing? Let our gallery wall designers help. Whether you're framing a group of digital photos, or mixing in a canvas, polaroid, or Instagram photo, our team can help you map out the gallery wall of your dreams - classic, clean, eclectic, or somewhere in between. And as always, at Framebridge your online custom framing will be affordable and simple with a beautiful end result custom-made just for you.
---