How to Hang a Gallery Wall
First and foremost—don't stress! Remember when hanging a gallery wall that it doesn't have to be perfect. Small variations signal a natural, relaxed vibe. But that doesn't mean you can't achieve a gallery that feels like an extension of you personality and style. The tips provided here are intended for totally custom gallery walls, but we also offer easy-to-order, easy-to-hang predesigned gallery walls for your digital photos that come with a life-size hanging guide.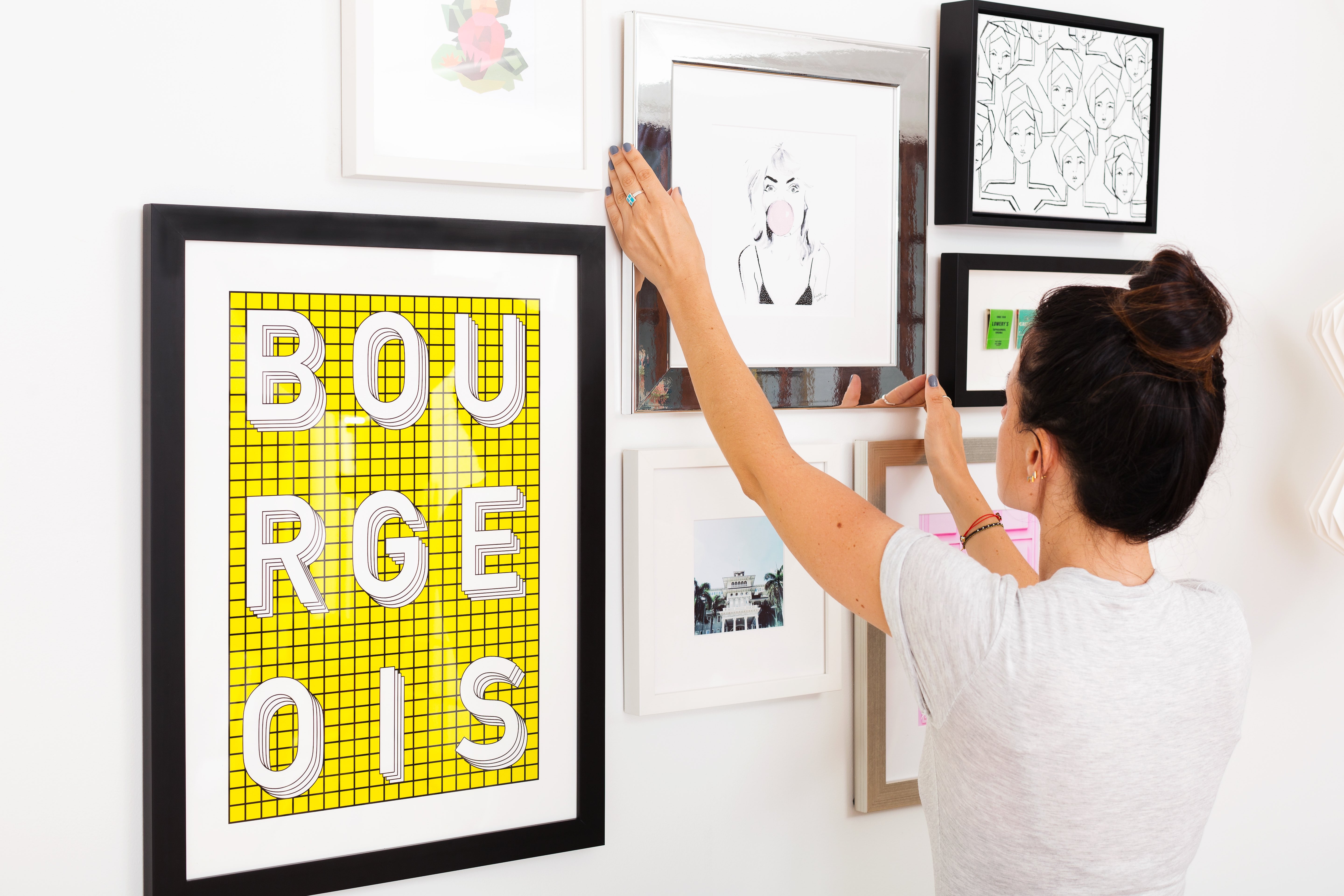 Tips for Hanging a Gallery Wall
Grab a hammer, the hanging hardware that came with your Framebridge frame, and a pencil.

Whether your gallery wall layout is wide, narrow, big, or small, think about it as one single piece of art.

Keep your frames 2-3 inches apart and the spacing consistent between each frame.

Take a step back from time to time as you work to help you maintain a sense of perspective.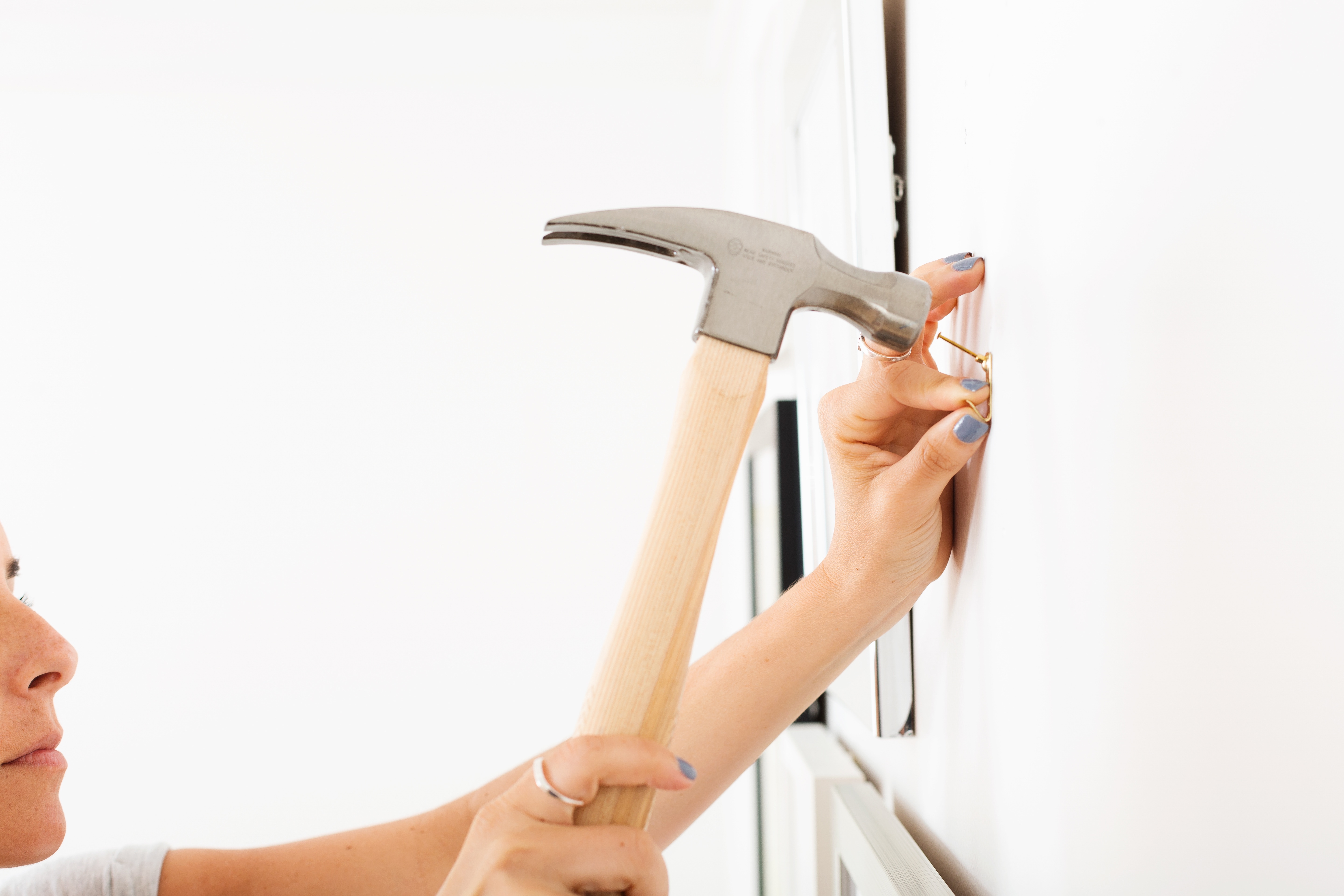 How High (or Low) to Hang Your Gallery Wall
This question is one of the most contested in home design! Here's our take: If your gallery wall will hang above a piece of furniture, plan for the bottom of your lowest frame to hang 7-10 inches above the top of your furniture. If your gallery wall is hanging on an empty wall, aim for the center of your whole arrangement to hang about 57 inches above the floor. Check out this blog post for more tips on how high to hang your art.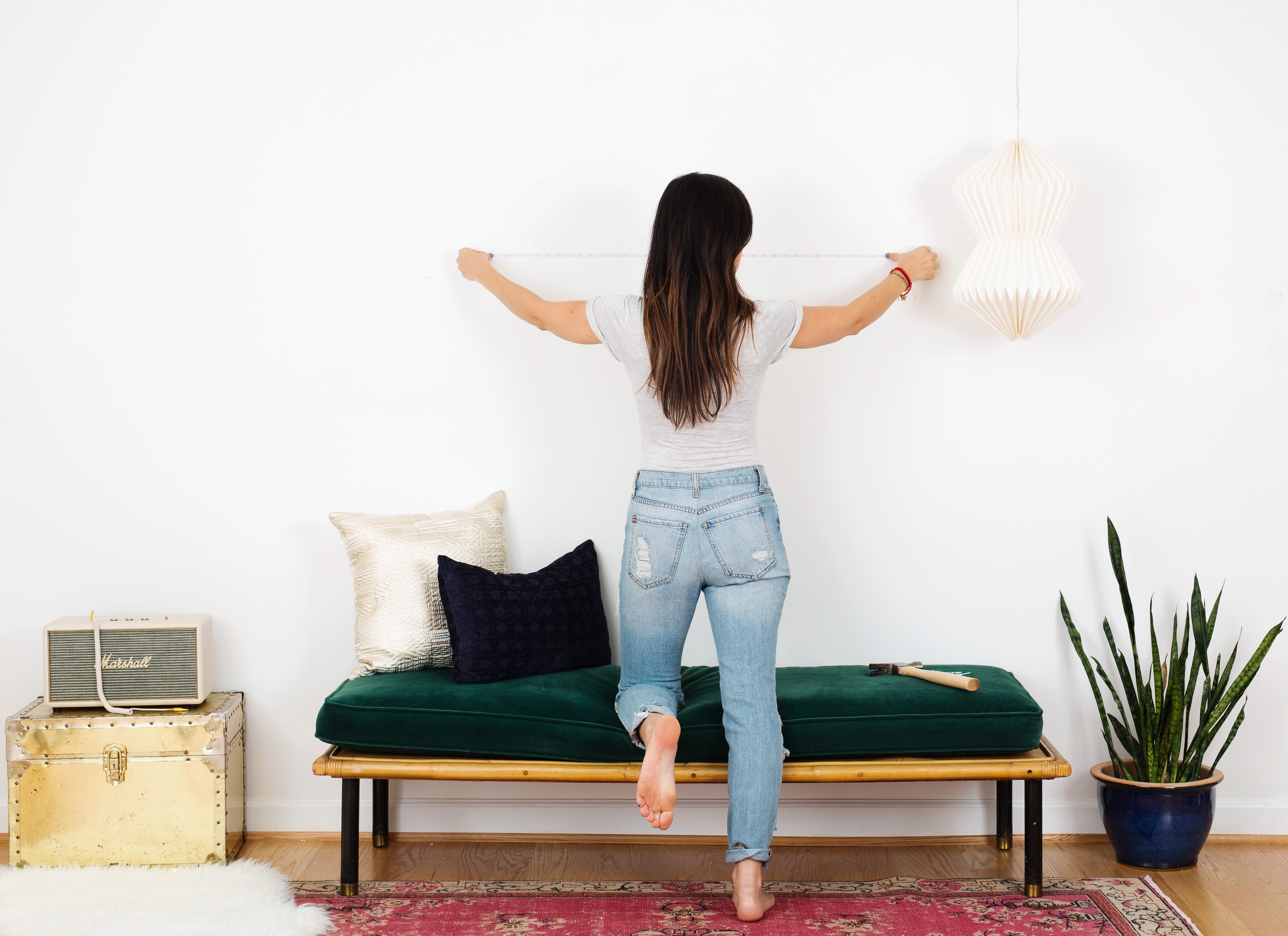 Step 1: Find the Perfect Spot
You've gotten your gallery wall ideas together and learned how to frame your digital photos, art prints, prints and polaroids. You worked with a gallery wall designer or braved it on your own. Now comes the fun part! Start by holding your lowest piece of art against the wall to find the perfect spot. Estimate and mark the correct nail/hook placement for your piece, and then hammer the nail so the hook is where you want the wire or hanging hardware. Depending on the size, your piece will either have a sawtooth hanger, a hanging wire, or corner brackets. More on how to hang specifically for your hardware over here.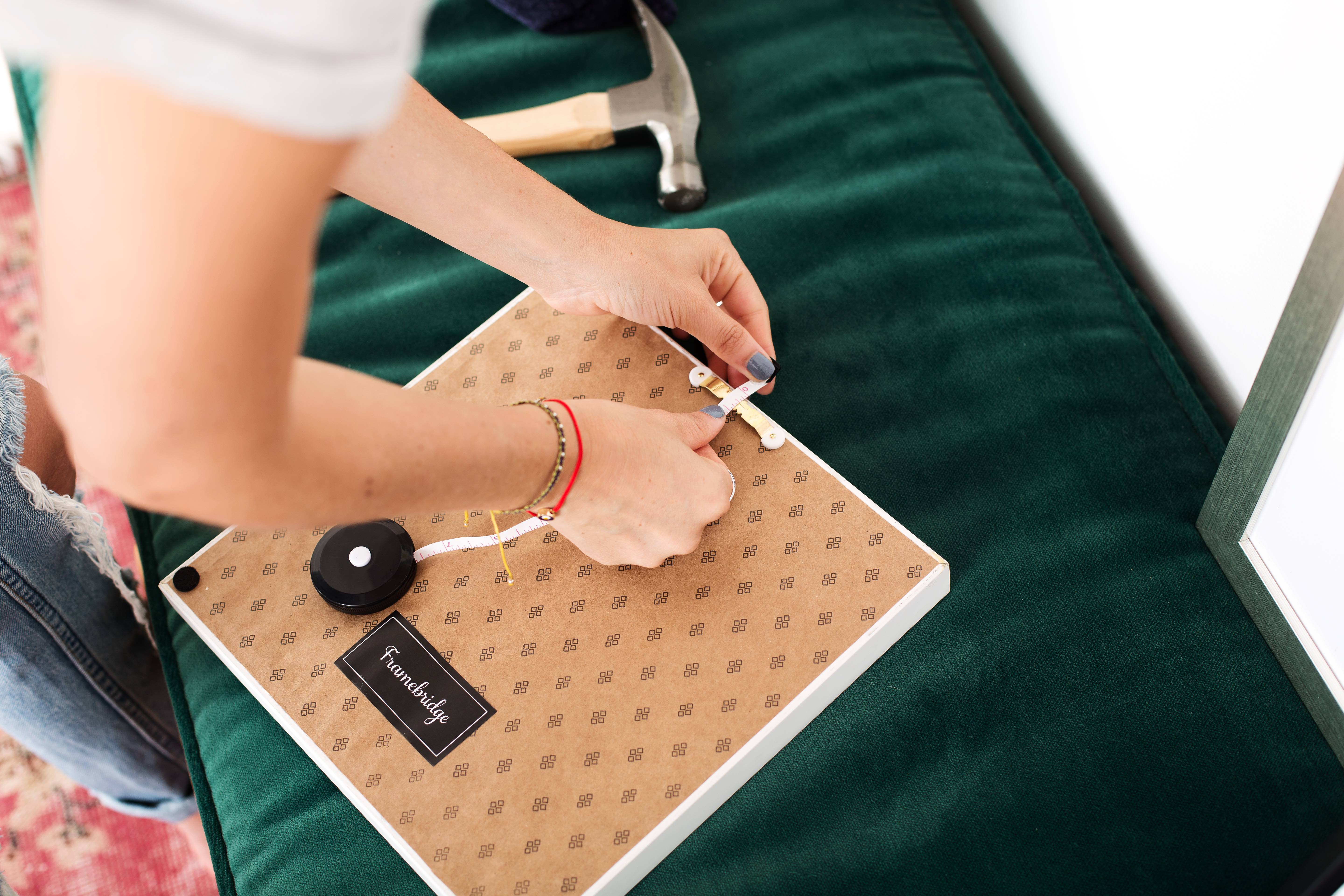 Step 2: Repeat 2-3 Inches Apart
Repeat the hanging process with the frames to the left and right of the first, then with those above. Try to keep all frames 2-3 inches apart from one another so placement looks purposeful. Keep this rule in mind whether you're hanging a small frame or an oversized canvas piece. This is the key to how to hang a gallery wall straight and evenly.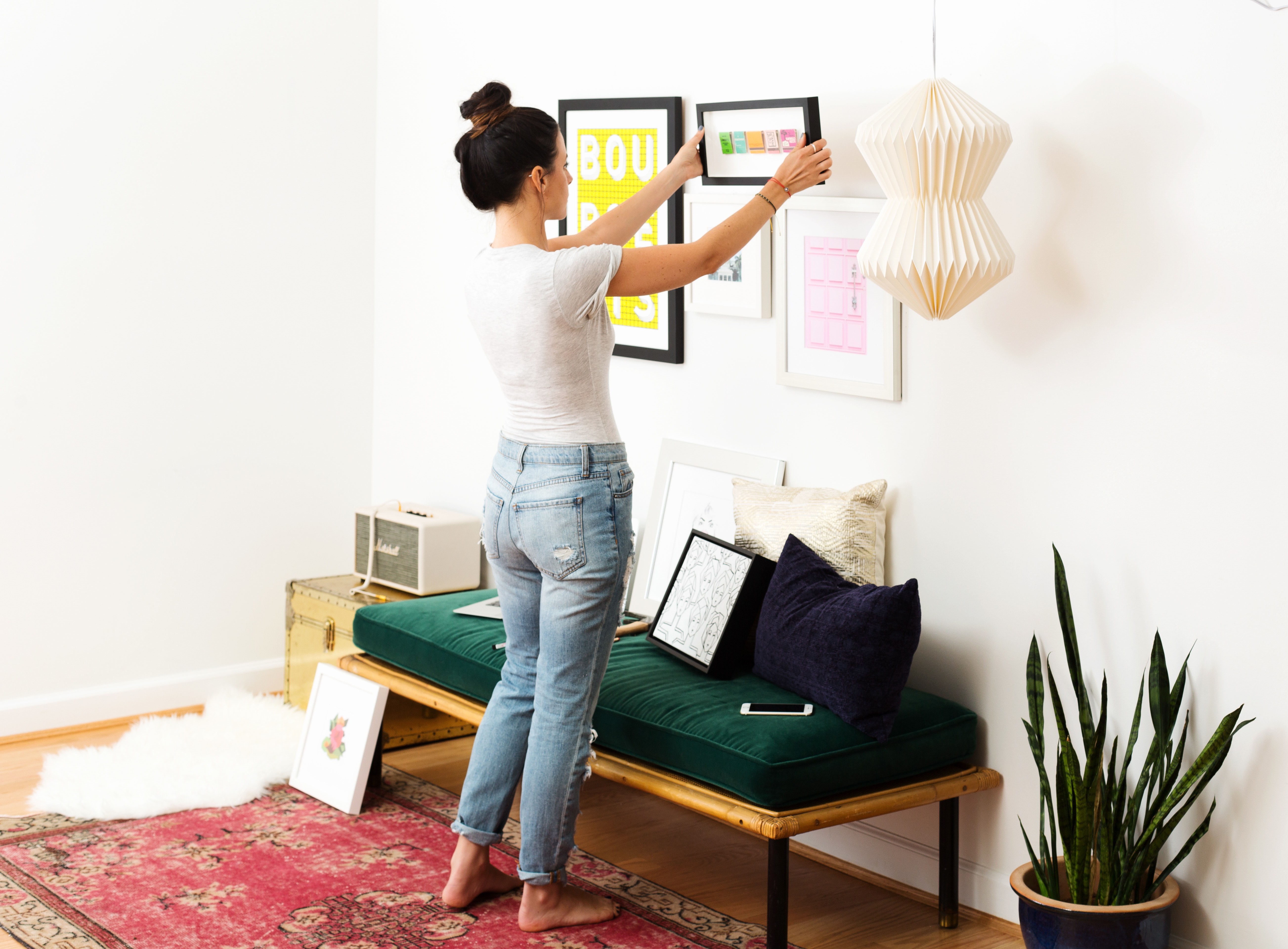 Step 3: Get Some Perspective
Wait until you've hung all the frames in your arrangement. Take a step back, then straighten and level each frame. Use a few pieces of sticky tack on the back of the frames to guarantee they stay put (Hanging a picture frame is always easier with a bit of sticky tack, particularly if you're interested in how to hang a gallery wall without nails.)
Step 4: Celebrate!
That's it! You're ready to enjoy and share your beautiful new gallery wall. The best part? Gallery walls are made for growing. If you find more pieces you'd like to incorporate, just build your wall out and up from your original arrangement. We made it even easier to build on your gallery walls with extras and add-ons, too.

You got this, but there's a chance you may be looking for some options that are even easier. If that's the case, we got you.
A few more things...
Gallery Wall Consultation Service
Having trouble fully imaging your gallery wall coming to life? One of our designers will be happy to provide a consultation and help you outline the gallery wall of your dreams. The best part is the price of the consultation is a credit towards the final cost of your gallery wall.
Life-Size Hanging Guides
Check out the gallery walls we've already designed. Upload your photos and decide on the best layout for you. Each comes with a life-size hanging guide which means you can hang your gallery wall in under 10 minutes, too. So easy!
No measuring tape on hand?
Watch us hang 20+ frames without one.
And check these videos out for even more inspiration: