Meet the Founder: Dave Horesh of Oxford Pennant
Meet Dave Horesh, the Co-Founder of beloved pennant company Oxford Pennant—who we were thrilled to be partner with to offer framed oxford pennants at multiple store locations for a limited time in the summer of 2021. We sat down with Dave to talk about how Oxford Pennant started, why it's so important that the company produces American-made products in Buffalo, and the aesthetic evolution of the pennant and its place in America.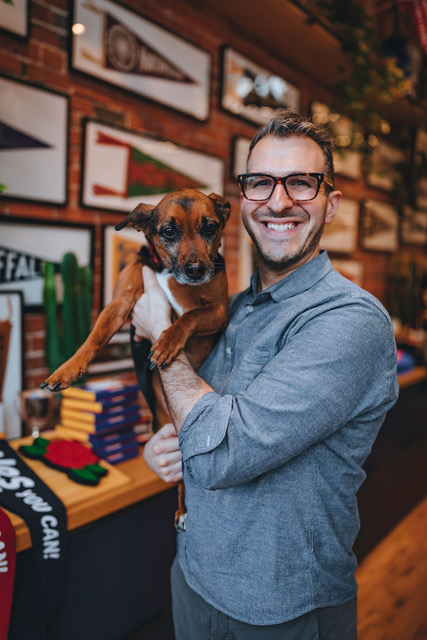 Why the pennant?
When we started the company back in 2013, my business partner Brett and I were looking for a pennant for a project, for a special event in Buffalo, and we couldn't find one in our criteria. We wanted something that was made in the USA and that used wool felt the way that pennants had been manufactured in the first half of the 20th century.
So we decided to make our own. It turned out that there was a demand for it. We were just doing a project that we thought would be fun, but a lot of people remembered having pennants from when they were kids, hadn't thought about them in a long time, or still gravitated towards them. We recognized early on there was a place in the market for a branded pennant.
For the first three or four years, we didn't really treat it like a company. It was more of a side hustle. We just kept saying yes to opportunities and in the fourth or fifth year it accelerated into what it is now. Which is a 52 person manufacturing, design and branding operation.
It all comes back to the core product—the triangular felt pennant.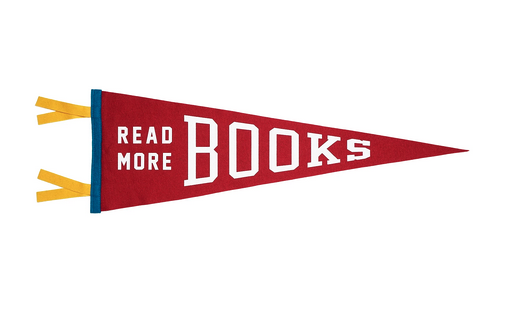 Maybe it's just us, but the pennant used to be associated with Ivy League sports or an older era. How have you so successfully expanded beyond that, incorporating so many designs for a widespread audience?
A lot of it comes down to instinct around the product. And as we were developing the company, I think we recognized that it was a product that acted as a canvas. The products themselves can be customized in any way and our customers are far more creative than we are. And they always come up with incredible ideas—whether it's a phrase or a musician that they like. Over time, you make pennants for weddings and babies and trips and bands and places and you just recognize that this thing can be anything to anybody.
It does not have to be exclusively a souvenir or in the collegiate environment. It can be customized in any way. I really credit our customers for showing us the light on that.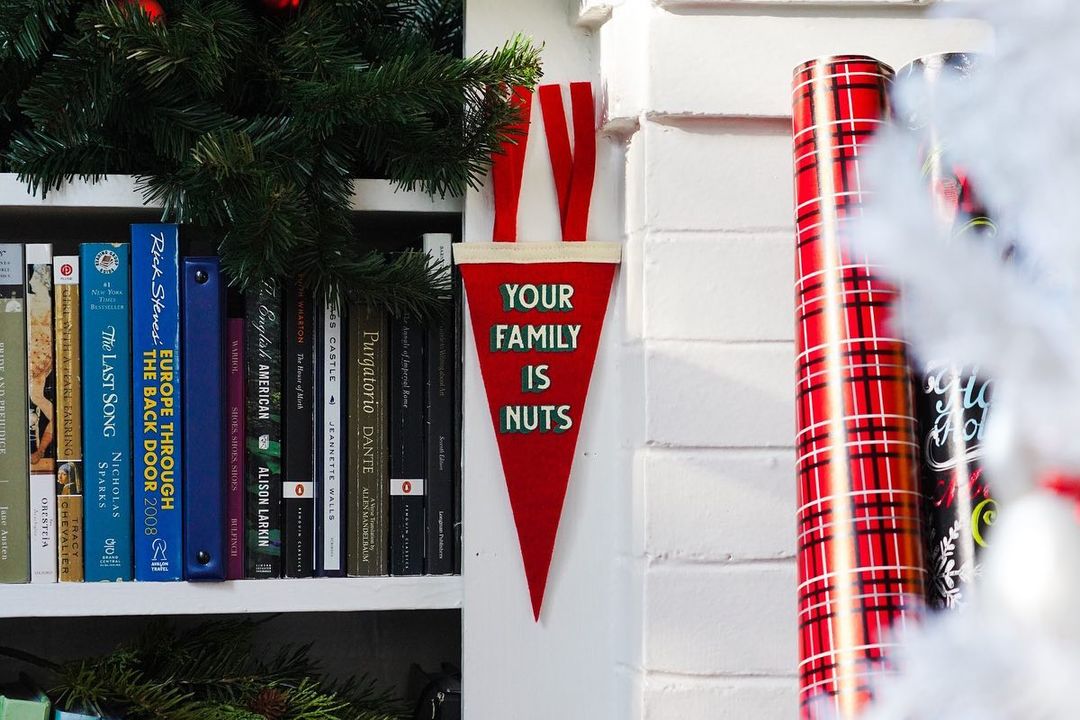 What was the moment you realized Oxford Pennant could become a real, full-time business?
We won this pitch competition in 2018. The competition was a $100,000 grant from Facebook. We were one of three top prize winners. And we used all of that money to invest in manufacturing. Prior to winning that competition, there were only five employees at the company (if you include me and Brett), and we decided we wanted to make our bet on investing in manufacturing because we felt that created the most unique business story for us.
So all of that money went into cutting equipment, sewing machines and printing devices. It turned out that owning the process gave us even more flexibility with the platform than what our meager production capability was affording us at the beginning.
As a company that makes this type of product, you need to be flexible and meet opportunities as they come. For the sake of an example: You've got a college sports team and they might not have wanted pennants, but there's a big game coming up this weekend, and they just decided they need 1,000 units by Friday and it's Tuesday. So when that kind of stuff comes up, owning the manufacturing operation gives you the flexibility to say yes. As opposed to tapping into a vendor network and hoping for the best.
We recognized the company had unlimited potential when we started investing in sewers and cutters and printing equipment that could meet the demand, because then you're able to respond to any opportunity without needing anyone's permission to produce anything. And that's where things really started to open up for us.
What was the most difficult hurdle you faced in scaling?
With a brand like Oxford, it's easy to run with fun, like when you're coming up with funny pennants. I think the hardest part is scaling the size of the employee base—you never want to let them down. You don't want to be the type of company that brings on people when you're busy and fires them when you're slow.
It's a hungry business that wants to grow, and the hardest part is making sure we have the right type of business in play to ensure the right type of job security.
To do that, you have to convince people everyday that this is a company worth giving a damn about. And it's harder to do as the company gets bigger. Not harder, but you have to find opportunities everyday.
You're based in Buffalo, and that is kind of its own story. What does that mean for the brand?
Buffalo is a city that has a manufacturing heritage. We're definitely light—very light—manufacturing, but it's a city with a manufacturing lineage. I feel very proud we get to tap into that. I also feel very proud that Buffalo is not a city people think about very much. It gives us a unique point of view as a brand. The pride. It creates some curiosity around what it is that makes this city so great.
I also think that we are an emerging brand that is relevant at a national and maybe even an international level. If we were in Chicago or New York or LA or Miami, we'd be one of 1,000 brands like that. But in Buffalo, there's really only a handful.
It creates an interesting story for us and makes it much easier to recruit creatives. The truth about Buffalo is that you want to be here if you're from here. But if you're a creative in a city like Buffalo, it's harder here. Oxford is a great long-term company if people want to work here for a decade, it's also a great launching pad for creatives who go on to do their own thing or significant things. Hopefully they do them here in Buffalo.
How have you gotten so good at custom work and capturing the zeitgeist from other localities?
The boring and short answer on the custom work is that it all relates to the manufacturing. There are plenty of other companies that can manufacture a pennant for you, but we are the only branded pennant company (as far as I can tell), with assurance that it is made in the United States.
The other places, that's an interesting question, our seven person creative team does its research. It's important when you create a product like this that you're creating a product that is resonating with a fan base. Anybody can throw the Yankees emblem on a pennant. In order to create a product that is special—you need to demonstrate to a consumer that you see what they see.
The more research you do, the more it pays back to you as a dividend. A lot of it comes down to taking the time.
We're not a huge business, we're certainly a small business in every sense of the term. But we take our time to discover what our customers are thinking.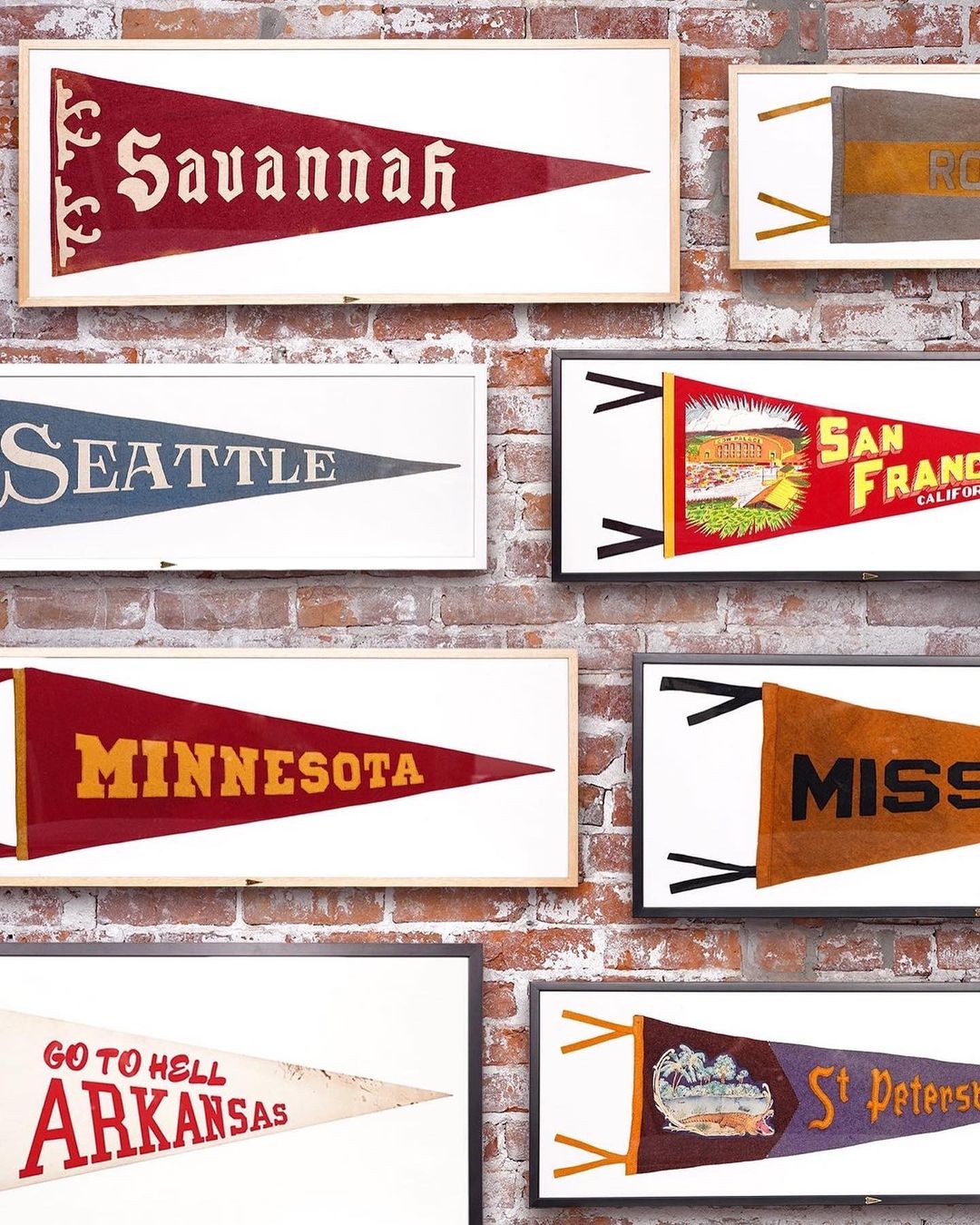 Can you tell us about the collaboration between our teams to source the specific pennants for our different retail locations?
We are hoarders of vintage pennants. It's a big part of our brand. We worked with Framebridge to identify pennants specific to those locations—from the vintage program—and then on the custom side of things, we decided they best fit together.
And the vintage pieces are one of a kind!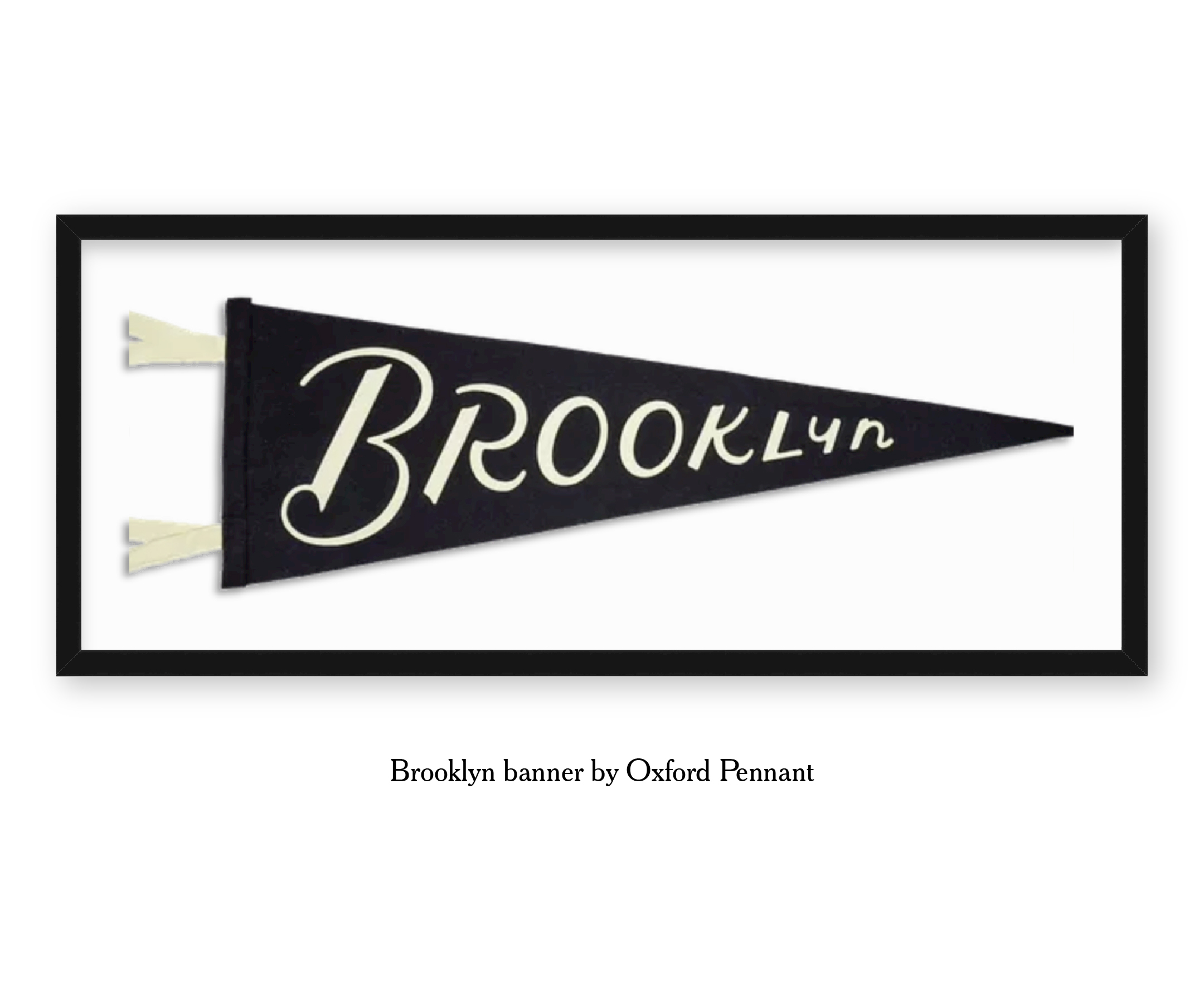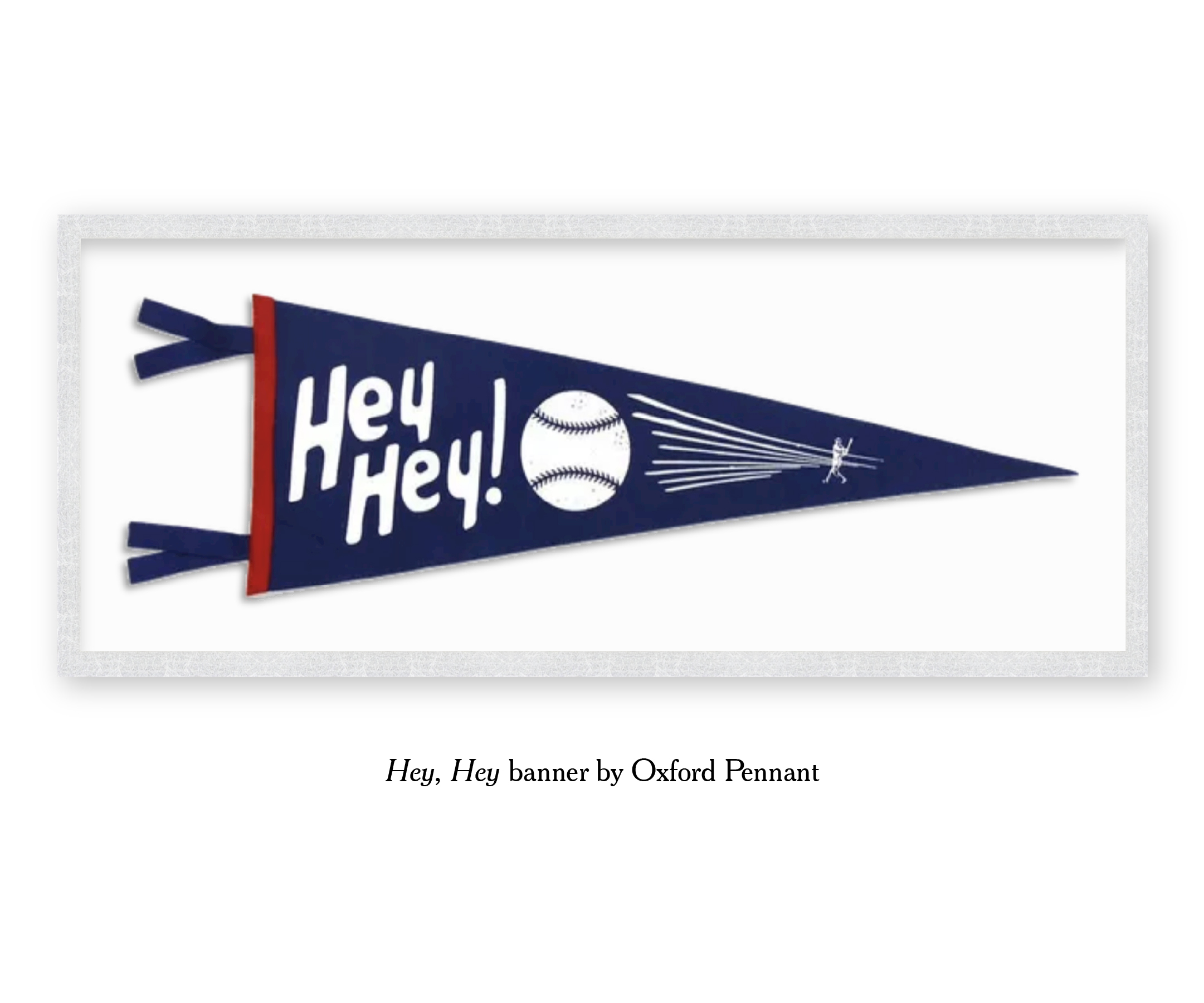 What does it feel like to see your work framed?
It feels great. Framing is something we invested in for our company. I'm really proud to work with Framebridge because, truth be told, a loose pennant sitting on a wall is probably only appropriate for certain spaces. Let's call it a dorm room, a kid's room, an office.
When you frame a pennant, it makes it special. Now that product can fit into any room. It adds sophistication to the pennant that makes it both timeless and contemporary at the same time.
There is a collective public memory of the product, so when you frame a pennant, it makes a whole other opportunity to appreciate it.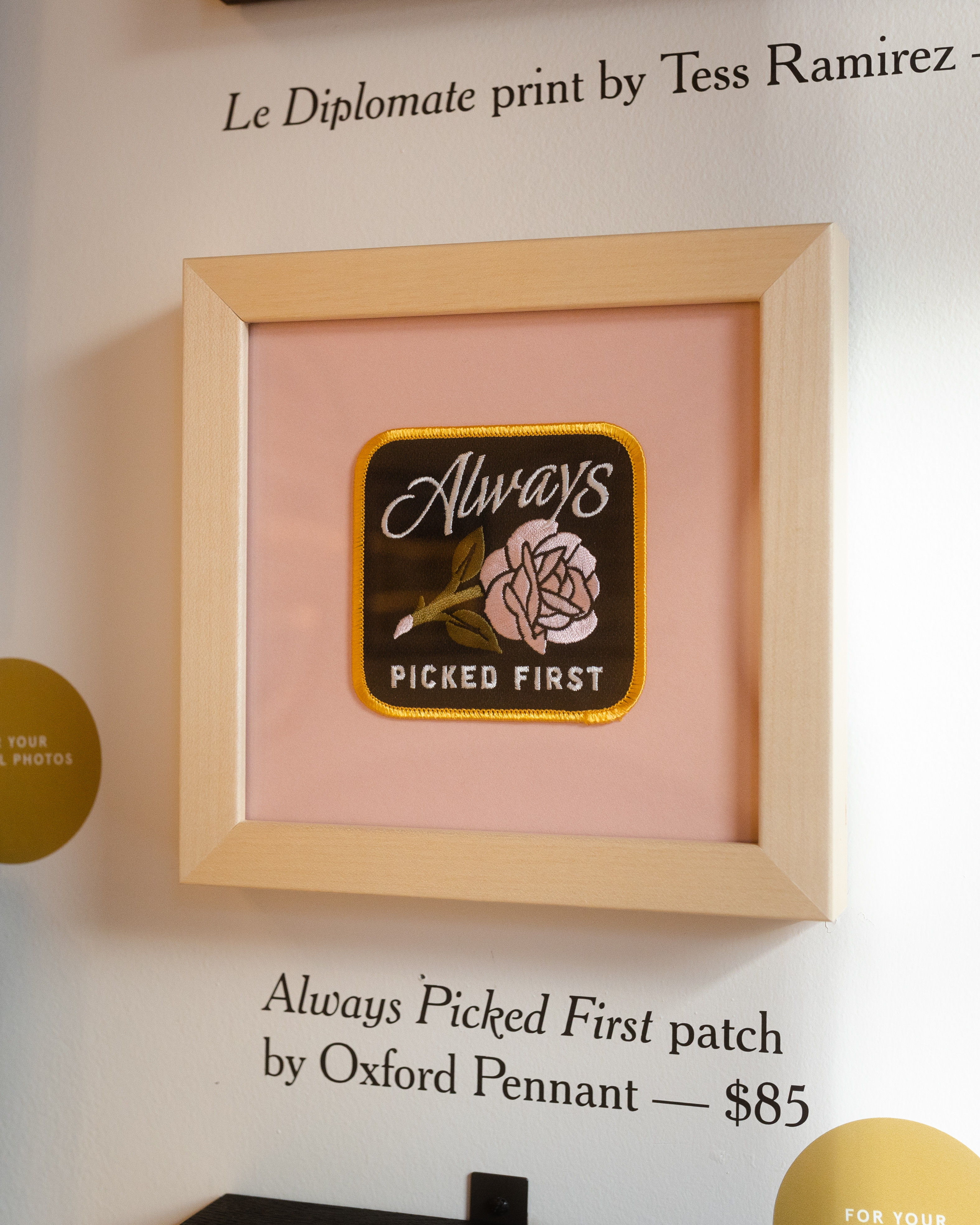 What do you hope a customer feels when they see an Oxford Pennant in a Framebridge store?
I'd be thrilled if one of your customers saw one of our pieces in your stores and recognized that Framebridge has done its homework in sourcing an interesting brand with an interesting made in the USA story that's from an interesting place.
The pennant is an important part of 20th and now 21st century America. It truly is a special product.