How to Choose Photos for Your Gallery Wall
Our gallery walls are so easy to design that all you have to do is pick your photos. But as anyone with a full camera roll will tell you, organizing photos and choosing your favorites can feel daunting. To help you select photos you really love, here are some tips on which types of photos work best with each of our gallery wall arrangements.
Here's how to choose the perfect photos to place in your gallery wall: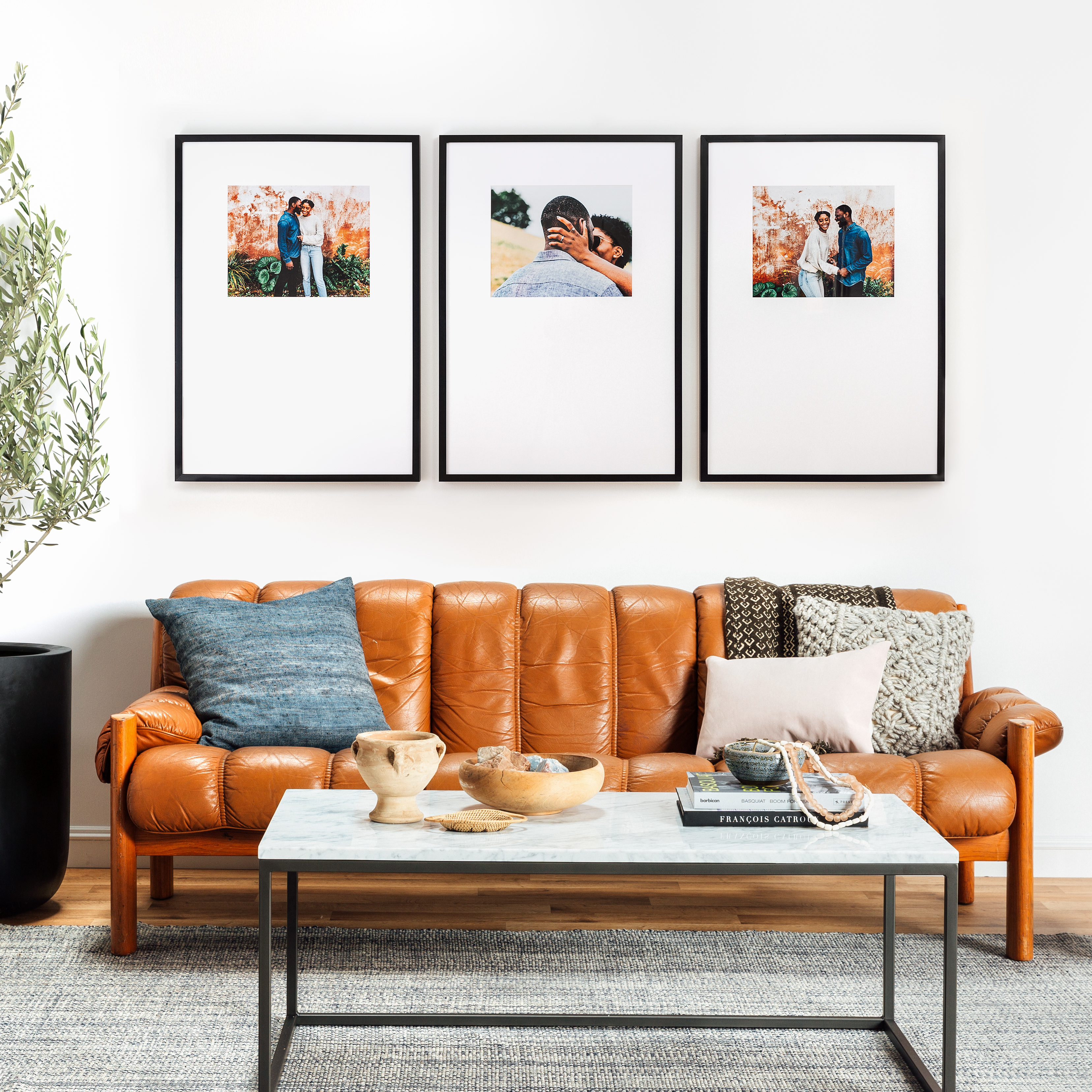 The Triptych has quickly become our most popular gallery wall. If you have a sophisticated, editorial style and are looking for a high-impact gallery wall, you can't go wrong with The Triptych. At 76" wide, this look is perfect above a sofa, down a long hallway, or above a king bed. Also, there may only be 3 photos in The Triptych, but they're printed at a relatively large size of 11x14", so double check that your photos are high res. (We'll also check each photo's quality when you upload it.)
Clean Black
What to Frame
Travel photography. The Triptych is great for travel photos, and it looks especially sophisticated with black and white photography.

Family photos. Unexpected black and white portraits of kids (we've even seen pets!) are striking in the Triptych.

Professional photography. This is an artsy, high-class way to display your work. An instant attention-grabber.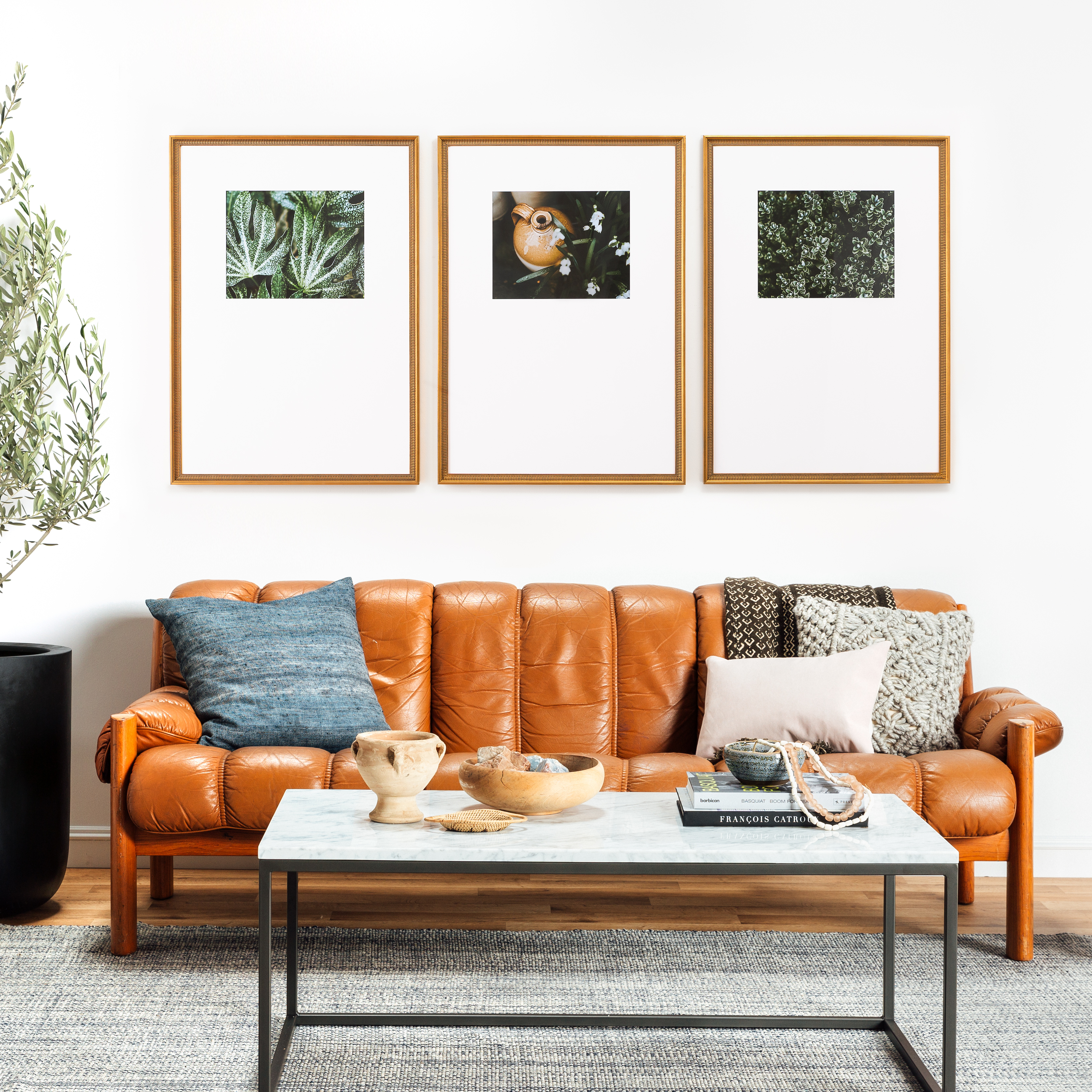 Antiqued Gold
What to Frame
Green photos. Again, we're huge fans of green and gold together. Opt for landscapes and botanicals.

Wedding photos. This is an off-beat and tasteful alternative to a salon style gallery wall of wedding photos. The perfect place for those hero shots.

Simple photos. Because of bottom-weighted mat, keep the look clean with balanced photos. Nothing visually busy here.
If you don't have a gallery wall in your home yet, The Organic should be your first one! This is the perfect "starter" arrangement—you can organically add to it over time with vintage finds or new pieces.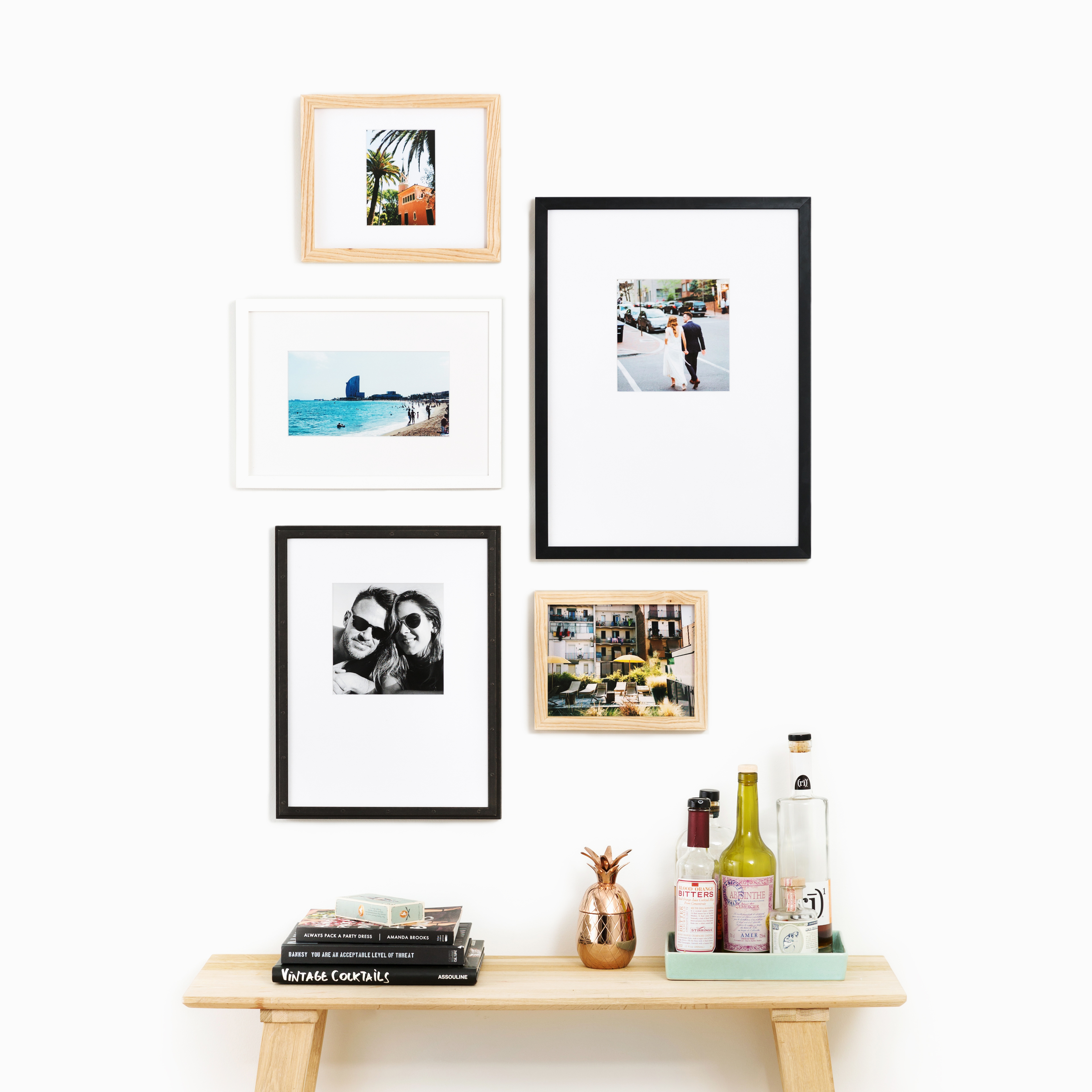 Scandinavian Modern
What to Frame
Wedding photos. This is an especially classy way to show off your wedding photos, especially if you mix in some from your honeymoon.

Travel photography. A simpler frame profile lends itself to color photography, but black and white always looks sophisticated. The mats are really fun on this gallery wall, so play around with different crop and levels of zoom with your photos.
Gold and Warm Silver
What to Frame
Family photos. Print photos of the kids, their grandparents, anyone who deserves a place of honor. You can easily add favorite photos over time as you make new memories as a family.

Themed images. Since the frame styles are so varied, keep your color palette complementary, or work with a unified theme like wedding photos or travel photography.
This gallery wall is the perfect mix of eclectic pieces in a clean-lined arrangement. Place it above a desk, bar, or narrow dresser for an instant statement piece. Because all of the mat openings are square, this gallery wall works especially well with Instagram photos.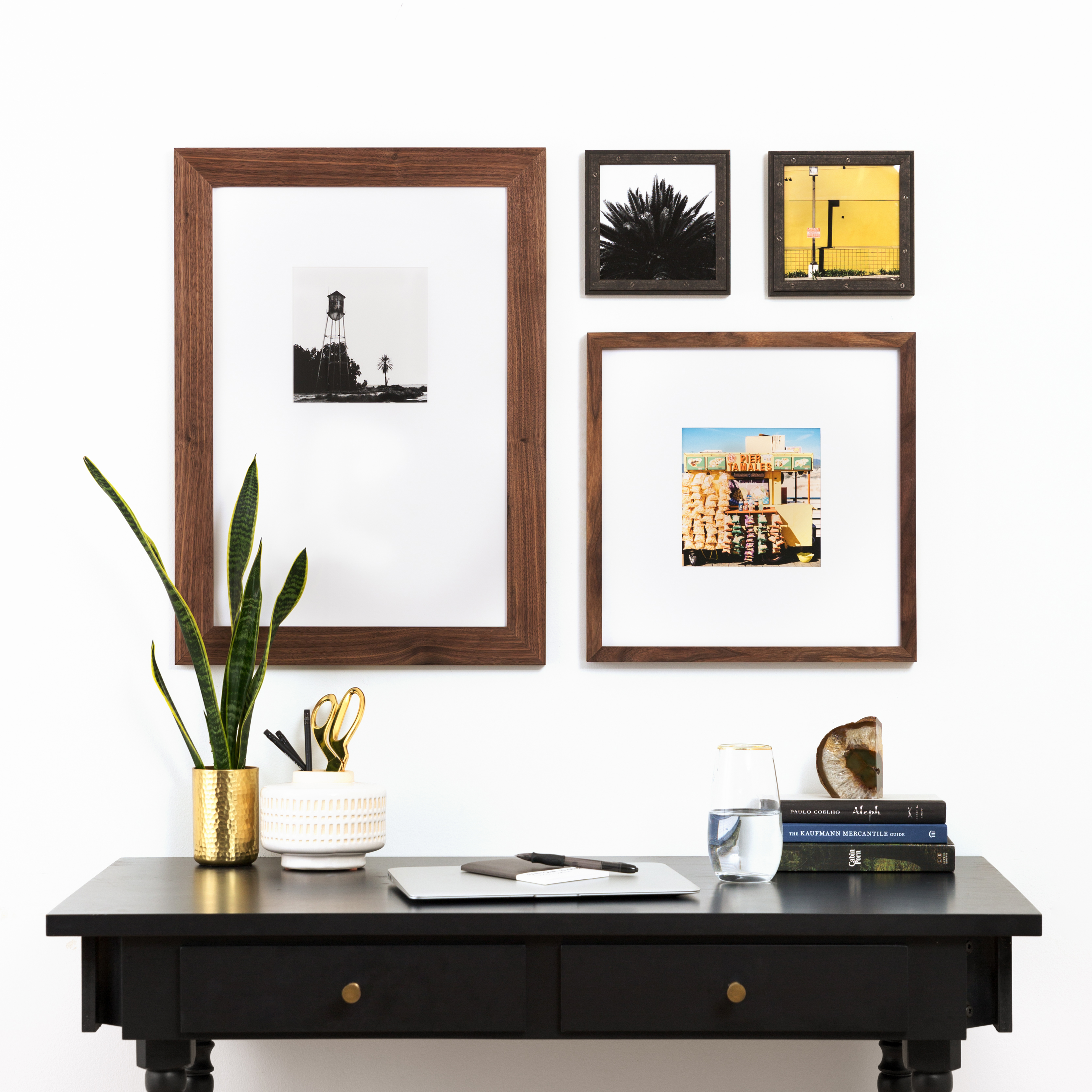 Dark Woods
What to Frame
Mix black+white and color photography. Because the frames are more neutral, you can mix black and white and color photos and it will still look great.

Playful images. This wall is a mix of natural and industrial frame styles, which opens up the options of what photos you pair with them. The best of both worlds!

Nature shots. The wood frames lend themselves to all sorts of photos, but we especially love pairing them with nature photography.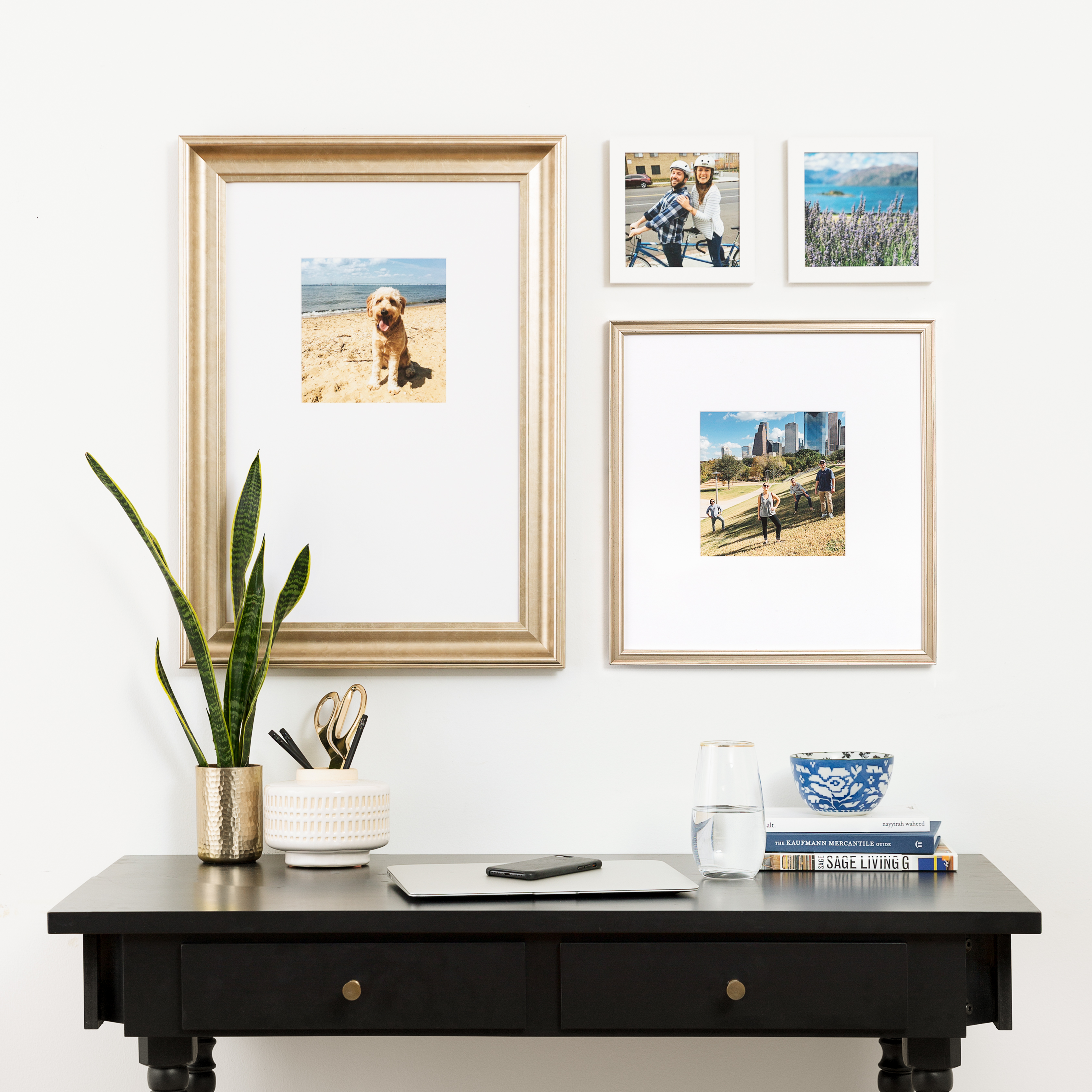 Champagne Silver
What to Frame
Softer photos. This combination of frames lends itself well to wedding and engagement photos. Don't be scared to mix in beloved Instagram photos of plants, landscapes, or pics from your travels.

Portraits. These frames (Newport and Bowery) are especially flattering for skin tones, so consider framing portraits. All about that glow!
An impressive and clean way to show off favorite small photos, Designed for 5" x 7" photos and offered in classic antiqued gold or black with gold detail, this set of nine 18" x 18" frames will make a major statement above a dining table, sofa, dresser, bench, or credenza.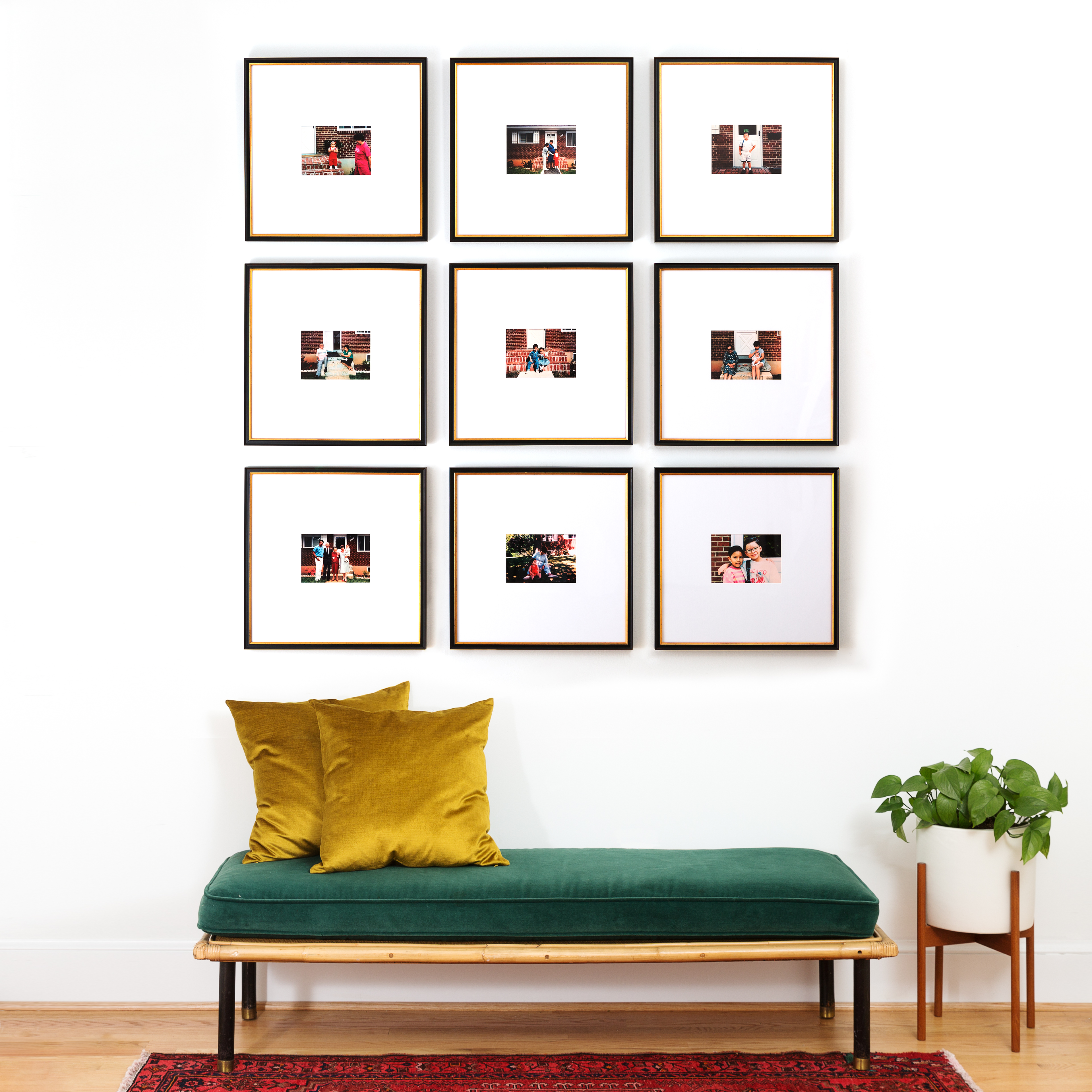 Black With Gold Detail
What to Frame
Family photos. It's perfect for family photos, old and new. Just snap pics of old family photos and upload them or choose from your phone's camera roll.

Architectural details. Travel photos are always a winner, but the classic black and gold profile works especially well with photos of architecture and other highly-structured images. How many beautiful ceilings have you photographed?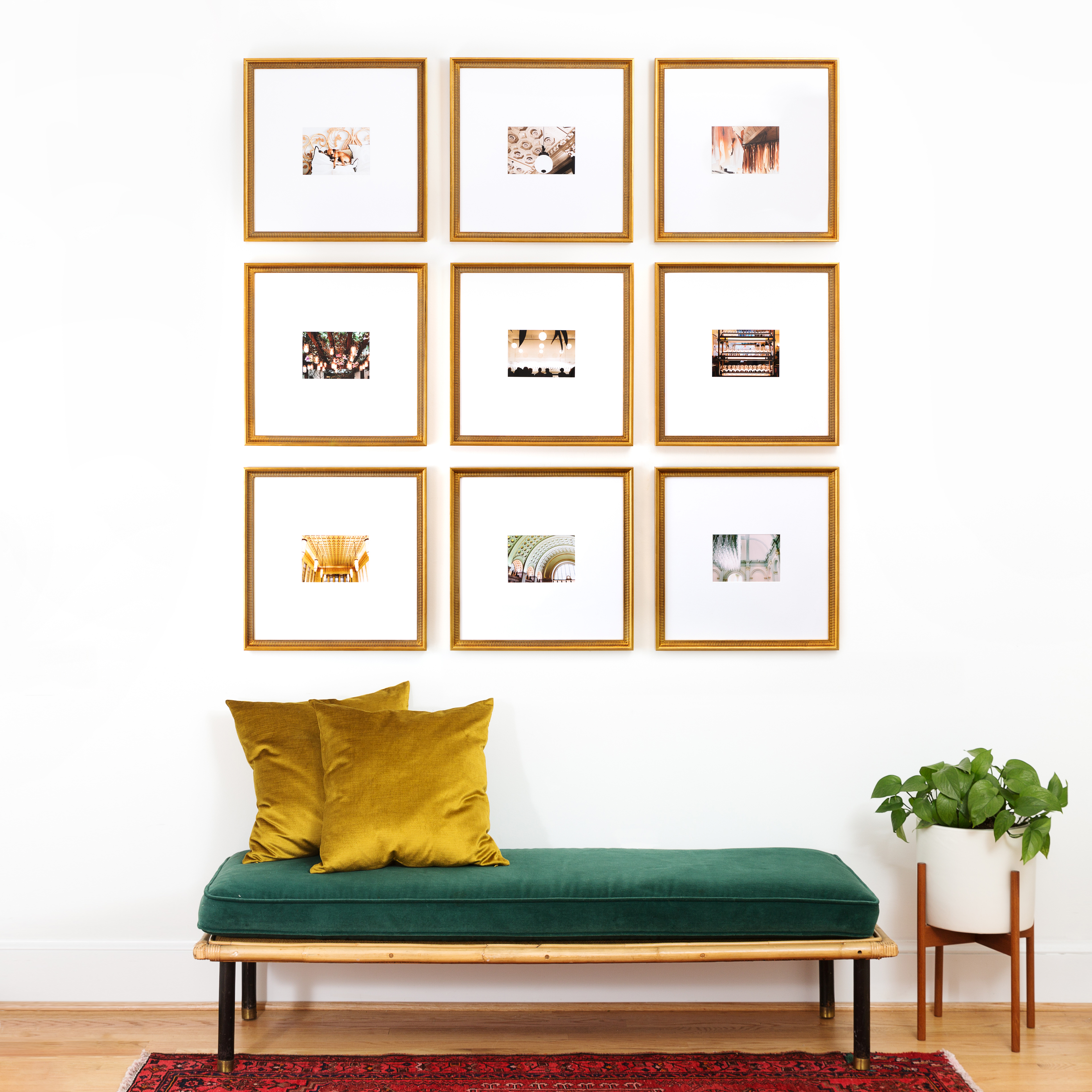 Antiqued Gold
What to Frame
Literally anything. You can do whatever you want in these. The frame styles and mats are forgiving. Try to keep give your palette some consistency, but don't worry about it too much. Just pick your top nine photos and go.

Modern, playful photos. Just because this frame style is more traditional doesn't need your photos need to be - embrace more playful, modern subject matter.
The Floor to Ceiling Grid gallery wall is a clean, sophisticated way to show off your photos with a big impact. Offered in modern white or champagne silver, this impressive gallery is soft in color and dramatic in size.
*Important: You need to have tall walls to make this arrangement work! It requires 105" of vertical space, which (with a few inches above and below) is about nine feet. Be sure to factor in any floor and crown moulding when you measure.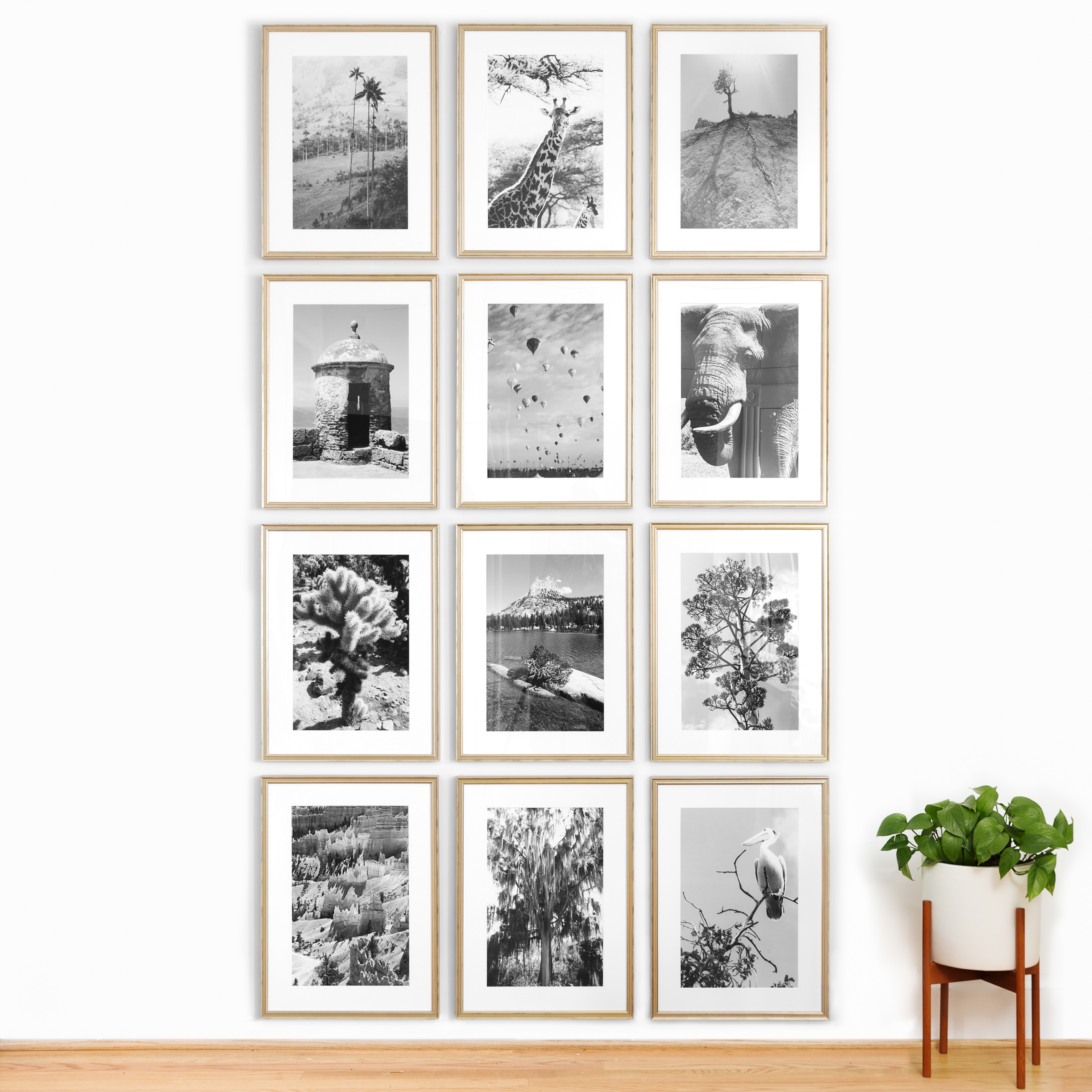 Champagne Silver
What to Frame
Portraits and family photos. Softer color palettes look amazing with our Newport frame. If you want a dramatic, gorgeous way to display your family photos, this is your arrangement.

Black and White. Really lean into the drama of a floor to ceiling wall with sleek black and white photos for a sophisticated look.

Travel photos. Let 'em shine as the centerpiece of your home. Pick photos with a high enough resolution to be printed large. We're not saying to take a trip just for the Floor to Ceiling Grid, but we're not not saying that either.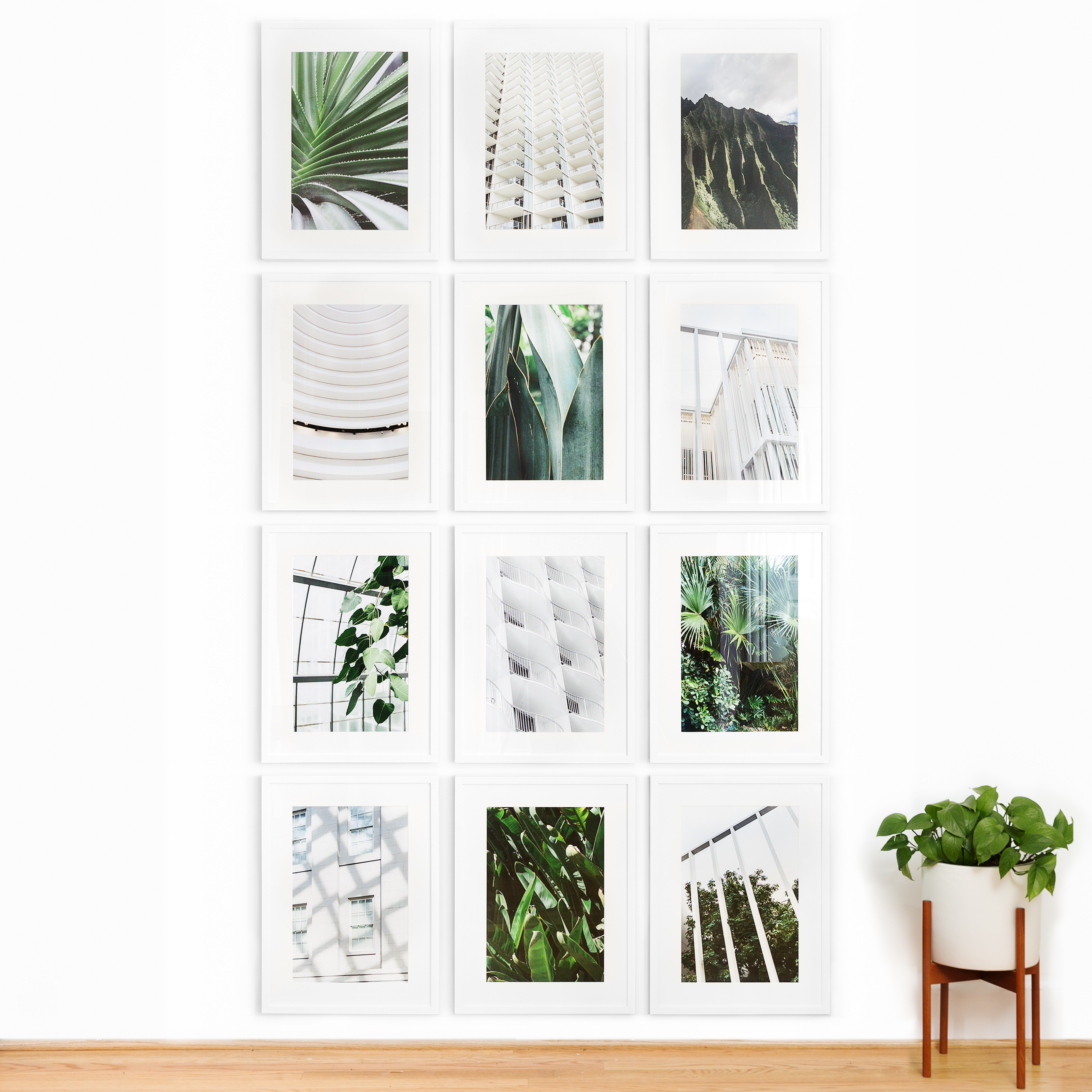 Modern White
What to Frame
Family portraits. Professional family photos are perfect for this wall, especially if they are all the same size and from the same shoot, lending some consistency to the color palette and light quality. Finally print and display all those photos your photographer gave you from your family shoot instead of just posting them to Instagram.

Black and white photography. If you have photos you love but that have competing colors, consider making them all black and white.

Photos that double as art. Pull out all the creative stops. Tall and commanding, this way is a great way to show off your personal photography or professional work. Nature and architecture are prime candidates.
Shop The Floor to Ceiling Grid


____________________________________________________________
You Might Also Like...