Framebridge Predicts: Top 5 Frames for 2023
We asked Team Framebridge (everyone from our CEO, to our custom gallery wall design team, to our retail store managers) the same question:
Which frames will be most popular for 2023?
Drawing on both our personal styles and the latest interior design trends, here are the top five frames we think will achieve "add-to-cart" status this year–plus ideas for what to frame in each.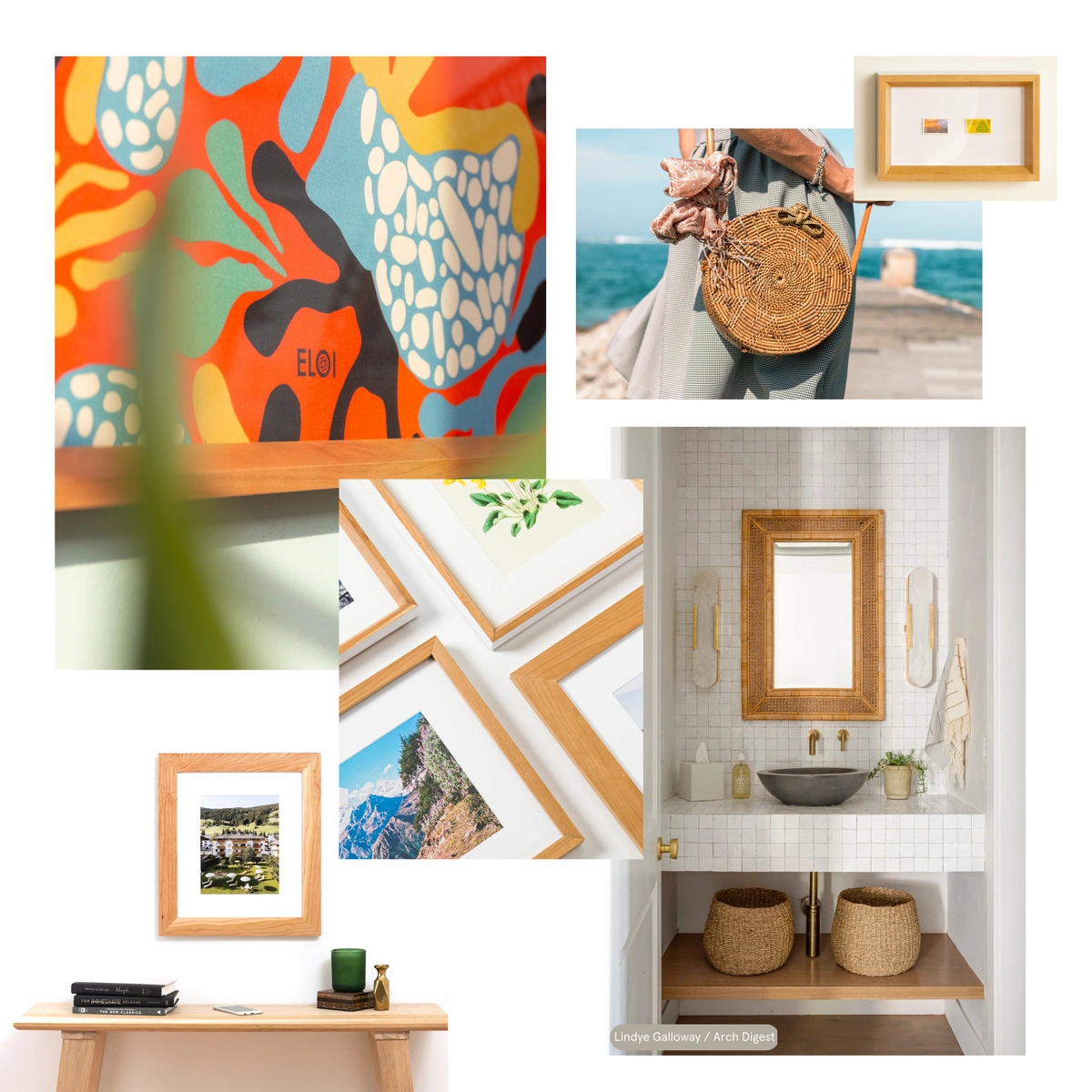 Frame details: Warm color, matte wax finish, part of our American Hardwoods Collection
Why we picked it: Just like with brass finishes, what's old is new again. And we're embracing cherry wood with open arms (and walls).
What to frame: Art or artifacts, particularly with green tones that contrast the warm wood nicely
"It's our only hardwood with a satin finish and it basically glows when the light hits it! One thing I love about Cherry is that the color becomes richer over time. I think, because it's a medium wood tone with a warm undertone, I could pair it with anything."
Juliette, Williamsburg Store Manager
Frame details: Saffron-colored, glazed, part of our Travel Collection
Why we picked it: 2022 saw a lot of soothing, neutral palettes. 2023 is bringing bright, statement-making decor back in a big way!
What to frame: Colorful art prints, vacation photos, travel souvenirs
"Agra is one of my favorites from our travel collection. The subtly glossy, saffron yellow finish adds a gorgeous pop of color that enhances some of my favorite travel photos, especially those with an ocean or sky focus."
Kate, Director of Merchandising
Frame details: Fluting, understated, layered gold tones
Why we picked it: Expect to see a lot of "gentle gold" for 2023, a softer adaptation of the classic metallic.
What to frame: Diplomas, modern art, family recipe cards
"Georgetown glows with a just-right, layered gold finish–not too shiny, not too dull. It's fluted detailing reads classic and traditional, but I personally love mixing Georgetown with more modern, original art for a glam mix of old and new."
Julia, Director of Product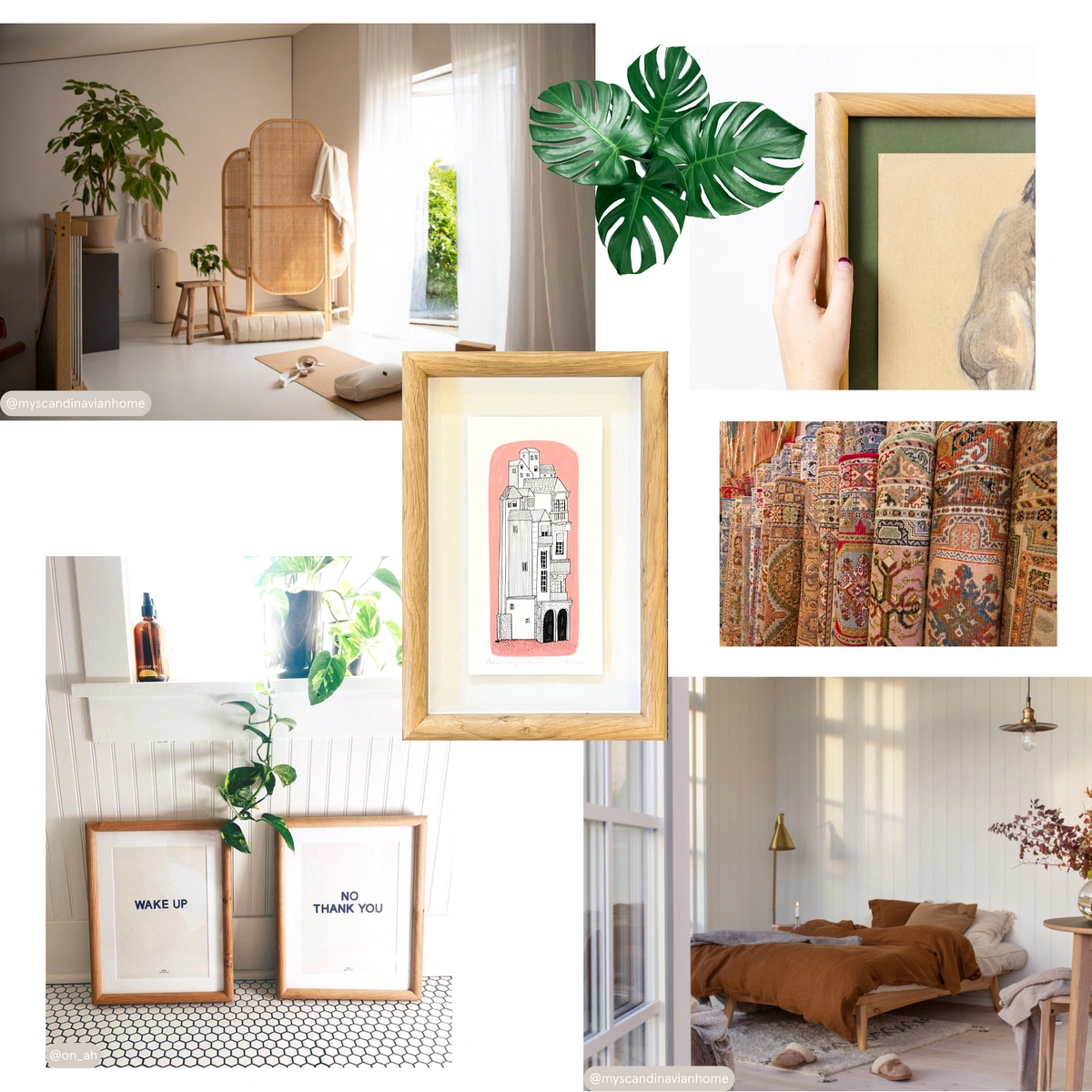 Frame details: Rounded edges, visible wood grain
Why we picked it: Burl wood had its first major moment in the 70s, and it's come back in a big way the last few years. Marrakesh is our first burl style with rounded edges for that California cool vibe.
What to frame: Typography, black and white minimalist art, anything with a colored mat
"It was love at first sight for Marrakesh and me. Its rounded edges are relaxed and the taupe undertones feel clean and effortlessly cool. I've framed a large watercolor and a hand drawn illustration in Marrakesh and both turned out beautifully."
Hailey, Content Strategist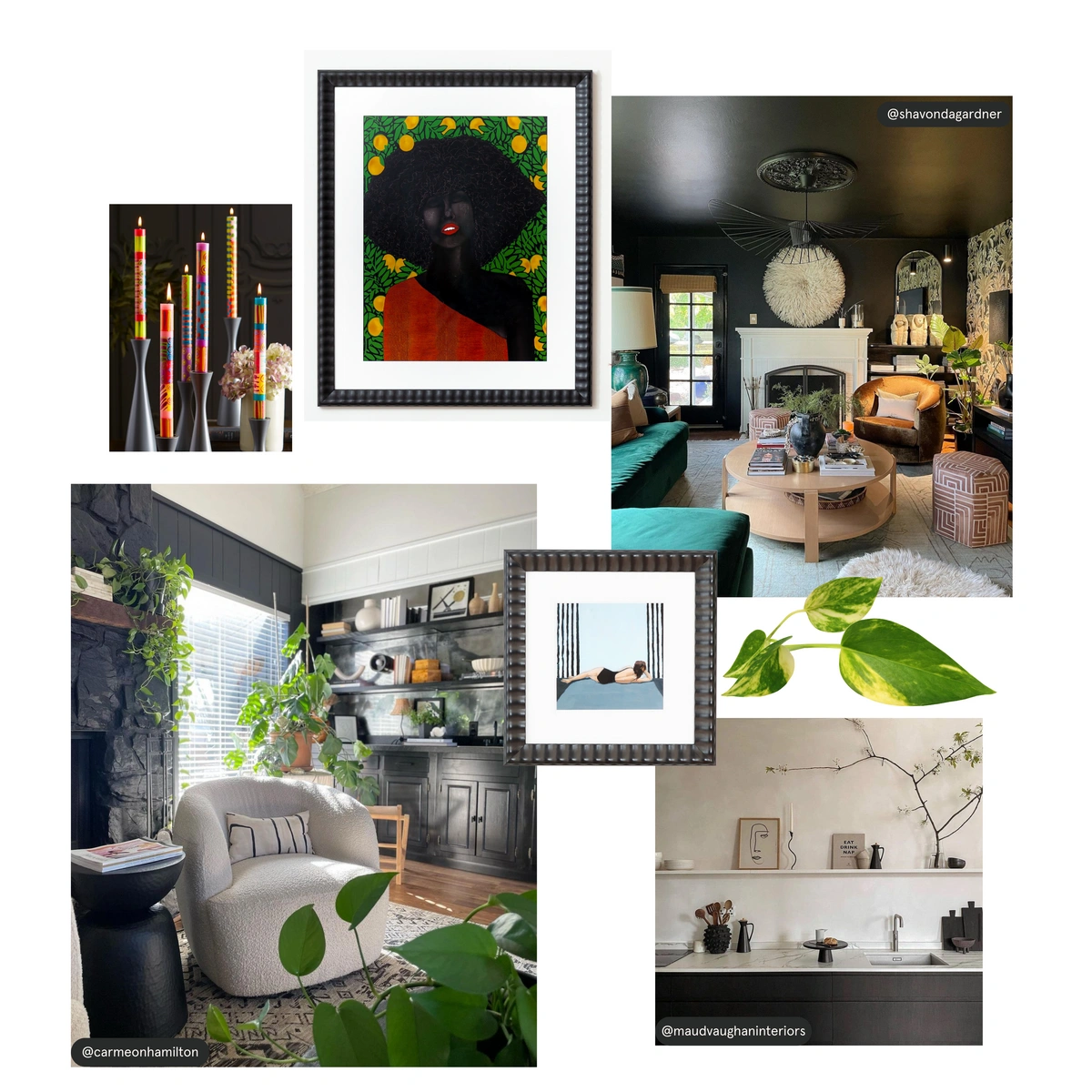 Frame details: Black, bold, wavy, rich
Why we picked it: Interior designers are moving away from minimalism and showing a renewed interest in more decorative styles and details.
What to frame: Geometric and art deco prints, black and white photos
"Rialto is the antidote to the straight line. It's simultaneously soft and bold, playful and rich. I love the ubiquity of it —it can work in any home and mean something different to everyone."
Susan, Founder + CEO