Where to Hang a Gallery Wall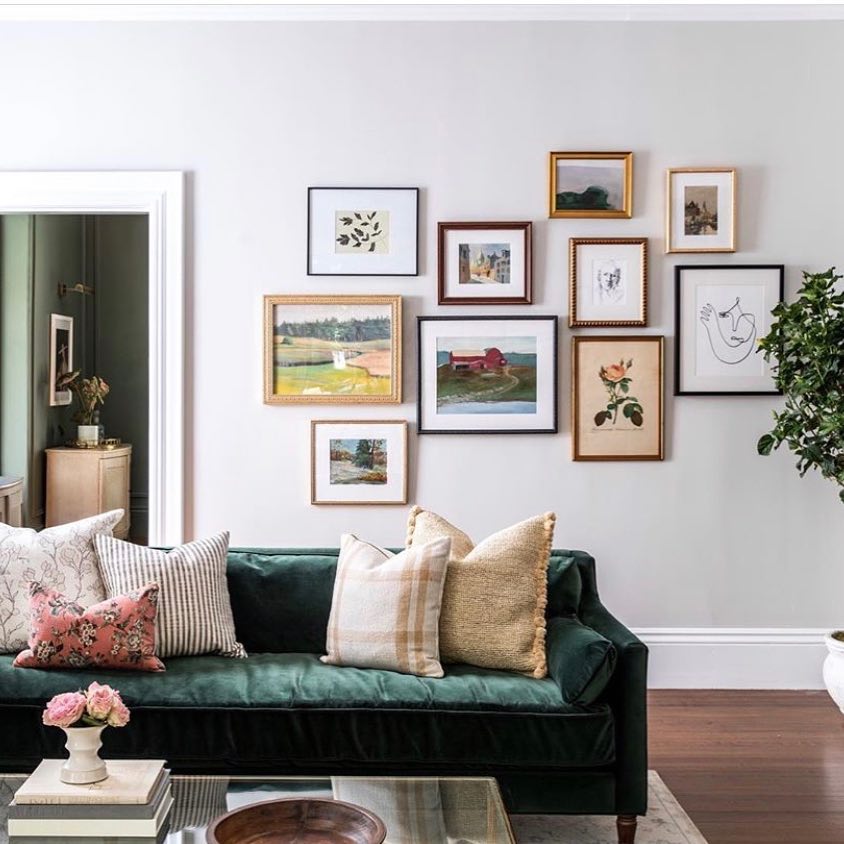 Gorgeous gallery wall from @em_rehabitat
We love gallery walls. We've noticed that you love them, too. Big gallery walls that make a statement or smaller ones that offer a way to collect distinct memories, perfectly organized ones that form a grid or others that are perfectly imperfect around the edges—there's a place for all of them.
But what's the right height to hang it? Can it go above the bed? How wide should the gallery wall be if the couch is exactly 82" long (ok, we get a little carried away here.)?
We aim to answer all of those questions and many more by providing words of wisdom and frame recommendations for different locations in your home. Framebridge can help you frame photos, art and objects, in groupings and layouts that make a collection of frames into a cohesive collage, thoughtfully displayed.
Whether you choose one of our pre-designed gallery walls, or work with a designer to create your own, we're here to help you create a magazine-worthy statement and check one (big) thing off your list if you're getting your home ready for the holidays (is it that time already??).

We have thoughts on gallery walls:

Gallery Walls for the Staircase
There are three places you can focus on when getting a gallery wall for your staircase: the top of the stairs, the bottom of the stairs, and on the wall going up the stairs.
We're big believers in celebrating achievements around here and, as corny as it sounds, there's something to the idea of having a celebratory gallery wall at the top of your stairs. It says, "You made it!"
When planning out your gallery wall for the top of the stairs, it should be about as wide as your staircase. If your wall is directly in front of the stairs, this works perfectly and makes for a dramatic entry. If it doesn't, you have a little more room to be creative.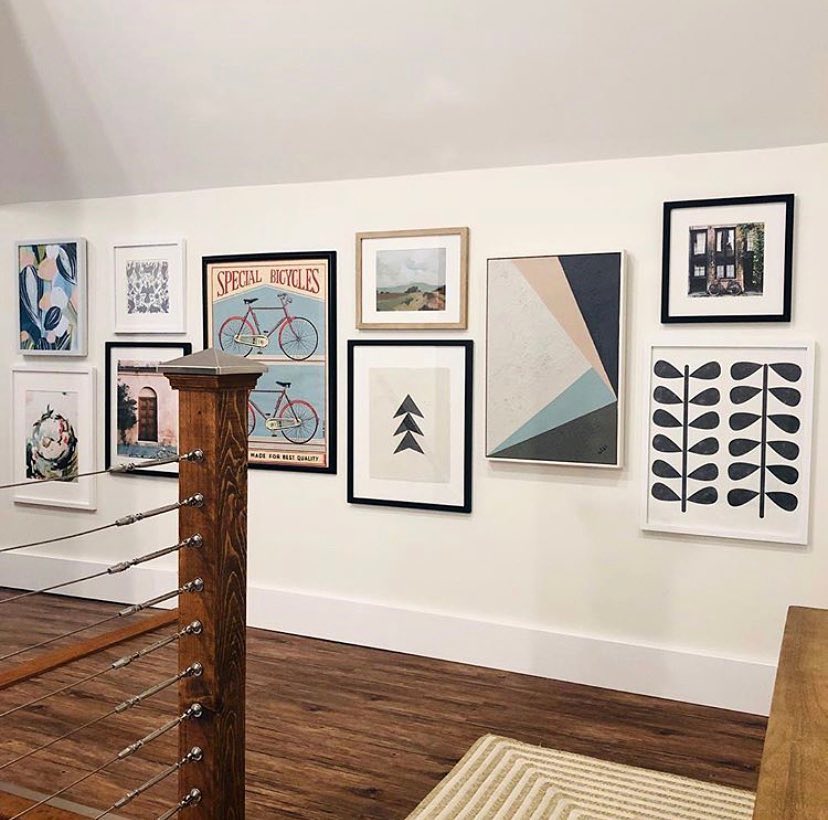 How to fill a wide space at the top of the stairs. Custom gallery wall for @ivoryslate
If you have a wall at the bottom of your stairs (think basement), the same thought applies: the gallery wall should be about as wide as your staircase.
Creating a gallery wall that goes up the stairs is the most challenging, but also most striking, option (we're kind of partial here 😉). A few things to think about:
Your gallery wall should ascend at the slope of the stairs. You don't need to break out the protractor or anything. Eyeball the slope and follow it with a piece of painter's tape along the length of the staircase, then build your frame layout around the tape.
You can also imagine a line coming straight from the upstairs floor out onto the wall. This is where the middle of the full design should be. Again, making that line yourself with painter's tape is a useful move.

Both of these concepts are displayed in our pre-designed gallery wall, The Up the Stairs (pictured below). If you choose this option, we'll send you a life-size hanging guide you can tape to your wall (the painter's tape will still come in handy to ensure you align it at the slope of your stairs). It will show you where to hammer in the nails, and voila!—the staircase becomes a place to linger. This is a wonderful spot for family photos, seen most often by loved ones living in the house, but also as a destination showpiece when guests come over.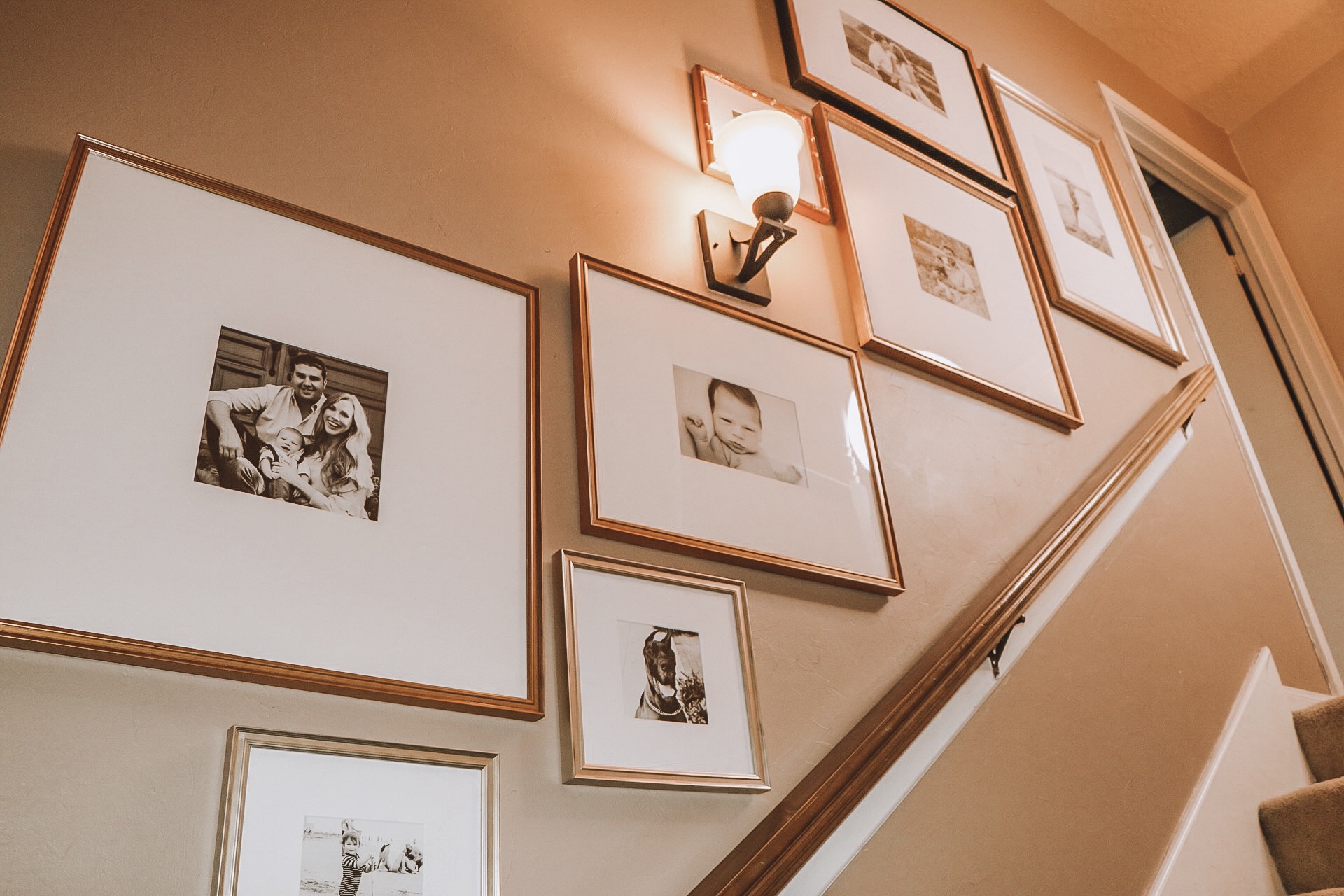 Staircase from @mrsbritnyrobinson. Shop the Up the Stairs look.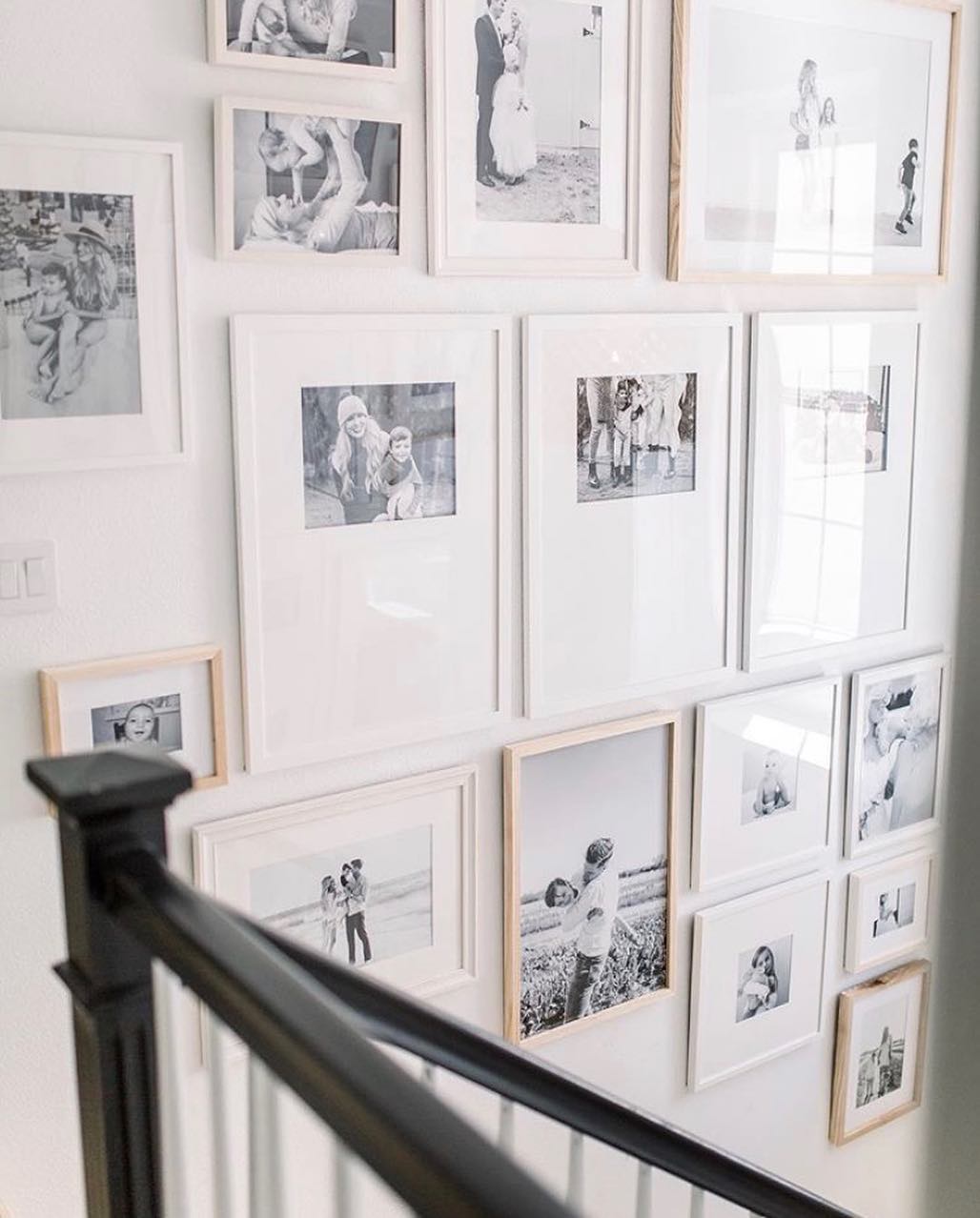 Custom gallery wall design for @sapphirediarie's staircase. Features Irvine Slim white frame, Cherry, and can you spot White Triptych?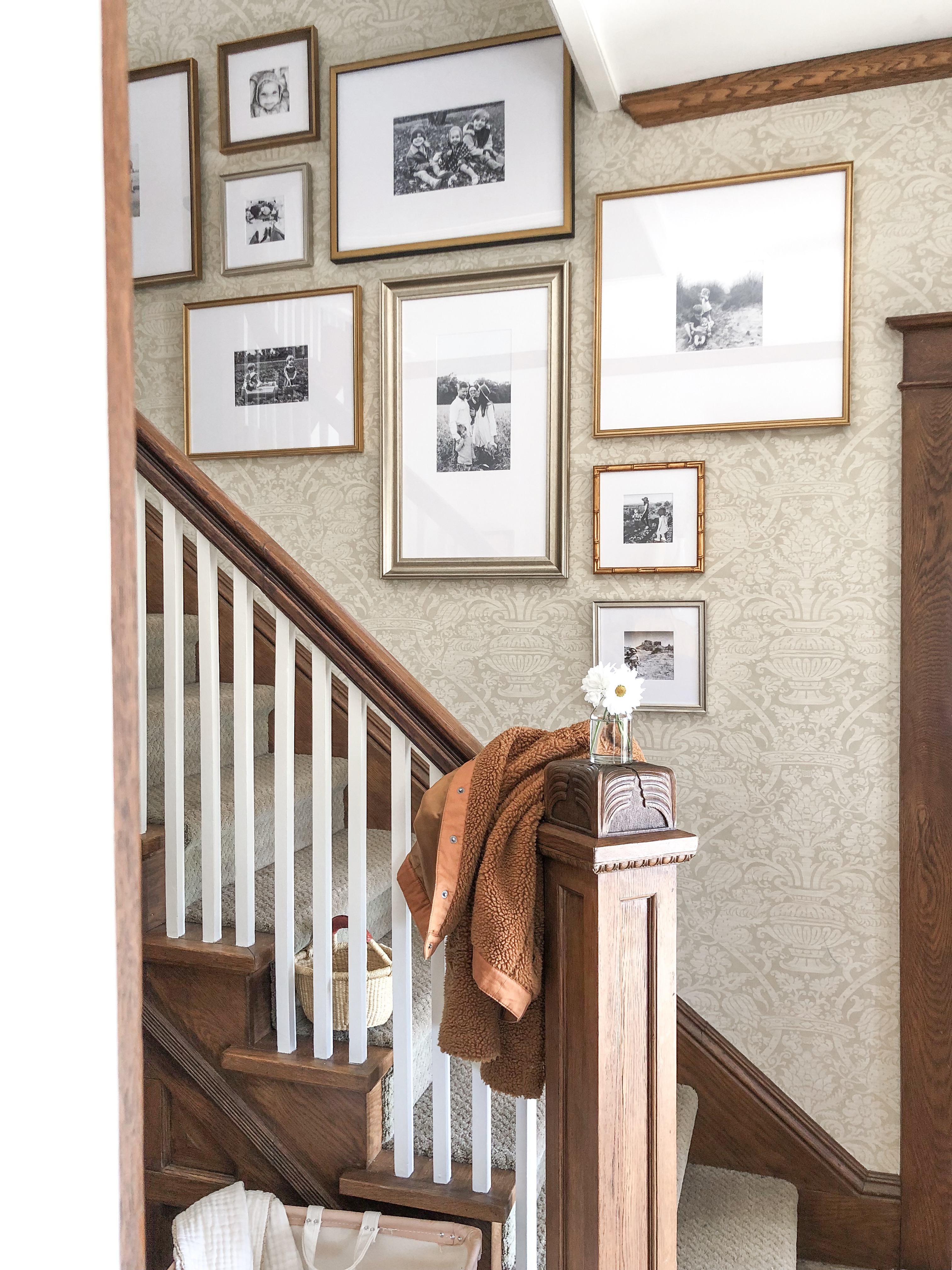 Staircase from @lindseybadenhop. Shop the Up the Stairs look.
Insider tip: we've seen some creative folks "hack" the Triptych—our most popular gallery wall often hung above a bed or a couch—for the stairs. You can stagger the three frames on the slope of the stairs and spread them out a bit more than you would when hanging them at the same level. Simple and elegant!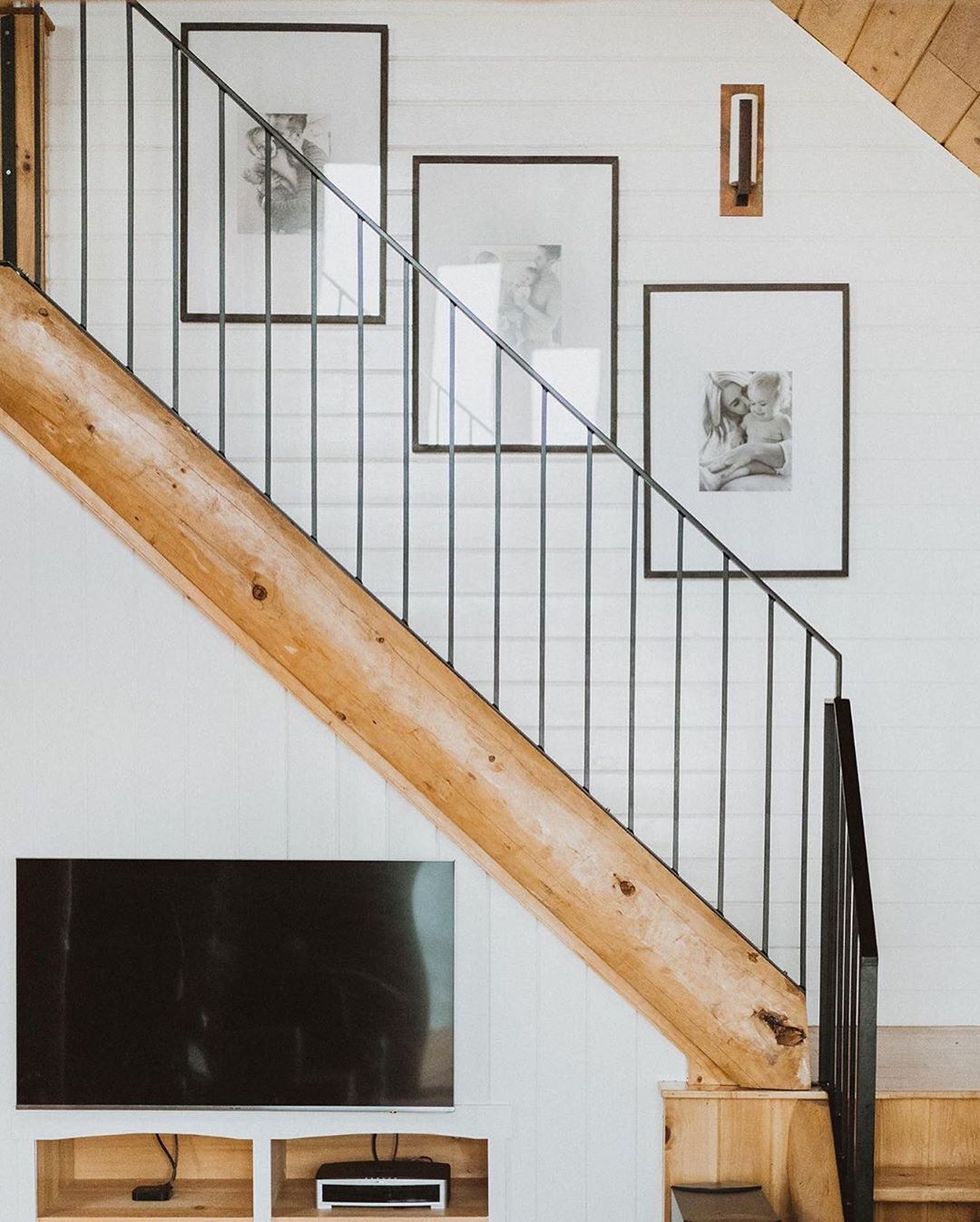 Perfect slope in Hardwoods Triptych from @jennakutcher. Shop the style.
Gallery Walls for the Living Room
The living room is the most popular place for a gallery wall. Not a huge surprise since we all spend so much time there and it usually has the biggest walls!
Living room gallery walls are great for above a couch or a sofa. Here are some things to think about when hanging a gallery wall above furniture:
If you're starting from scratch (or have the blank walls to work with), make your gallery wall visually frame your biggest piece of furniture. The wall catches the eye, the sofa catches your guest, and everybody is happy in your gorgeous living room.

As a general rule of thumb, the gallery wall should be about ⅔ the width of the piece of furniture it is going above. So if your couch is 80 inches wide, look for a gallery wall that is roughly 54 inches wide.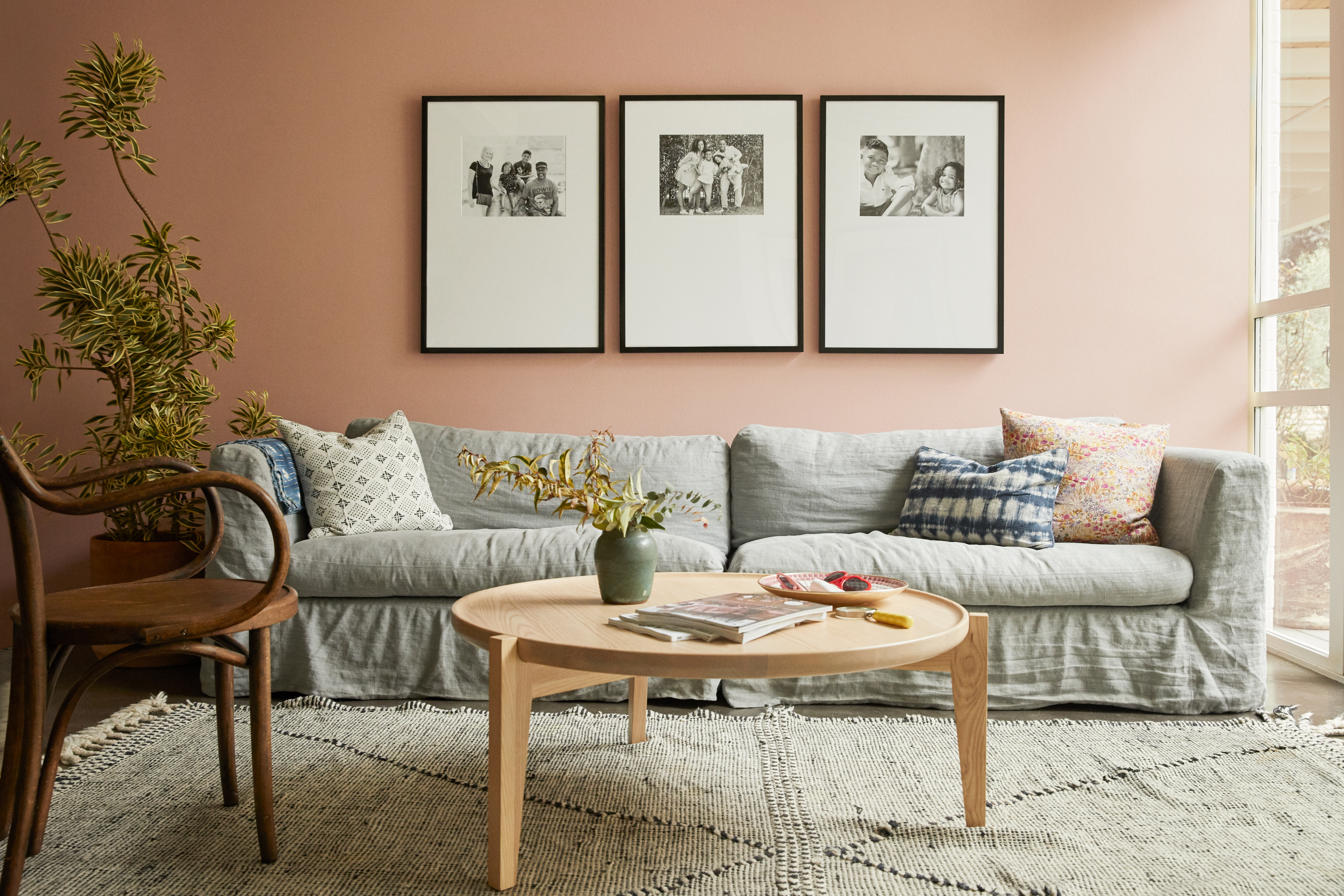 Nothing beats the Triptych—the Internet's most popular gallery wall—in your living room. Shop the clean, editorial look.

Are these rules hard and fast? Not at all. The most important rule to follow is: "If you love it, go with it." Looking for more tips on the right height to hang your art? Visit this page.
One of the @brownstoneboys admiring their Endless Organic Gallery Wall. Shop the eclectic look.
If you're working with less wall space, like near the TV or next to doors or windows, there are narrower gallery walls that may work best (like The Stack, or The Mini Tall).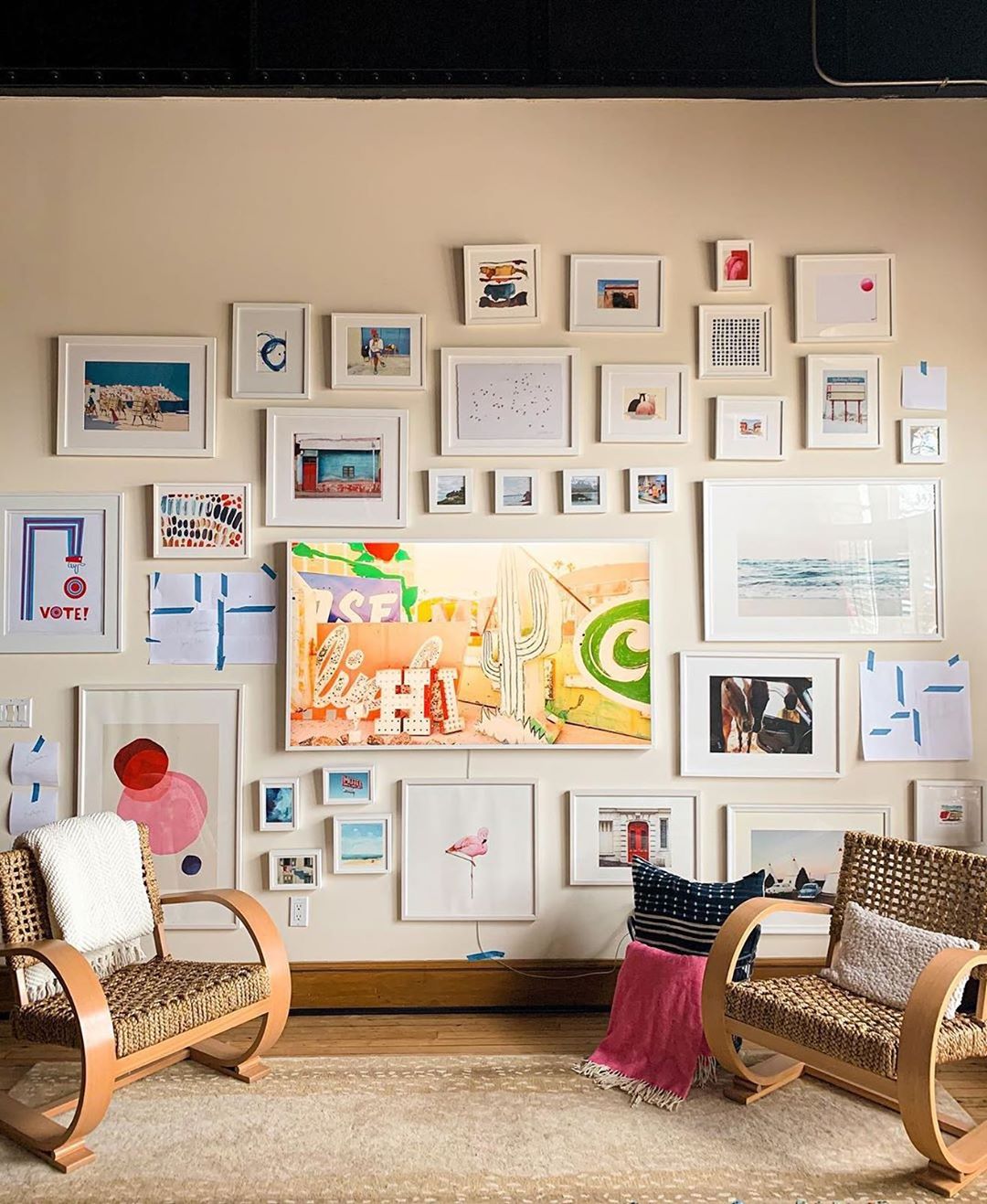 Different styles, consistent color. Custom gallery wall for @kelizheck.
Gallery Walls for the Bedroom
The bedroom is your private sanctuary—the art on your walls should make you happy when you get up and before you head off to dreamland. It's a perfect place for a gallery wall that features photos really special and personal to you—like wedding photos.
Above the bed is a prime spot for a gallery wall. Many of the same general rules of thumb apply to hanging above a bed as they do to hanging above a couch or a sofa:

Aim to hang the gallery wall to be about ⅔ the width of the bed, and about seven to ten inches above the headboard. Same thing for a bedroom dresser, desk, credenza or valet stand (if you're fancy like that).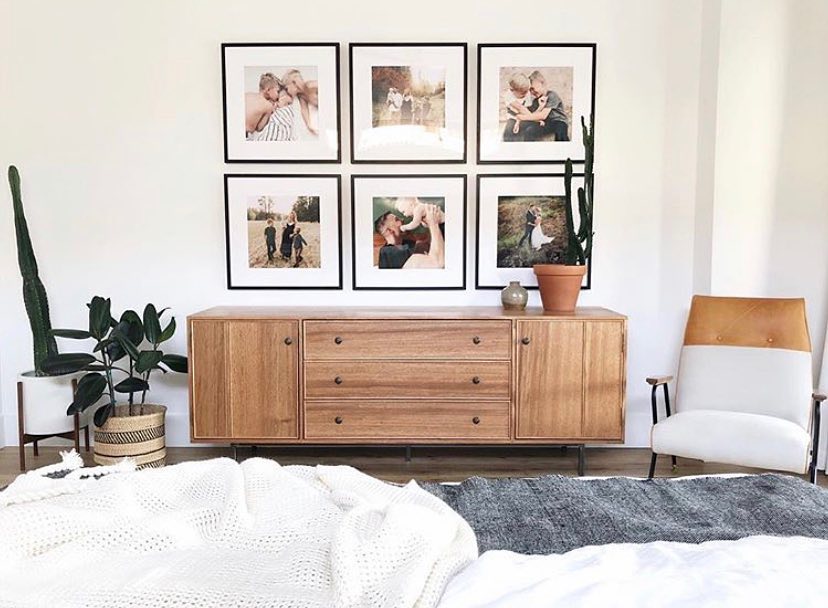 Custom gallery wall for @price_landing over the dresser.
We know beds come in all different sizes, so we've designed the King and Queen Triptych. Each of their life-size hanging guides correspond to the sizes of those beds.
Another very popular above-the-bed option is our Wide Organic, a casual layout with loose edges that gives a feeling of an ongoing collection. A look certain to instill sweet, wandering dreams.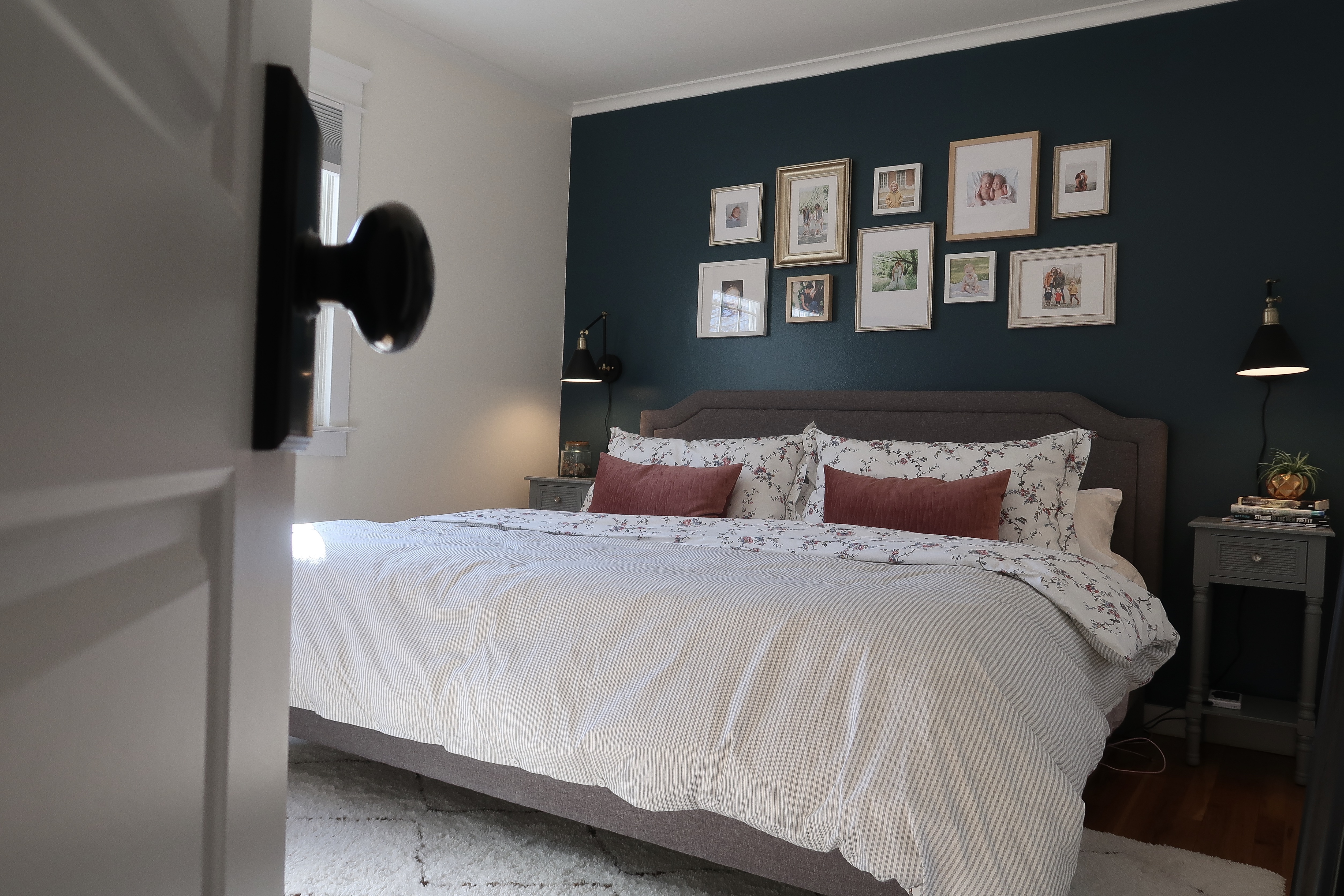 Bedroom from @livingrosa. Shop the casual, collected look.
Of course not every bedroom gallery wall is necessarily above the bed. There's often a wall next to the bed, which can be a tricky spot, often overlooked. Why not try the Hardwoods Cozy Organic? It's a gallery wall that packs a lot of punch for a compact space. We love The Column, too, for a tight space by the nightstand.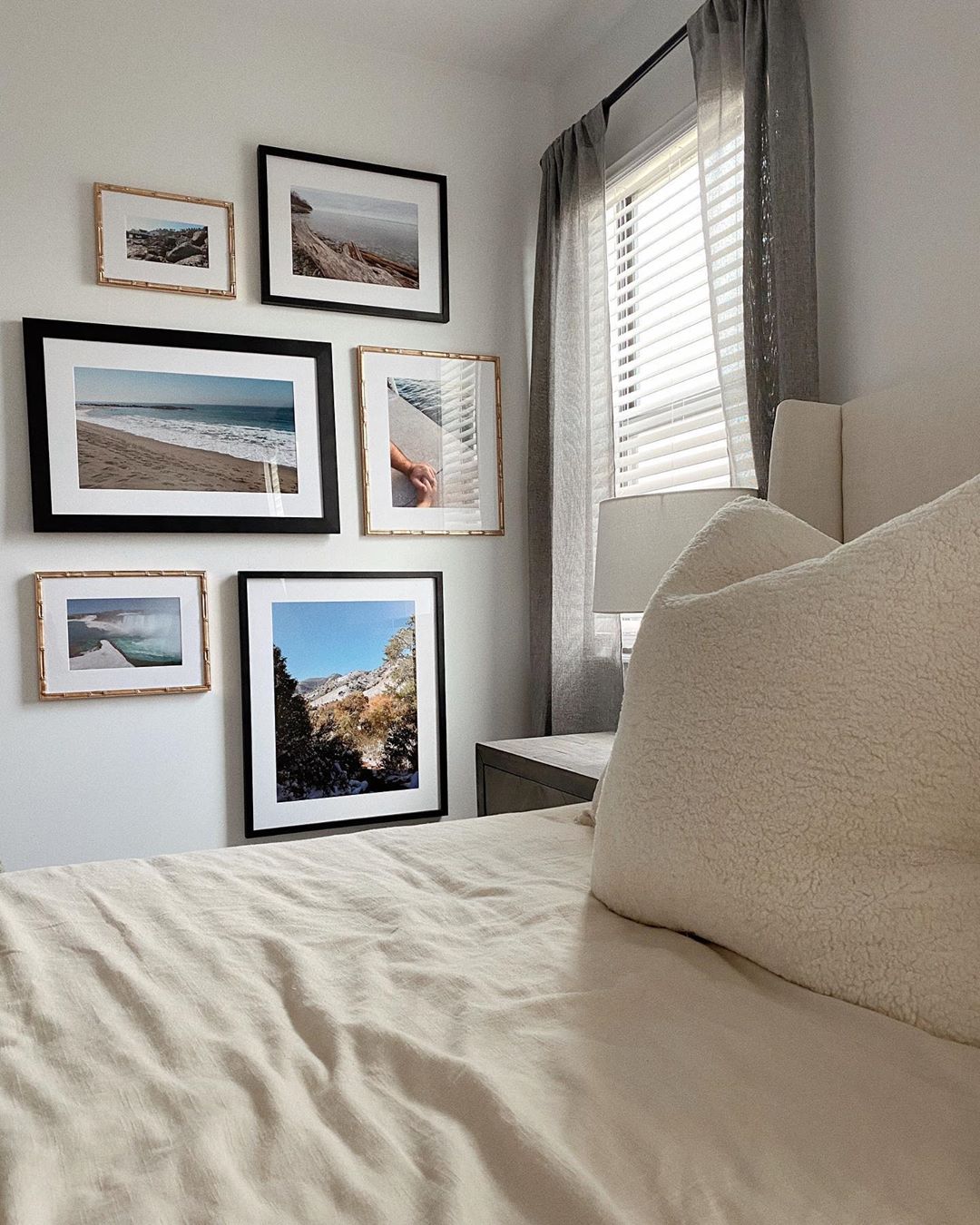 Filling the wall next to the bed with @fivefootoneteacher and the Hardwoods Cozy Organic. Shop the gallery wall that packs a lot of punch for a compact space.
Gallery Walls for the Dining Room
Good food, good company, and something beautiful to admire? It's no surprise that the dining room is one of the most popular destinations for a gallery wall showpiece.
With a table floating in the middle of most dining rooms, it is almost guaranteed you'll have a large, open wall, prime for a gallery wall. We recommend some of our larger options, that go from the floor all the way to the ceiling, like The Floor to Ceiling Grid (makes sense), or others that are close, like The Endless Organic or the Half Wall Grid.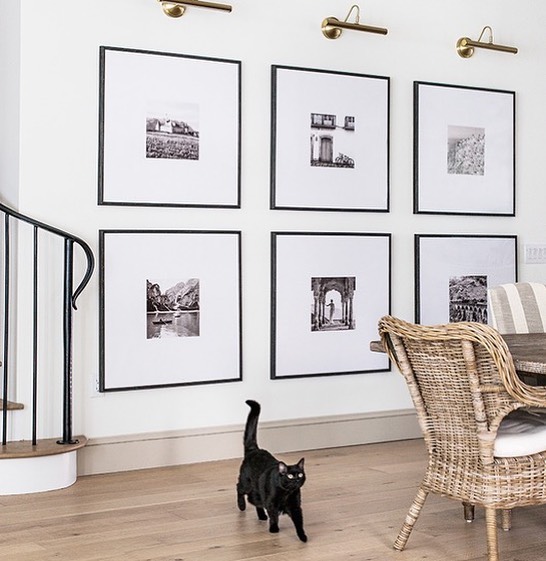 Stunning custom gallery wall for @jennasuedesign featuring Bolton, black frame. Meow.
You'll want a real conversation starter, like these stunning family photos in The Wide Grid in @jessicaingridcollier's dining room. Who's ready for Thanksgiving?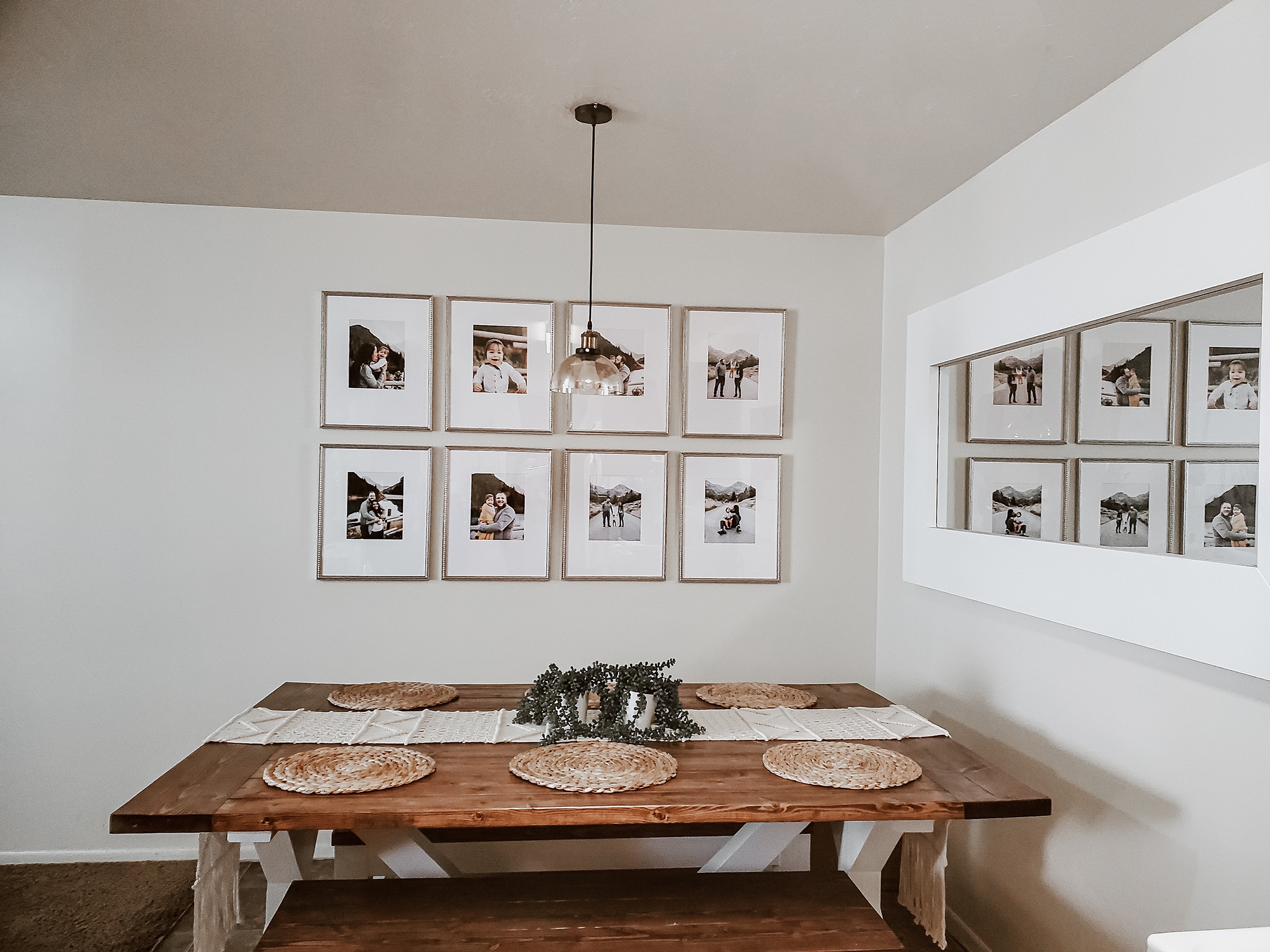 Gallery Walls for the Hallway
Oh the hallway, not quite a room, more like the in-between space that gets you from one to the other. However, their length and wall space make them a great spot for a gallery wall, and can turn them into a place to stop and take a look. You just might find yourself spending a lot more time there.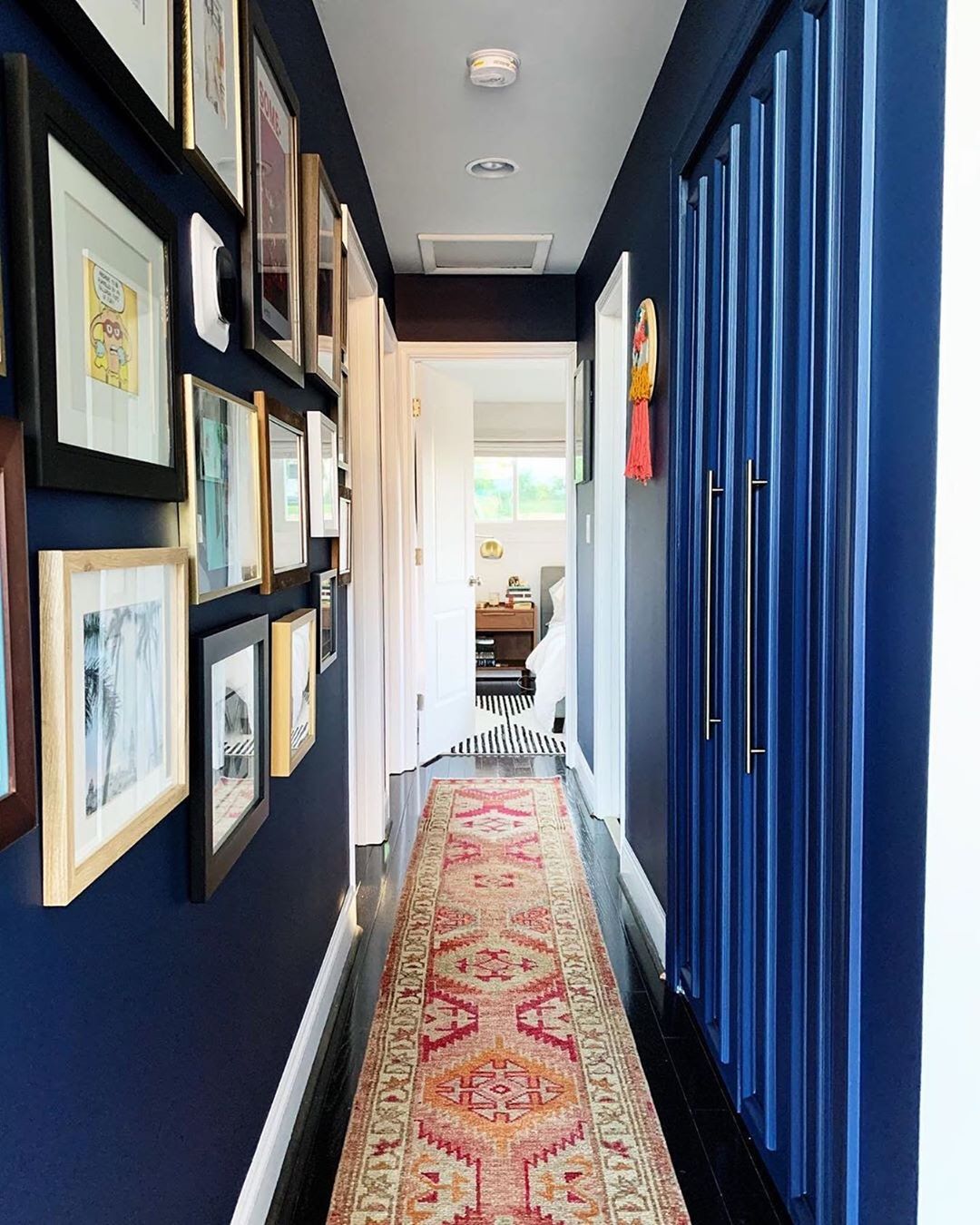 A great place to hang. Custom gallery wall for @monicaweeks.
While there may not be a lot of other furniture in a hallway, we recommend hanging your art so that the vertical center (the middle of the frame) is 57" (inches) above the floor, or at your eye-level. Check out our other tips on hanging art.
There are a ton of great, long options for the hallway space like The Triptych, The Wide Organic, The Line.
We love what @nhieguys did with their Hardwoods Triptych—talk about turning a hallway into a destination!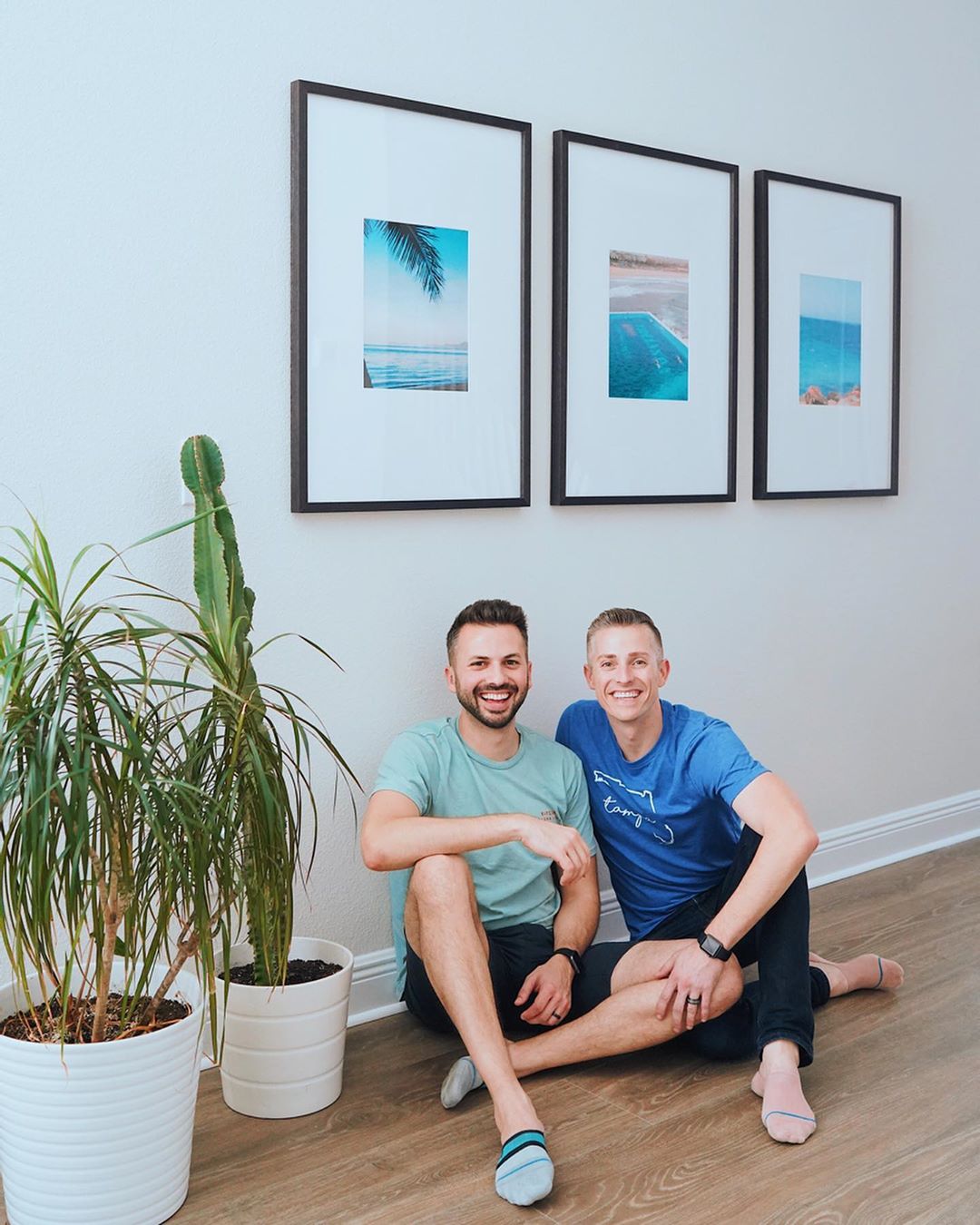 Another insider Triptych tip (say that three times fast...):
For longer hallways, try spacing out the Triptych more than the hanging guide suggests; or, if you're really going for it, TWO Triptychs (six frames)! But don't take our word for it, see below from @devon_grace_interiors.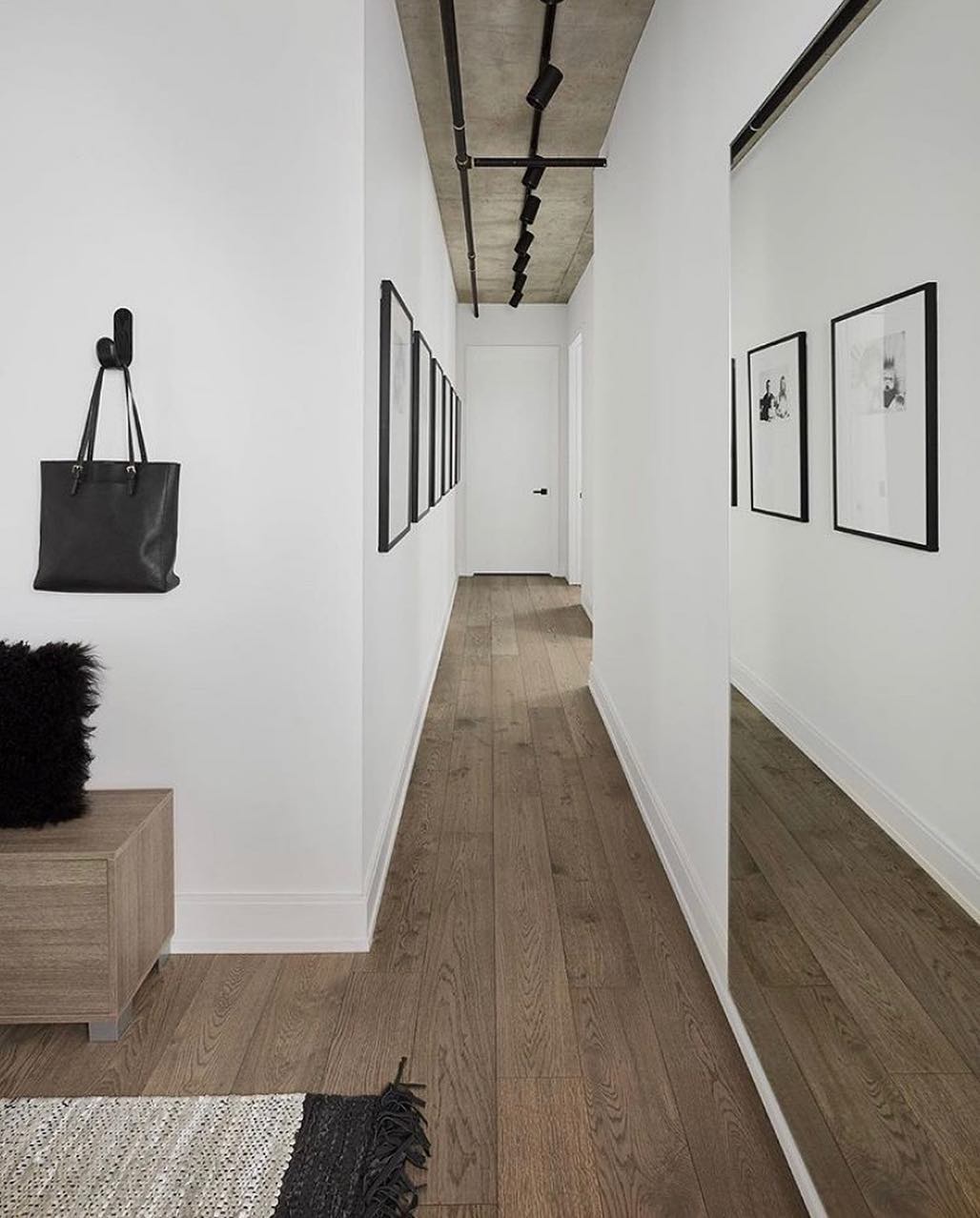 Gallery Walls for the Home Office
There are two things to think about when choosing a gallery wall for an office. First, what do you want to look at all day? Second, what do you want your coworkers to look at on a video call? With so many people working from home these days, these are important considerations when you're designing a home office. Good news: gallery walls satisfy both!
Whether you have your desk against a wall with a gallery wall above it, or out in the open with a gallery wall behind it, choosing a gallery wall that takes up a big portion of space, but still allows for furniture beneath it, is a great option. We recommend The Wide Grid, the Half Wall Grid, or the Mini Grid.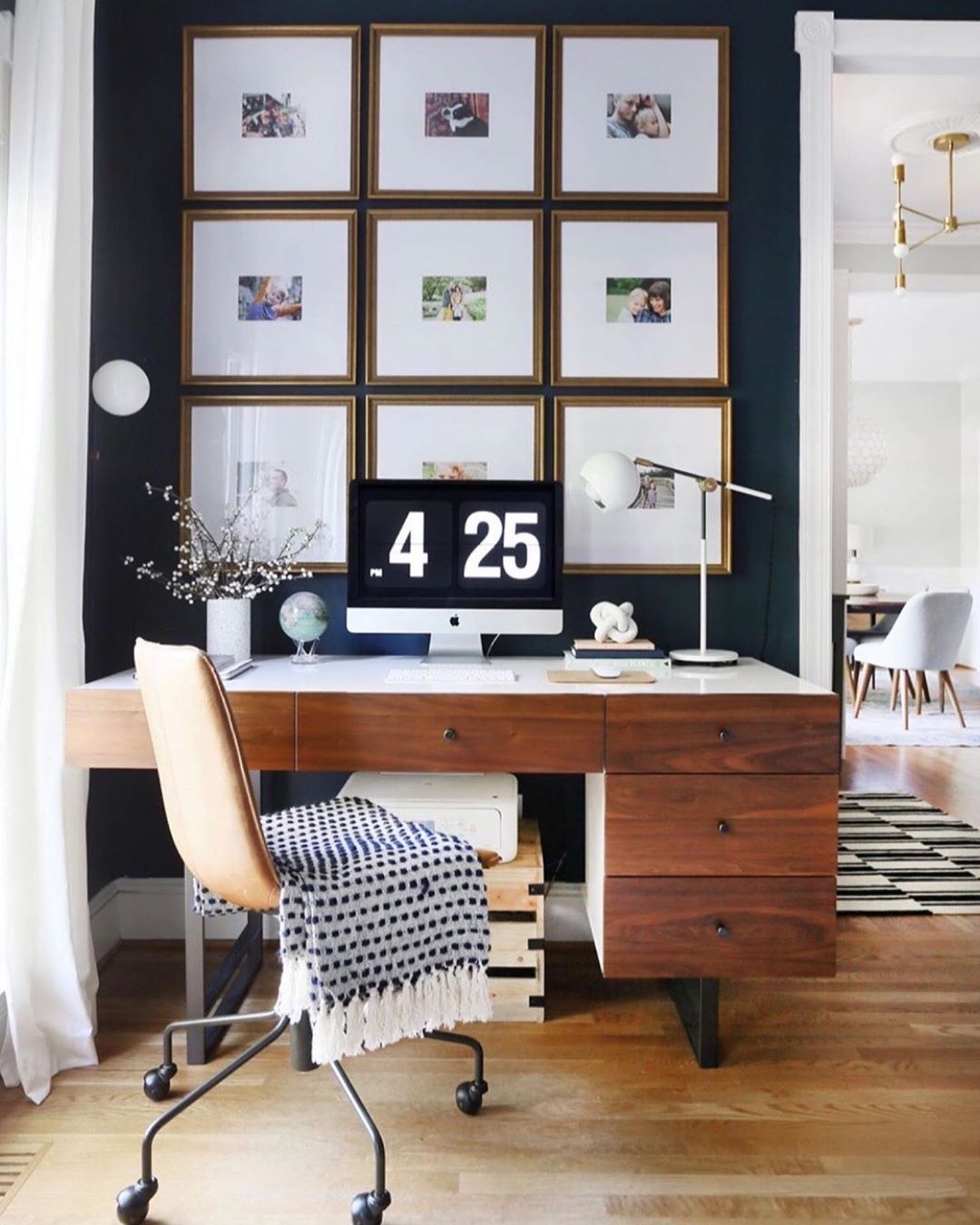 Office from @sunnycirclestudio, Half-Wall Grid in Gold. Shop the sophisticated look.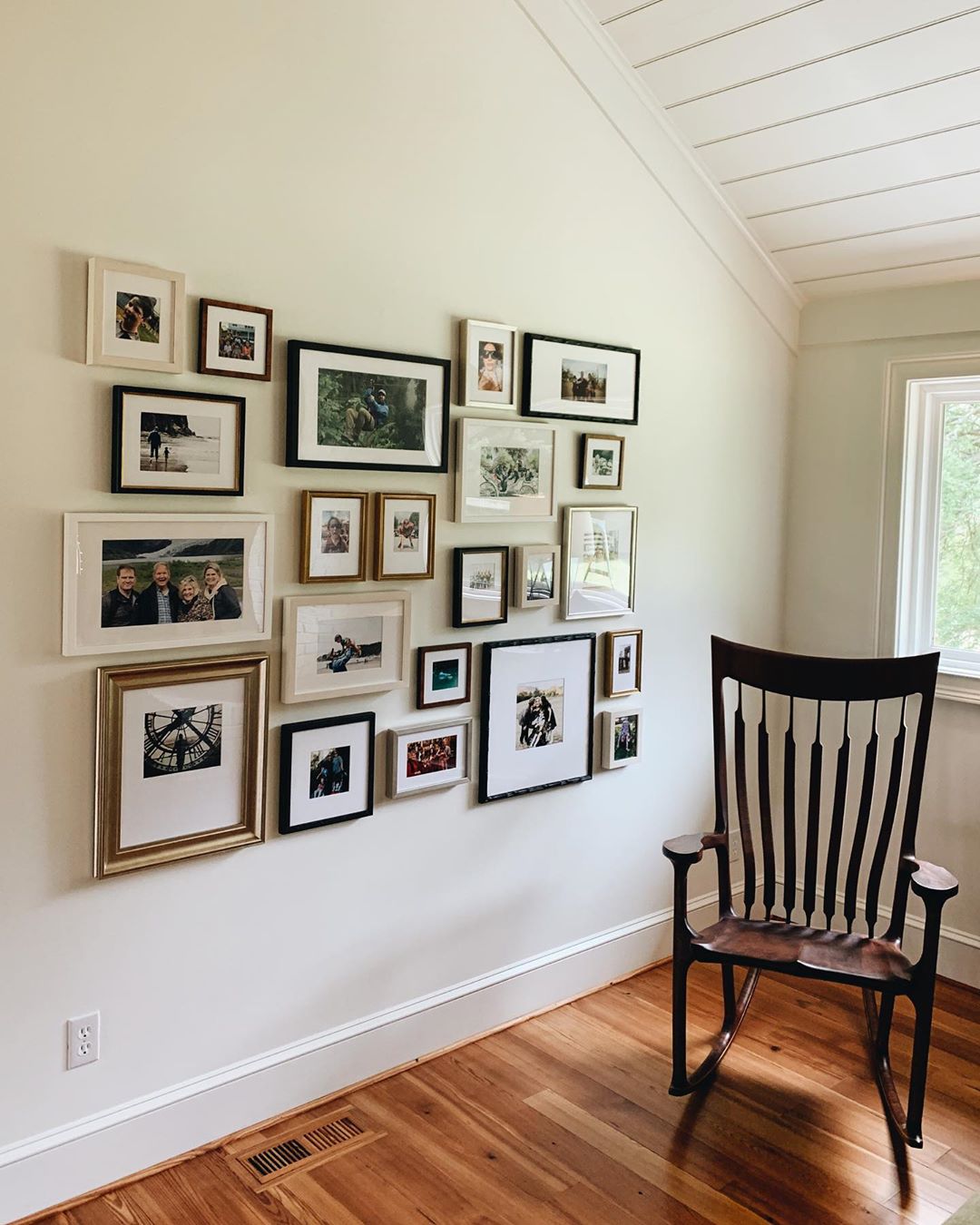 Endless Organic on an office wall from @roxyvhall. Shop the eclectic look.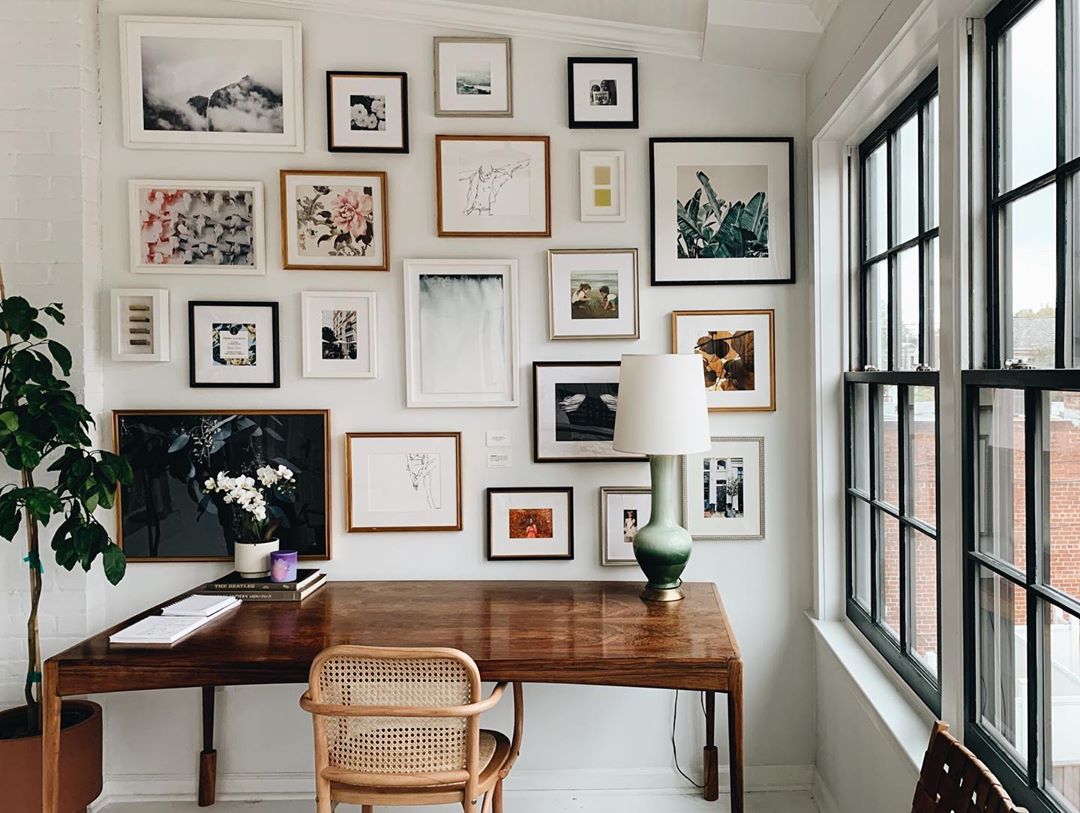 We bent the rules a bit on this breathtaking office design. See this video for How to Hang a Gallery Wall Without Measuring.
P.S. Our designers are here to help you with our Gallery Wall Consultation Service if you want to customize a wall to incorporate your framed diploma!
Gallery Walls for the Corner
Don't cut corners—make them a designed space!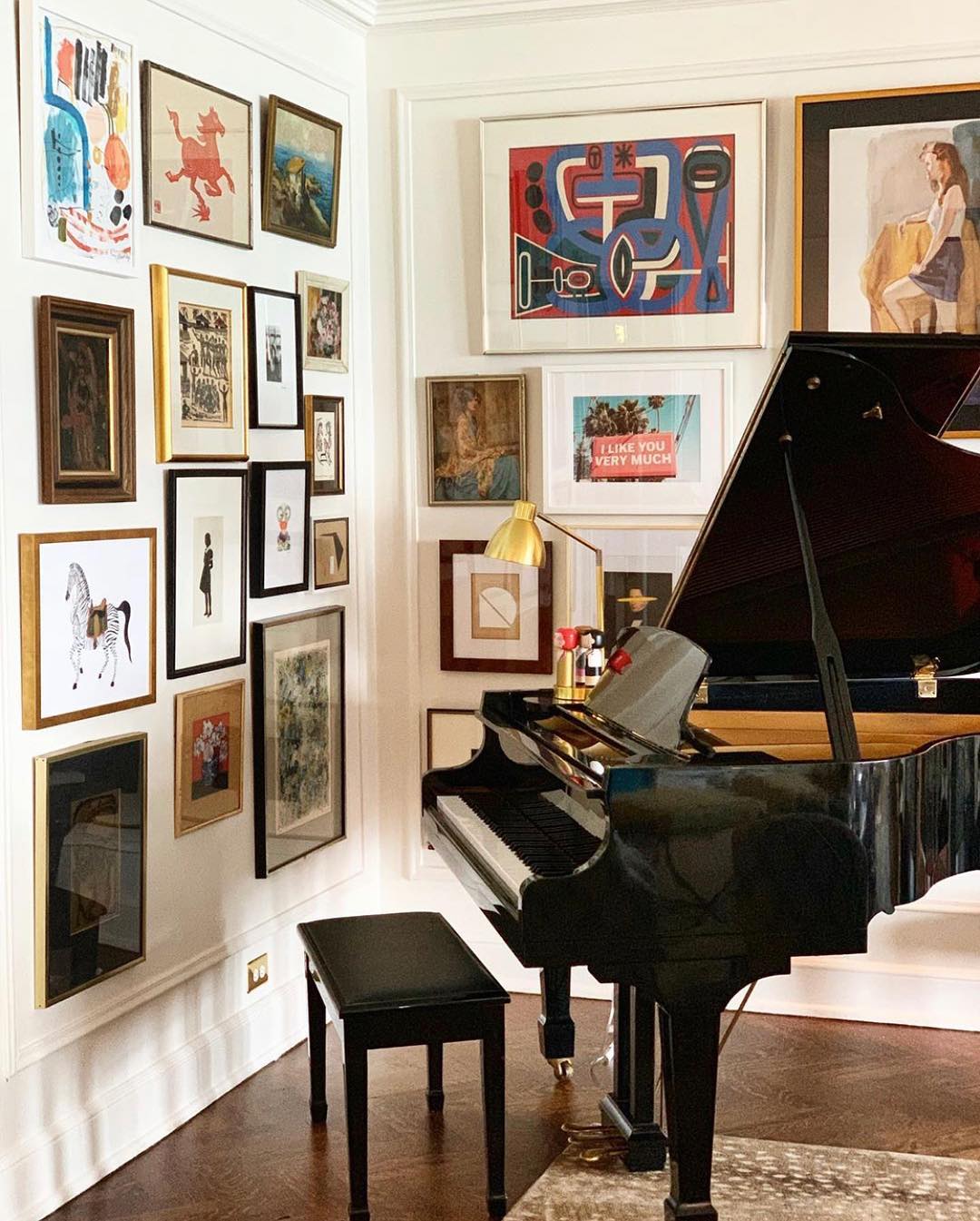 This custom gallery wall for @m_m_interior_design is music to our ears.
People have been filling corners creatively for a longtime—chairs, plants, bar carts, bar carts with plants. You get it. If your corners aren't suited for an entire gallery wall, sometimes one well-placed frame suits the space.
However, if you do have room for a gallery wall, we have a couple of recommendations:
Pick a side. Fill one wall with a gallery wall and let the other breathe above that cute table that completes your breakfast nook. Great gallery walls for this are the The Organic, The Stack, The Uneven Grid, The Mini Grid or the Mini Tall.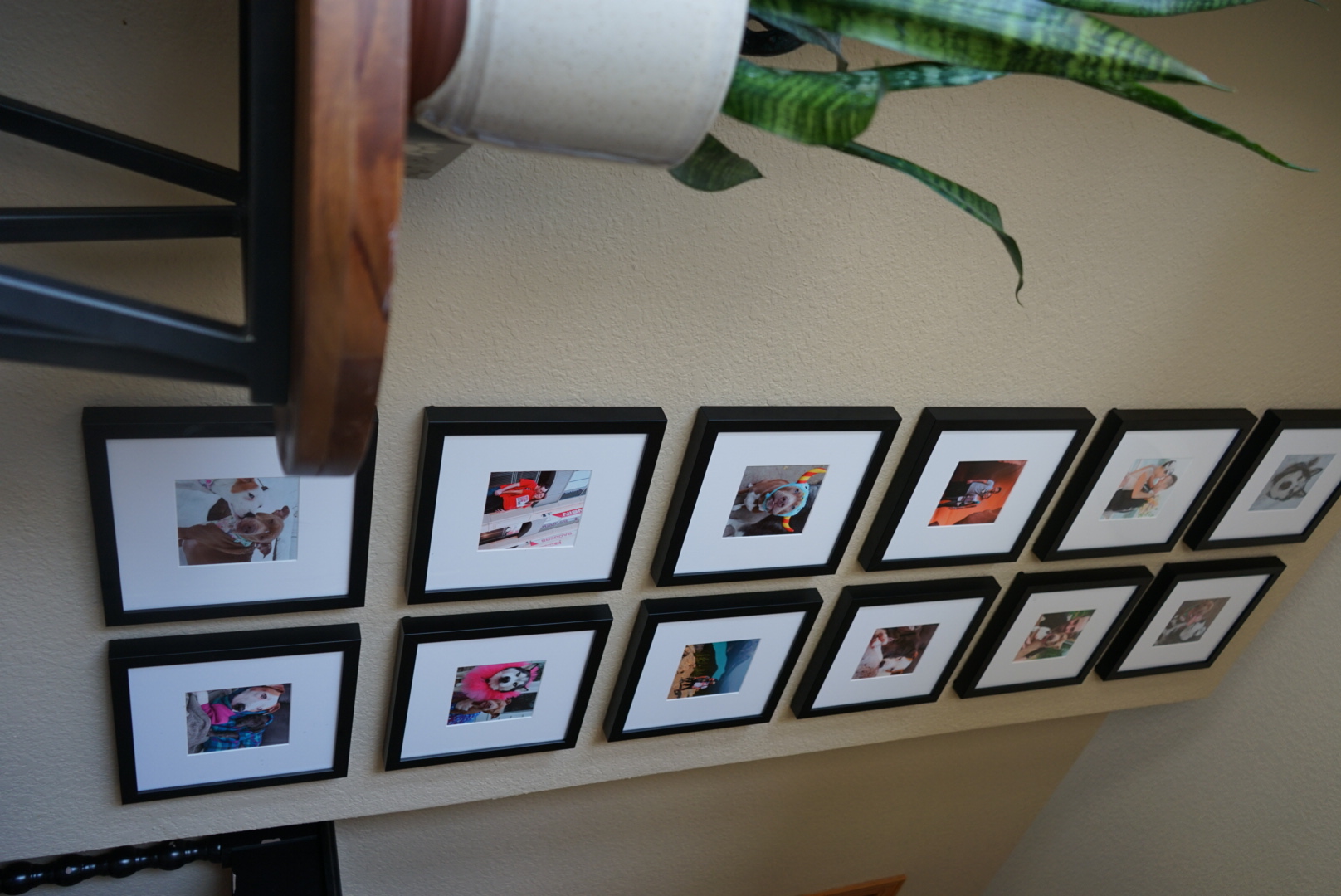 The Mini Tall next to a cute plant in a cute corner from @must_love_dogs_pitsky. Shop the slender look.
Second, corners make an excellent space for an organic arrangement. Using the help of one of our designers, pick some frames for a custom gallery wall that you can build over time. They could even wrap around the corner and look like an extension of the space. We love this technique for personal expression—picking the experimental art or photos that say something true to you and your developing taste.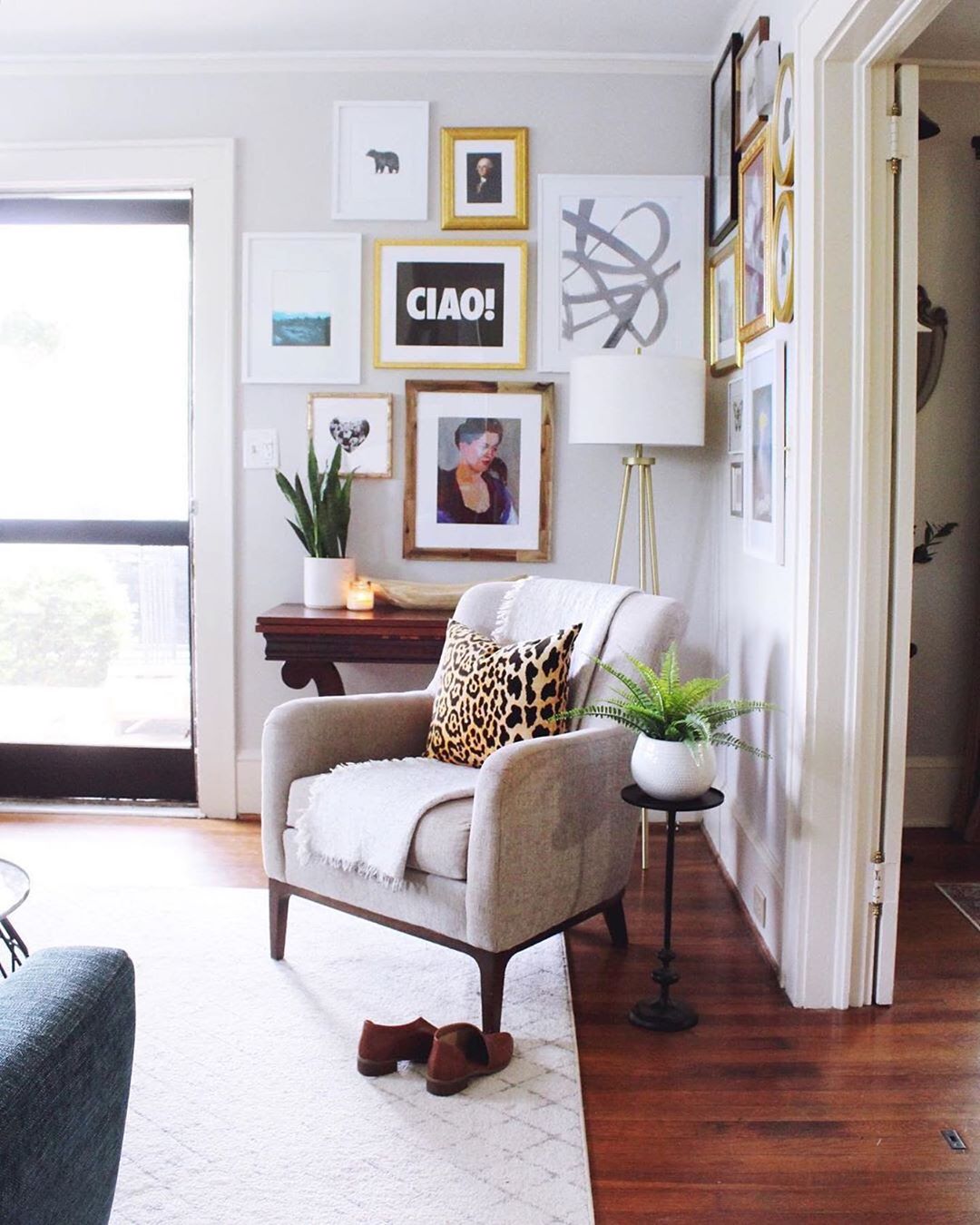 Meet us at the corner of elegant and stylish. Custom gallery wall for @prettypennystyling
Need more gallery wall inspiration? Or, tips on how to get your home ready for the holidays? Tessa, our very own expert has some insights.
Questions about your space, gallery walls, or just about anything else? We're here and always up for a chat. Like we said, we ❤️ gallery walls.