What Size Frame Is Right For A Poster?
A Poster Frame Sizes Guide
Ok, it's finally time to frame that vintage Michael Jordan poster that you've had since college (the jump shot over Russell in game six). Or you want to put the poster from the concert that blew your mind up on the wall. Maybe you want to give a gift — a pasta varieties poster to celebrate the home chef in your life. Mangia!


What size frame do I need for my poster?
Since frames are measured based on the size of your art (the frame opening), the size of your finished framed poster will vary depending on the frame you choose. As a rule of thumb, your finished frame will be one to two inches wider and longer than your poster itself if it has no mat, and 6-8 inches larger if you choose to mat it.

That being said, there are multitudes of frames and frame styles to fit your posters in different sizes. Instead of having to measure your poster, then find a frame that fits another measurement, shouldn't you just be able to take a picture of your poster? Then you can browse a selection of frames, in popular styles, all of which will work. Easy!
How do you frame a poster?

Here are the easy steps that answer how to frame a poster.

1. Measure your poster once.
2. Take a picture of it, and choose your frame (get started here!).
3. We'll send you pre-paid packaging (a tube or a flat mailer).
4. Roll your poster up into our packaging and ship it back to us.
5. We'll deliver your poster right to your door, framed and ready to hang on your wall.
No head scratching and inch calculating—it's simple and can all be done from a computer or phone. Still, if you'd prefer to have any help with your poster, our designers can assist you with with a video consultation or at a store near you. Our associates and designers will be glad to go over options and ensure your poster is taken care of every step of the way.

What are the most common poster sizes for framing?

Framebridge can frame any poster as small as 5" x 7" all the way up to 32" x 40". If your poster falls within that range, you're good to go. Although posters come in all shapes, sizes, genres and styles, we typically see a couple of sizes most often.


Large Posters


If your poster's longest side is over 32", it's categorized as Large. Which is good news for you and the blank space on your wall, because we can definitely frame it (up to 32" x 40"). The most common size poster we see in this category is 27" x 40". Like the poster below — allll that jazz.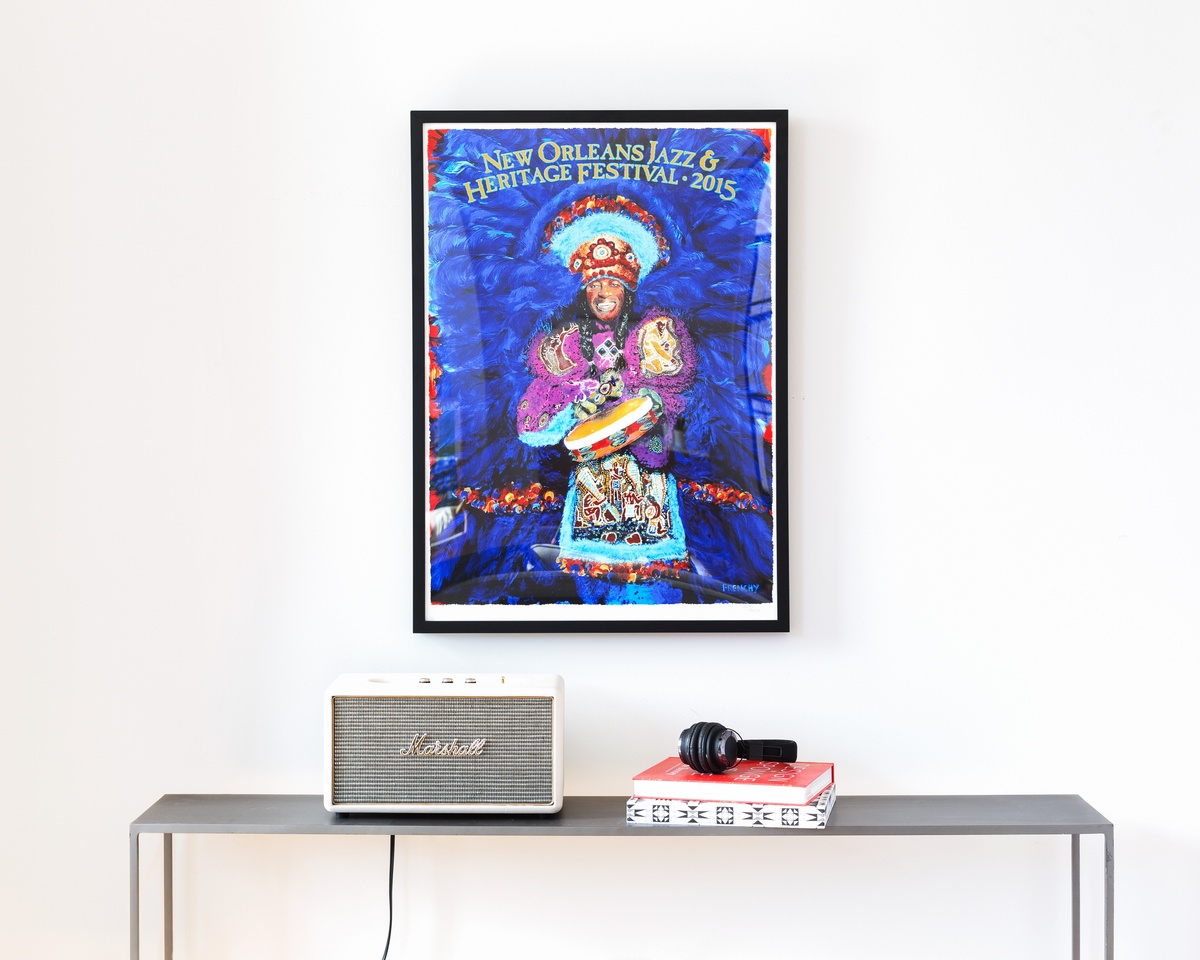 2015 "New Orleans Jazz & Heritage Festival" poster seen here in Mercer Slim, clean black frame.
For Large posters that you want to be a showpiece, we also suggest Mercer (larger, clean black frame), Irvine (clean white frame), Beaumont (clean silver frame), and Carson (clean gold frame).
For posters this big, there's no mat selection.
Standard Posters

You'll find these standard poster sizes in merch shops, at concerts, and plastered the walls on subway platforms. The ones we hung up with sticky tack as kids, that we want framed now as adults. The two most common standard poster sizes are 16" x 24" and 18" x 24" (we also see a lot of 13" x 18" and 16" x 20"). And the range for "standard poster size" goes anywhere from the shortest side of your poster being 12", to the longest side being 24". We've got you covered for it all.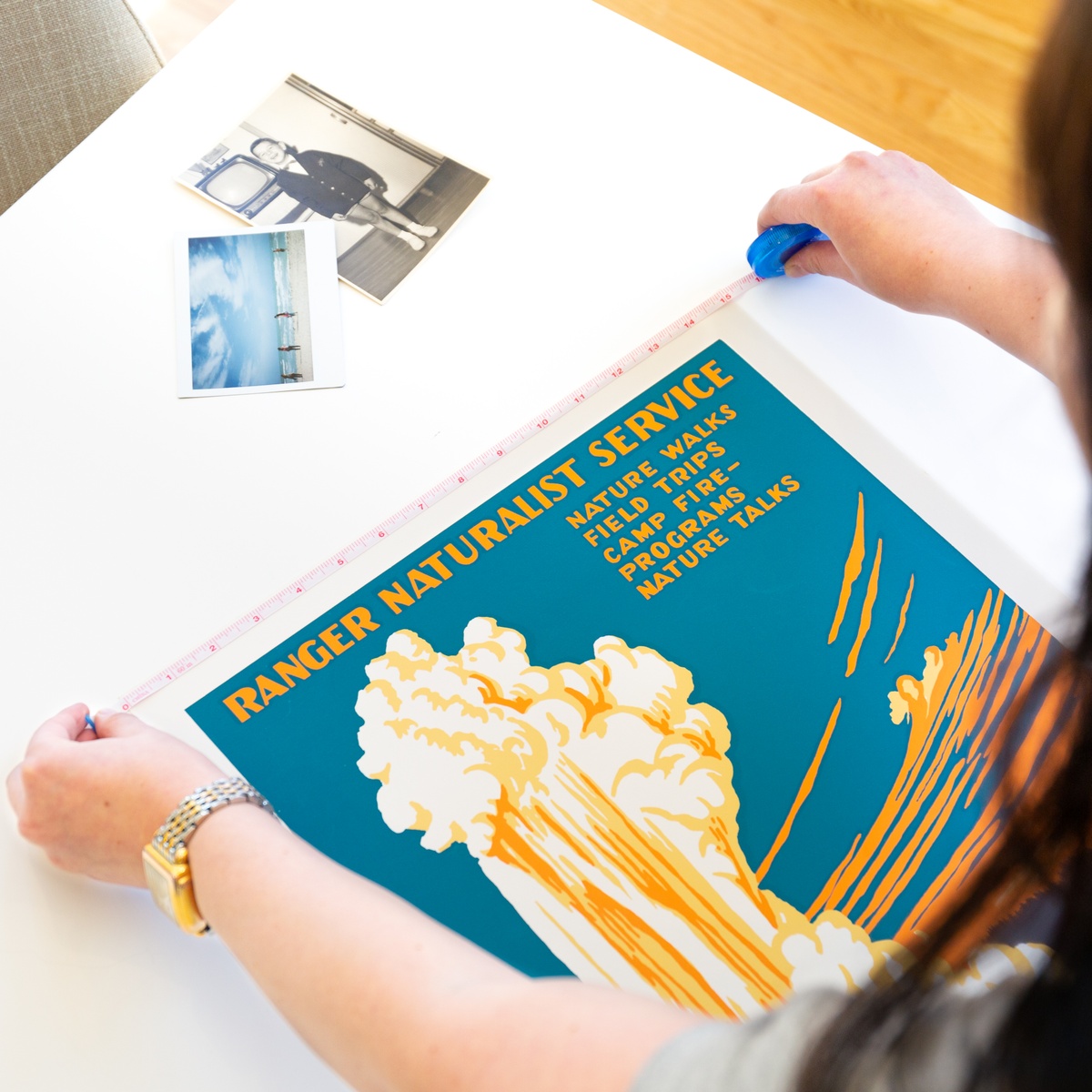 This is a National Parks Poster being measured at one of our stores. It's a standard poster size.
See more for stories on National Parks like Banff, Glacier and the Grand Canyon.
Great options for standard posters include Marin (natural wood frame), Beverly (silver frame with black sides), and Olympia (gold frame with black sides).
For Standard poster frames, you can select to use a mat or not.

Small Posters


Posters don't need to be big to make a statement. Whether your poster is more of a postcard, or your picture is worth 1,000 square feet, we can frame any small posters—with the longest side of your poster being 12". All the way down to 5" x 7".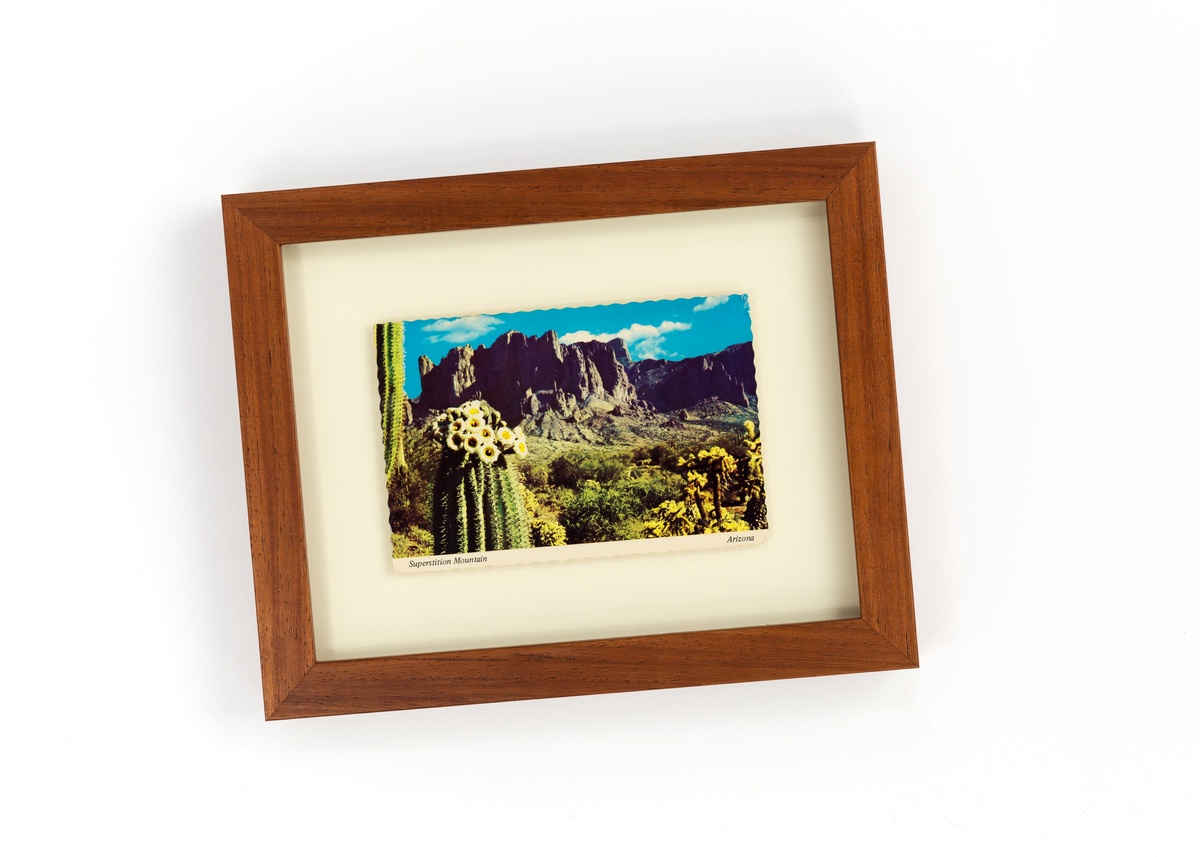 Here's a tiny Arizona poster (okay, it's more of a postcard) in Sonoma, a warm wood frame.
For a small poster to make a big impression, we recommend Mercer Slim (clean black frame), Irvine Slim (clean white frame), Richmond (antique gold frame), and Newport (antiqued silver frame).
For Small poster frames, we recommend using a mat, or even float mounting.
You love posters, we love posters, and we can frame almost any one you want. If your poster is not one of the specific sizes mentioned above, we can still frame it if it is between 5" x 7" and 32" x 40". Our process makes it easy to figure out which frame size you need for your poster, pick your frame, and ship it securely.

Because we think that if you love French New Wave Cinema that much, then there should be nothing in the way of featuring the iconic "Breathless" poster as close to your TV as possible.

To get started shopping for frames for your poster, visit our "Poster Frames" page or click below. If you still have questions about your poster, you can reach out and ask.