Meet the Artist: Synthia Saint James
"Multi" may be the best prefix for Dr. Synthia Saint James. Multidisciplinary, multicultural, multi-hyphenate. She's a visual artist, author, and illustrator most noted for designing the first Kwanzaa stamp for the United States Postal Service and for the cover art for Terry McMillan's book Waiting to Exhale. As we celebrate Juneteenth, we spoke with her to discuss her work, including the painting Juneteenth, and the global communities that provide inspiration.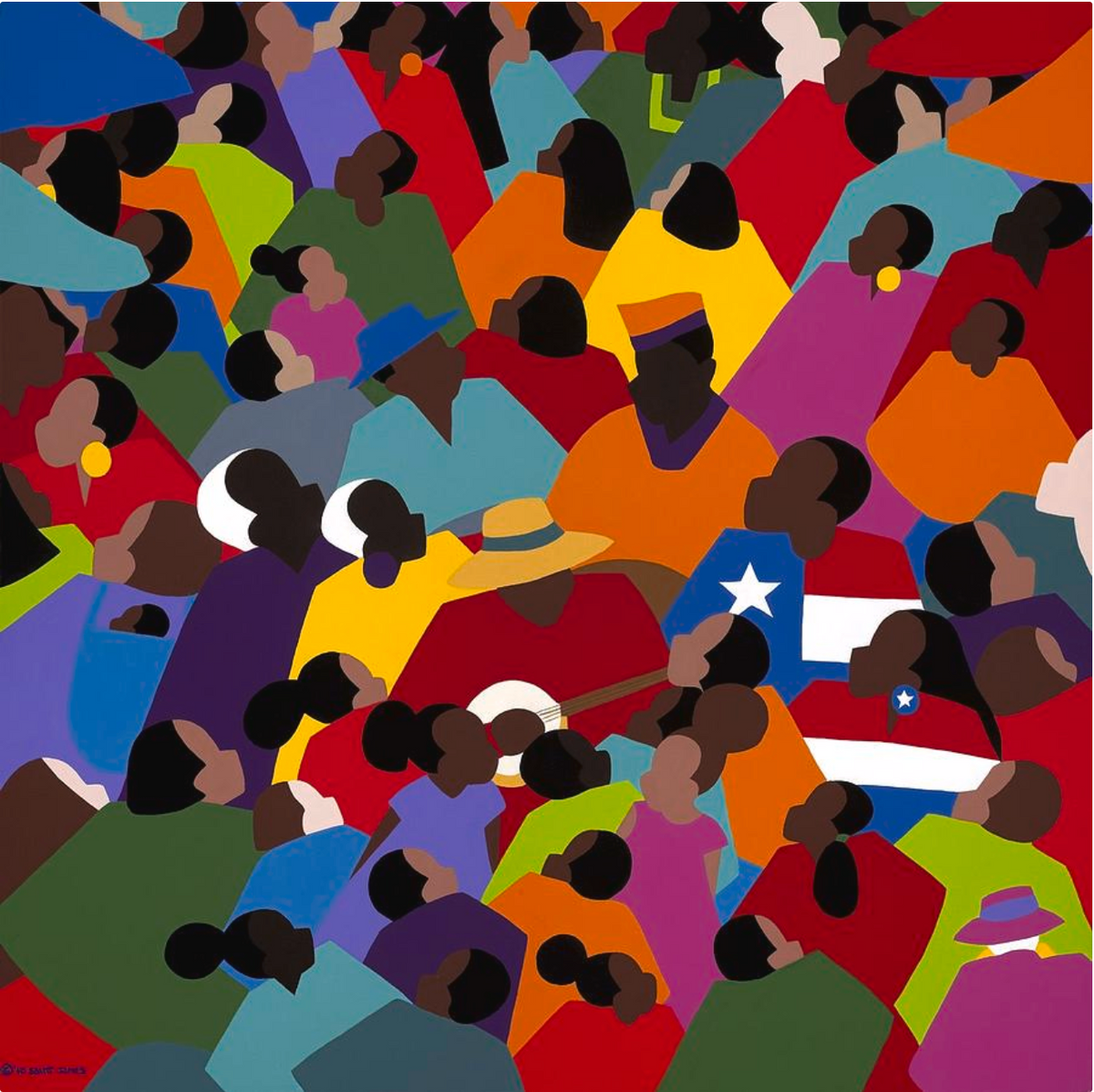 Can you tell us about your painting
Juneteenth
? What does it depict and what inspired you to paint it?
I created the original painting titled "Juneteenth" in the Spring of 2010. It depicts a Juneteenth holiday celebration, an outdoor festival, inclusive of vendors selling goods (not pictured) under brightly colored umbrellas, multicultural people of all age groups and families gathering together. In the center and forefront of the painting you'll find a group of children and adults caught up in the music of a banjo player, joyously dancing.
I was inspired to create the painting by an overwhelming desire to bring attention to the often overlooked yet monumental holiday and to emphasize its importance in Black and American history. It should be observed as a national holiday and is also referred to as Freedom Day and Jubilee Day.
What is your own cultural background? How do you bring your own identity into your work?
African American, Haitian, Cherokee and German Jew. I'm a "Woman of Color". I don't actually bring my identity into my art— it's in my DNA so it just surfaces on its own. I'm also a self-taught artist.
You often portray groups of people and gatherings in your work, especially for commissioned pieces. What draws you to showing people together and how do you reflect communities?
My current style of art was developed as a direct result of a visit to Martinique in 1985. I was especially intrigued by the marketplaces and challenged myself to paint people without facial features while using body language such as postures, clothing styles and more to identify age, emotions, ethnicity and the cultures of the world.
Many of my commissioned paintings are created for non-profit organizations, colleges and universities, therefore groupings of people. But I often "travel the world" seated in front of my canvas with imaginings of faraway places or depicting places I have been and seen the communities of people.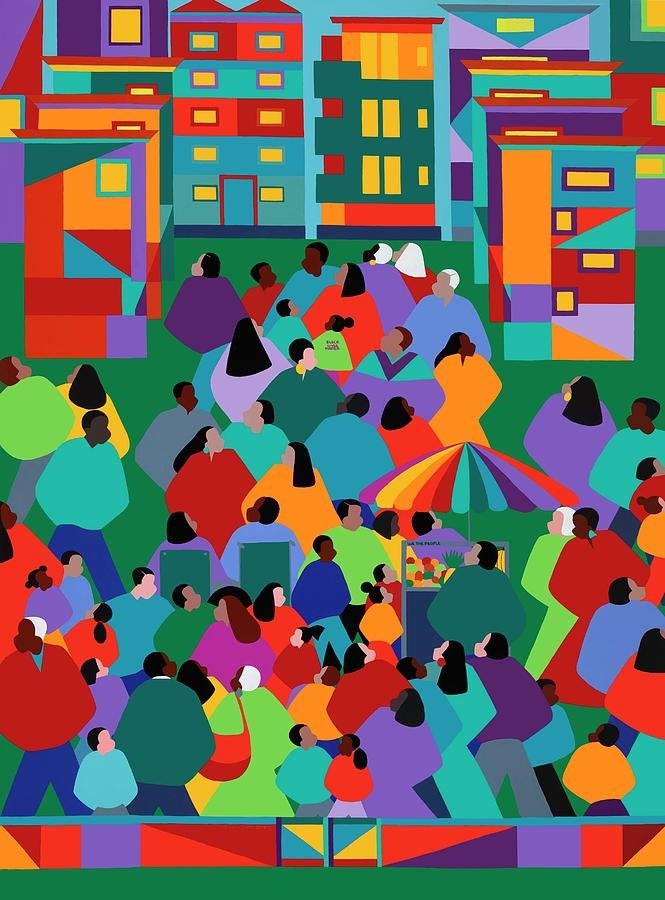 Much of your work speaks to important moments in Black history. What role do you feel your art plays in honoring the Black experience and heritage?
Recently this term "Visual Artist/Historian" came to me, which certainly applies to one aspect of my art. But I also think of myself as a Visual Artist/Educator because my inspiration comes from learning. I love to research, read, and learn, then I share through my paintings.
I've been so honored with historic commissions such as painting In Unity, paying tribute to the Black Firefighters lost on 9/11, and a Lifetime Achievement Award from AFRICARE for the Honorable Nelson Mandela —Madiba Mandela.
I've also been inspired and created paintings celebrating the 50th anniversary of Dr. Martin Luther King's "I Have A Dream" speech and the 50th anniversary of the Selma March.
What is your process when it comes to learning about other cultures and communities?
I'm so easily drawn to many cultures. I may be inspired by books, films, documentaries, video, music or travel or wish to travel. I've created a series of paintings on (naming several, not all) Haiti, Black Indians, Tibet, the Sea Islands (Gullah Geechee), and my current series is titled Healers, Orishas, Shamans and Deities (Healing the World).
Quite a few of your pieces are available printed on towels, T-shirts, tote bags, even face masks. Is it important to you to have your art be democratic and accessible in that way?
Yes. It's a wonderful way for visual artists to generate additional income and it gives the public merchandise that can easily fit into most everyone's budgets. I added face masks with the hope of brightening our days and spirits. I include licensing in the "Business of Art" workshops that I facilitate for visual artists and in my book Living My Dream: The 50th Anniversary Celebration.
---
Shop for Synthia Saint James' face masks here.
Check out her online gallery, including Juneteenth posters, here and use the code JUNETEENTH20 for 20% off.