Meet the Artist: Domonique Brown
Domonique Brown is a contemporary pop artist based in California. She employs markers, acrylics, and digital graphic design in her illustrative portraits.
We're proud to feature her as part of the latest group of artists in our Black Artists Print Shop.

What is your background as an artist and how did you get started?
I've been drawing since I was a little girl. I feel like my first drawing was in preschool. I kind of always wanted to draw, but I never had an idea how I'd be able to transmit that to adult life. When I was in high school, I just wanted to be a graphic designer and work in advertising or marketing. I got an associate's degree in graphic design, a bachelor's in public relations, and a master's in marketing.
With the pandemic, it gave me the ability to pursue my art career. By being at home all the time, I saw it as an opportunity to start my own business (but I still have a nine-to-five). I was able to open my own online store and put all of my art prints up. it's kind of a dream come true, because I am able to be an artist. But I still do like the fact that I did my education in marketing. Me having a nine-to-five allows me to still practice what I went to school for.
You have a lot of different products on your site beyond art prints. Why did you decide to go into other product categories?
I want to offer more versatility. People were always making requests to me to sell shirts or how about cell phone cases? I decided I should diversify what I'm offering in my store. It's also fulfilling to see people with different items like a T-shirt or mug.
A lot of your art features prominent historical figures—many prominent Black historical figures. Why do you choose them as subjects?
I like that my art is educating people. I've had a lot of customers write to me and say "I hung up my Basquiat on the wall" and people didn't even know who Basquiat was. I feel like my art is creating dialogue in the world. As time goes, a lot of historical [figures like] Martin Luther King are kind of being forgotten or being pushed aside. Recently for my job, we did a mural of Martin Luther King and someone thought it was Will Smith. Really weird. I know who they are because it's my culture, but I don't know if people outside of it know these people.
Can you tell us a little bit more about the two pieces that are part of the part of the Print Shop—
Old Classic
and
Soul Sisters
?
With Old Classic, I wanted this vintage look because I wanted to show Black women in a different light. When you look up the 70s or 80s, you see a Black woman with an afro, but you don't see versatility in what is being presented. So I kind of want to represent the different looks of Black women through time.
And then Soul Sisters was more of a representation of all women. It's showing women with natural hair and faceless. It could basically embody anybody.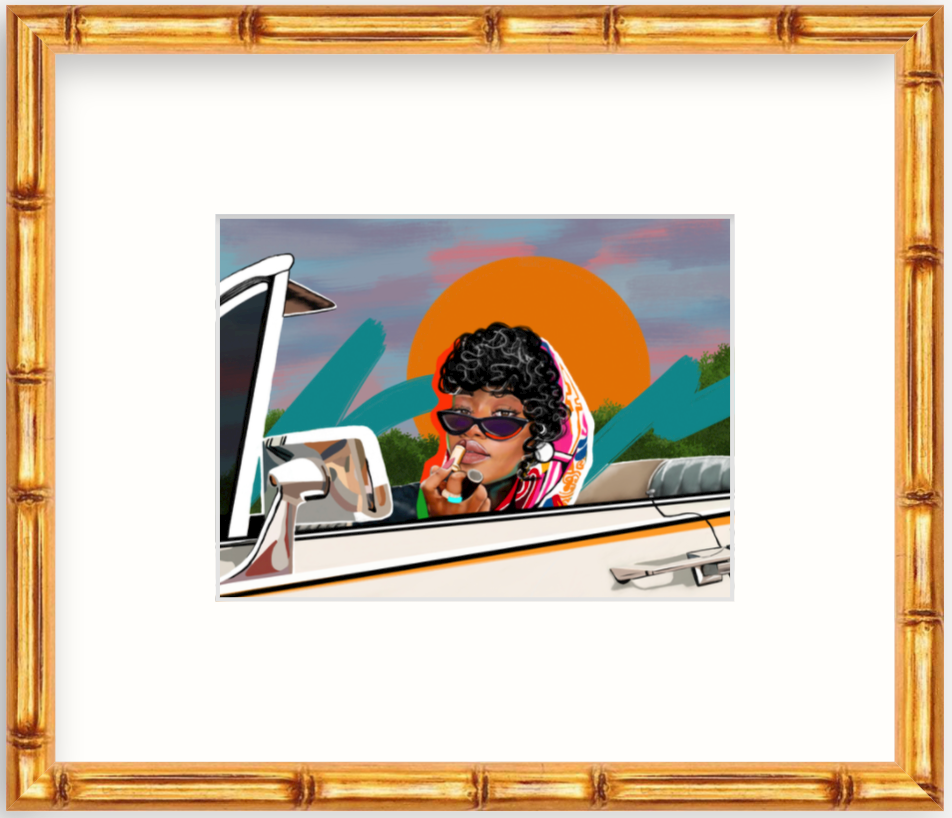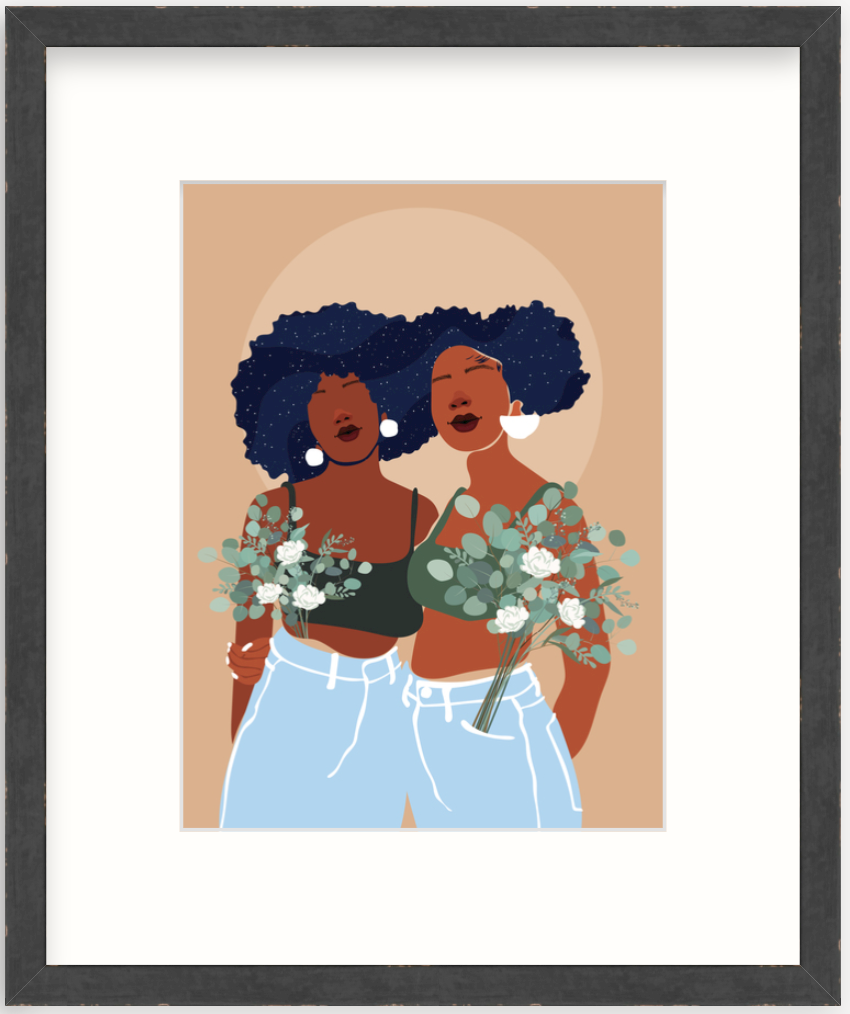 Hair plays into your work often. Why do you feel it's important to represent it?
I have mine locked and it was a decision I made. Finally I accepted my hair growing up. Black women are always told that their hair is not beautiful and isn't standard. There are a lot of negative connotations within our own culture with the whole concept of good hair. By portraying women with their natural hair, different hairstyles, lots of braids and cornrows, it allows women to be able to see themselves in the artwork, instead of seeing the European beauty standard that they always see on Instagram and in magazines. Even our own celebrities, a lot of them wear hair extensions that are straight. We're not seeing ourselves within our own people. With my art, I want everybody to be able to see themselves.
Are there other ways in addition to hair that you find yourself exploring your own identities or other's identities?
Yeah, I feel like with my artwork, I'm trying to show different cultures within my own culture. One piece I have is called Gold Teeth. It shows a man with gold teeth and a woman behind him with an afro. I thought that was more emulating Southern culture. When you go to the south, you see more Black people with gold teeth and things. There's a rap culture.
I try to show both sides. I show the more the feminine side or I'll show more of the rap culture side. I try to have a little bit of diversity for everyone. I want my people to be able to find a piece that defines them.