How to Hang Frames on Brick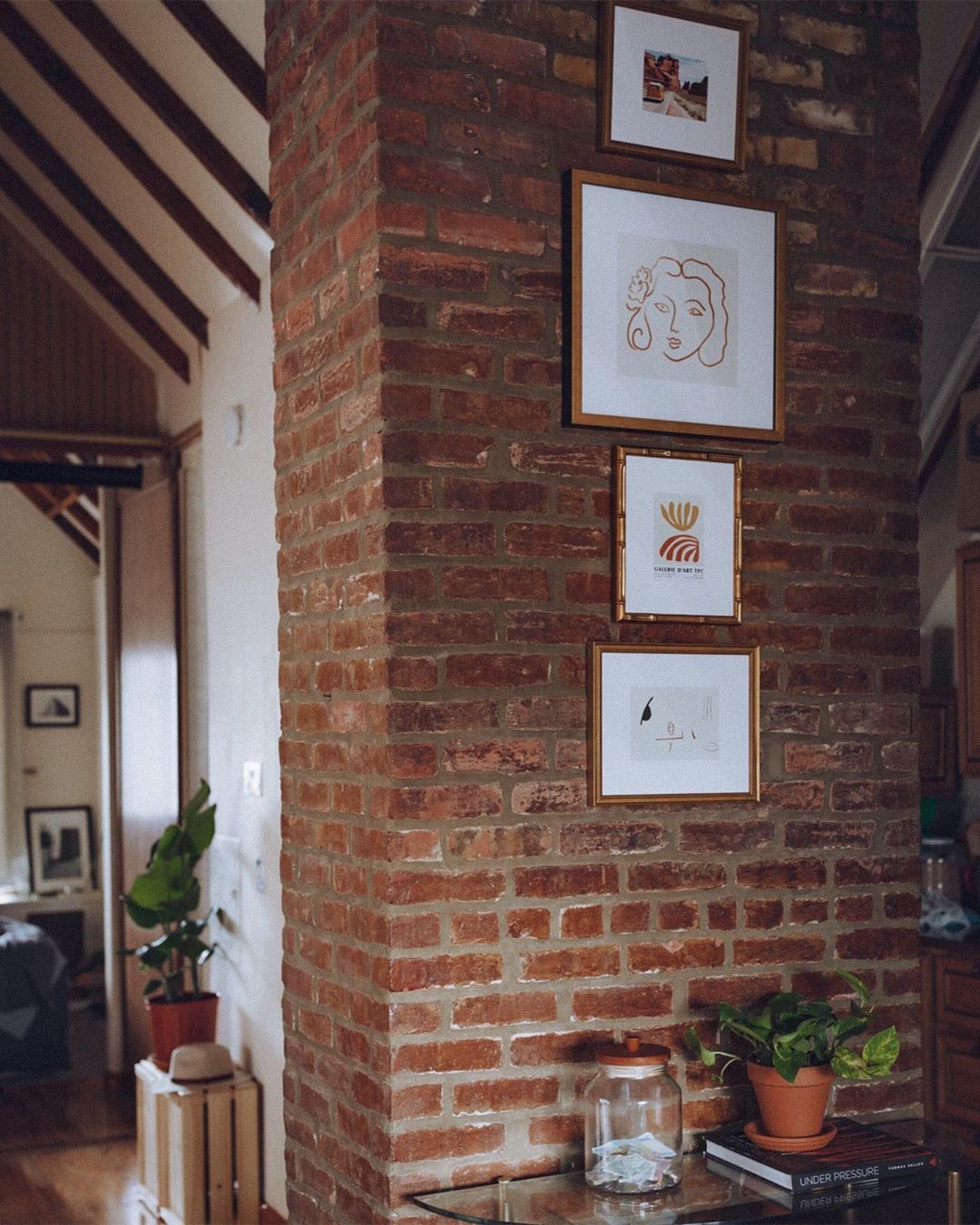 Brick is in. Whether painted or exposed, it adds warmth and character to a space. But don't take it from us, here are many examples of beautiful brick fitting into flawless design plans. While the brick is beautiful — does it take away from wall space where you can hang framed photos and art?

It sure doesn't. Hanging frames on brick is easy. Whether your brick is above a fireplace, part of a cottage chimney, compromises 100% of the walls of your rowhome, or even if it is painted, follow these steps to add even more character to your brick.
How to Hang a Single Frame (or Two) on Exposed Brick (Without Drilling)
1. Get the Right Tools

For a simple frame or two, we recommend a hammer and nails, chalk to mark the spot, and a buddy.

2. Position Your Frame

Just like you would on a normal wall, position your frame on the brick wall, mark its hanging spot with chalk on the brick wall (preferably on the mortar). Use a buddy! One person can do the positioning, the other can verify it's centered.

3. Nail Into Your Spot

A hammer and nail will do the trick. Remember, be patient, firm but controlled strokes of the hammer. One nail per frame! If this isn't working in your brick wall, see the section on drilling below.

4. Hang, Adjust and Admire

Hang the frames on their nails, adjust to your liking (levels are your friend), then stand back and admire your work!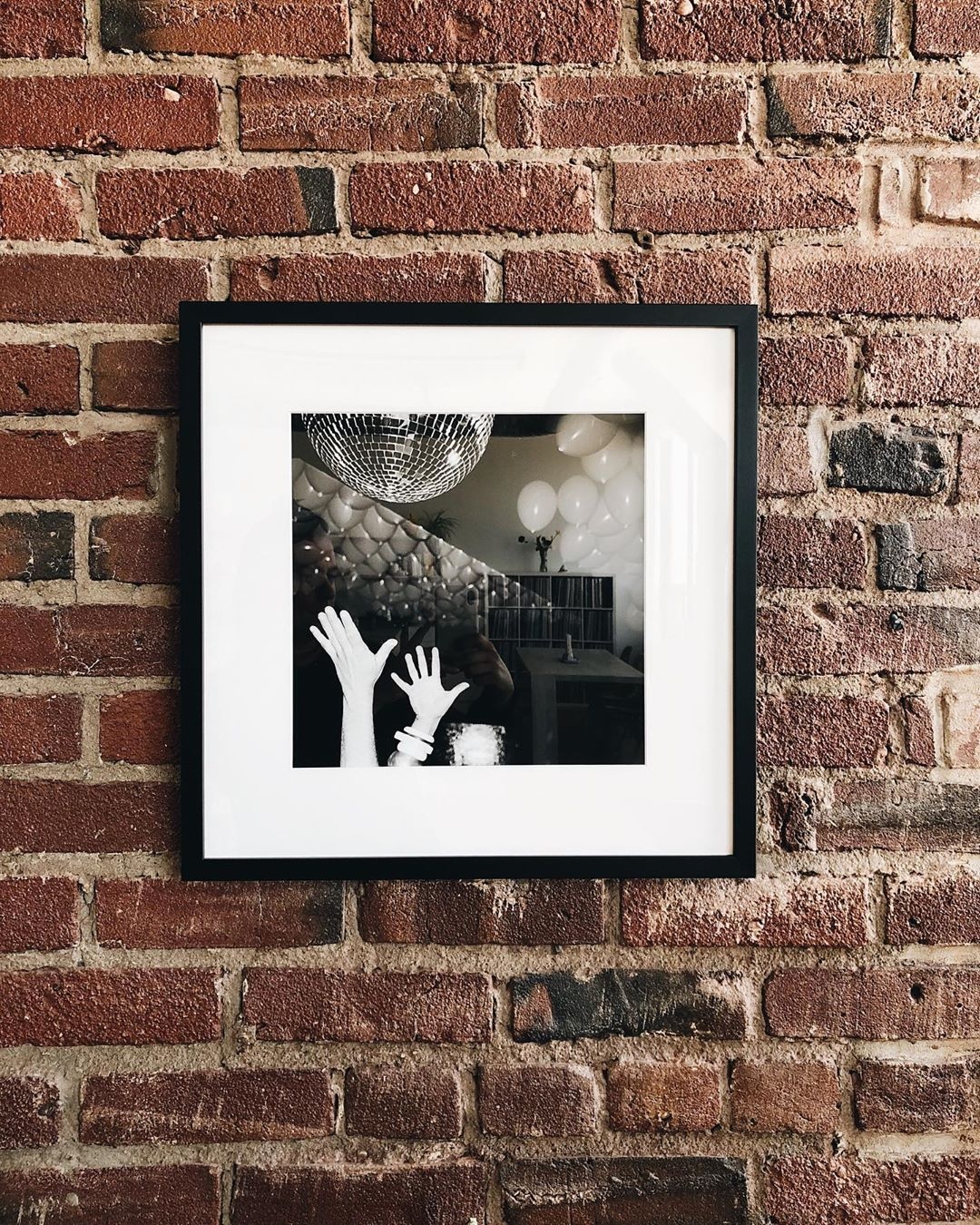 Mercer Slim, black frame from @gabdolceamore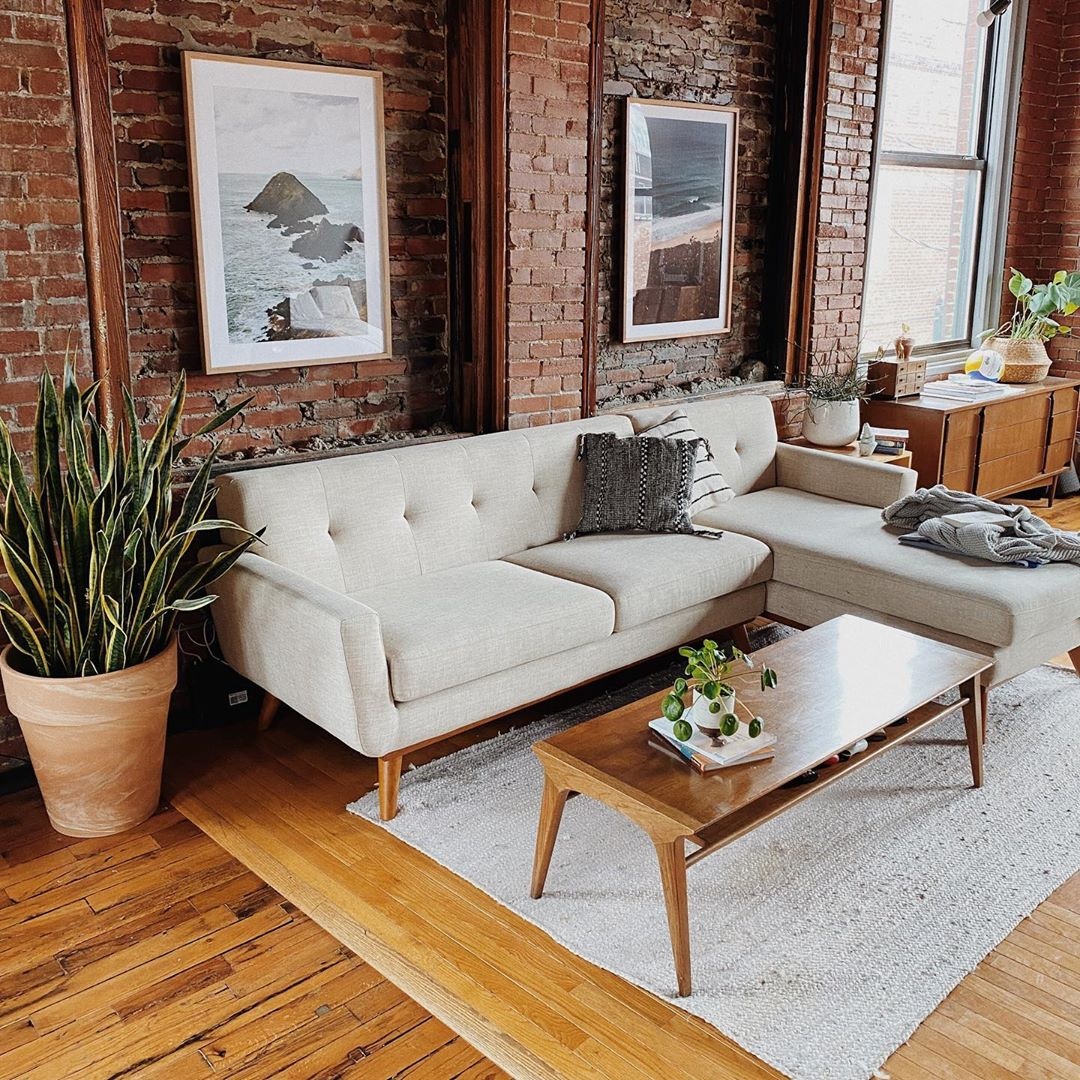 Sonoma, wood frame from @heyitsemmajohnson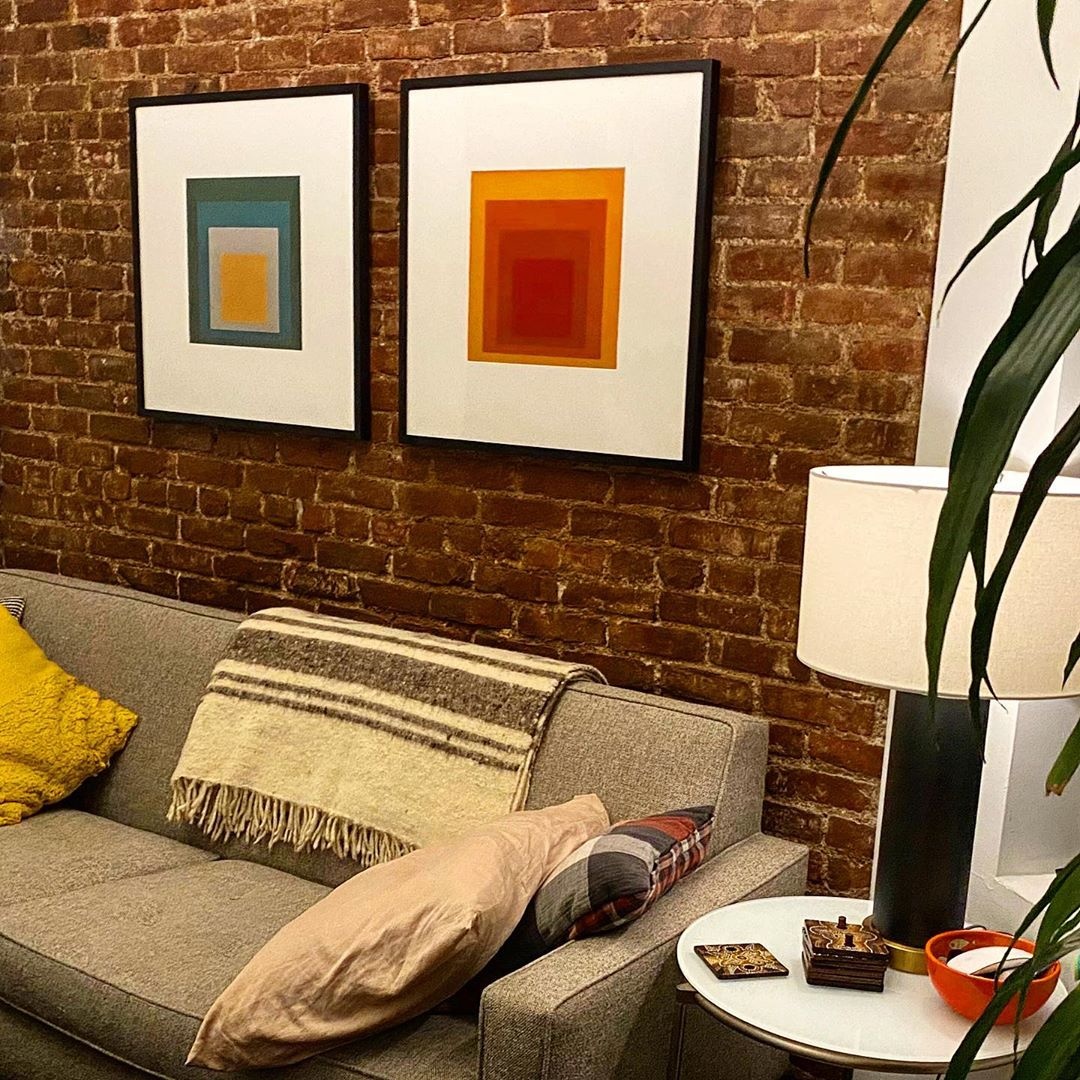 Mercer Slim, black frames from @thejamesvolpe
How to Hang a Gallery Wall On Exposed Brick (Without Drilling)
1. Get the Right Tools

If you want to avoid the drill, we recommend a good, old-fashioned hammer and nails. Because of brick's uneven surface, adhesive strips and fasteners are not our first choice. However, if your surface is flat enough to support them, they'll support the weight of one of our frames. But, you've got the power, you don't need power tools — A hammer and nails will work just fine!

(Pro tip: have a piece of chalk on hand to mark unpainted brick).

2. Use a Framebridge Hanging Guide

Framebridge hanging guides make it easy to hang a gallery wall. Lay it out over your brick surface to get a feel for where your frames will hang. Before taping it in place, play with it a bit, to see if the x's that mark where your nails go will rest over the mortar, as opposed to the brick face itself. Mark the spots for your nails under the hanging guide if you had to move its layout drastically, or, tape the hanging guide into place, which will mark the spots for you.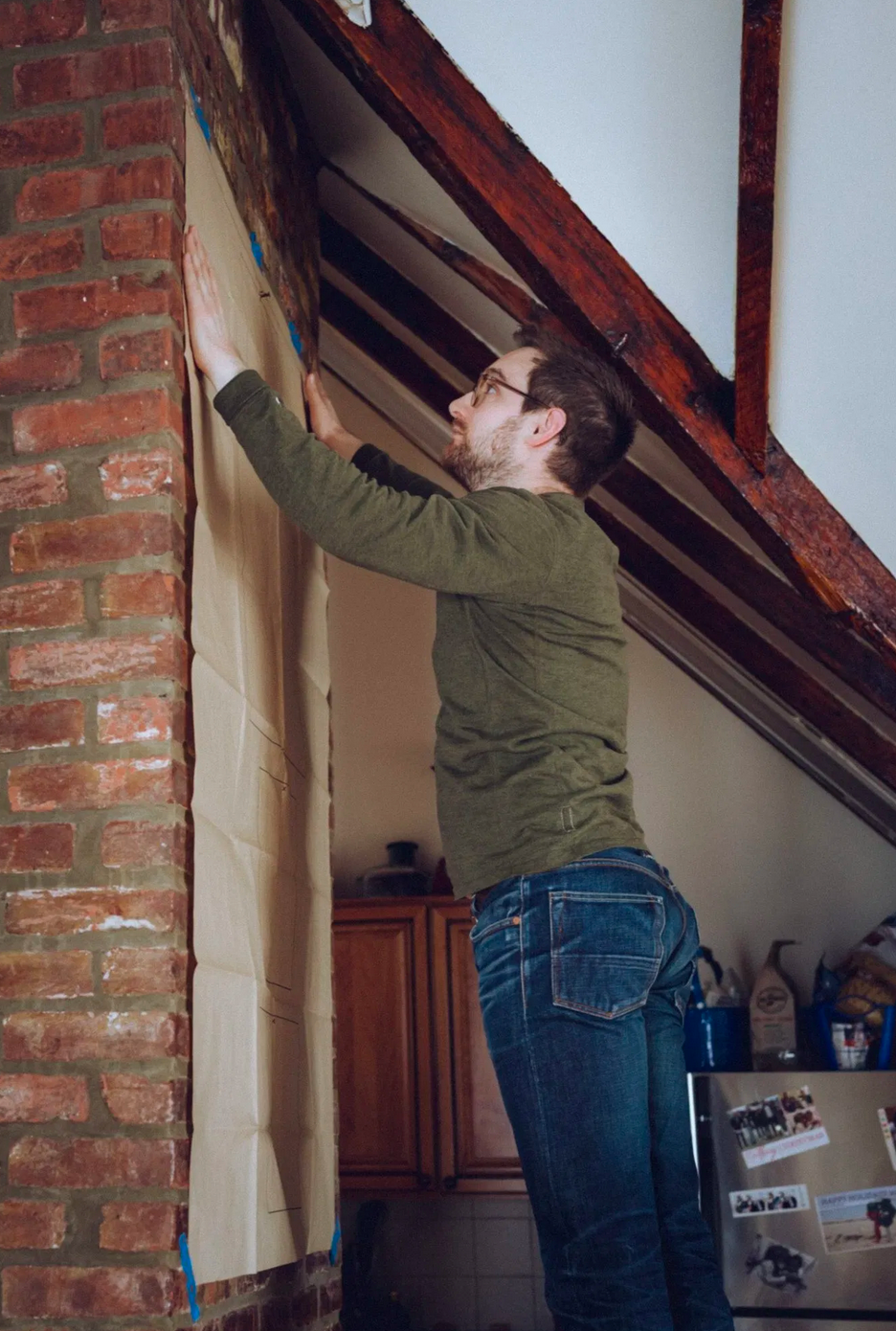 3. Nail Away

If possible, we recommend nailing into the mortar as opposed to the brick face itself. This material (while stronger than the brickface) is easier for a nail to enter. Patience is key. Don't hit too hard. Nailing into brick may take a longer time than you're used to, but keeping a firm, but slow and steady pace with the hammer hitting the nail will be best (and avoid injuries).

If you think a normal nail is not going to get the job done, consider nailing in a brick hook (or see how to do it with drilling below).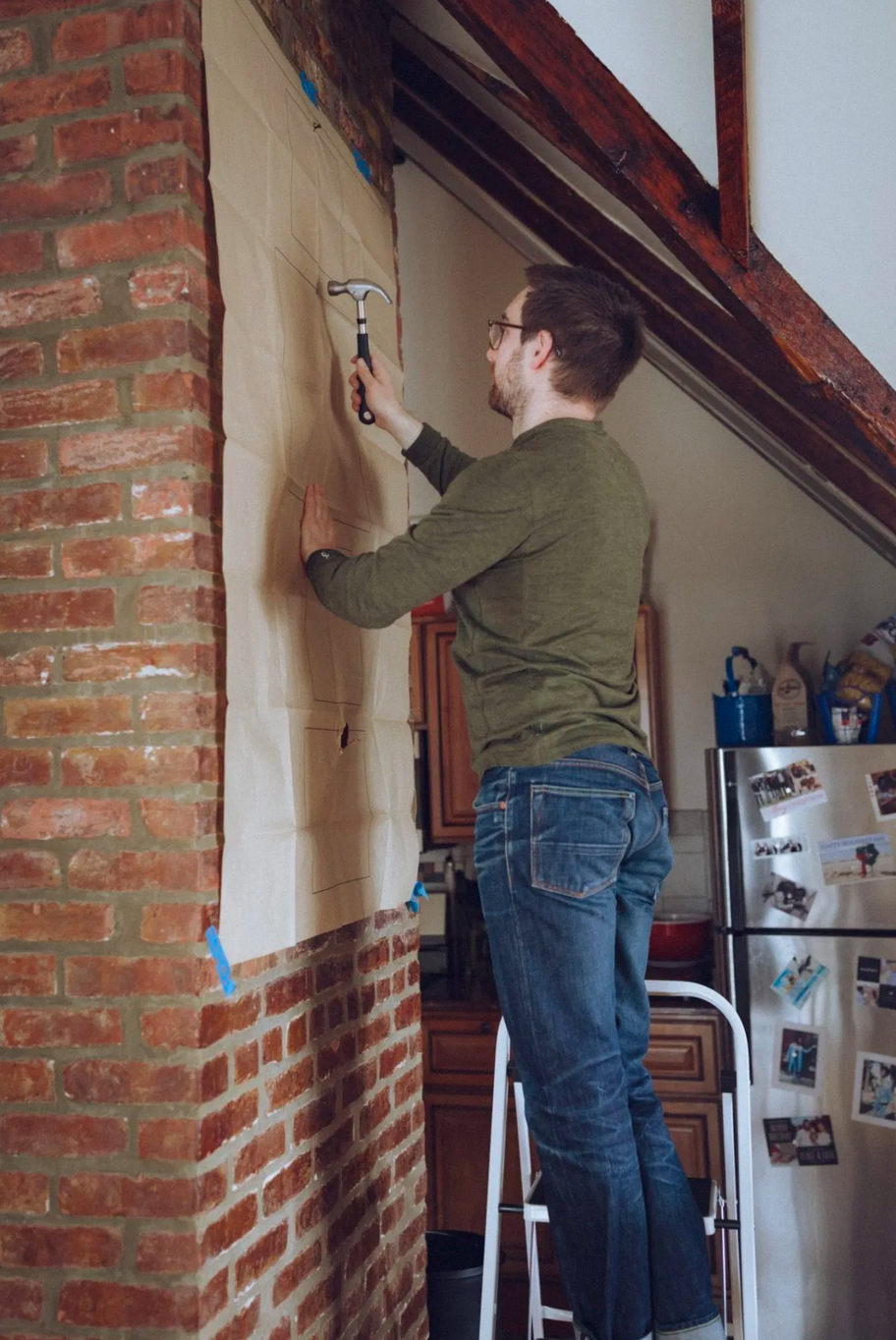 4. Hang, Adjust and Admire

Your nails are in. Now, all you need to do is hang the frames. If the brick complicated the layout a bit and it's not perfectly squared to your liking, that's ok, feel free to adjust any nails position now that your gallery wall is up on the brick (levels are your friend).
Then voila. Time to admire. With some smart thinking and a little patience, your brick showpiece is now even more stunning as it's dotted with frames.

For more insight and the full story behind Marie's Stack Gallery wall on her exposed brick in her Manhattan apartment, visit her blog.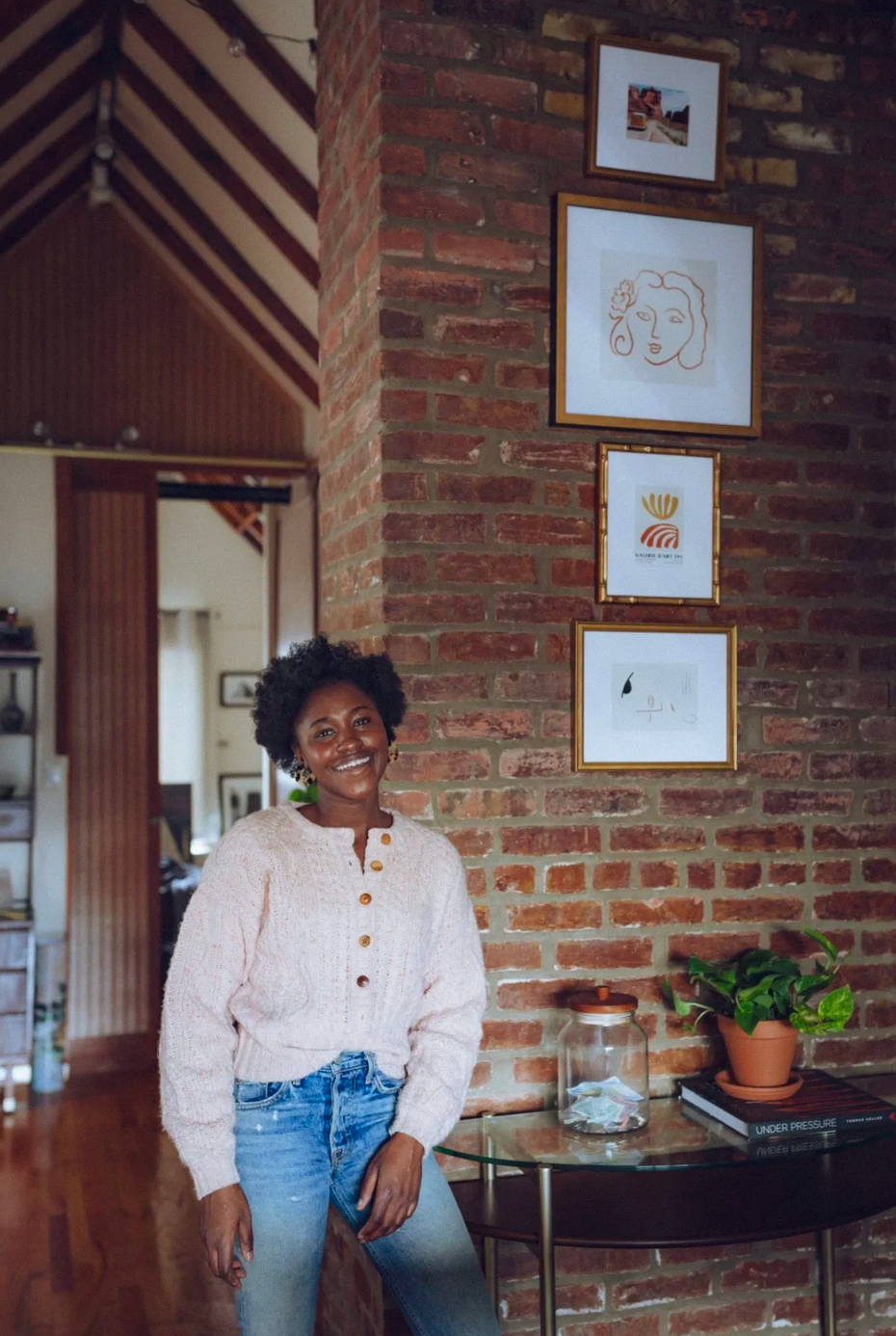 How to Hang Frames on Painted Brick (Without Drilling)
If you're working with painted brick, you're in luck. All the same steps hold for true for painted brick (nail into the mortar, use the same techniques for picking your position), with the added bonus that the smoother surface may make an adhesive strip more likely to work for lighter pieces of art.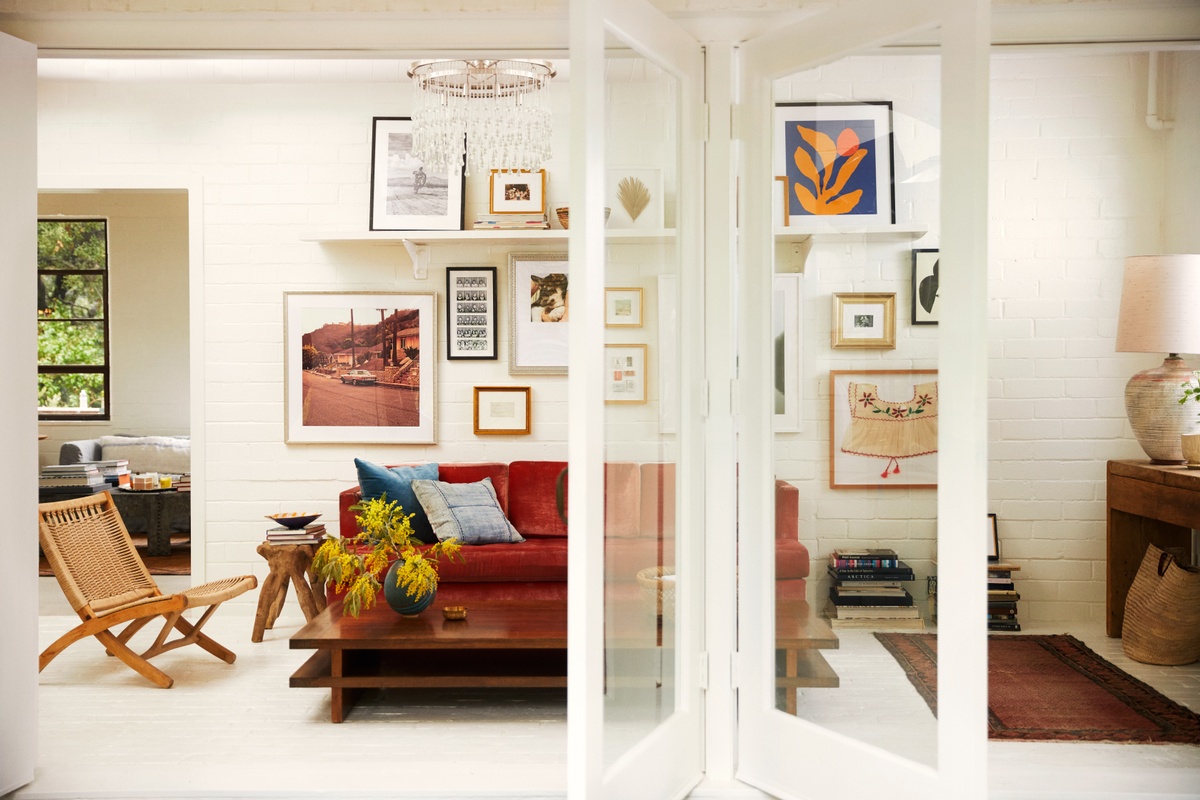 P.S. Putting a ledge into your brick and styling frames there is a très chic idea.
How to Hang Frames on Brick With A Drill
Ok, so your brick wall is serious business, the hammer and nail won't work, and you know your way around a drill (or maybe you're willing to learn). Here are all the things you'll need to get the job done:

—A power drill and masonry bit (that corresponds to the size of your wall anchor).
—Wall anchors.
—Flush-mount picture hooks or screws

—A screwdriver.
—Chalk.
1. Prepare for Dust
It's a good idea to move fragile items away from your workspace, or at the least, cover them with any kind of plastic sheeting or cloth. Goggles are a good idea too!

2. Line Up Your Frames and Mark Your Spot (Or Use a Hanging Guide for a Gallery Wall)

With the help of your trusty buddy, pick and mark the spots where the nail will rest on the hanging hardware (wire, saw-tooth hanger etc.). Ensure these spots are on the mortar, then mark them with chalk.

3. Drill Away
Before you start drilling, make sure to attach a masonry bit (one that's the correct size for the wall anchor you'll use) to your drill. Drill into the mortar, not the brick (to avoid cracking any brickface). You want to drill approximately one inch deep — deep enough to accommodate a wall anchor, but shallow enough to avoid any damage to wires or pipes.

4. Use a Wall Anchor and Hook

Get a wall anchor into the one-inch deep hole you've drilled in the mortar. Then, screw a hook (we can send you some) into the embedded wall anchor. Hard part is over.
5. Hang, Adjust and Admire
And just like that, you're done. Remember, as you're putting on the finishing touches, levels are your friends.

Custom gallery wall with black frames from @somethingnavy including Ravenswood, Mercer, Mercer Slim, and Providence.
If you're looking for more tips on hanging your art, check out these blog posts: "How To" content, including How to Hang a Gallery Wall, How to Hang Art with a Sawtooth Hanger, and How High to Hang Your Art.

For a full set of videos on gallery walls and what goes into hanging them, see this YouTube playlist:

Or, for other framing tips and tricks, this one:
Stop running into a brick wall. Instead, hang some frames on it. Hanging a single frame, set of frames, or gallery wall on brick — with or without drilling — is easier than you think. You got this! But if you have any other questions, we're here to help.