How To Float Mount
What is Float Mounting?



Float mounting is a technique used to raise your art slightly above the mat, to make it appear like it's floating. It looks very cool.



How to Float Mount?



We mount your art directly to foam board, before attaching that foam board to the mat. Then, we use spacers inside the frame, ensuring that the acrylic is not directly touching your art.


Why Float Mounting?



Float mounting adds a little drama to any piece of art, textile, or object. It's perfect for showing off unique edges — the tattered corners of an old postcard, the creases in a matchbox from the restaurant where you got engaged — and it is the best way to showcase 3-D objects. Designers love it because it highlights depth and makes the object stand out. It's an elegant, timeless style and the easiest way to make your art look truly custom framed.
Just some—not even close to all—the things we've float mounted.

Postcards, scarves, passports, ticket stubs, boarding passes, ribbons, menus, textiles, rugs, money clips, currency, golf tees, small flags, pennants, matchboxes, keys, bandanas, guitar picks, playing cards, tassels, buttons and badges, coasters, koozies, medals, needlepoint, needles, puzzles, cork boards, photo strips, polaroids, varsity letters, love notes, breakup notes (though we hope you don't have any), license plates, dinner plates, paint brushes, pencil, pens, crayons, magazines, book covers, album covers, CDs, DVDs, cassette tapes (remember those?) and even Blockbuster cards (if you still have one).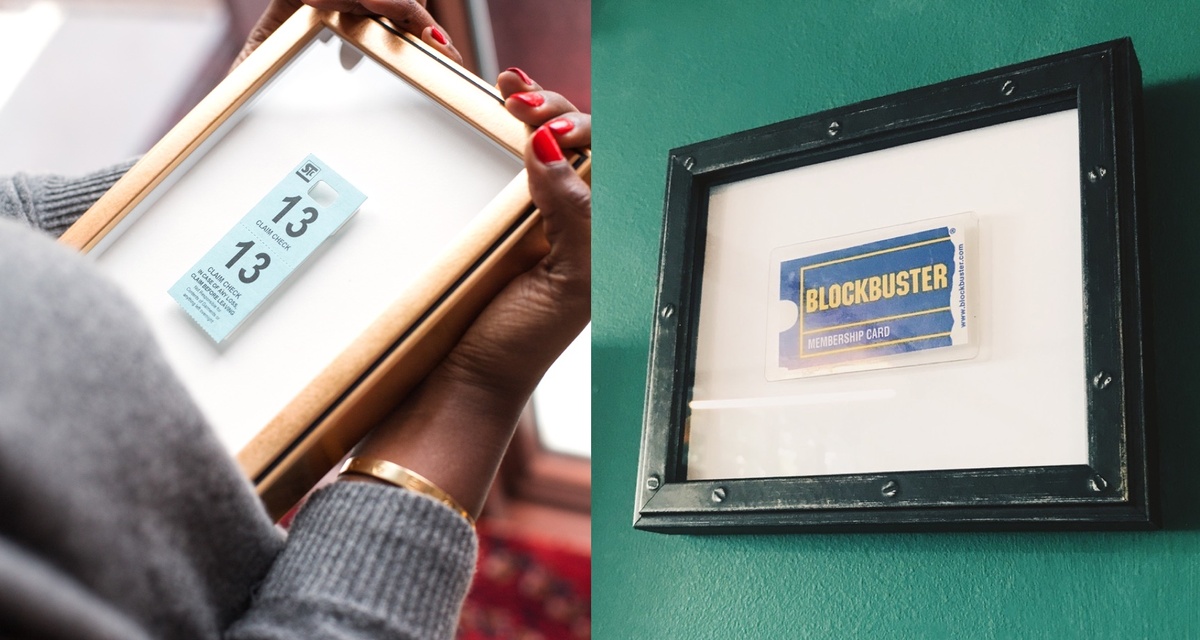 Our Favorite Float Mount Frames


Float mounting is available in almost 40 of our frames, in a variety of styles, ranging from from black to white, natural wood to metallic frames.

See below for a matchbox float-mounted in our black and gold frame, Providence.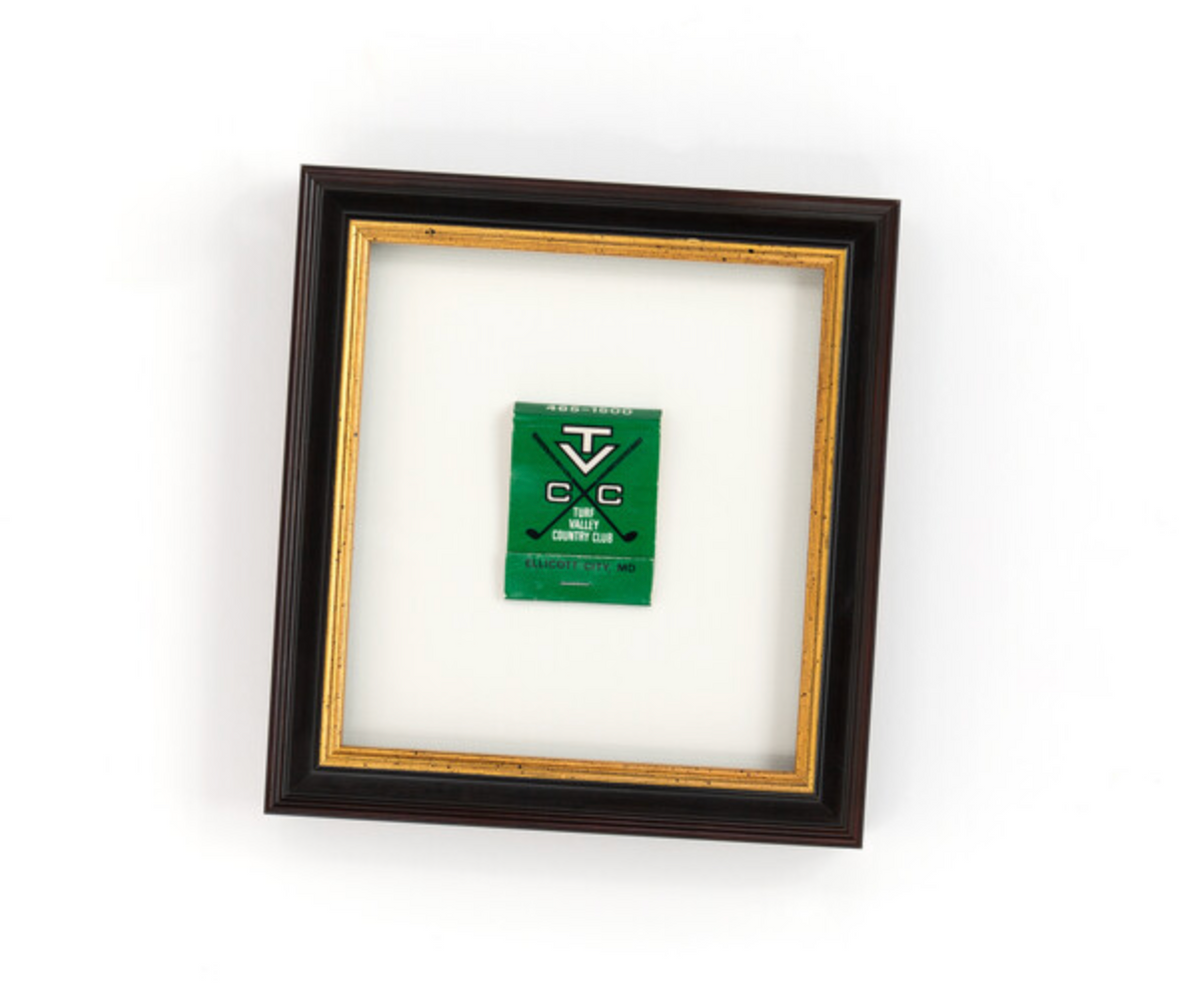 Float Mounting Styles


We have four float mounting styles depending on the object you're framing. We'll find the perfect fit!
Float 1: Your art is mounted on a foam pedestal which itself is mounted on the back mat. The effect raises your art for a contrast in depth between your art and the background. There is no traditional matting along the perimeter of your piece.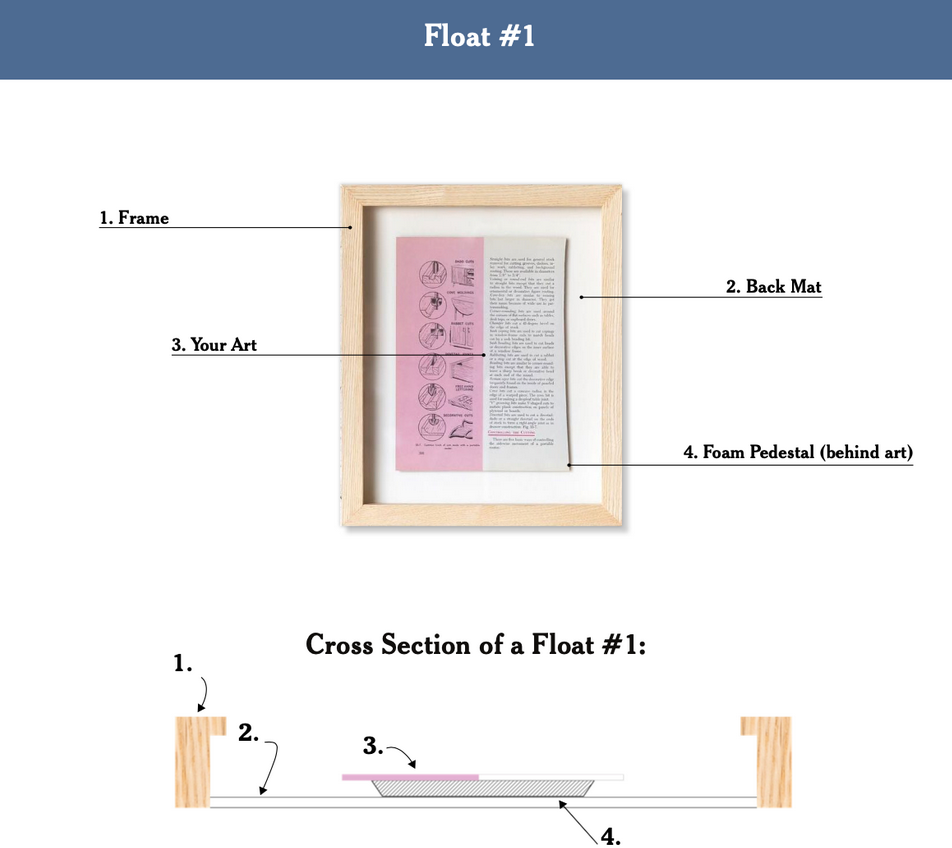 Float 2: Your art is mounted on a foam pedestal which itself is mounted on a back mat. Additionally, there is matting along the perimeter of the frame which is mounted on foam identical in thickness to the foam your piece is mounted onto. The resulting effect is a contrast between the flat background and your elevated art and matting.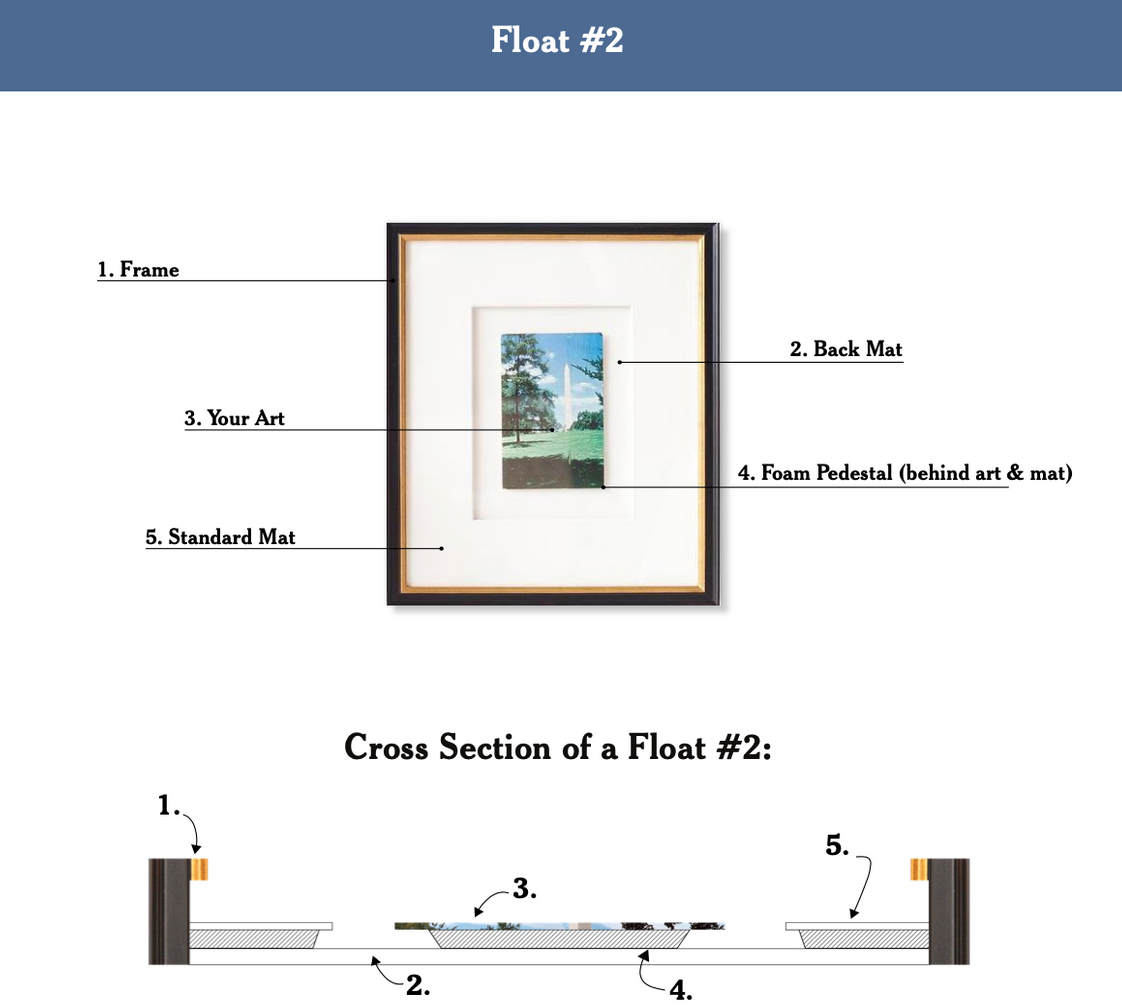 Float 3: Your art is mounted directly on the back mat with no foam pedestal beneath it. This is a wonderful way to display deckled edges of art or small pieces like tickets. This float is typically matted along the perimeter as well leaving space between the edge of your art and the matting.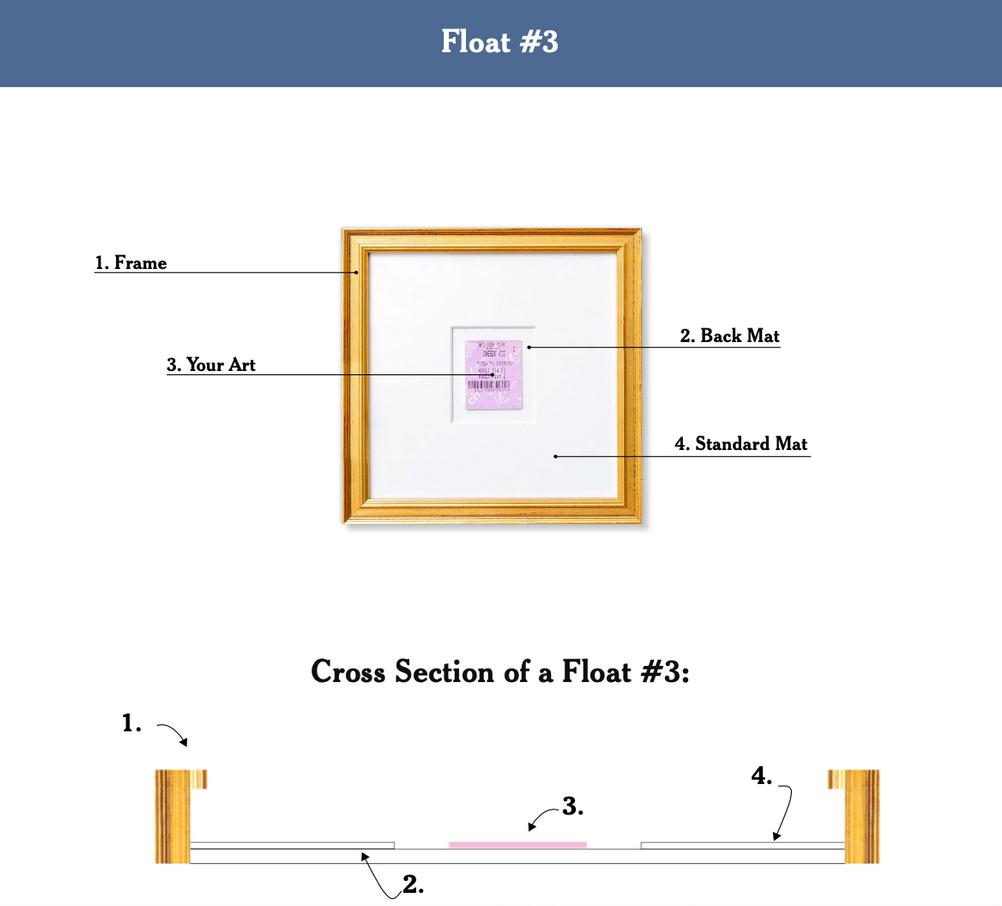 Float 4: Your art is directly mounted on the back mat with no perimeter matting. This method is particularly suited for objects (some say it's the key to float mounting).

One Last Thing


Check this out: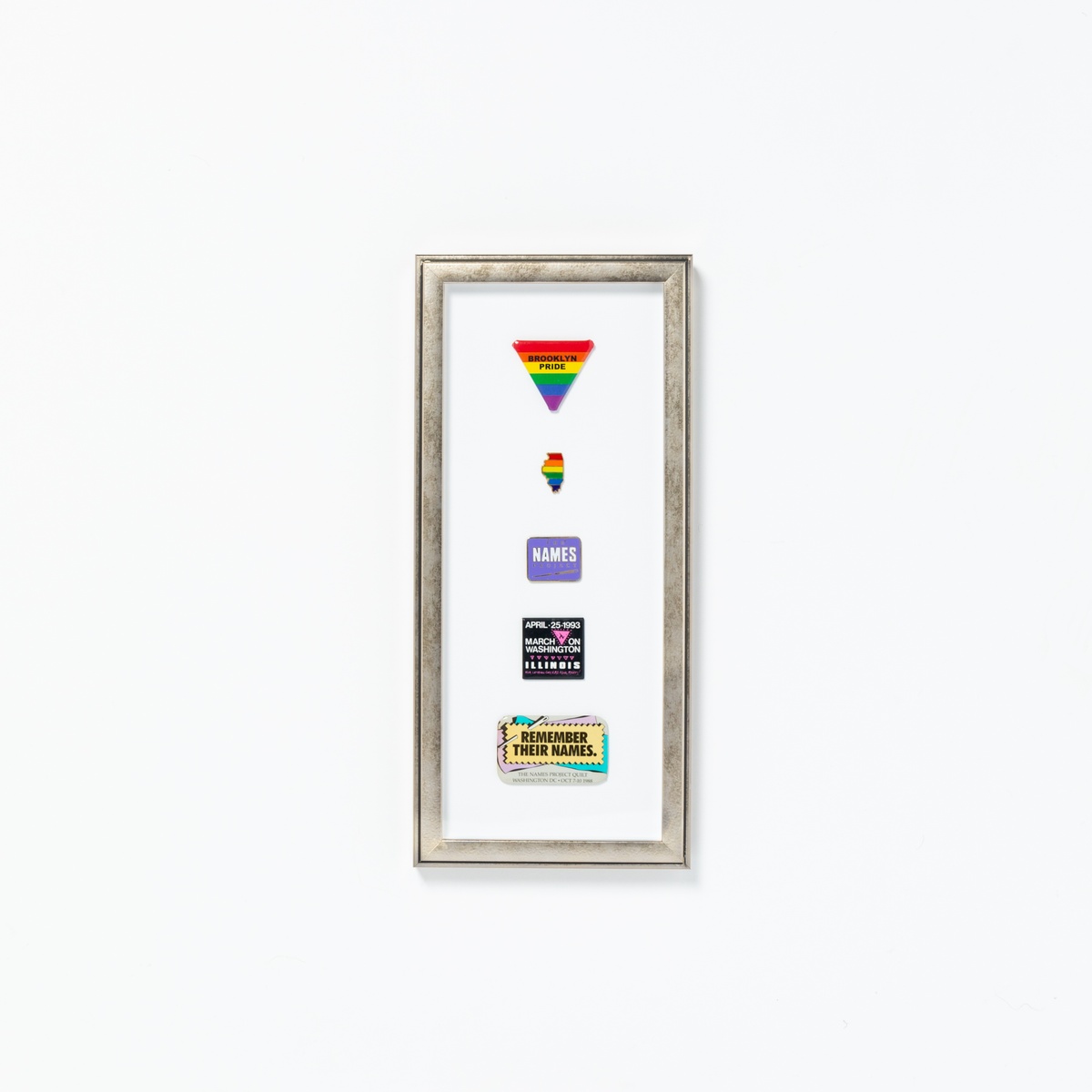 Oh yeah, we forgot to mention, you can add more than one object float mounted in one frame (our silver Ventura frame). You can actually add as many as you want (the standard $25 charge includes up to five float mounted items, an additional $5 for any thereafter).

Pretty cool, right?



---
Framebridge: custom framing to flaunt your float