How Big To Print Your Wedding Photos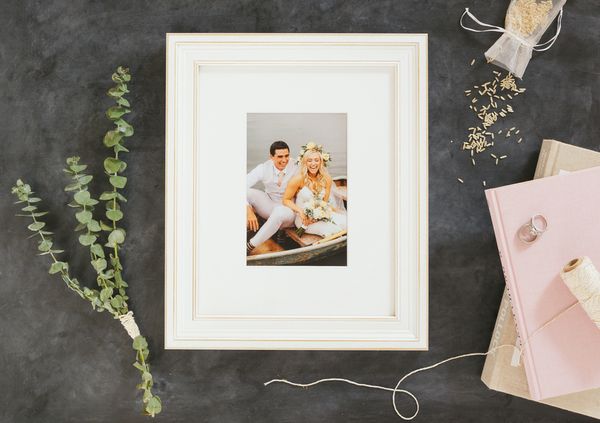 The happiest day of your life?
Your wedding day.
The second happiest day of your life?
The day you got your photos back.
It's pretty great to relive those happy moments in all their high resolution glory. But as we've witnessed, there can be nothing more dangerous than a newlywed armed with a folder full of high res photos. We often hear from you that it can be a challenge to pick the perfect size when printing and framing your favorites. Yes, you can blow these up to be as big as you want, but... you shouldn't. To help you hit the sizing sweet spot we've got a few tips to ensure you can order with confidence.
Here's how large to print your wedding photos for a striking yet tasteful display.
P.S. We've done the hard work for you. For fail-proof wedding gifts, check out our Wedding Shop for frame styles and sizes guaranteed to appeal to every couple.
---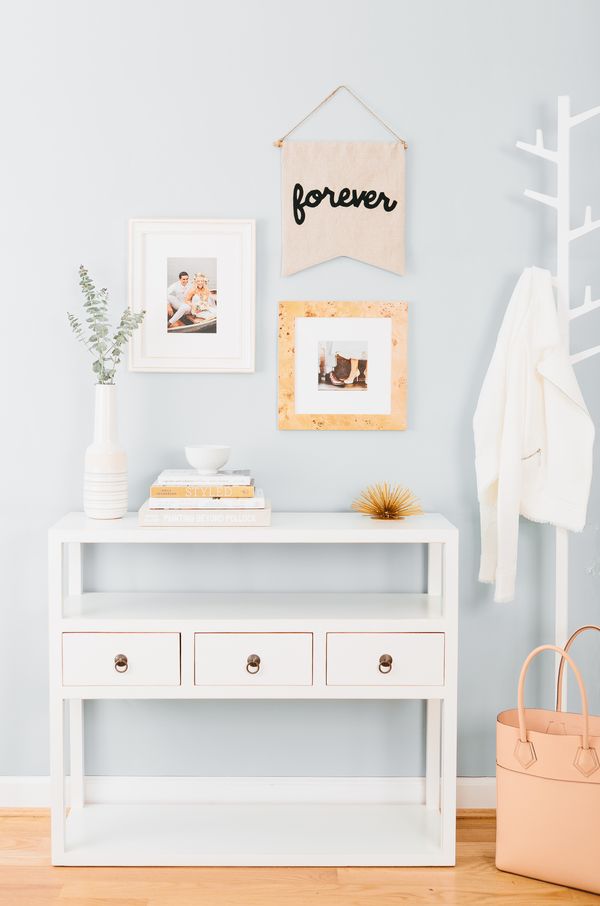 First, a few things to consider:
1. Photo size doesn't equal frame size.
This may sound simple, but in the process of ordering online it's important to conceptualize scale. When you select the size of your photo, keep in mind that the mat and frame moulding will add to the total size.
2. Think about the environment.
Where will the frame hang? Is it destined to hang as a statement piece above a mantle or large piece of furniture? Will it mix in with a gallery wall? Will it accent a bedside table? Figure this part out to get a sense of how much space you're really trying to fill.
3. Think about the subject.
Consider the photo you're framing. If it's a family photo consider keeping it to our extra small size (up to 5" x 7"), if it's a wedding portrait go for a small (up to 9" x 12"), and if it's an artsy abstract photo consider a medium (up to 16" x 20"). You can see our full range of sizes and their prices here!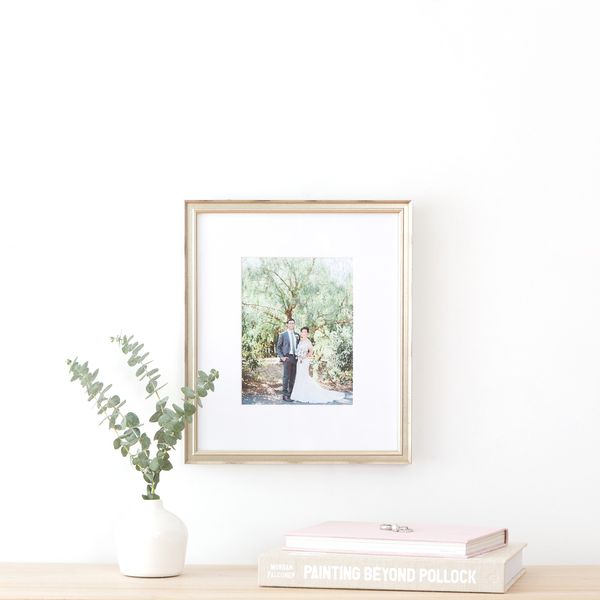 So, now you know what photo you want to frame and where you want to hang it. To determine what size to print your photo, it's important to remember that two things will add to the total size of your piece: the frame and the mat. Once you've figure out the approximate size of where your frame will hang you will want to subtract the width of the frame and mat to figure out what size your photo should be.
Mat Size: A standard mat will add an additional 5" to the piece. (About 2.5" on each side.)
Frame Size: Frame width varies depending on the moulding you select.

For our slimmest frame styles (think: Mandalay, Newport, and Irvine Slim), you can plan on adding at least 1.5" to the width and 1.5" to the height dimensions of the piece. Adding in the mat, these slim mouldings will add a total of 6.5" to your photo.
For our widest mouldings (think: Bowery, or Chelsea), you can plan on adding at least 4" to the width and 4" to the height. Adding in the mat, our widest mouldings will add a total of 9" to your photo. Long story short: photo size + the width of your moulding + your mat = the final size of the piece.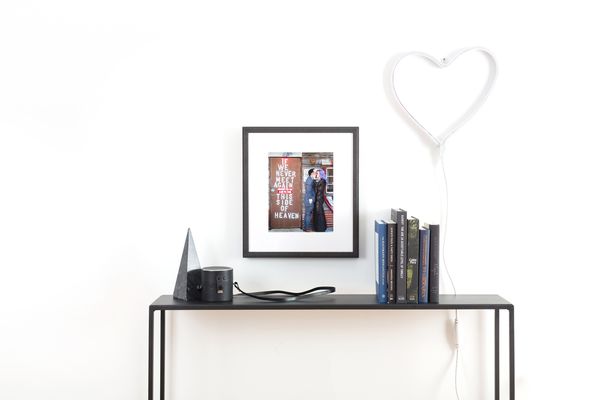 So, let's put it all together. If, for example, you have space for a final frame that measures around 11" x 14", and you'd like to frame your photo with one of our slim mouldings, you will want to size your image around 4" x 6" because your frame and mat will add about 6.5" to the length and width of the photo.
Don't worry, if you don't want to do the math, our preview tool will tell you everything you need to know. Just look for the "Finished Frame Size" dimensions listed under your chosen moulding style.

Pro tip: Giving a wedding photo as a gift? We suggest you size them at or under 8" x 10". Adding in a frame and mat, this would make your final frame size about 15" x 17".
Got other questions? Our designers are ready to chat. Contact support@framebridge.com for all your photo sizing, wedding gifting and moulding suggestion requests.
You Might Also Like...