How to Pick a Jersey to Frame with KJ Wright
KJ Wright is a Super Bowl-winning NFL linebacker who has had a storied career. He is proud of his Super Bowl victory, but he is even more proud of the relationships he has made along the way in his time playing football. And on top of that, he is even more proud of being a father to his two sons. He is adding some jerseys to his incredible jersey swap gallery wall, jerseys from people he admires. If you're in the market to frame a jersey for your Dad (or really anyone), we asked KJ a few questions about how a pro thinks about framing jerseys. Because we've got your back.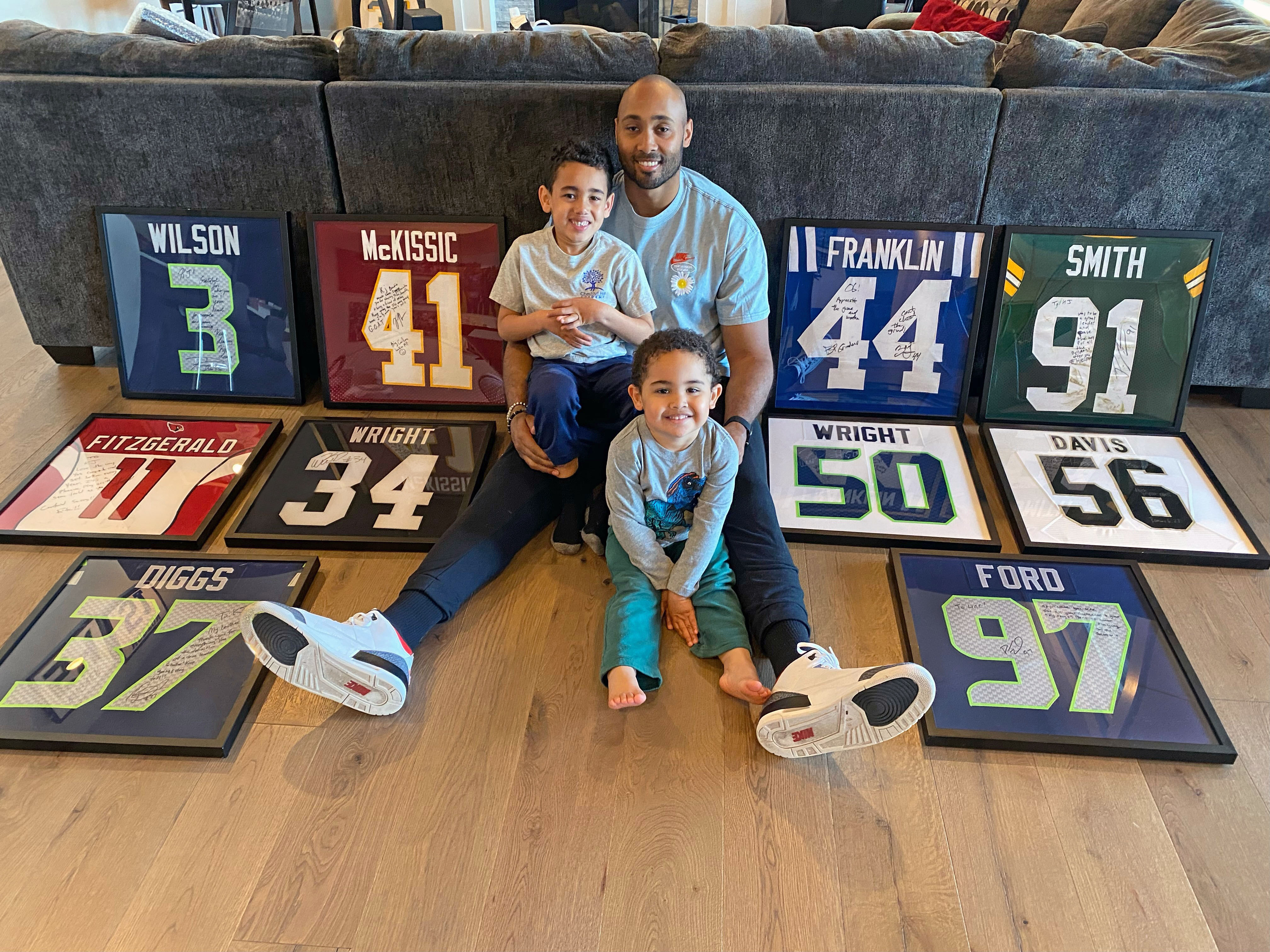 Who are you adding to the jersey swap gallery wall this time around?
Man, I am adding a few guys. I'm adding Larry Fitzgerald from the Cardinals. Russell Wilson, his Seahawks jersey. That's how it goes. Kam Chancellor. Zaire Franklin, with the Colts. I am actually putting up my Seahawks and Raiders jerseys. Quandre Diggs. Preston Smith—we went to Mississippi State together. And JD McKissic.
How do you decide which jerseys you want to frame?
Well, first of all, the jerseys that I choose to frame are guys that I love and guys that I have relationships with. That I have respect for on and off the field. I've never been the type to just trade jerseys with guys that are just famous or just really good football players. It's guys that I have built relationships with. I had the opportunity to compete with, compete against. They raised my game, on and off the field.
How do you approach people to do a jersey swap? What's the culture around that?
Most of the time, the way it works is, you see who you're playing and see one of your good friends on the team, so I'll text him or he'll text me that week and say "Hey bro, can I get your jersey after this game?" And they say, "Yeah man let's do it." So with Larry Fitzgerald, I had a feeling it would be his last year in the NFL, so I approached him in the middle of the game because Larry and I are always talking, and I said, "Hey Larry, can I get your jersey after the game?" He signed it and sent it right over to me. So sometimes it's planned, but sometimes it's a spur of the moment. And we just do it then and there.
If you could have any jersey up there as a gift, who would it be?
Does it have to be football? Because I would have to go with a Kobe Bryant jersey up there. Kobe is my all-time favorite athlete. He inspired me in so many ways—his mental toughness, his physical toughness, his practice habits. He's a five-time champion, an Olympian, 20 years. He's done it all. He's my all-time favorite player. For me, that'd be the greatest gift.
Do you have any advice for somebody trying to choose and frame a great jersey as a gift?
Go with somebody that person is going to love and respect on a deep level. After that, just use Framebridge! All you have to do is grab a hammer and hang it up.

Pick Dad's favorite team and go for it (or check out these other great gifts for Dad).