Custom Gallery Walls: Interview with a Designer
Was it Natasha Bedingfield that sang something about "staring at a blank wall before you?" Maybe that was a "blank page." Anyway, a big blank wall can be daunting. How do you achieve that magazine-worthy gallery wall look? While we have plenty of pre-designed gallery walls to fit many spaces, we also have a team of designers ready to help with a totally custom gallery wall for your space. From choosing photos to measuring frames and tips for hanging, they have you covered.
We sat down with Kacey, one of our designers who has helped create some gorgeous gallery walls, to ask her more about the Gallery Wall Consultation service and what someone can expect from the whole experience.
What's the first step when you sit down to design a custom gallery wall?
I compile all of the information the customer and I have discussed and begin making their vision come to life. I will look through all of their photos and artwork… I compare the sizes, colors, and subjects to determine the most aesthetically pleasing arrangement for the space we're working with and the customer's personal style.
I usually have a clear idea of where the design will go, but I like to keep an open mind during this process!
How do you tailor a gallery wall to each specific space?
When someone first orders the gallery wall consultation, we ask that they send some photos (or a short video) of the space they intend for the gallery wall. This tells us a lot about their decor style. Being able to see the full space gives us a better idea of the scale of the project to ensure it's balanced in the room.
We also like to work with detailed measurements to ensure everything will fit properly. Most people think they can only place a gallery wall on a large blank wall, but that's not always the case. We can easily help with smaller designs and placement around light switches, outlets, thermostats, or any other obstruction that may be hindering them from considering a gallery wall for their space. You name it, we can work around it!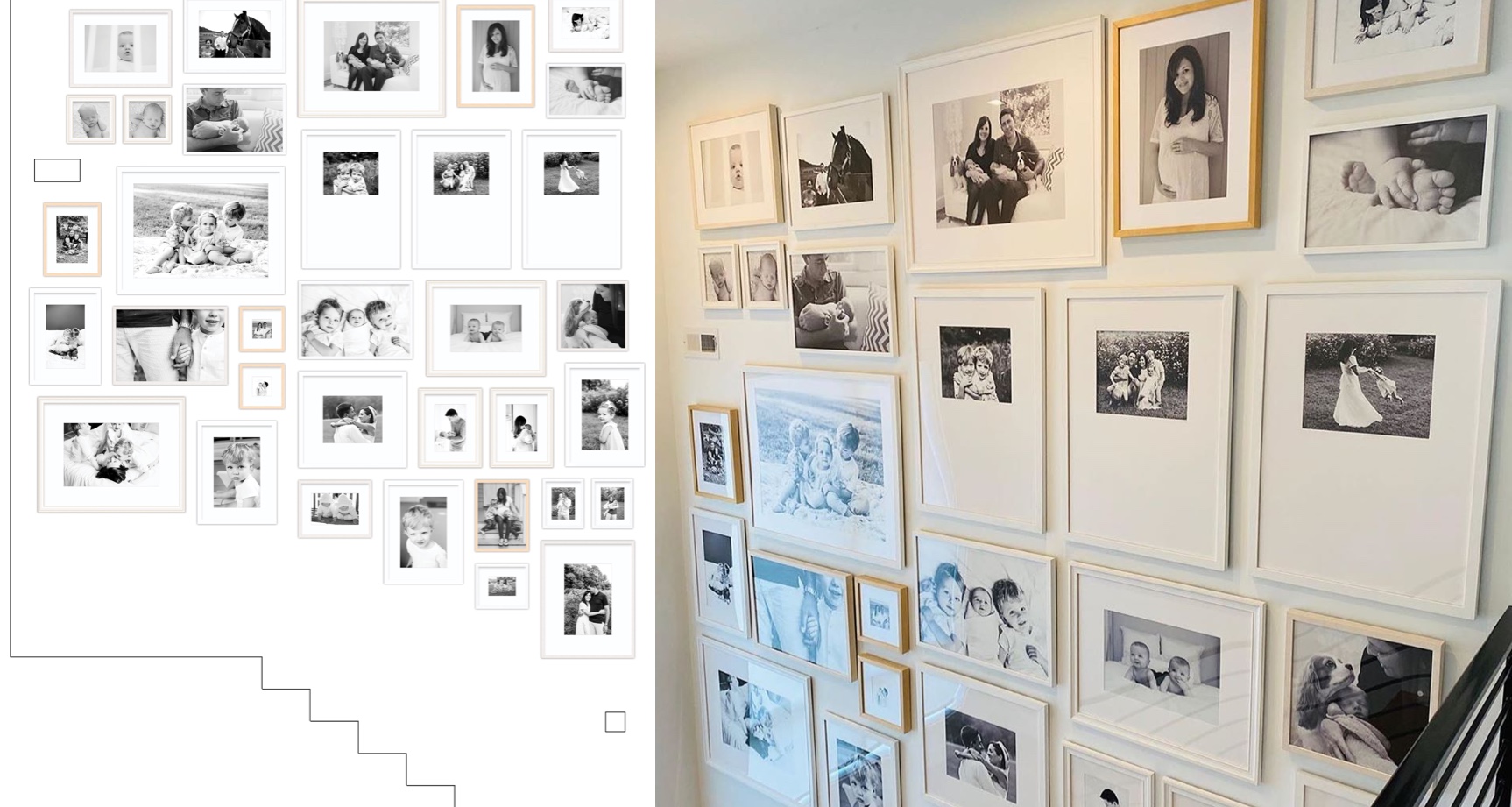 Custom gallery wall for Beth M.
What do you do to help assure someone who may be feeling a little overwhelmed with a gallery wall?
I'd start by saying that our entire gallery wall team is very experienced. We work on customized gallery walls every day and we're ready to help with any design challenges you may be facing.

I have many customers who feel overwhelmed with all of the frame and design style options when creating a gallery wall, and that is completely understandable. I reassure them that I'm here to help throughout the entire process, from start to finish. That means listening to their ideas, and using them to create a design that they will absolutely love!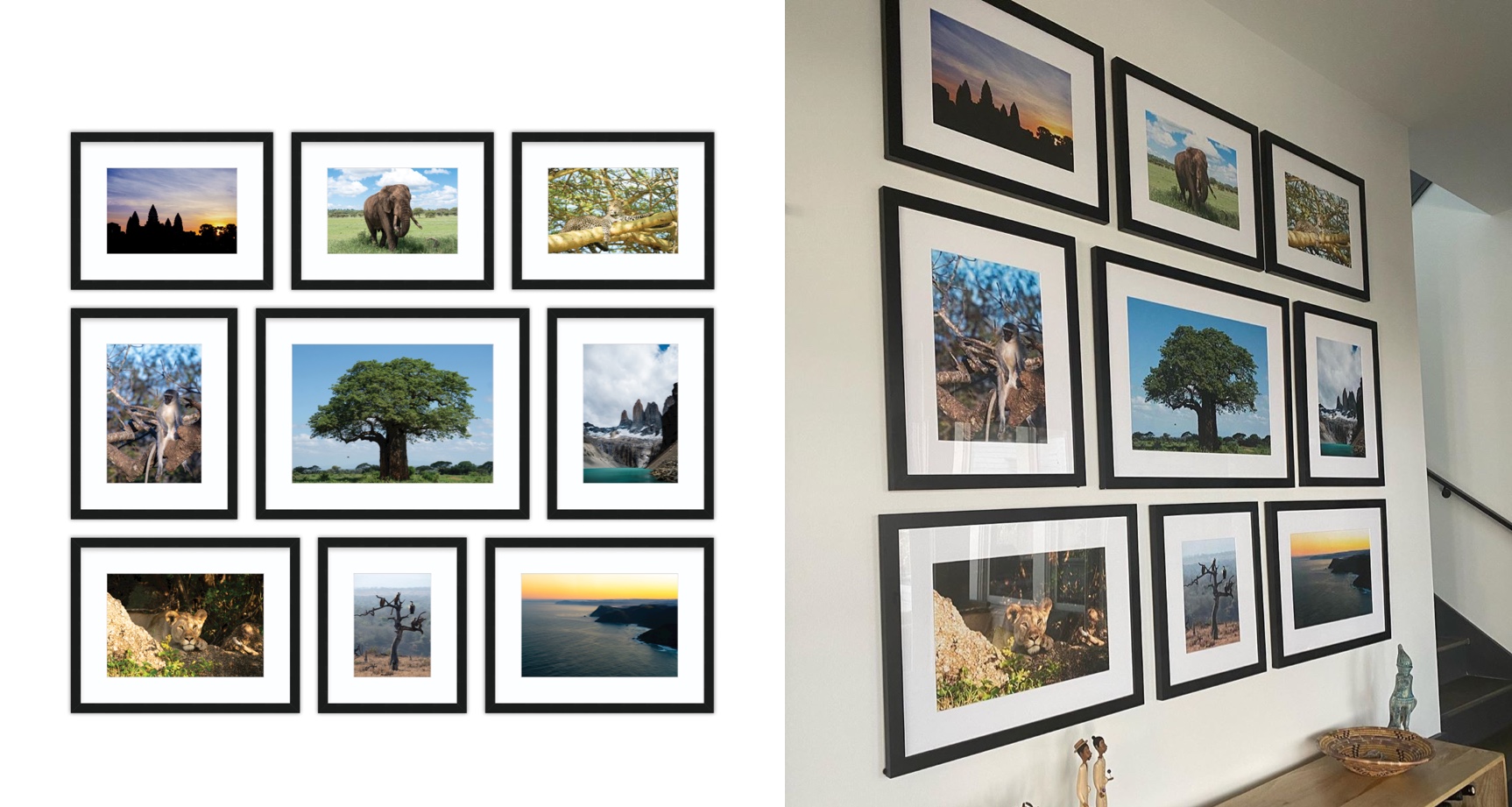 Custom gallery wall for Hallie Byth.
Are there guiding principles you use to make sure all the frames in a gallery wall look cohesive?
There are several factors that go into choosing the frames. I generally like to use complementary tones that work well with the space and the artwork. For instance, silver and white frames look really amazing with cool-toned pieces. Wood and gold frames are a classic combination for warmer tones.
Texture comes into play as well. I like to pick up on the variations in materials throughout the space to guide my decision on whether to use an eclectic mix or keep it simple and clean (both of which are filter options on our gallery wall collection page).
Honestly though, these guidelines can always be bent or broken. The most important rule is that the customer likes it!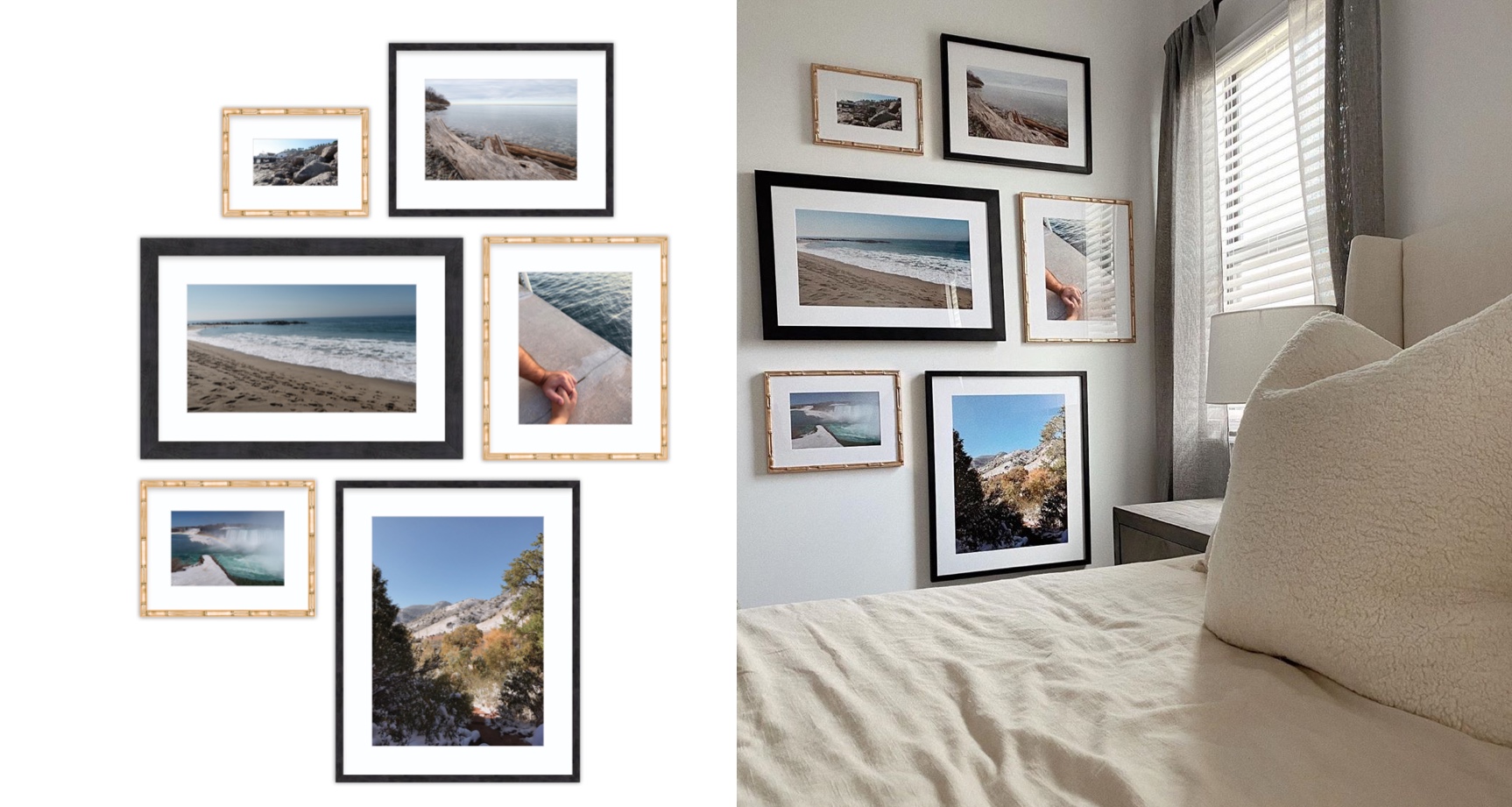 Custom gallery wall for Brittany Sinitch.
What's the best way to ensure that the customer's gallery wall can grow over time?
I encounter this often with our customers. It's a very popular request for travel and family photos. First, I always make sure to scale the gallery wall to a size that leaves some extra room along the sides, but can still stand beautifully on its own in the meantime. Then, I take the layout style into consideration. For instance, a grid design is going to be the easiest to add on to because of the consistent frame size. However, you really can't go wrong with more organic styles because of the flexibility.
With our gallery wall consultation, we can put together a plan that includes our suggested frame styles and photo/art sizes for your future frames if you're not sure where to start when you're ready.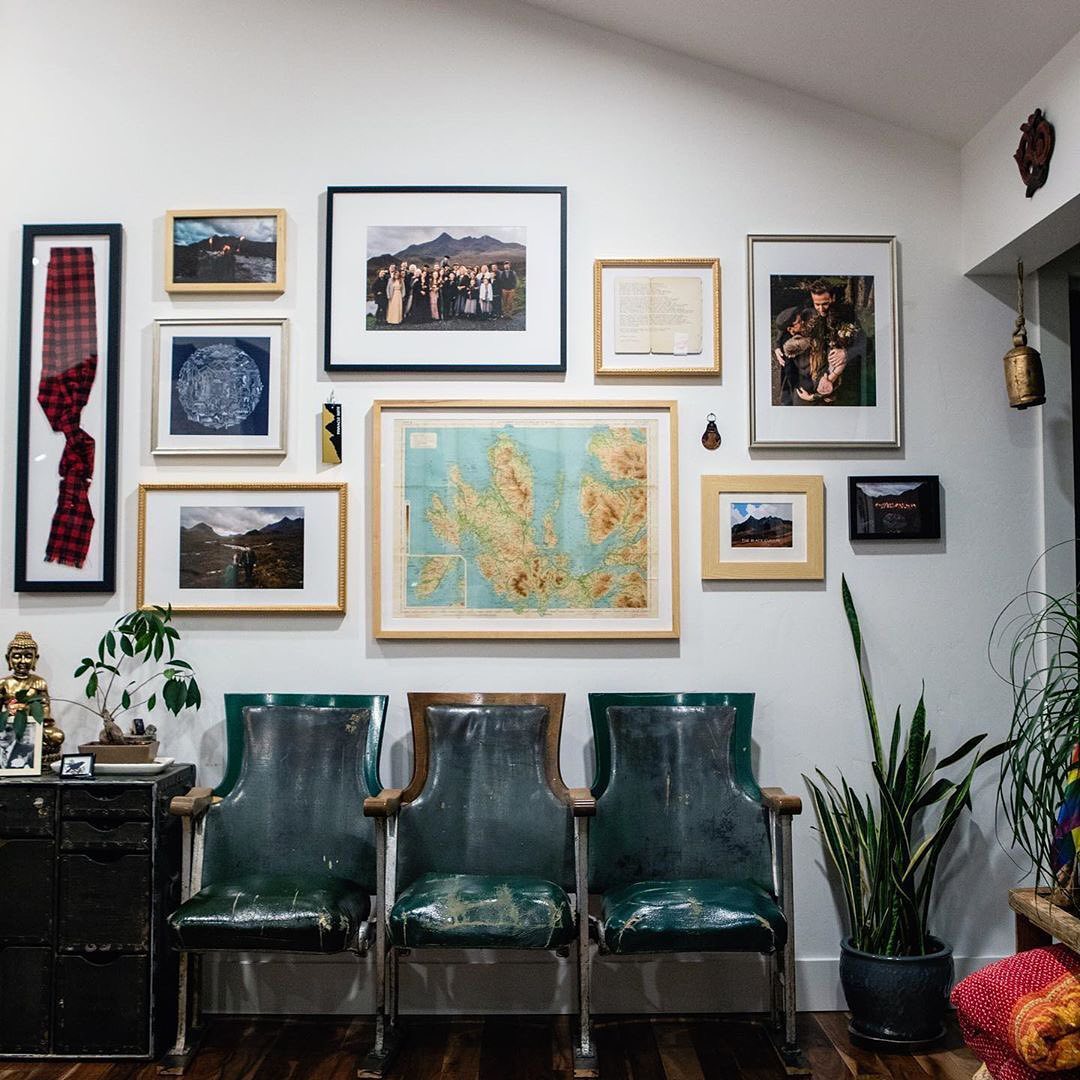 Custom gallery wall for @chasersofthelight
What are some of the hurdles you face in creating a custom gallery wall?
One of the most challenging scenarios for creating a gallery wall can occur when we have so many photos or artwork, but not enough wall space to include them or we're trying to stick to a certain budget. Our customers have some truly amazing pieces, so it can be tough to narrow them down.
What was (one of) the most challenging projects you worked on?
Cary Sherman's gallery wall design was one of my more challenging projects, but one of my absolute favorites! I'm a huge fan of all music, so the subject of all of the pieces was fascinating to me from the start. However, his wall space was unique—a staircase with molding separating the wall at the second floor level, with two large windows at the top. We were also going for a structured organic design that incorporated new photos we framed, and some of his old frames from his collection over the years. It involved a lot of meticulous spacing and arranging of the frames—kind of like putting together a puzzle without a guide—but it was so worth it. I couldn't have been happier with how it turned out.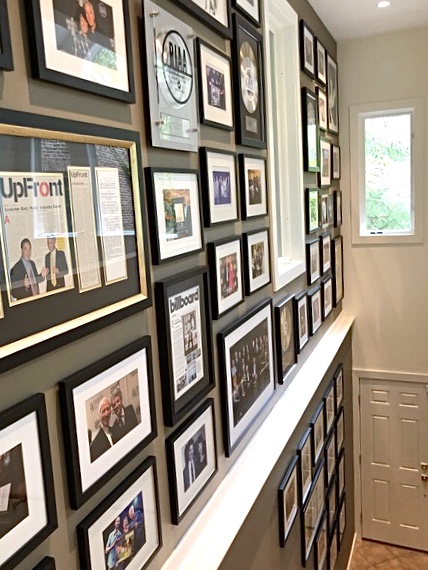 Any advice for somebody considering using the Gallery Wall Consultation Service for the first time?
If you've just been staring at a blank wall space, or have a collection of photos or artwork that you've been waiting to frame, definitely consider working with us. No matter what part of the process you're in, we're here to help make your gallery wall ideas and dreams a reality!
Starting at $99 (a price that goes towards the overall cost of your final gallery wall), The Gallery Wall Consultation—which includes personalized service from a designer, unlimited rounds of feedback, plus mockups and hanging instructions—is the easiest way to design a stunning gallery wall with a personal touch.
Custom gallery wall for Nigel Barker
Ready for your Gallery Wall Consultation? Click below.